These candied almonds are lightly naturally sweetened, flavored with cinnamon and vanilla and make excellent last-minute gifts! They're also naturally paleo and vegan.
If you're anything like me, you probably still haven't bought all your Christmas gifts yet and the thought of going shopping at this point doesn't sound all that fun.
So here's a homemade treat that you can whip up in no time! You likely already even have everything you need in your pantry. Not only are these candied almonds a great last-minute present, but they're seriously delicious and made a tad healthier!
A lot of candied nut recipes call for corn syrup and a huge amount of sugar. All the sweetener you need for this recipe is 2 tablespoons of maple syrup and 3 tablespoons of coconut sugar or granulated sugar.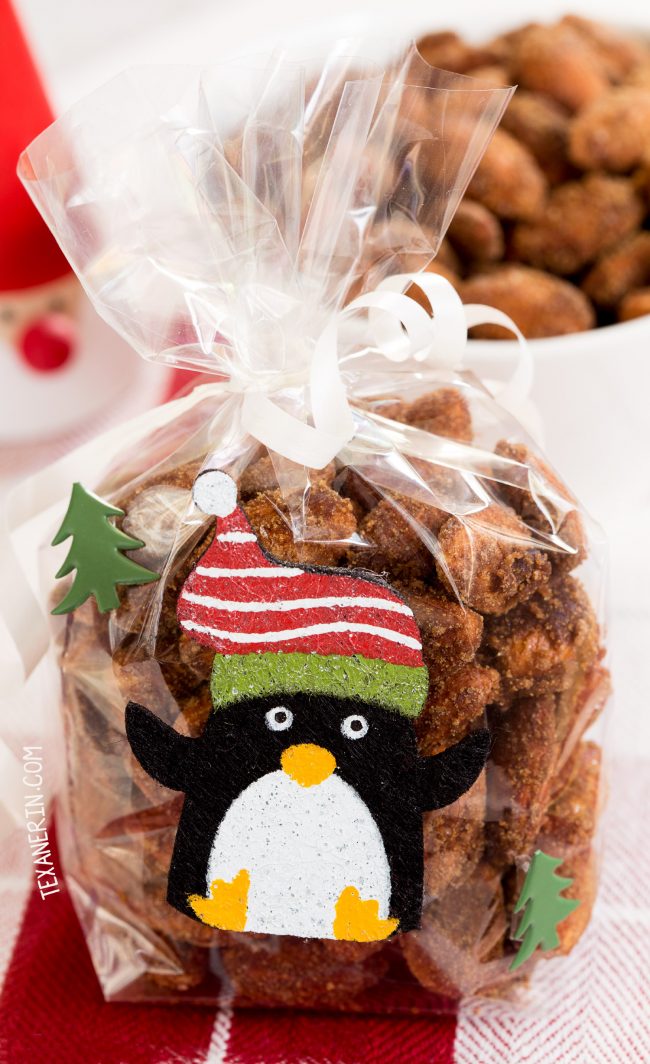 The maple syrup, vanilla and cinnamon add a lot of flavor and I can pretty much guarantee you – you won't miss all the extra sugar found in other recipes!
Don't like almonds? Feel free to use a different type of nut! These healthier maple candied walnuts are another great gift option. The only ingredients you need for those are walnuts and maple syrup. I think these candied almonds are tastier, though. :)
These almonds hold up very well so you can make them several days in advance. The only problem with them is that they're so addictive. If you're making these as gifts, you'll probably want to double or triple the recipe!
Just make sure your pan is large enough to handle all the nuts. You don't want to be slopping the hot, cooking candy mixture all over.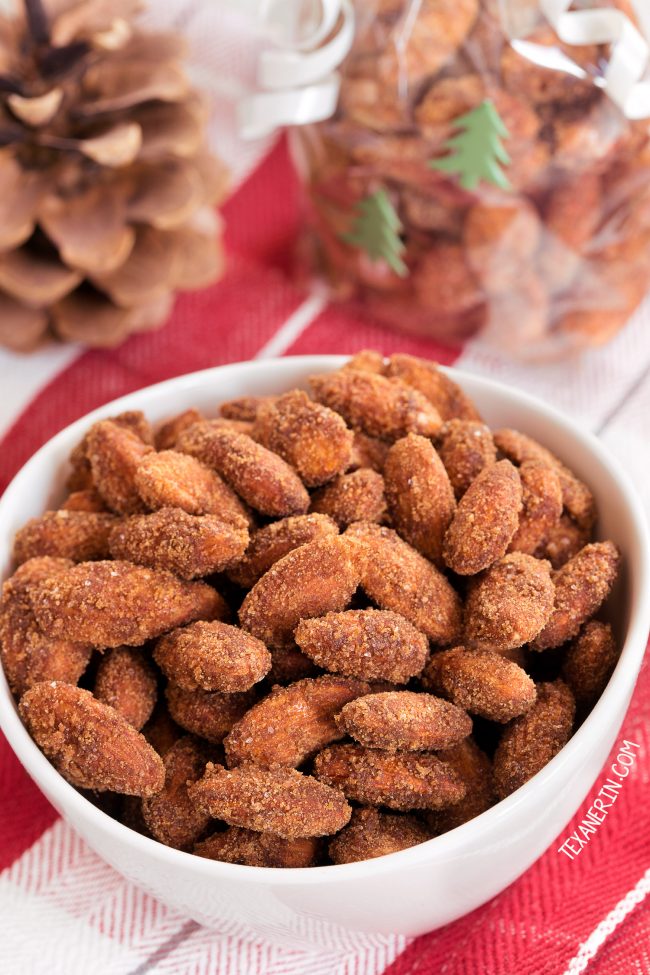 I originally posted this recipe in 2012 but the pictures were so bad that I never shared the recipe anywhere. If you've made these before, don't worry – it's the same exact recipe.
And also, check out the reviews if you need any convincing to make these. I especially like this one: "I've been trying different candied almond recipes for several years now, and HANDS DOWN this is the BEST!!!"
Yay! By the way, I LOVE it when you all leave feedback on recipes. I really do appreciate it! And I know the other readers appreciate them, too.
Are you all ready for Christmas? I'm not, but at least I have a few bags of these candied almonds to hand out. :) I think this will be my last post for the year. I hope you all have a wonderful Christmas and a great start to 2017!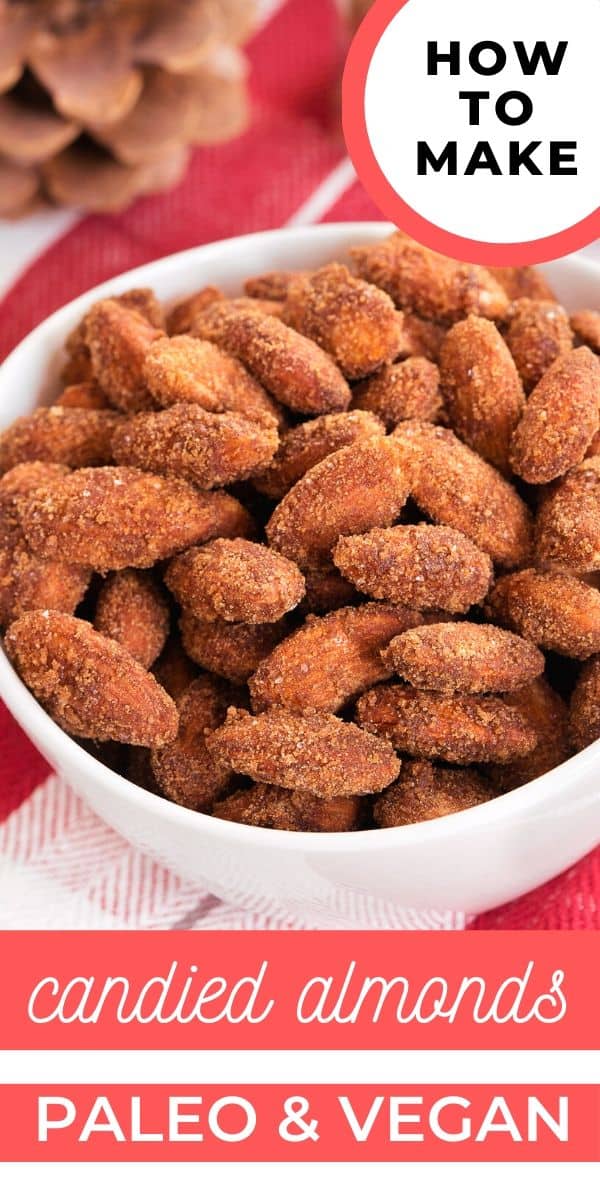 ❀
Paleo Vegan Maple Cinnamon Candied Almonds
Prep Time:
Cook Time:
Ready in:
Yield:

1 1/2 cups
Ingredients
1 1/2 cup (225 grams) almonds
3 tablespoons coconut sugar or granulated sugar1
1/4 teaspoon salt
2 tablespoons maple syrup
2 teaspoons water
1 teaspoon coconut oil (or canola or vegetable oil)
1 teaspoon vanilla extract
1/2 teaspoon cinnamon
Directions
Preheat the oven to 350 °F (176 °C). Place a piece of parchment paper on a baking sheet. Set this aside.
On another baking sheet, spread the almonds and bake for 7-12 minutes, stirring halfway, or until they smell toasty. You should smell a nutty aroma coming from the oven when the almonds are ready. Remove the almonds from the oven and set aside.
In a large bowl, combine the sugar and salt. Set the bowl aside. Combine the maple syrup, water, oil, vanilla and cinnamon in a medium saucepan over medium-high heat.
Bring to a boil, reduce heat to medium, and add the almonds.
Cook until almost all of the liquid has evaporated, stirring frequently. This will take about 2-3 minutes. Remove the pan from the heat and transfer the nuts to the bowl with the sugar and toss to make sure that they're well-coated.
Pour the almonds evenly onto the parchment-lined pan and cool completely. The nuts will be soft while still warm but once completely cooled, the almonds and the coating become crunchy.
Notes
I've made them with both types of sugar and the ones with coconut sugar were much better. They had a slight caramel-like taste and were crunchier than the ones with white sugar. I haven't tried it with unrefined / raw / turbinado sugar, but since the crystals aren't as fine as coconut sugar, I don't know how well that would work out. If you use granulated sugar and they're taking a long time to harden, stick them in the fridge.
Source: My post on Cee – The Blog From Cohen's: Easy Candied Almonds
Note: Pictures were updated in 12/2016.