I totally admit to buying store-bought pre-seasoned fajitas before moving to Germany about 5 1/2 years ago. Fajitas aren't a thing over here, meaning taking the easy way out with pre-marinated fajitas was out, so I begrudgingly switched over to homemade fajitas. I'm ridiculously happy I did because these are SO much better. We fight over these leftovers and I hate leftovers (unless it's mac and cheese!) We've even had several "Fajita Fridays!" to help educate people about the wonders of fajitas and good tortillas. I like to think of myself as a food ambassador. :)
Tortillas have become easier to find in stores but when I first arrived, they weren't so common, were expensive and unappetizing enough to get me to make my own. I went through about a dozen terrible recipes before I tried these homemade flour tortillas from Homesick Texan.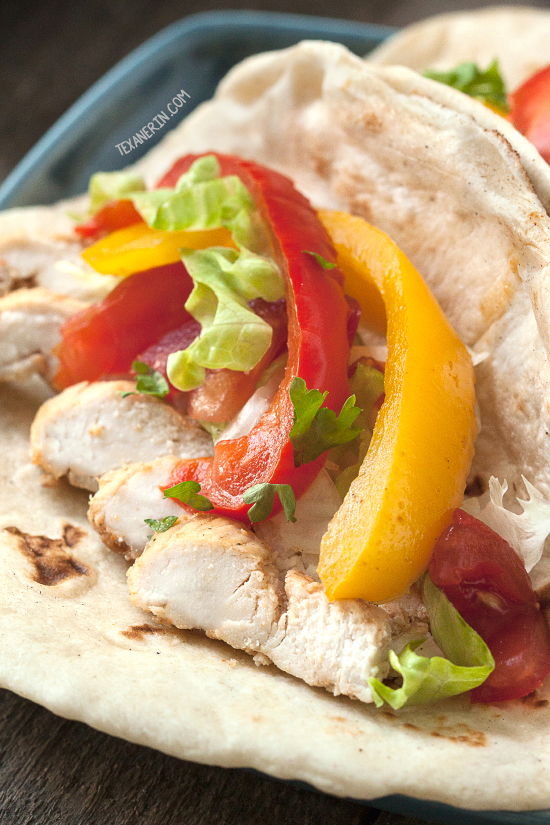 I've had several Hispanic roommates which resulted in me eating their mothers' homemade tortillas on a regular basis. They were made with quite a bit of lard. These are made with 2 teaspoons of oil (I use coconut oil) and are honestly just as good!
You can make them with all whole wheat or whole spelt, but they'll of course taste clearly of whole grains. Or you can use white whole wheat or a mix of all-purpose flour and whole wheat flour. It's a pretty hard recipe to mess up! You may need to add a little more flour or liquid depending on what type of flour you use but it's such a small amount it doesn't throw the other ingredients off.
I'd love to at least link to a grain-free tortilla recipe but every one I've tried has been inedible. Until then, all I can recommend is a lettuce leaf, which is 99.9% less delicious than a tortilla.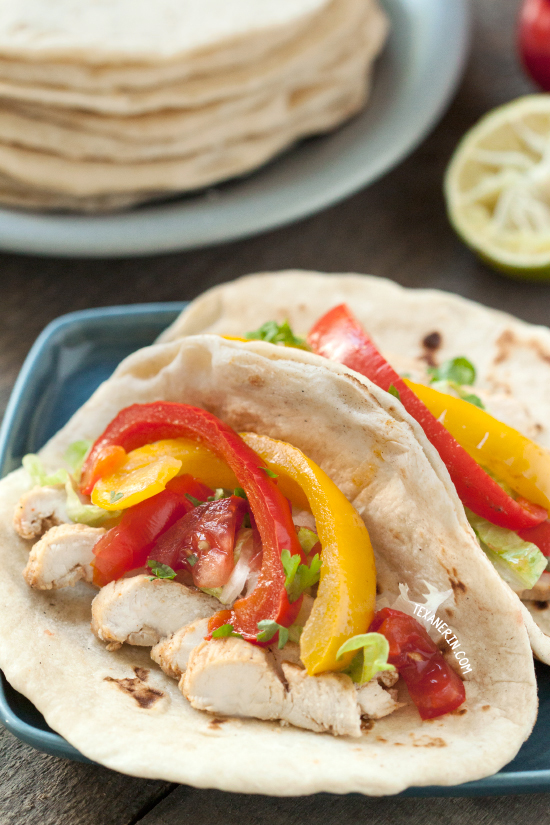 The fajita marinade is simple and the only way you can really mess it up is if you add too much chicken. I've done that a few times and the chicken doesn't come out as flavorful that way.
Mr. Texanerin is a veggie lover so while I load my tortillas with just chicken and cheese, he gets more fancy + healthy and adds a ton of onions and peppers. To make the onions extra spicy, we add a sliced onion to the bag of chicken marinade. Cook the chicken, reserving the marinade, and then cook the peppers and onion in the reserved marinade. If you just dump the onions in with the chicken, then the chicken will more or less boil, rather than fry. Not so good.
If you want to try a fun variation of regular fajitas, try this veggie fajita pasta from Go Dairy Free!
Mr. T and I are off to Warsaw tomorrow. It'll be our first trip together since last May and I'm beyond ready! Any Polish food recommendations?
❀
Healthy Chicken Fajitas
Prep Time:
Cook Time:
Ready in:
Yield:

2 pounds chicken
Ingredients
1/2 cup (118 milliliters) lime juice
1/4 cup (59 milliliters) olive oil
6 cloves garlic, crushed
1 tablespoon soy sauce
1 teaspoon salt
2 teaspoons liquid smoke1
1 teaspoon cayenne pepper
1 teaspoon chili powder
1/2 teaspoon ground black pepper
1/2 teaspoon cumin, optional
2 pounds (907 grams) of skinless, boneless chicken breast
sliced onions and peppers if pan frying, optional
Directions
Slice the chicken breasts in half lengthwise to make two thinner chicken breast cutlets.
Combine all the ingredients except the peppers in a Ziploc bag and marinade the chicken overnight. If you're really in a rush, marinade for at least three hours.
You can either grill or pan fry. Pan fry at medium-high heat until chicken is cooked through. It'll depend how thick your meat is, but normally I do it 3 - 5 minutes per side. Instead of just dumping all the contents in the pan, take out the pieces of chicken, leaving the marinade and onions in the bag.
After the chicken is cooked, remove to a plate and cover. Add the sliced onions, marinade and peppers to the pan and stir.
Turn heat to high and cook for about 5 minutes or until they're cooked enough for your liking.
Notes
This gives the chicken its smokey taste! I don't recommend omitting it. If you don't have it, try adding some smoked paprika.
(first posted in May 2012)