This potato wedge recipe is easy, spicy and a healthy alternative to French fries! They're perfect alongside almost anything and great for parties and barbeques.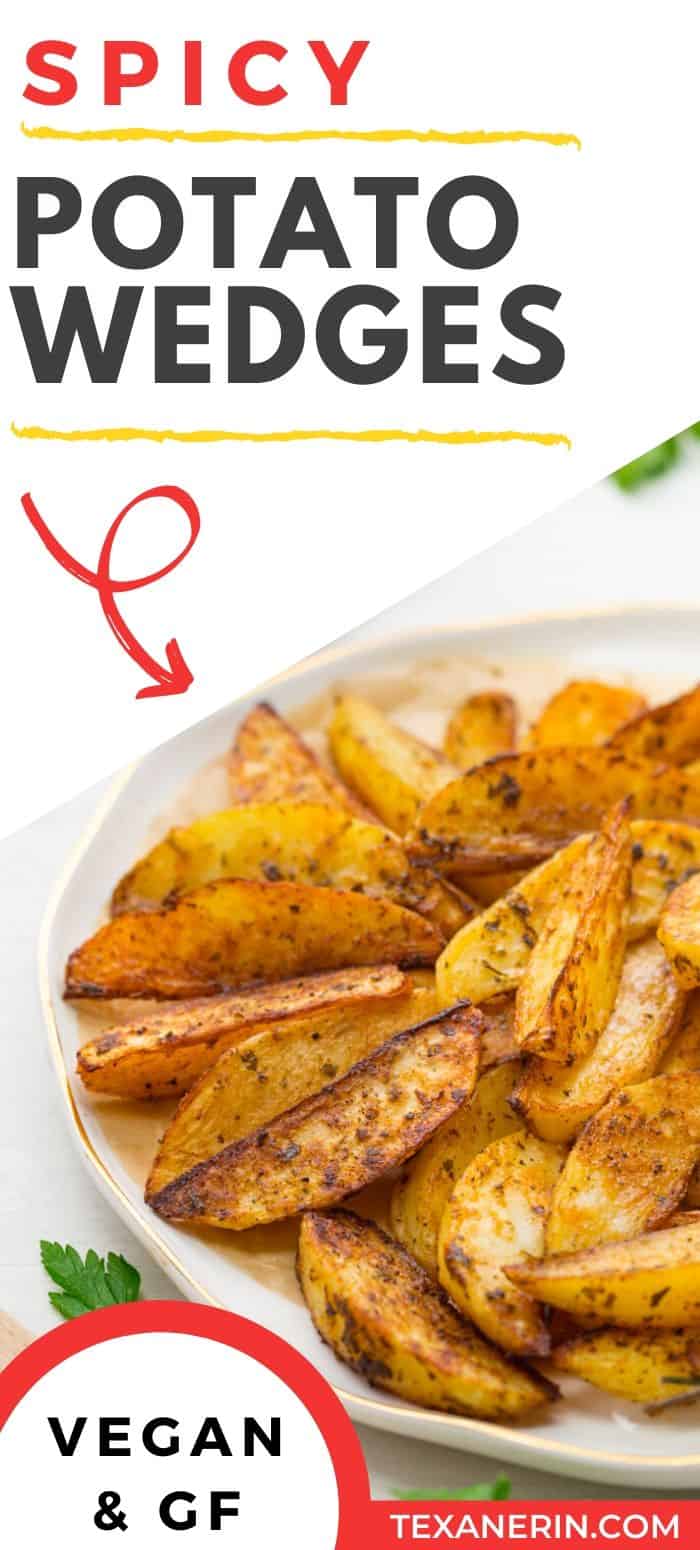 I love roasted potatoes. They're so versatile. You can use up fresh herbs on them or throw in the dried stuff.
I'm usually pretty lazy and just use salt, rosemary and garlic powder, but I also like them with a kick, which is the version I'm sharing today.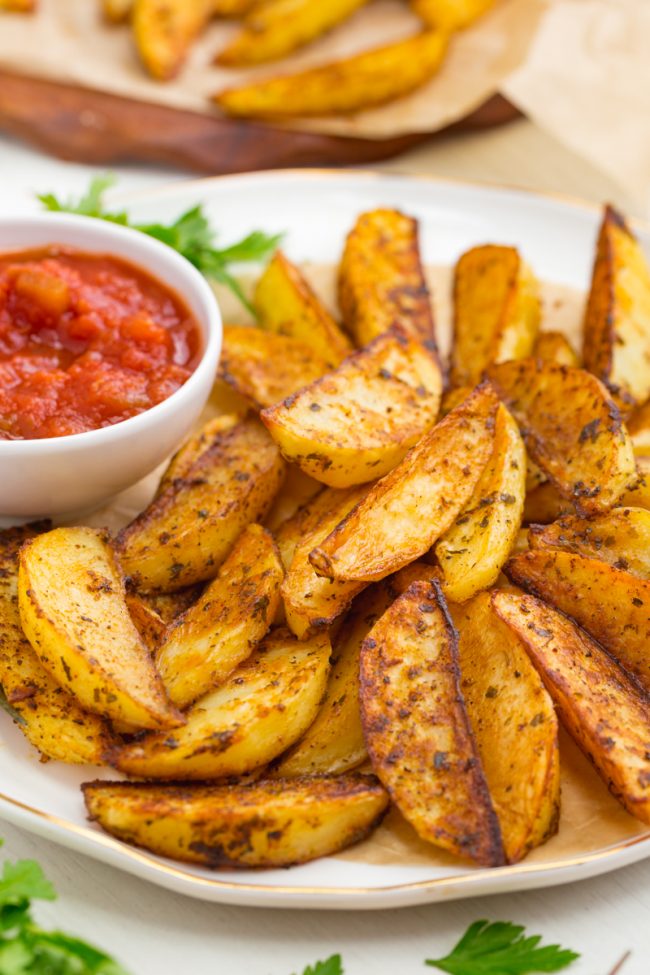 After I made these homemade potato wedges for the first time, I made them again, but made 10x the amount for the spice mix so that I could have the mix handy whenever I'm craving potatoes. It really saves time!
Once you have the mix, you just cut up the potatoes (here's how to cut potato wedges), add olive oil and the spices. Done!
I like to let these potato wedges sit for about 10 minutes after taking them out of the oven. They get a little softer, both inside and outside.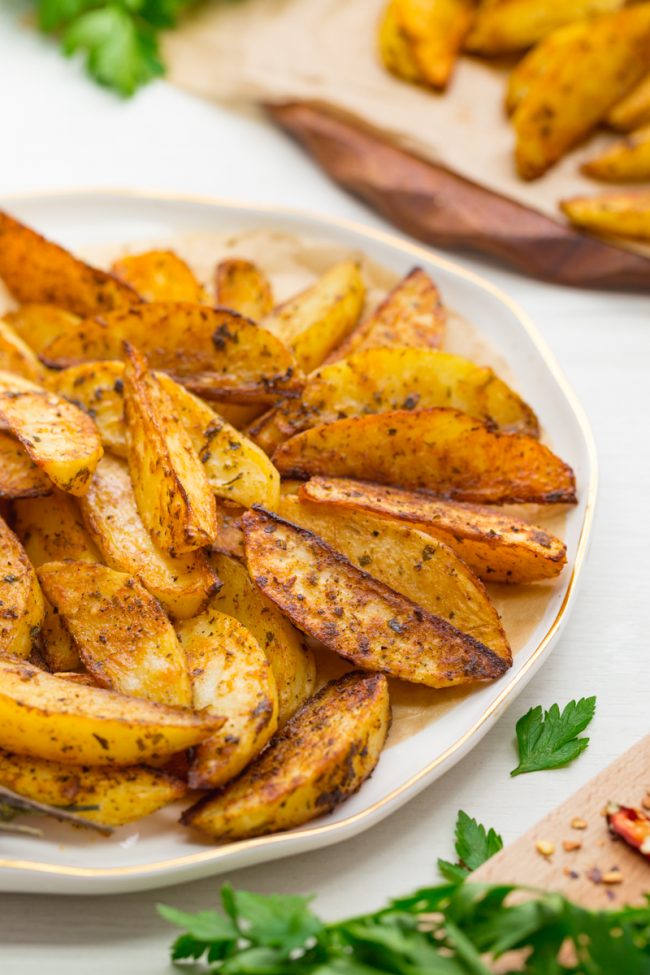 And the spices are a bit less intense then, which I like. I've made these for several parties and other people don't seem to mind them at all when at room temperature.
They're always one of the first items to go. The only thing kind of annoying about them is that I can't make them quick enough.
They get eaten way faster than I can cup up the potatoes and roast them! Unfortunately, they're not something you can cook ahead of time (however, you can cup up the potatoes, put them in a bowl and cover with water!).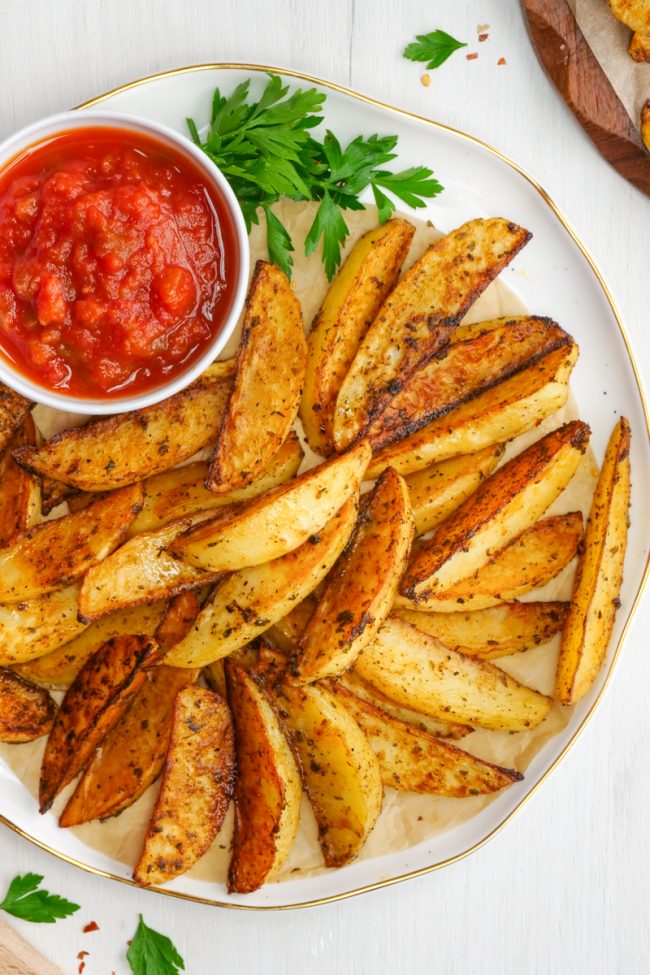 These potato wedges aren't any good reheated, so eat them up while still warm or room temperature!
If this recipe sounds too spicy for you, try these roasted Greek potatoes! They're one of my favorites.
Wondering what to pair them with? This pecan-crusted salmon is a winner!
❀
Potato Wedge Recipe (naturally vegan, gluten-free)
Prep Time:
Cook Time:
Ready in:
Yield:

6 servings
Ingredients
2 1/2 pounds (1.13 kilos) potatoes (or 3 pounds for less spicy potatoes)
2 tablespoons olive oil
1/2 teaspoon garlic powder (or 2 garlic cloves, minced)
2 teaspoons dried parsley
1/2 teaspoon cayenne
1/2 teaspoon paprika
3/4 teaspoon salt (I like things salty and use more)
1/2 teaspoon black pepper
Directions
Preheat the oven to 450 °F (230 °C). Pour the olive oil onto a rimmed cookie sheet. Add the spices and mix with the olive oil. Some people prefer to mix the oil, spices and potatoes in a bag but I prefer the other way as it doesn't dirty up a bag.
Clean the potatoes and slice the potato into even wedges. Put the potatoes on the cookie sheet and use your hands to coat the potatoes with the olive oil mix.
The baking time will vary depending on how big your wedges are. I usually bake mine for 20 minutes, take them out of the oven to flip them, and bake for another 10 – 15 minutes. If you want them crispier, bake them for a few minutes longer.
Let sit for about 10 minutes before serving.
Eat immediately or at room temperature.