Creamy and rich chocolate almond smoothie made with almond milk, dates, and almond extract for extra almond flavor! Naturally vegan, dairy-free, and gluten-free. Thanks to Silk for sponsoring today's post!
I at first wanted to make an Almond Joy smoothie but chocolate + almond + coconut was too many flavors in a homogeneous mixture like a smoothie. At least I thought so. It worked much better in my Almond Joy Granola, which you reaaally have to try if you haven't already. :D
So here I am with this chocolate almond smoothie.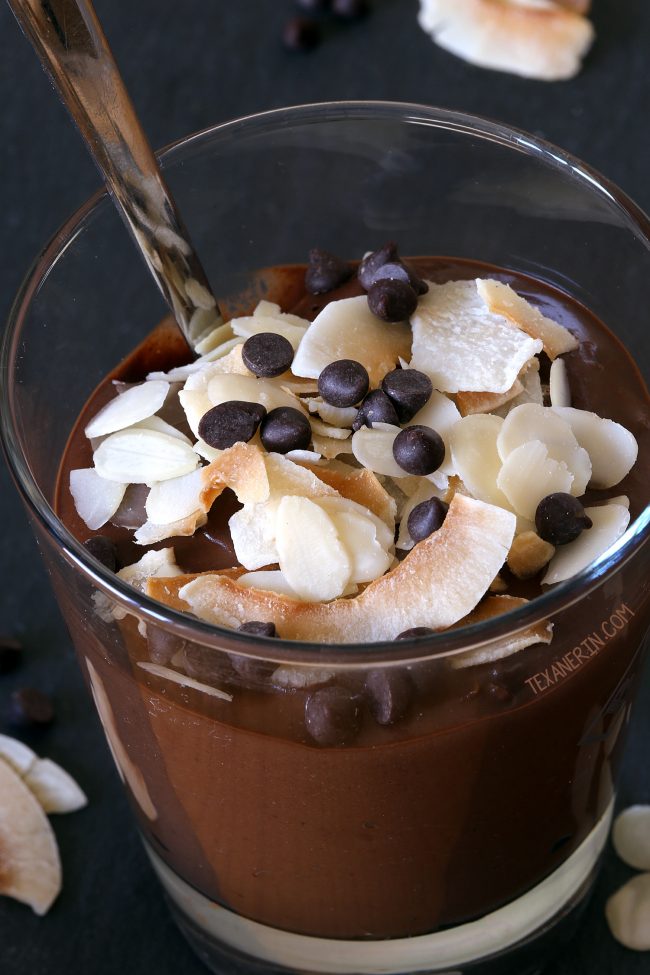 You can probably tell by the pictures, but I like my smoothies thick. Just like my chocolate avocado smoothie! Mine was kind of more like pudding than a smoothie. The second time I made it, I used double the amount of almond milk (the upper amount called for in the recipe) and that'll get you your thinner consistency!
The downside to smoothies with cocoa powder is that you have to add so much sweetener. I used dates but if you don't have dates or don't want to use them, maple syrup is a delicious option!
I might have even added a little maple syrup to my date-sweetened version for even more sweeteness. Big sweet tooth here!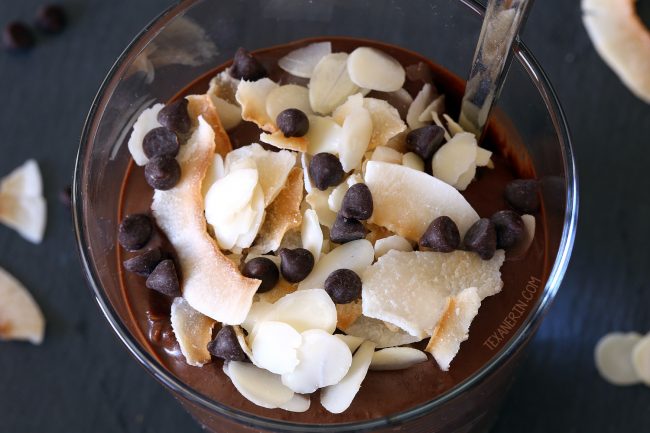 This is the first time I've added almond butter to a smoothie. To be honest, I don't think it did anything flavor-wise. But I'm always trying to get in more protein, so I left it in there. Feel free to omit it!
The almond flavor from the almond milk and butter is really masked behind all the cocoa powder so I added some almond extract to this smoothie. I also don't think I've ever used extract in a smoothie but hey… it works, so why not.
Silk has several varieties of nut milk that are all great in this smoothie. I used Unsweetened Vanilla Almondmilk but Unsweetened Almondmilk (without the vanilla) works just as well.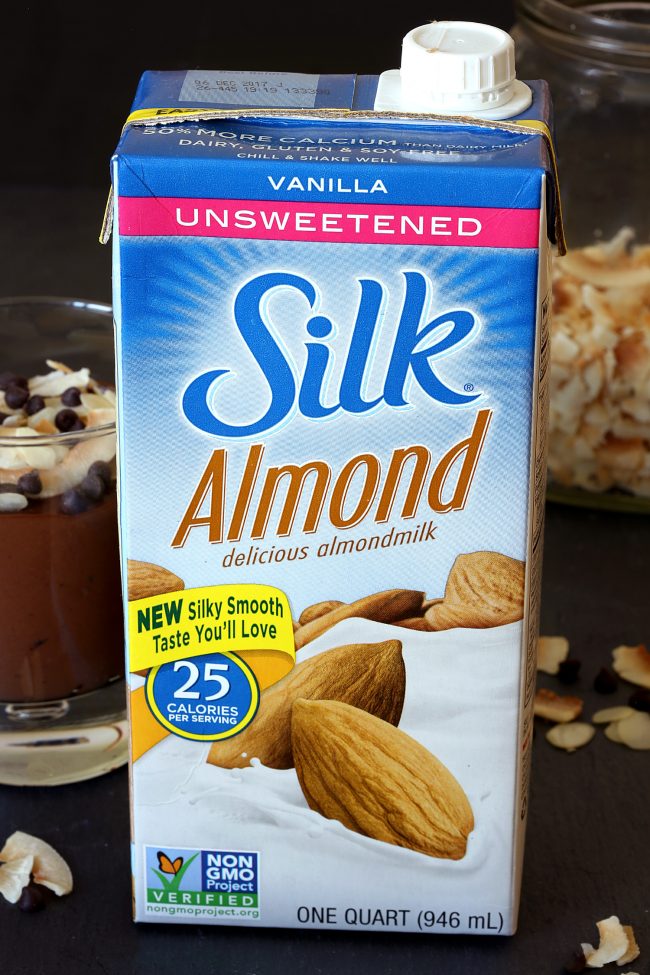 They also have a sweetened variety that you could use that would cut down on the amount of dates you need to add.
If you want to add in a little coconut flavor, try their Unsweetened Almond Coconut Blend!
To get a Silk coupon, sign up here for Silk's email list! Also be sure to follow along on Facebook, Twitter, Instagram, Pinterest and Youtube.
This is a sponsored conversation written by me on behalf of Silk. The opinions and text are all mine.
❀
Chocolate Almond Smoothie (vegan, gluten-free, dairy-free)
Prep Time:
Cook Time:
Ready in:
Yield:

1 smoothie
Ingredients
1 large banana (mine was 130 grams without the peel)
2 tablespoons (32 grams) unsweetened almond butter
1/4-1/2 cup (60-120 milliliters) Unsweetened Vanilla Almondmilk (or Unsweetened Almondmilk)
3 tablespoons (19 grams) cocoa powder (I used raw cacao powder)
6 pitted dates (50 grams) (If using Medjool dates, you'll need fewer than 6. Make sure to go by weight)
pinch of salt (this helps the flavors pop)
1/2 teaspoon vanilla extract
1/4 teaspoon almond extract
maple syrup, optional (how much you need will depend on how sweet your bananas are, what kind of cocoa powder you use and how much of a sweet tooth you have)
Directions
Blend everything (starting off with 1/4 cup almond milk), except for the maple syrup, together in a blender. Add more milk, if desired. If not sweet enough, add some maple syrup or another sweetener to taste.
I topped mine off with toasted coconut chips, sliced almonds and mini chocolate chips.