These birds nest cookies are super easy to make and just require 7 ingredients! They can easily be made paleo or vegan. This Easter cookie recipe is also an easy one for kids to help with and uses pantry ingredients.
As I go through these pictures, I'm realizing… whoops. I meant a few to have raspberries in them for the paleo option.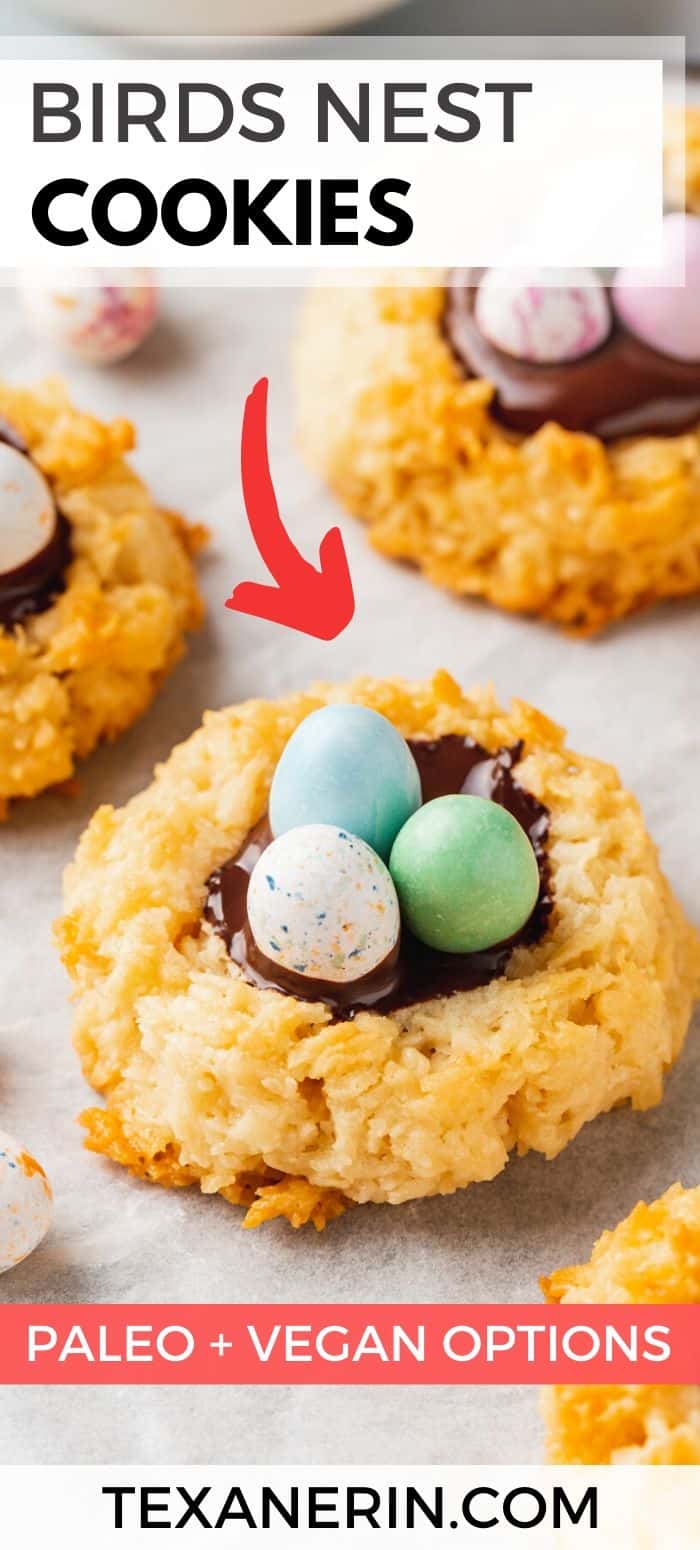 Sorry about that. The raspberries really look good in these cookies and are super tasty with the macaroon base and chocolate!
A lot of birds nest cookies recipes have some funky ingredients in them. Not these!
They just call for coconut butter, maple syrup, coconut, vanilla and salt. Plus chocolate + either Easter eggs or raspberries.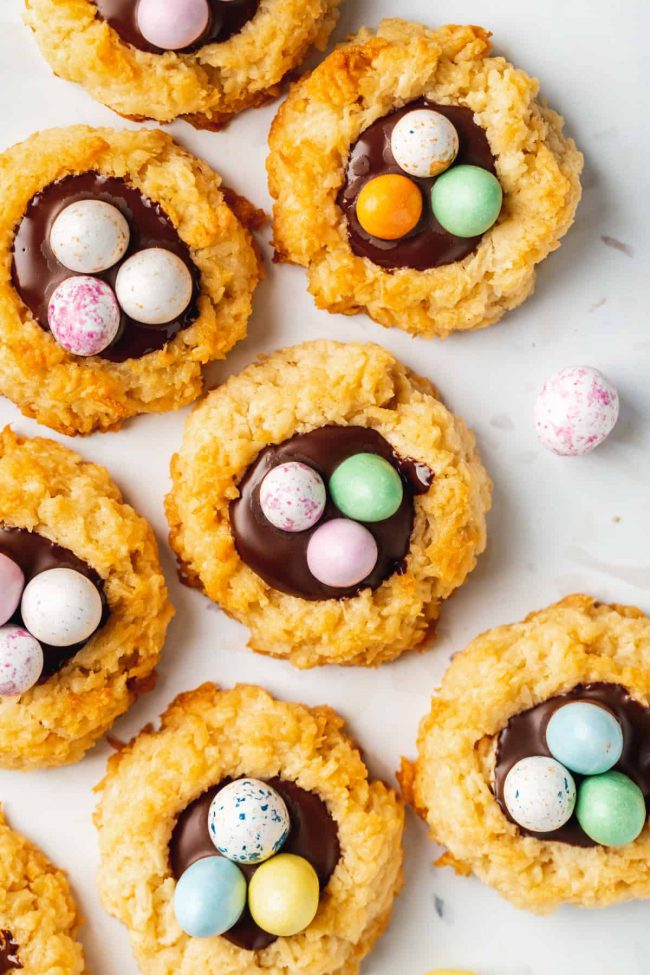 If you don't have coconut butter on hand and don't want to brave a trip to the grocery store, you can make it with just shredded coconut and a food processor. Here's how to make coconut butter.
The base of these birds nest cookies is my vegan macaroons recipe, formed into nests. I don't have many Easter recipes and I wanted to post one this year but due to my missing sense of taste (which I think is starting to come back!), I couldn't come up with a new cookie recipe.
But I think that's totally okay with this recipe because these cookies couldn't be any more delicious!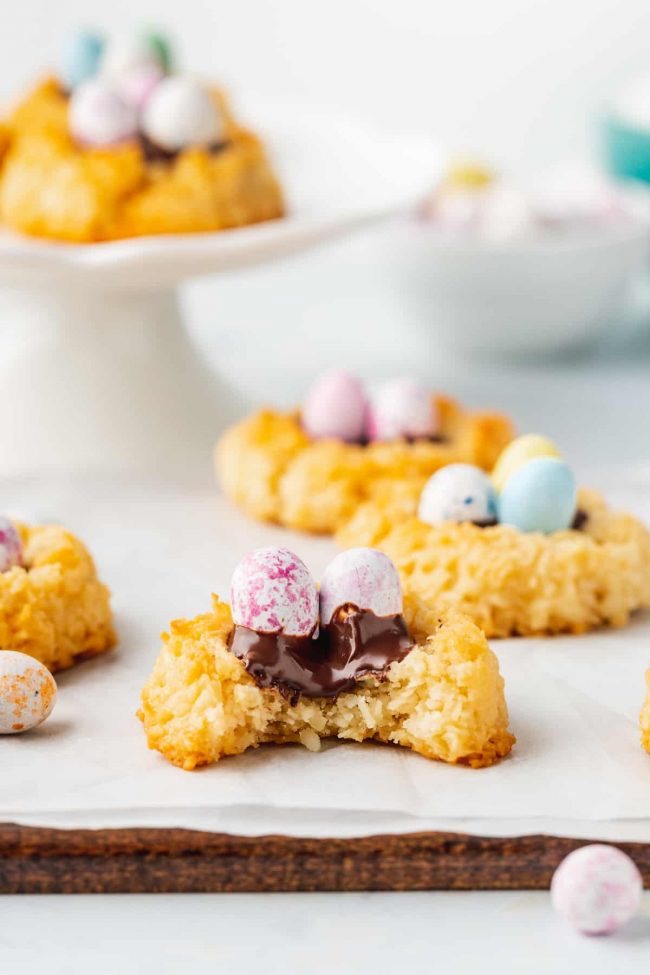 I make these macaroon cookies more than any other recipe on my blog. If you dip and drizzle them in chocolate, they seem to last for weeks.
People always flip for them! My mother-in-law has even requested that I not make anything for her – other than these macaroons.
That's totally fine with me because they're ridiculously easy. You just mix the few cookie ingredients in a pot. And then, of course, dip them in chocolate.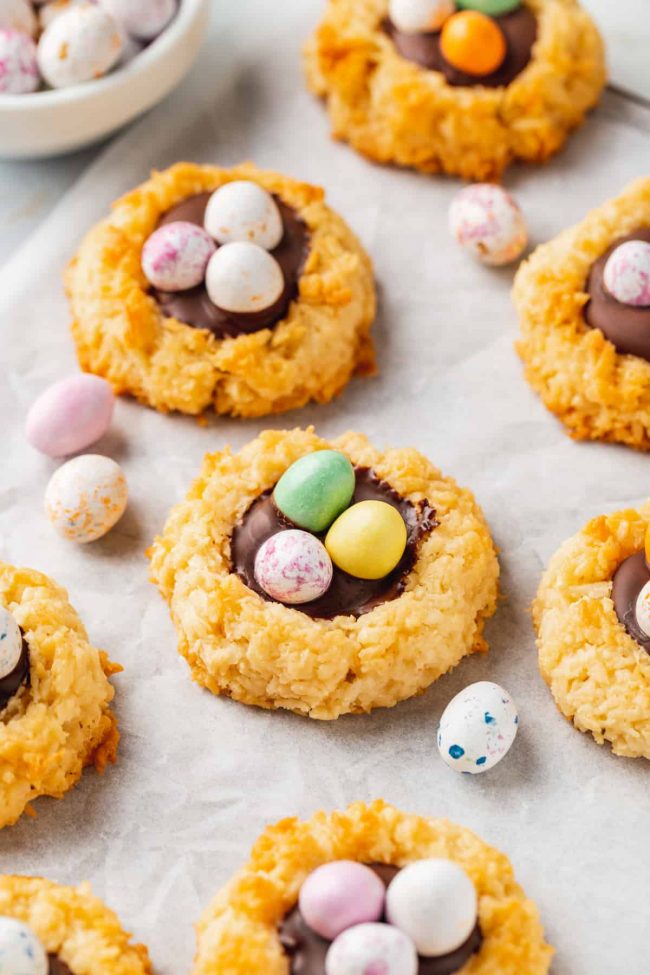 If you go with the Easter egg candy option, make sure they're on the smaller side. You'll want to use three candies to make them look nice and 3 large Easter egg candies + chocolate + the cookie is just too much, I think.
I hope you all have a lovely Easter, if you celebrate, and that you all are staying safe! For more Easter recipes, check out this gluten-free carrot cake, these paleo vegan lemon bars or gluten-free lemon cookies (which are also paleo + vegan!).
These Easter Chocolate Covered Strawberries are also super cute!
Questions about these birds nest cookies?
Easter eggs candies aren't paleo! Are you crazy?! What's wrong with you?! Grrr. I talk about this at the very beginning of my post. :)

Can I use something other than maple syrup? I'm guessing another liquid sweetener would work fine but since I haven't tried, I can't say for sure.

Can I use something other than coconut butter? Unfortunately not. There's no sub for coconut butter and coconut oil will absolutely not work.

Can I use something other than shredded coconut? These won't come out properly if you don't use shredded coconut. I don't think flaked coconut (those are the longer strands) would work and coconut flakes / chips definitely wouldn't work. Desiccated coconut probably would.

Can I reduce the maple syrup? I used the least amount that I thought was enough. You could try reducing it by a little, but the macaroons will be drier and more crumbly. They might not even hold together. So I really don't recommend reducing it!

Do I have to let the dough sit? When I didn't let them sit, they didn't hold their shape as nicely. The edges were overbaked and the cookies were overall kind of greasy. I also tried chilling them to speed things up but letting them sit at room temperature for 30-60 minutes was better.
❀
Birds Nest Cookies (paleo, vegan)
Prep Time:
Cook Time:
Ready in:
Yield:

12 cookies
Ingredients
5 tablespoons (80 grams) coconut butter – not coconut oil! (please weigh this as it's hard to measure correctly and different brands vary quite a bit)
6 tablespoons maple syrup
2 teaspoons vanilla extract
1/4 teaspoon salt
1 1/2 cup (120 grams) shredded unsweetened coconut
1/4 cup chopped semi-sweet chocolate or chocolate chips (make sure to use paleo / vegan chocolate), melted
about 3 small Easter egg candies per nest (make sure to use vegan chocolates if you need these to be vegan) or raspberries for the paleo option
Directions
In a medium saucepan over medium heat, mix together the first 4 ingredients (coconut butter through salt).
Stir frequently until everything is melted and well combined. Remove from the heat.
Stir in the coconut. Let the mixture sit for 30-60 minutes at room temperature.
Preheat the oven to 325 °F (163 °C) and line a cookie sheet with a piece of parchment paper.
Use a 1.5 tbsp cookie scoop (the scoop is important so they have the right rustic look - if you just roll them into balls, they don't have little bits of coconut sticking slightly out) to form 12 25-gram balls. Place at least 2" apart of the cookie sheet. Use a teaspoon measuring spoon to form a little indentation in the center of each cookie. You can use a different tool if you have something better.
Bake for 18-20 minutes or until the cookies are lightly browned. Let cool on the cookie sheet and let cool completely before adding the chocolate. I used about 3/4 teaspoon per nest, but you might only be able to use 1/2 teaspoon depending on how deep your holes are and how big the candies are.
Add the Easter eggs (3 per nest would look best) and let chocolate harden.
These will keep well in an airtight container for at least 5 days.