These chocolate gingerbread cookies are perfectly soft, chewy and loaded with spicy Christmas goodness. Can also be made vegan. Thanks to Bob's Red Mill for sponsoring today's post.
You'd probably think that the Monday before Thanksgiving, I'd be posting an actual Thanksgiving recipe. But whoops. I got the date wrong and didn't make enough Thanksgiving recipes!
So here I am with Christmas cookies!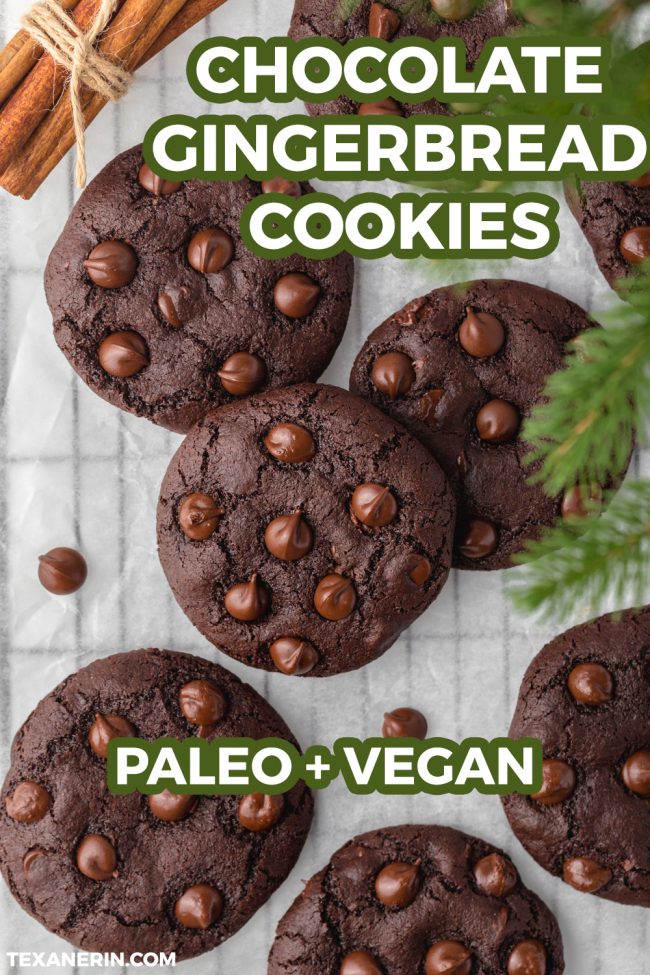 I already have a recipe for chocolate gingerbread cookies that are made with whole wheat or all-purpose flour. They are really, really amazing. But not so much if you can't have grains!
I've been wanting to convert that to a paleo version for a while now so that's what I'm sharing today! And the result is some cookies that are just as perfect as the regular wheat flour version.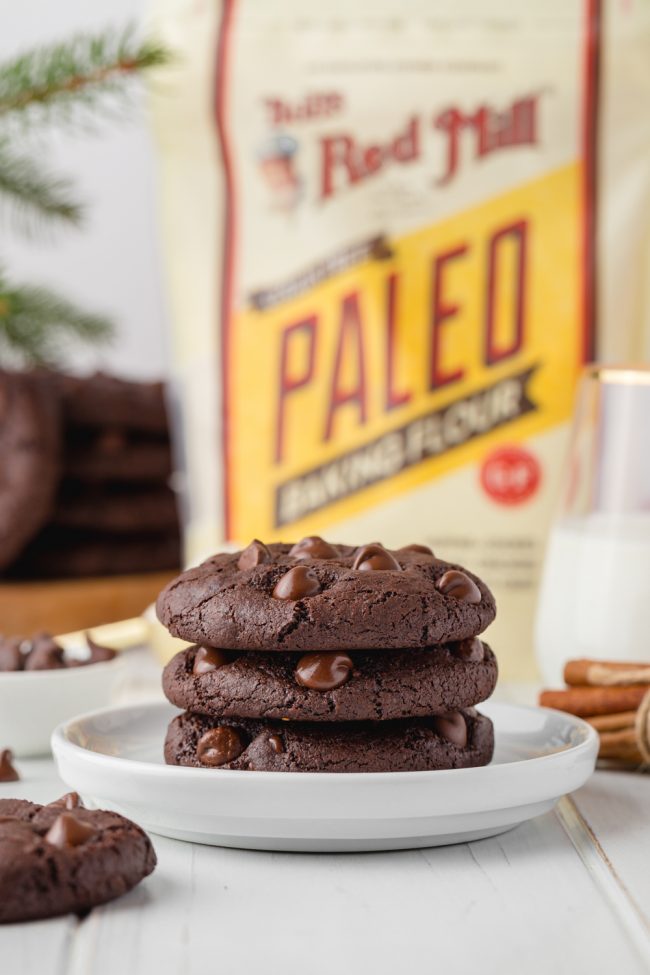 It was really easy converting the recipe to a paleo one using Bob's Red Mill Paleo Baking Flour, which is a blend of almond flour, arrowroot starch, coconut flour and tapioca flour. For this recipe, all I did was reduce the flour from 1 2/3 cups to 1 1/2 cups.
For some recipes, it's a direct 1-to-1 sub. For others, you might want to make a slight reduction like I did in these cookies.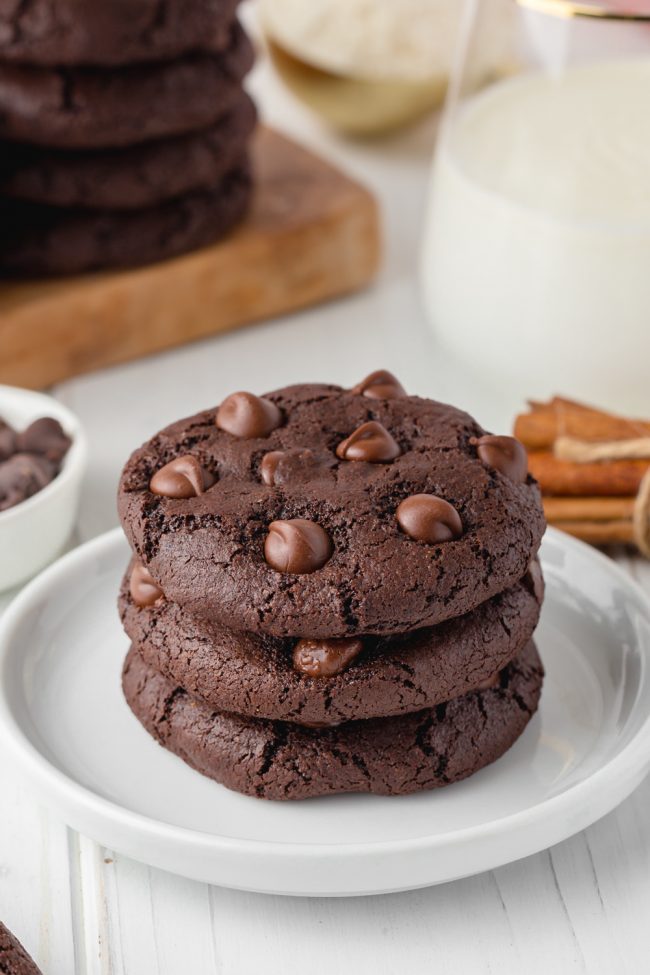 If you don't feel like playing around a little, Bob's Red Mill has lots of recipes that call for their Paleo Baking Flour.
If chocolate and gingerbread sounds like a weird combination to you (it's really sooo good!), I have a classic recipe for paleo gingerbread cookies. Bob's Red Mill also has this paleo gingerbread pancakes recipe that looks amazing (and it uses the Paleo Baking Flour!)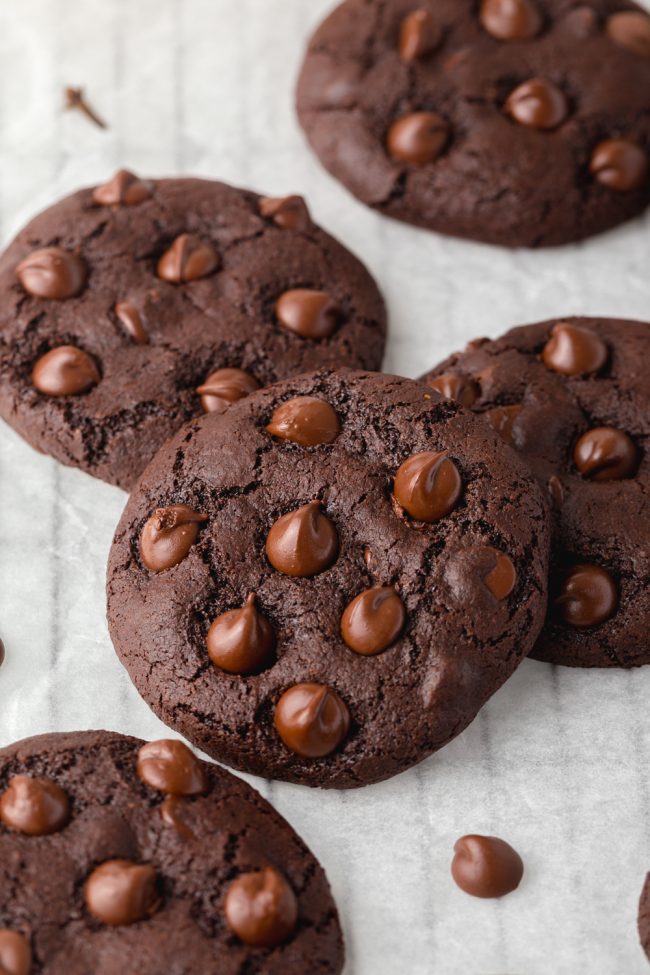 Substitution questions for these chocolate gingerbread cookies?
Can I use something instead of the paleo baking flour?

If you can have grains, I link to the all-purpose and whole wheat version above. There's not another 1-to-1 sub for wheat flour or this paleo baking flour, so that's all I can recommend.

Can I use something instead of coconut sugar?

Brown sugar works if you don't care about them being paleo. Subbing in a liquid sweetener won't work. There's no liquid to reduce to make up for the added liquid, so it'd made the cookies cakey. Any other granulated sweetener would probably work.

Can I use something instead of coconut oil?

I think butter (for a dairy-containing version) or olive oil (or another liquid oil) would work.

Can I use something instead of molasses?

Molasses is what gives gingerbread cookies their typical gingerbready taste (along with the spices!). I don't recommend subbing it if you want that taste. It's also thicker and stickier than other types of sweetener.

What can I use instead of the egg or chia egg?

I haven't tried anything but eggs and chia eggs but I think any egg sub would probably work here.
If you try these chocolate gingerbread cookies, I'd love to hear how they come out!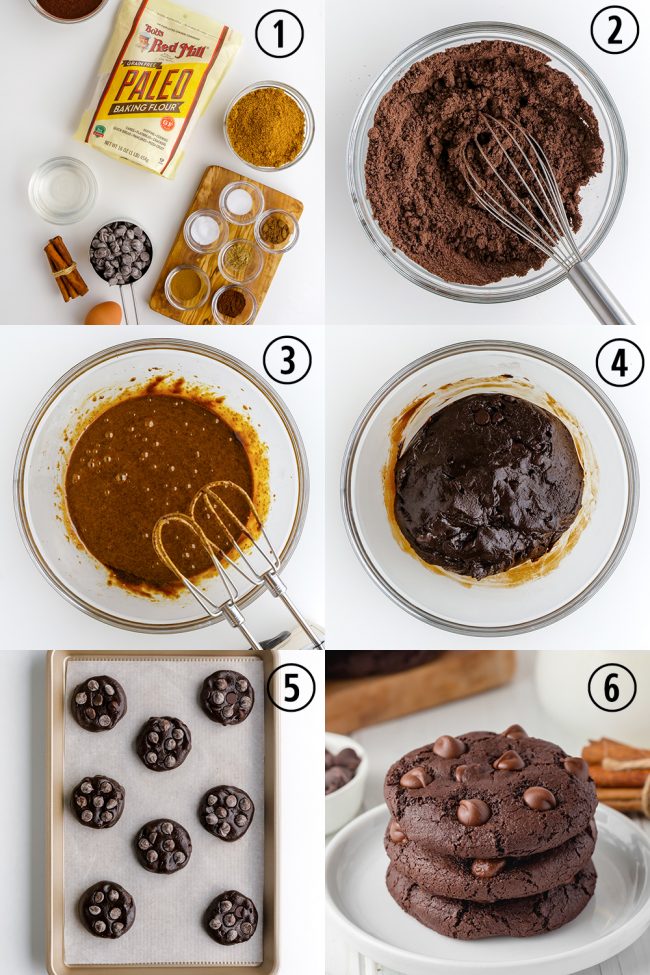 ❀
Paleo Chocolate Gingerbread Cookies (paleo, vegan option)
Prep Time:
Cook Time:
Ready in:
Ingredients
1 1/2 cups (138 grams) Bob's Red Mill Paleo Baking Flour
2/3 cup (77 grams) Dutch-process cocoa powder (the regular kind probably works, too)
1 teaspoon baking soda
1 1/2 teaspoons ground cinnamon
1 1/4 teaspoons ground cloves
1/2 teaspoon ground nutmeg
1/2 teaspoon ground ginger
1/2 teaspoon salt
2/3 cup (133 grams) coconut sugar, very tightly packed
1/4 cup (56 grams) coconut oil, melted
1/3 cup (117 grams) molasses
1 large egg (50 grams, out of shell), room temperature, or 1 chia egg for vegan
3/4 cup (128 grams) chocolate chips + another 1/4 cup (42 grams to top the cookies with) - make sure to use paleo / vegan chocolate, if desired
Directions
Preheat the oven to 350 °F (175 °C). In a large bowl, mix together the flour, cocoa powder, baking soda, cinnamon, cloves, nutmeg, ginger, and salt.
With an electric mixer or stand mixer, beat the sugar, oil, and molasses on medium until well combined. Add the egg, and beat until combined. Slowly add the dry ingredients and mix on medium until combined. Stir in 3/4 cup chocolate chips.
Roll into 16 45-gram balls and flatten the balls with your palm. They don't spread very much. Top with remaining chocolate chips.
Bake for 10 minutes or until the tops crackle. Cool the cookies on the sheets for 5-10 minutes, then transfer to wire racks to cool completely.
Once totally cool, store in an airtight container for up to 4 days or refrigerate for 1 week. Can also be frozen.