These paleo chai spiced cookies are perfectly soft, chewy and also grain-free, gluten-free and dairy-free!
11/2019 update! I just posted another recipe for chai cookies that I think are even better. Check out these chai spiced cookies. They're paleo, gluten-free, dairy-free and have a vegan option.
I came across these grain-free thick and chewy snickerdoodles from A Clean Bake last week and knew that I had to make them! But being as it's October, I wanted to fall-them-up a little, so I used maple syrup instead of honey and added quite a bit of chai spice to turn them into paleo chai cookies.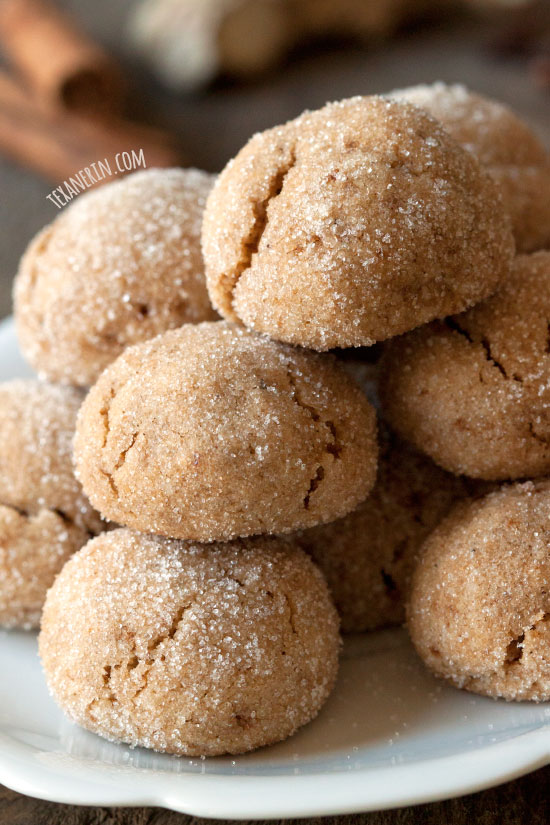 I looked up different recipes for chai spice mix and all the recipes were different and used different spices so I just threw in some ginger, cinnamon, cardamom and cloves. I thought it was a perfect mix but you can use whatever spices in whatever proportions you want.
The first time I made them paleo chai spiced cookies, I used the chai spice mix in the dough and in the sugar I used for rolling the cookie dough balls in. That was kind of overkill. The cookie itself is spicy enough without rolling them in even more spice. But I still rolled them in sugar because… why not? ;)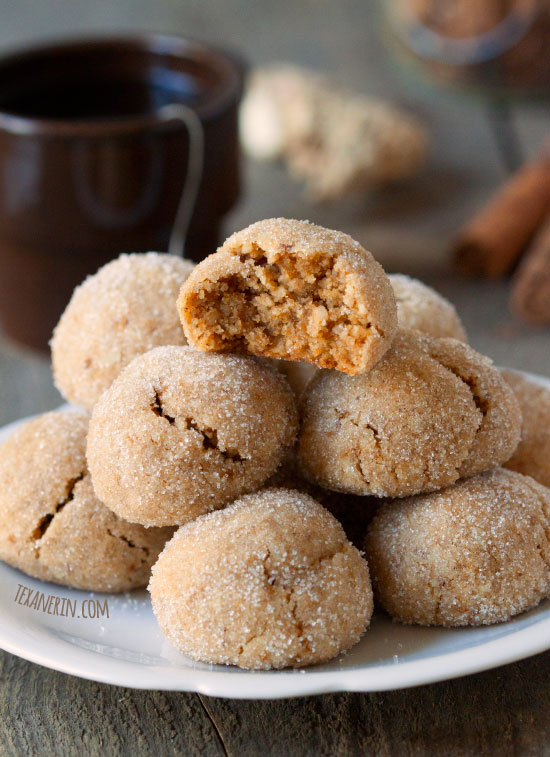 At first, I rolled them in coconut sugar, which totally worked, but I preferred them with granulated sugar, because of texture and taste. Raw sugar would also work well! But of course, if you want to keep these chai spiced cookies paleo, use coconut sugar!
I LOVE how chewy these chai cookies are. Have you ever tried these soft and chewy ginger cookies? They're just like those in size, shape, and texture but with a totally different flavor.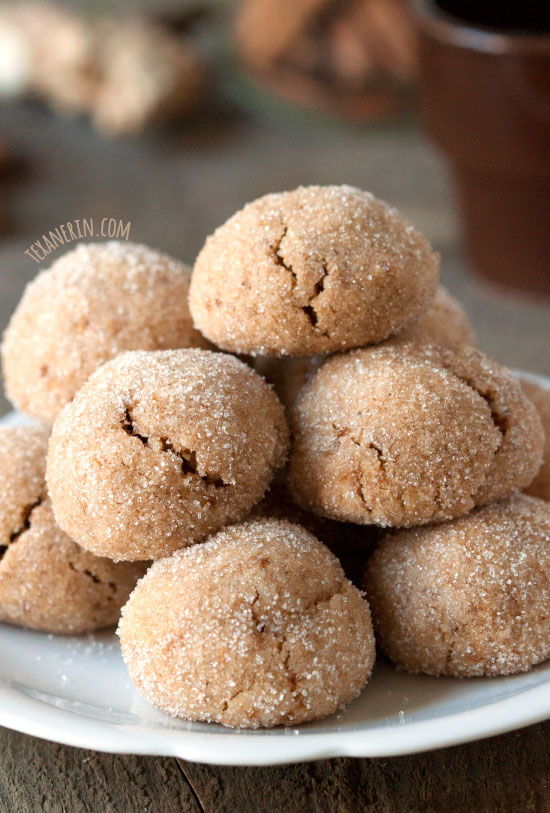 Out of all the types of grain-free goodies (cakes, brownies, muffins, etc.), cookies are definitely my favorite. While the texture is different from cookies with all-purpose flour or whole wheat, they're still nice and chewy and not at all funky. And from a recipe development standpoint – they're the easiest and therefore the least likely to make me frustrated. :D
Wondering what to drink with your chai cookies? This hot spiced apple cider or pumpkin chai latte would be perfect!
And for another great Christmas cookie, try these gluten-free
cut out sugar cookies
!
❀
Paleo Chai Spiced Cookies (grain-free, gluten-free, dairy-free)
Prep Time:
Cook Time:
Ready in:
Yield:

22 cookies
Ingredients
2 cups (200 grams) blanched almond flour
1/4 cup (34 grams) coconut flour, sifted if lumpy
1/4 cup (50 grams) coconut sugar
1/2 teaspoon baking soda
1/4 teaspoon cream of tartar
3/4 teaspoon ground ginger
3/4 teaspoon ground cinnamon
1/4 teaspoon ground cardamom
1/4 teaspoon ground cloves
1/4 teaspoon salt
1/4 cup (56 grams) coconut oil, melted
1/4 cup (60ml) maple syrup
1 teaspoon vanilla
1 large egg
3-4 tablespoons sugar for rolling (you can use raw sugar or coconut sugar for the paleo verison)
Directions
In a medium mixing bowl, stir together the dry ingredients (almond flour through salt).
In a large mixing bowl, mix together the melted coconut oil, maple syrup, vanilla and egg.
Add the dry mixture to the wet and stir just until combined.
Wrap the dough in plastic wrap and refrigerate for 2 hours or until firm enough to roll into balls.
Preheat the oven to 350°F (175°C) and line a baking sheet with a piece of parchment paper.
Roll the dough into 1" balls, roll in the sugar, and place 2" apart on the prepared baking sheet.
Bake for 8-10 minutes or until the tops are firm and no longer wet. They will not brown but may crack a little.
Remove to a baking sheet to cool completely.
Store in an airtight container for up to 5 days.
Adapted from A Clean Bake's Grain-free Thick and Chewy Snickerdoodles