This raspberry coconut tart has a simple press-in coconut crust and coconut pudding filling! It's vegan, gluten-free, and dairy-free.
So. This tart is obviously only for coconut lovers! The crust is just a bunch of coconut products and salt. There's shredded coconut, coconut flour, coconut oil, and coconut sugar (and coconut milk in the pudding filling!) If you want to add a little different flavor, you can add some lime zest. Note that if you use coconut sugar (instead of raw sugar, which I did) that your crust will be a little darker. My favorite part is that you just press it all in so you don't have to worry about rolling out the crust – perhaps my least favorite baking task!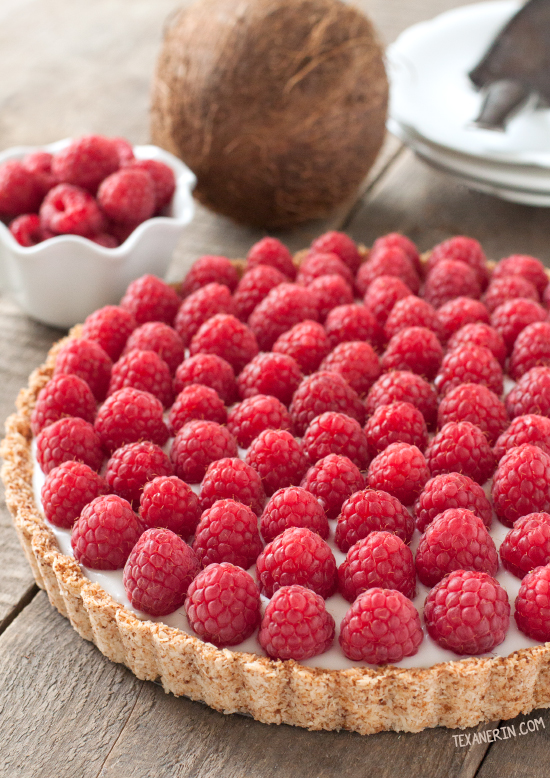 Speaking of shredded coconut, I wish there were some consistency with the names of dried coconut products. What one company calls shredded, another calls flakes, and what one company calls chips are flakes with another company. And don't even get me started on coconut flakes and flaked coconut.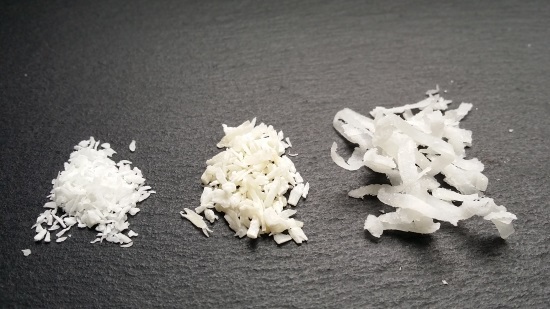 The coconut on the left is what I normally use. It's German desiccated coconut. Sometimes the bags say "coconut flakes" in English, just to add to the confusion. Desiccated coconut is supposedly drier than shredded coconut, but compared to Bob's Red Mill's shredded coconut (pictured in the middle) it's exactly the same except the shreds are a little smaller. Those two are totally interchangeable.
But that stuff on the right? Definitely not interchangeable in some recipes (like this one!) It's store-brand shredded coconut from a grocery store in the US. The shreds are way bigger, seem moister, and it's often referred to as flaked coconut. I'm telling you – it's chaos in the dried coconut world.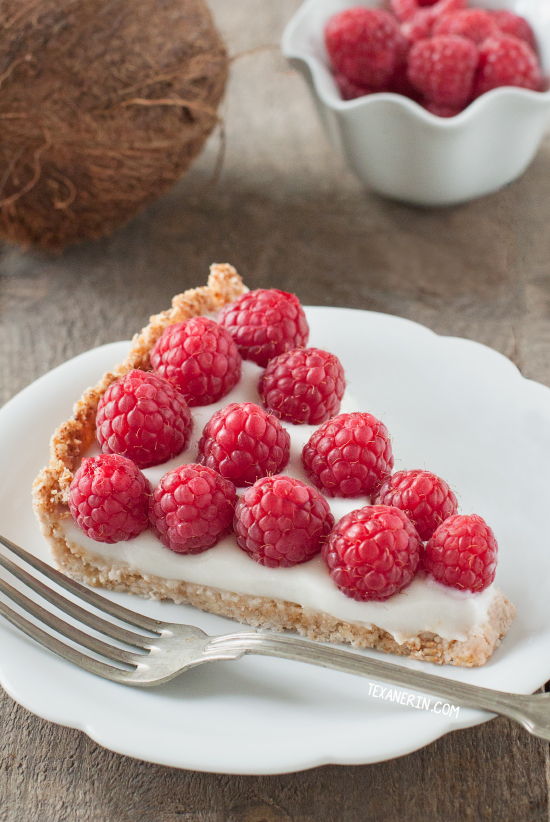 Anyway. This tart! The filling is the vegan coconut pudding that I posted a few weeks ago. That pudding is so thick that it works perfectly as a tart filling. Plop some berries on top and you've got yourself a pretty darn easy to make tart. Some added toasted coconut chips would have been even prettier and I'm totally kicking myself for not thinking of that earlier.
The crust is pretty nifty. When it comes out of the oven, it appears crumbly and like it'd fall apart once you cut into it. Once refrigerated, though, it becomes a hard waterproof (or something like that) crust. So make sure to keep the crust and fully prepared tart refrigerated! Or you could just do what I did – leave it near a window, forget about it for half a day and then just eat the leftovers straight from the tart pan with a spoon. It wasn't all that tragic. ;)
2/29/2016 update: I made this pudding with arrowroot starch several times for a grain-free and paleo version and it worked great! But I just tried it with another brand and the pudding is quite grainy. Until I test a few more brands, I've removed the arrowroot option!
❀
Vegan Raspberry Coconut Tart
Prep Time:
Cook Time:
Ready in:
Yield:

8 slices
Ingredients
For the crust:

2 cups unsweetened shredded coconut
1/3 cup (37 grams) coconut flour
9 tbsp (126 grams) unrefined coconut oil, room temperature (if it's melted, chill it until firm like softened butter. Using melted coconut oil will make the crust mixture greasy and hard to work with).
2 tablespoons coconut sugar or raw sugar
1/8 teaspoon salt
1 tablespoon lime zest, optional

For the filling:

2 1/2 cups (591 milliliters) full-fat canned coconut milk (this is almost 1 1/2 400-ml cans)
7 tablespoons (88 grams) raw sugar, granulated sugar, or coconut sugar if you don't mind a darker taste and color
pinch of salt
7 tablespoons (55 grams) cornstarch
1 teaspoon vanilla extract
1 1/2 teaspoons coconut oil

For garnish:

~3 cups (about 14oz / 400 grams) fresh raspberries
Directions
For the crust:

Preheat the oven to 350 °F (175 °C) and get out a 9" tart pan with a removable bottom.
Mix all the crust ingredients together and pat up the sides and over the bottom of the pan.
Bake for 8-12 minutes or until lightly browned. It'll go from totally white to browned and then burned in moments, so keep a close eye on it!
Let the crust cool completely, about 30-60 minutes, and then refrigerate until cold and firm.

For the filling:

In a small saucepan over medium heat, stir together 1 1/2 cups of the coconut milk with the sugar and salt. Stir occasionally until the sugar is dissolved.
Meanwhile, mix the remaining 1 cup of coconut milk with the cornstarch in a small bowl until well combined. It may appear lumpy at first but keep stirring and it'll combine.
Remove the pan from the heat and stir in the cornstarch mixture while stirring constantly. Once well combined, put it back on the stove, turn the heat to medium and cook until thickened like pudding, whisking constantly (do not walk away and do not stop whisking!). This will take anywhere from 30-60 seconds (some commenters have needed up to 3-4 minutes). Do not let it continue cooking once it's thickened - this can cause the cornstarch to break down and will make the pudding runny.
Remove from the heat and stir in the vanilla and coconut oil.
Let cool until room temperature and then pour into the chilled crust. Chill for about 1 hour before topping with raspberries.

For the garnish:

Up to about 4 hours before serving, top the tart with raspberries.
The tart keeps well for up to about 2 days, but is best on the first day. The crust will remain firm as long as it's refrigerated. Cut what you need and then return the tart to the refrigerator to prevent the tart from soaking up the pudding and getting soggy.
Notes
Make sure to use certified gluten-free products, if necessary!
As an Amazon Associate, I earn from qualifying purchases. For more info, see my disclosure.