These chocolate peanut butter football truffles are made a little healthier in this grain-free and gluten-free version! With vegan and paleo options.
I'll be sharing a football-themed recipe on Wednesday that is topped with these football truffles but I couldn't wait until then to share this recipe with you. They're so cute and delicious that I decided they need to have their own post!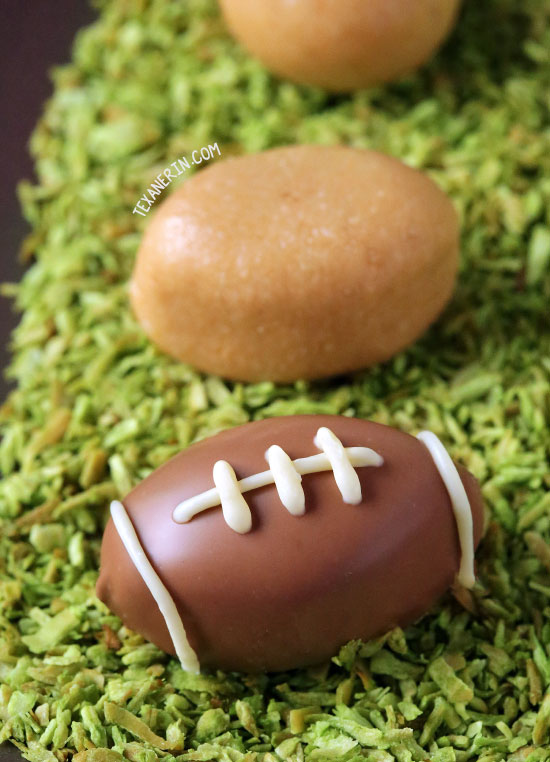 The filling is similar to a peanut butter cup but it's not quite the same. It's not as creamy – it's definitely more crumbly. I wanted the filling to be really easy to work with so that forming the little footballs wouldn't be too cumbersome. The peanut butter cups I've made in the past with natural peanut butter aren't even nearly close to being firm enough for that so I used a slightly adapted version of my raw peanut butter cookie dough recipe.
I tried one version with coconut sugar instead of maple syrup and what's weird is that that version was almost liquidy – especially in comparison to the maple syrup version listed below! So definitely don't sub in a granulated sweetener for the maple. I'm guessing honey would work for a non-vegan version.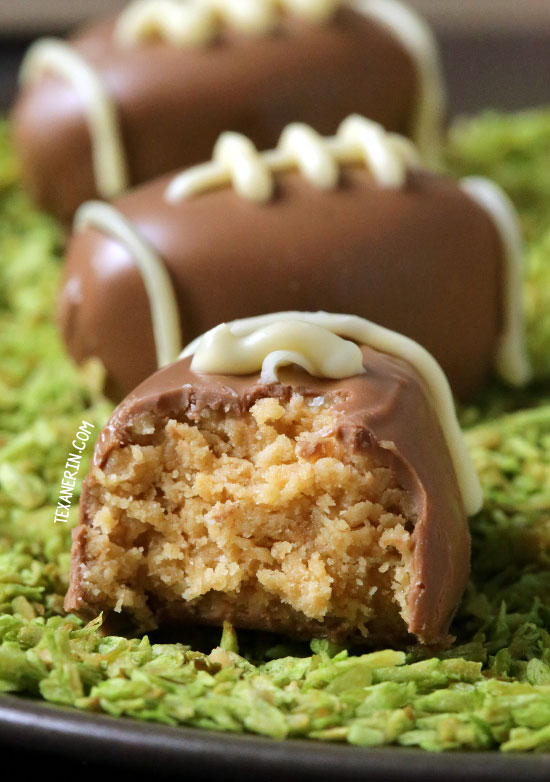 The only thing that is slightly challenging with this recipe is the forming of the footballs. The first time I made them, I obsessed over the shapes. They didn't look nearly as round as the other football truffles I'd been seeing around the blogosphere! After a while, I just gave up and dipped them in chocolate and you can see how they turned out. So it really doesn't matter if they're perfectly round! They'll still turn out looking nicely.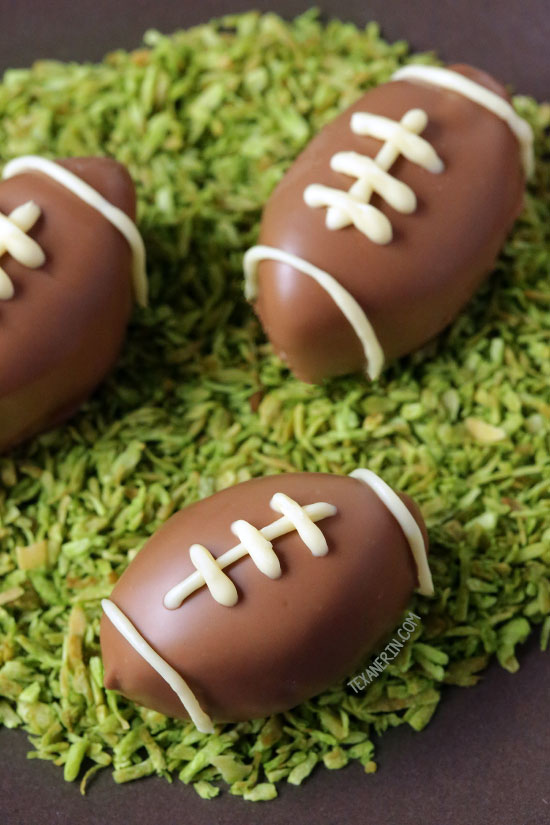 If you're dairy-free or vegan and don't already have a favorite white chocolate brand, check out this dairy-free white chocolate guide from Fork and Beans! For the paleo folks, try this homemade paleo white chocolate from Beyond the Bite.
For paleo, you'll also want to swap the peanut butter with almond butter or another type of nut butter. It seems as though the fat content varies between the different types of nut butters so you may need more coconut flour if you use something other than peanut butter.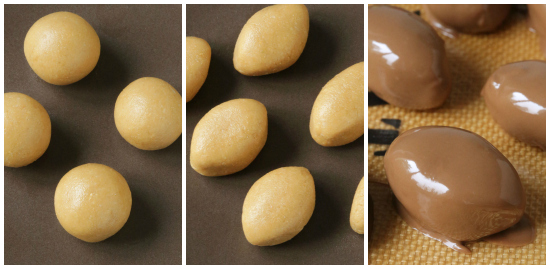 When it comes to dipping stuff in chocolate and piping, my skills are lacking. I'm throwing that out there in case anyone is worried that their truffles wouldn't come out looking like mine. ;) If I can do it, so can you!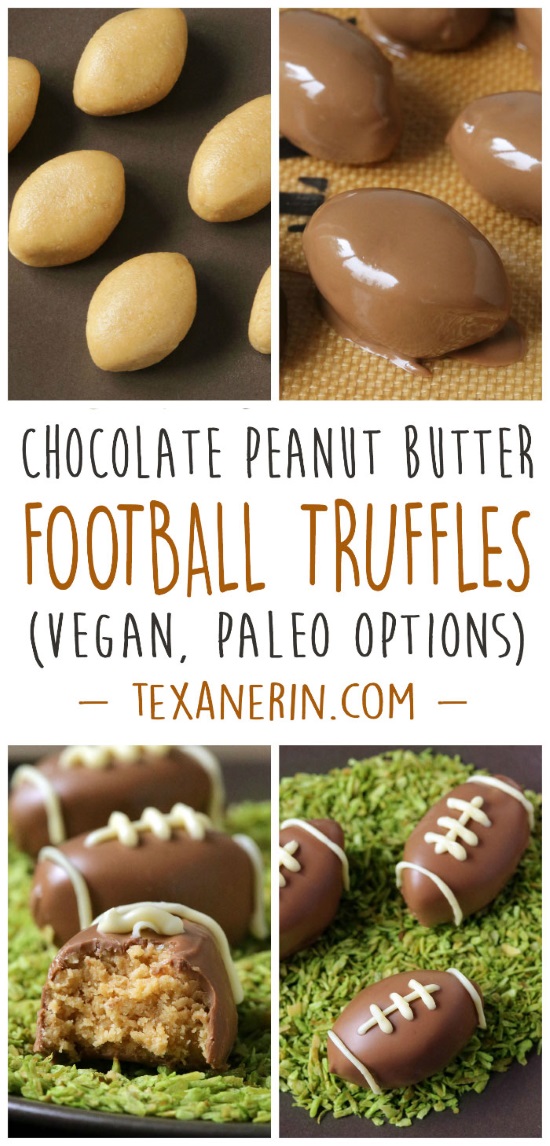 ❀
Chocolate Peanut Butter Football Truffles (gluten-free, grain-free, with paleo + vegan options)
Prep Time:
Cook Time:
Ready in:
Yield:

16 truffles
Ingredients
3/4 cup (192 grams) salted natural peanut butter (the kind with just peanuts and salt) or another type of nut butter1
2 tablespoons maple syrup
3/4 cup (75 grams) almond flour
1/2 teaspoon vanilla extract
pinch of salt, if desired (add more than a pinch if your peanut butter is unsalted)
1-2 teaspoons coconut flour, if needed
3/4 cup + 2 tablespoons (150 grams) chocolate chips or chopped chocolate - I used milk chocolate2
1/2 tablespoon (7 grams) refined coconut oil
1/4 cup (170 grams) white chocolate chips or chopped white chocolate2
Directions
In a medium mixing bowl, stir together the peanut butter, maple syrup, almond flour, vanilla and add salt to taste. Once thoroughly combined, let sit for 5 minutes. If the mixture is firm enough to easily shape into balls, move on to the next step. Otherwise, mix in 1/2 teaspoon of coconut flour at a time until the dough is firm enough. Wait about a minute or two after adding it to judge its consistency.
Roll the mixture into 16 balls. I used 19 grams or slightly more than a level tablespoon per ball.
Then roll into ovals and pinch the ends to create football shapes. If you find yourself re-rolling several times and the dough becomes dry, a tiny bit of water or vanilla can be added.
Place a piece of parchment paper or a Silpat on a cutting board or something else flat that can fit in your refrigerator. Place the milk chocolate chips and coconut oil in a very small saucepan over medium-low heat. Stir until melted. Remove from the heat. Dip the top of one football into the chocolate, and then use a small fork to flip over and cover the rest of the football in chocolate. Shake the chocolate-dipped truffle back and forth briskly but gently to drizzle away the chocolate. Place on the parchment paper. Repeat with the remaining footballs. Place in the refrigerator for 1 hour or until the chocolate has hardened.
Place the white chocolate chips in a very small saucepan over medium-low heat. Stir until melted. Remove from the heat. Place the white chocolate in a piping bag and pipe on the white lines of the football. I used a knife to wedge under the footballs to make piping the lines around the sides easier. It takes a little practice so leave the best looking footballs for last!
Keep refrigerated until ready to use / serve. They'll keep well for several days. They'll sweat as they come to room temperature but the liquid disappears after about an hour. If you're worried about it, make these truffles on the day of serving and store at room temperature.
Notes
For paleo, use almond butter or another type of nut butter (except peanut butter). Every brand and type of nut butter is slightly different. You may have to add more coconut flour if using almond, hazelnut, etc. butter.
Make sure to use vegan, dairy-free, paleo chocolate chips and paleo white chocolate if needed.