These eggless brownies might be the gooiest brownies ever, and they don't use any odd egg subs! You just need Greek yogurt, which adds an amazing taste to the brownies. They're perfectly rich and chocolaty and can be made with all-purpose, whole wheat or gluten-free flour.
I only have one other eggless brownie recipe on the blog – these Paleo Vegan Brownies. And I know that unless you're paleo and vegan, you're probably not going to make them as you likely don't have almond flour, coconut sugar and ground chia seeds sitting around.
By the way, has anyone made them?! I've worked harder on that recipe than any other on the blog and have gotten zero feedback on it. So if you have made them, I would be super thankful if you could leave a review on the recipe. :)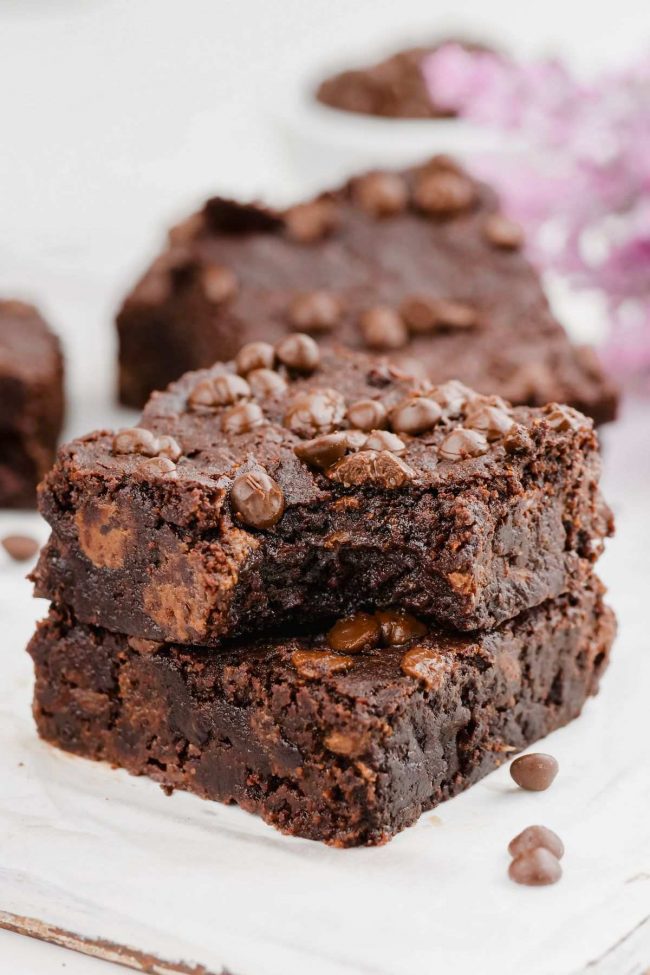 So to help out the folks who just want some brownies without eggs – and who don't care about gluten (although there is a gluten-free option for this recipe) and dairy – this recipe is for you!
And I have to say – I actually prefer this version over the egg-containing version! Today's recipe is based on my Gluten-free Brownies recipe (which can also be made with regular and whole wheat, in case you're interested!).
Why do I prefer these? The Greek yogurt adds a really nice taste, kind of tangy, but not really. That's a pretty terrible description, I know. I guess you'll just have to try them. :)
Ingredients
These are your basic cocoa powder-based brownie ingredients, with Greek yogurt in place of the eggs.
Flour – you've got a few options here. The ones in the pictures were made with whole wheat, but I've also tested them with all-purpose flour and Bob's Red Mill Gluten-free 1-to-1 Baking Flour for the gluten-free option.

Each version is equally delicious. And they all look the same.


Cocoa powder – I made these using Dutch-process cocoa powder. If you don't have that, Hershey's Special Dark is a good sub.

If you use natural cocoa powder (the regular Hershey's kind), then the brownies might be a bit cakeier. I can't say for sure, though, as I haven't tried it.


Coconut oil or butter – I used refined coconut oil because I prefer my brownies without any coconut taste. If you don't mind it, feel free to use unrefined.

Butter also works great.


Greek yogurt – please read below for more important info about the yogurt!



Chocolate chips, optional – You absolutely don't need to use these. They're sweet and delicious enough without but melty chocolate is always a nice addition.



Granulated sugar or coconut sugar – both are great.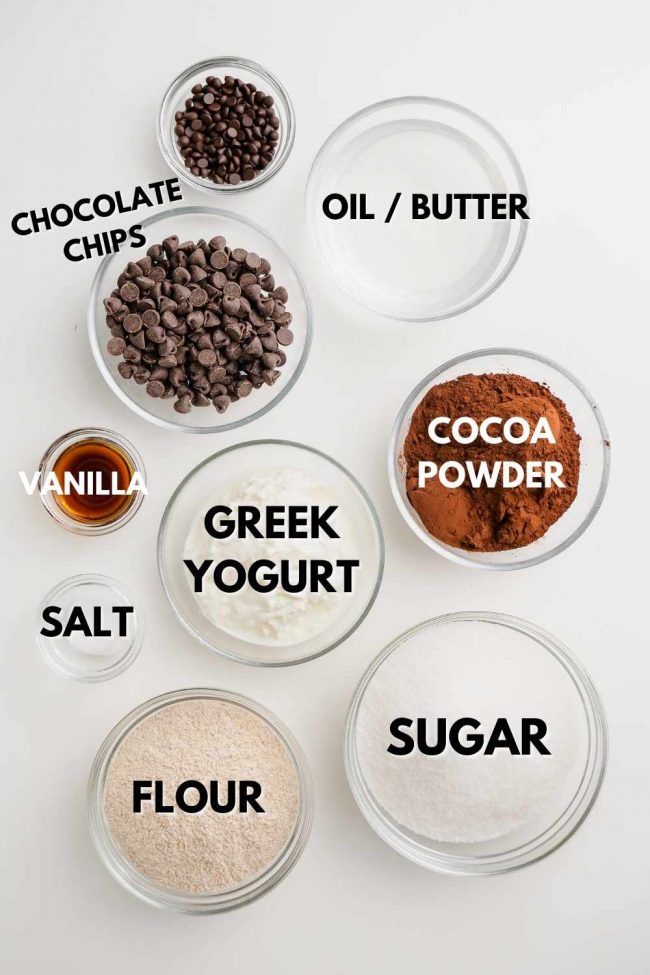 Awesome texture
To be honest, I thought these brownies would be terrible before I made them. I'd tried other eggless brownies recipes, and the ones with Greek yogurt resulted in a gummy, rubbery and just plain nasty texture. Or they were cakey.
If you google "eggless brownies" and look at images, you'll see that a lot of them even look like that. Or cakey!
A ton of Greek yogurt brownie recipes are cakey. I know some people prefer cakey brownies, but I really don't need those in my life. ;)
So I'm super happy to be sharing this recipe with you today! I feel like they are the gooiest, most normal eggless brownies out there. :D
Unfortunately, you can't really see it in the photos. They were soo gooey that the photographer had to chill them to get them in a neat stack.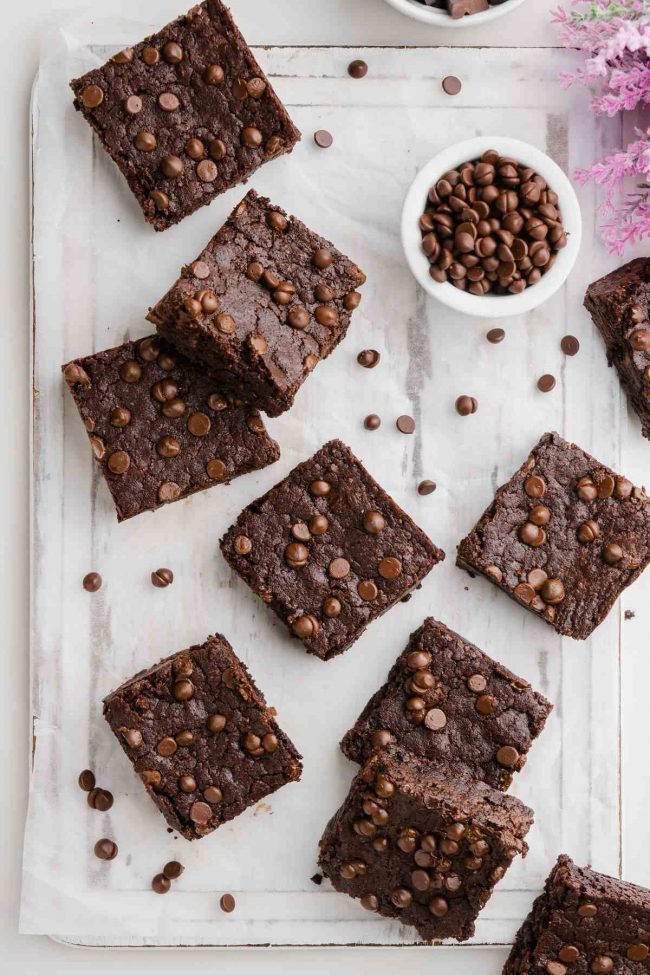 Do I have to use Greek yogurt?
Yes, as it's so much thicker and richer than regular yogurt! And please use full-fat.
The fat in the yogurt is necessary. The original recipe I based these egg-free brownies on uses 14 tablespoons of oil. If you use that amount of oil in this recipe, you'll find your brownies swimming in oil.
I had to reduce the oil to 2/3 cup, or by 3 tablespoons + 1 teaspoon. That's not an insignificant reduction.
I did try them using 2% fat Greek yogurt + 2/3 cup oil. The first time I did that, I baked them for 20 minutes, as it says in the recipe, and I thought that they were dry and cakey.
I also tried 2% fat Greek yogurt + 14 tablespoons and then 12 tablespoons and both versions were too greasy.
Then I tried them again with 2/3 cup and… that was indeed the right amount. I had overbaked them.
You have to bake them 4 minutes less than the full-fat version. And weirdly enough, they seemed much sweeter than the full-fat version. I could only eat a small piece.
I was also thrown off because they looked pretty different than the full-fat version. The top of the low-fat version looks almost exactly like when you put them in the oven, except not wet-looking. So they don't have those nice crackles that you see in the photos.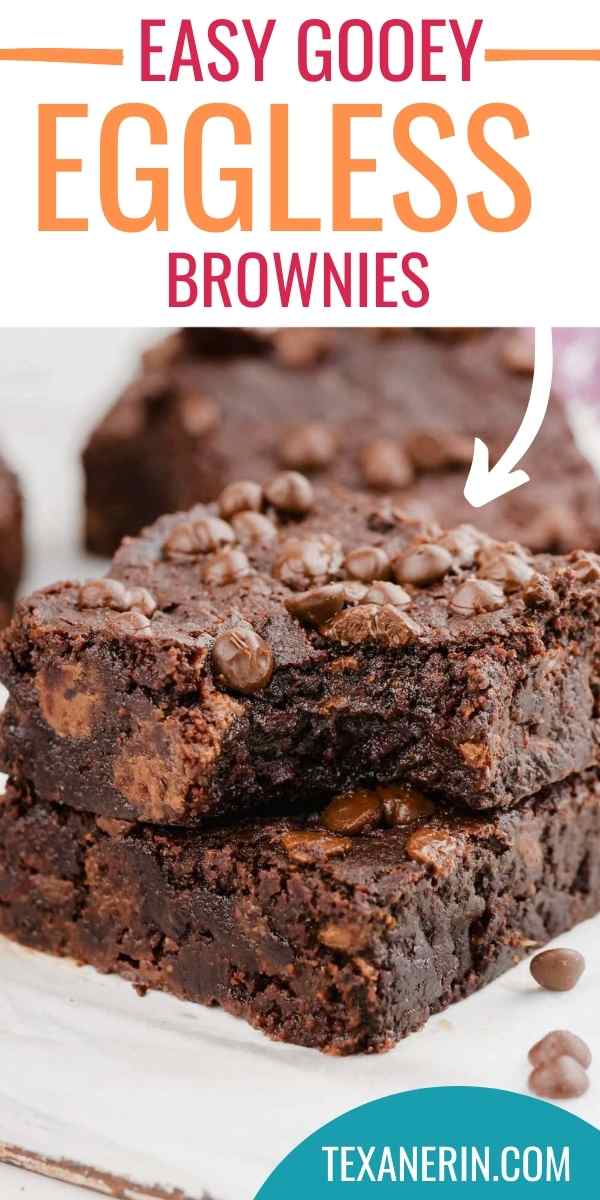 What about vanilla Greek yogurt?
If there's just a tiny bit of sweetener in your vanilla Greek yogurt, I think it'd be fine. But note that these brownies are already perfectly sweet. If you add even more sweetener, the brownies might be too sweet.
Can I use vegan / dairy-free yogurt?
I sure wish you could so I could offer a vegan option on these! But I've never found a vegan yogurt that's as thick as full-fat Greek yogurt.
If you have access to one, let me know how it works out! I'd love to add a note to the recipe for the other vegan readers.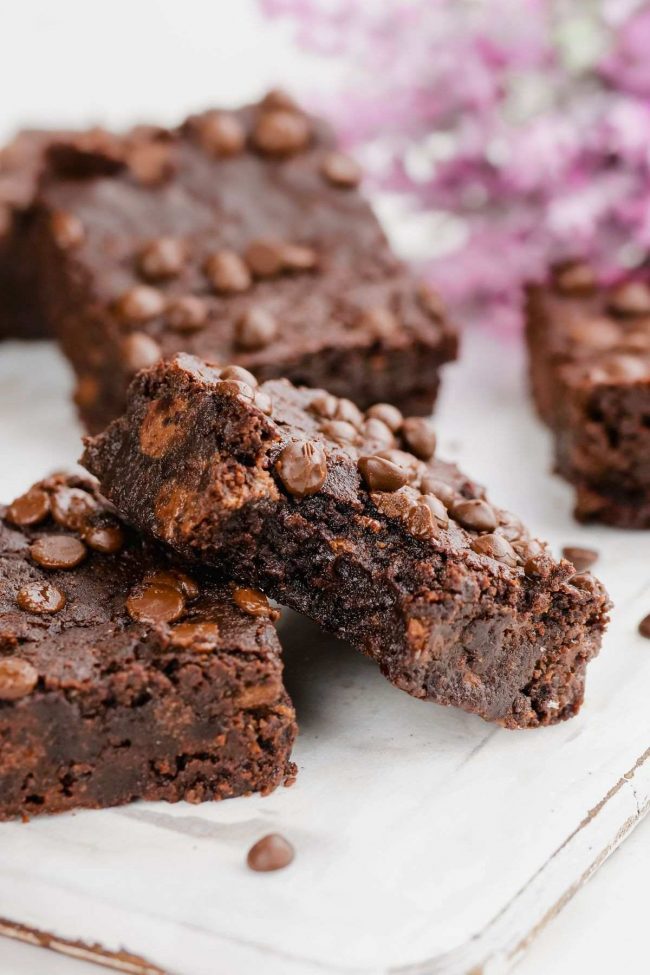 Can I use eggs in place of the Greek yogurt?
If you want to do that, please see the original recipe (linked to at the beginning of the recipe).
Can I use X type of flour?
These brownies work with all-purpose flour, whole wheat flour, white whole wheat flour and Bob's Red Mill Gluten-free 1-to-1 Baking Mix.
Other gluten-free baking mixes might work, but I can't say for sure without trying them.
Almond flour, coconut flour, and other alternative flour will not work in this recipe. You need to use something that's a 100% sub for all-purpose flour.
The batter looks weird!
That's okay. So did mine.
When you mix the dry and wet ingredients together, it'll form a big greasy-looking lump. Definitely not your normal-looking brownie batter!
But as long as the coconut oil is combined and not floating at the top, they'll be fine. Stir until the oil is incorporated, but not vigorously. You don't want to overmix brownies!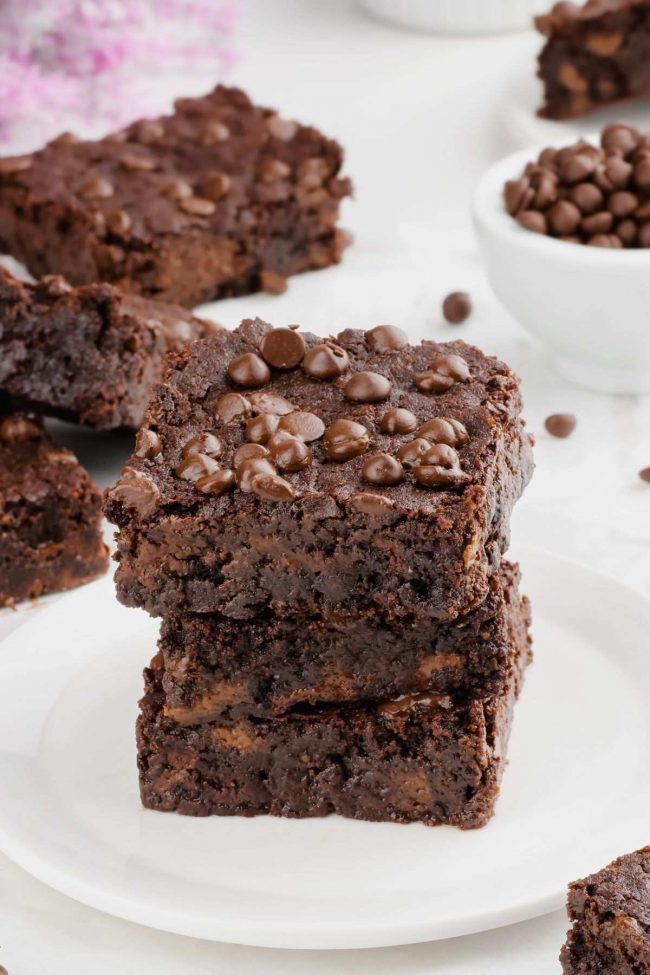 More questions about these brownies?
Can I use something instead of the listed flours?

Unfortunately not. You need a 1-to-1 sub for all-purpose flour. The only gluten-free flour I've tried in this recipe is Bob's Red Mill 1-to-1 Gluten-free Baking Flour. In the original egg-containing version of this recipe, commenters have used Pillsbury, King Arthur and Namaste with success.

Do I have to use Dutch-process cocoa powder?

No, but they might turn out cakey and not as chocolaty as you would like. I will say that no one has complained about these brownies even though they used regular cocoa powder. So I think they should be fine with whatever cocoa powder you want to use.

Can I use something instead of the listed fats?

The fats listed are the only ones that I've tried. I'm pretty sure that neutral-tasting oils like light olive oil, canola oil, vegetable oil, etc. would work, as I've tried them in the original egg-containing version of this recipe. However, I'm not positive as I haven't tried them in this egg-free version.

Do they taste like coconut if I use coconut oil?

Not if you use refined coconut oil. They taste 100% like traditional brownies, and are super gooey. If you use unrefined coconut oil, then yes, there will be some coconut taste.

Can I use something instead of coconut sugar / granulated sugar?

Substituting a liquid sweetener will not work. There isn't any liquid to reduce to make up for the added liquid, so it'd make the brownies cakey or quite possibly a liquidy mess. But other granulated sweeteners, like maple sugar, would probably work.

Can I reduce the sugar?

One commenter in the original recipe stated that they reduced the sugar to basically nothing at all and the brownies were still gooey. But I don't see how that is possible. Or perhaps we have differing opinions on what gooey means.

The less sugar you add, the cakier and less gooey they become. They also might not hold together well because sugar is a binder.

If you must reduce the sugar, you could probably knock off 1/4 cup, but don't be surprised if they don't have the perfect texture that you see in the photos.

What can I use instead of the Greek yogurt?

There's not a sub for it in this recipe. You must use Greek yogurt for the recipe to work. Chia eggs, flax eggs, etc. will not work. If you want to use eggs, use the original recipe (linked to at the beginning of the post)./p>

Do I have to use the chocolate chips?

Nope! They're sweet enough without. I just like them in my brownies. You could also top them off with my favorite Paleo Chocolate Fudge Frosting.

Can I double this brownie recipe?

Yes! Use a 9″x13″. I don't know the baking time but it's not that much more than the single recipe.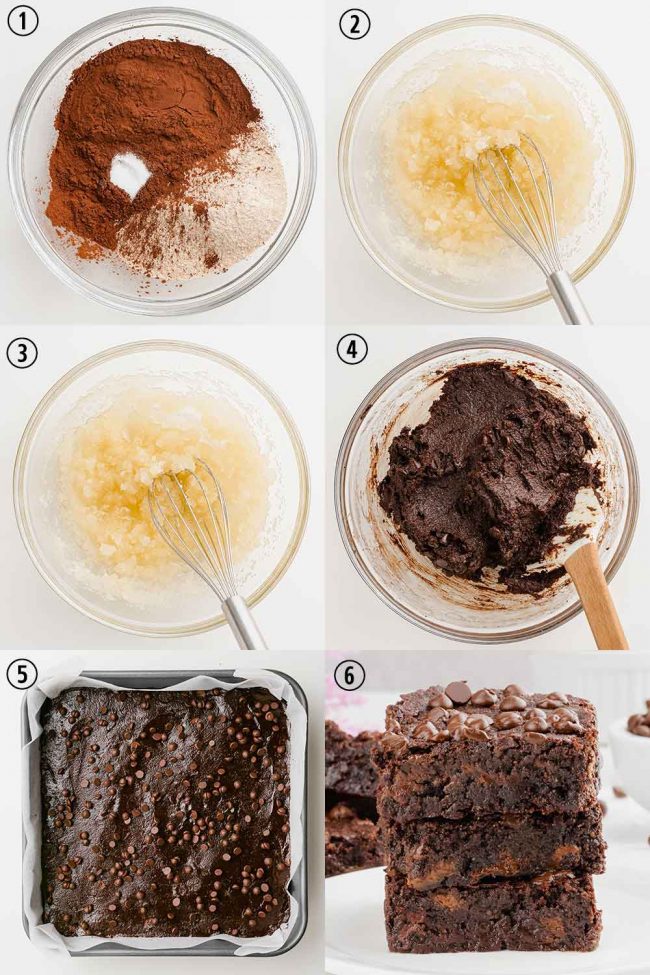 More eggless desserts:
If you decide to top to try these egg-free brownies, I would love to see pictures 📸! Just tag #texanerin on Instagram, Facebook, Twitter and Pinterest so I can easily find them. Enjoy!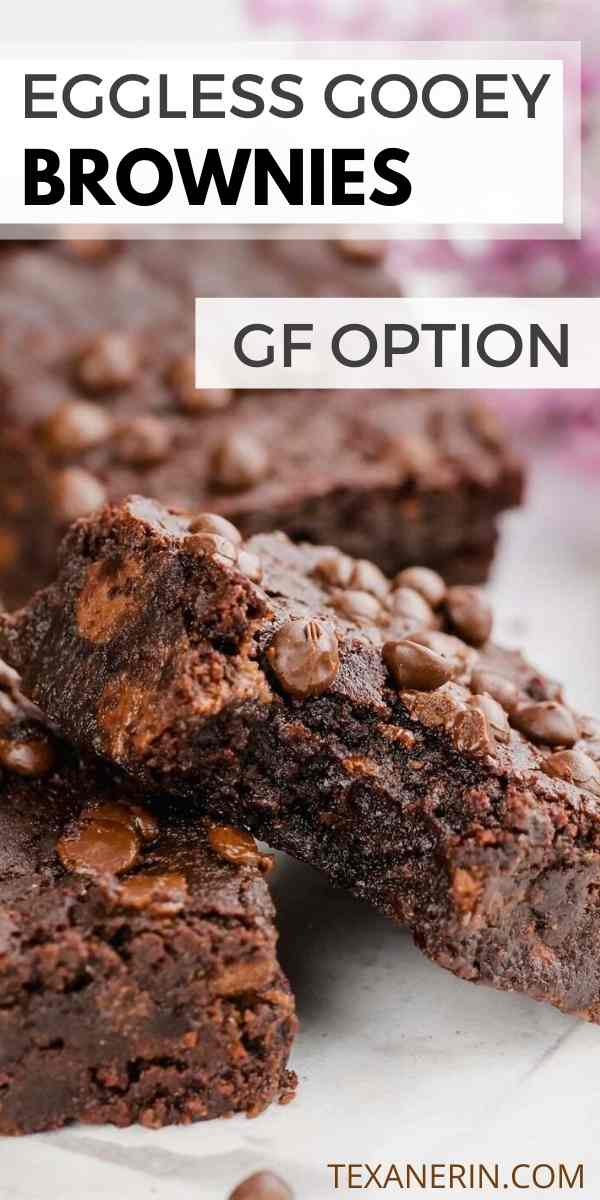 ❀
Eggless Brownie Recipe
Prep Time:
Cook Time:
Ready in:
Yield:

16 brownies
Ingredients
1 cup (125 grams) all-purpose flour, whole wheat flour, white whole wheat flour or 1 cup (138 grams) Bob's Red Mill 1-to-1 Gluten-free Baking Flour
3/4 cup (86 grams) Dutch-process cocoa powder, sifted if lumpy
1/4 teaspoon salt
2/3 cup (150 grams) melted and cooled butter or refined coconut oil
1 1/2 cups (300 grams) granulated sugar or coconut sugar
1 tablespoon vanilla extract
3/4 cup (182 grams) full-fat plain Greek yogurt, room temperature
3/4 cup (128 grams) semi-sweet chocolate chips + an additional 1/4 cup (43 grams) to sprinkle on top, optional
Directions
Preheat the oven to 350 °F (175 °C) and line an 8"×8" (20cmx20cm) pan with parchment paper.
In a medium mixing bowl, stir together the flour, cocoa powder, and salt. Set aside.
In a large mixing bowl, stir together the coconut oil, sugar, and vanilla extract. Once combined, add the yogurt, and stir just until combined.
Add the dry mixture to the wet and stir just until almost no streaks of flour remain. Do not overmix! Fold in 3/4 cup (128 grams) of chocolate chips. It's okay if it kind of forms a big, slightly greasy ball of batter. Just make sure that the oil/butter is incorporated and not floating at the top.
Plop the batter into the prepared pan, use a silicone spatula or spoon to even it out, and sprinkle the remaining 1/4 cup (43 grams) chocolate chips on top, if desired.
Bake for 20-24 minutes or until the middle is no longer jiggly. Let them cool completely before cutting. They are very gooey. I would recommend chilling them for a bit to help them firm up.
Store in an airtight container for up to 3 days at room temperature, refrigerated for 1 week, or frozen for up to 3 months.