White chocolate cranberry cookies that are soft and chewy and packed with white chocolate chips and dried cranberries. With vegan, gluten-free and whole wheat options.
Now that's Thanksgiving has come and gone, it's time for cookies! What's your favorite Christmas cookie? If you haven't tried them, these paleo peppermint cookies and paleo gingerbread cookies should be high on your list of must-makes. ;)
Today's white chocolate cranberry cookies are so festive and perfect for Christmas. I make them every year!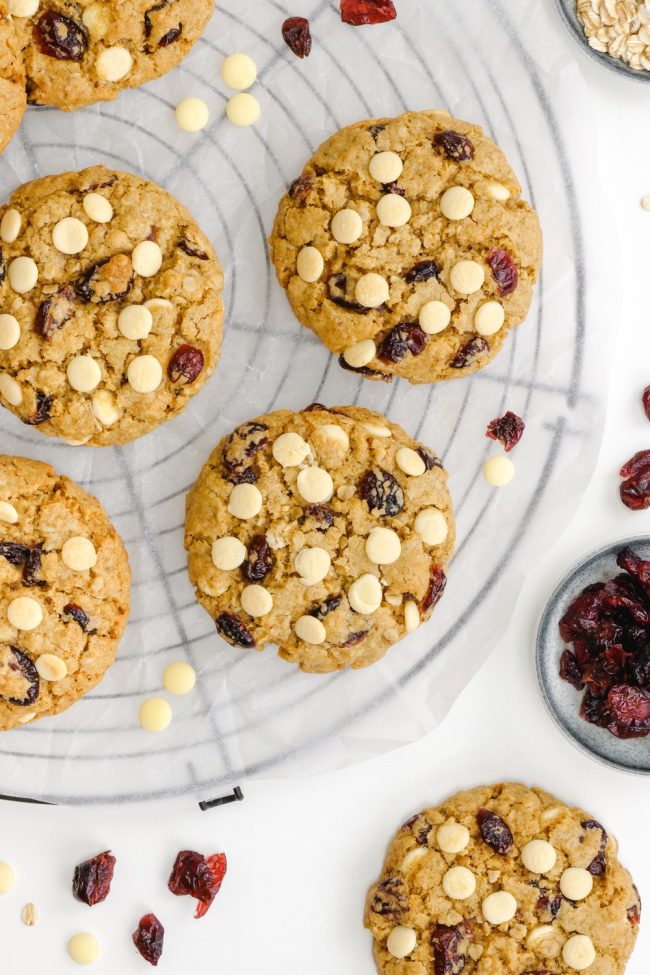 For the flour, you've got several options. You can use whole wheat flour, whole spelt flour, or all-purpose flour for the folks who can have gluten.
For the gluten-free version, you can use this 1-to-1 GF Baking Flour OR a combination of white rice flour, tapioca flour / starch, potato starch and xanthan gum.
With the store-bought baking mix, there's just the tiniest hint that the cookies aren't made with all-purpose flour. With my homemade mix, you can't tell at all. But both versions are great!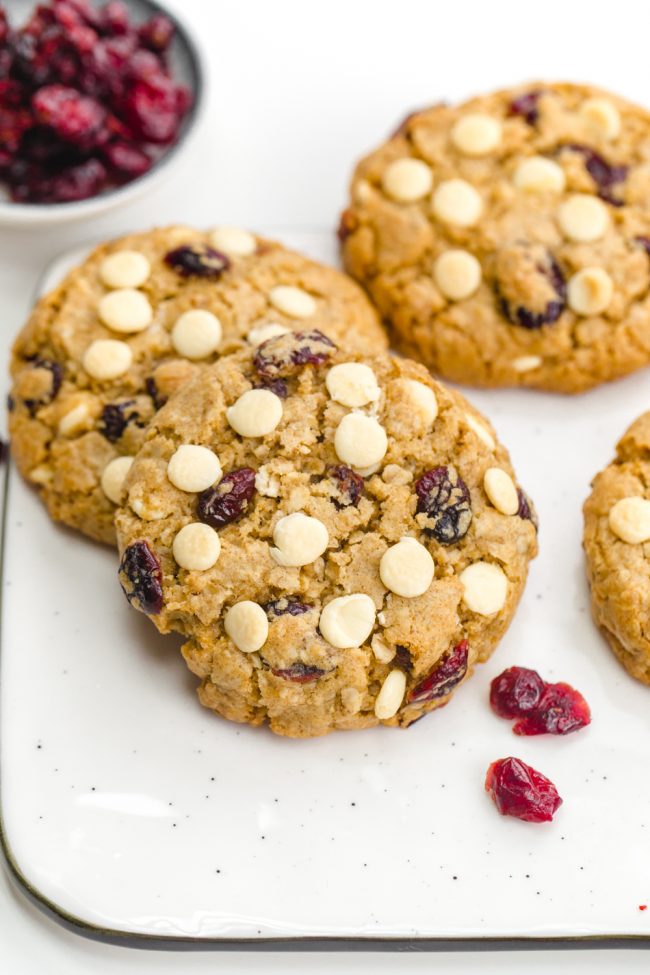 I actually forgot about that homemade gluten-free baking mix. I used it in these molasses cookies (which can also be made whole grain + vegan!), blueberry cookies, apple upside down cake, apple brownies, and this caramel apple cake.
There's no way to make these grain-free but I do have a paleo oatmeal cookies recipe that you could use. The ingredients list isn't as short as I'd like but I think the other reviewers would agree with me that they're worth dragging out the few extra ingredients!
These cranberry oatmeal cookies are perfectly soft and chewy no matter how you make them. Chia eggs work great for a vegan version. And make sure to use vegan white chocolate, like King David.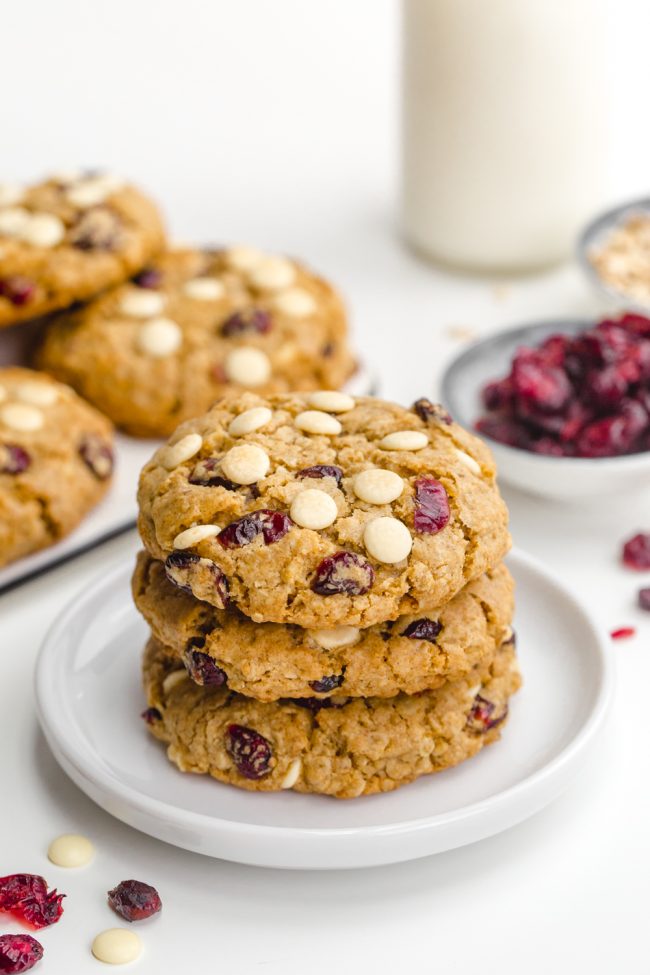 If you're not too wild about the ingredients in those, semi-sweet chocolate chips + cranberries is also a delicious combination! Or has anyone tried making homemade vegan white chocolate that actually tastes good and can be used in baking? I'd love to try it!
I used a bit of cinnamon in these cookies but orange zest + orange extract also works really well. Perhaps 2 tablespoons of orange zest and 1/2 to 1 teaspoon of orange extract (then you'd reduce 1/2 to 1 teaspoon of vanilla).
If you want to add orange flavor, I'd recommend omitting the cinnamon. It just seems like too many flavors. Although I could be wrong and maybe it's delicious!
And if you don't want any extra flavors, just white chocolate, try these white chocolate cookies. And for another cranberry white chocolate treat, try this White Chocolate Cranberry Bundt Cake!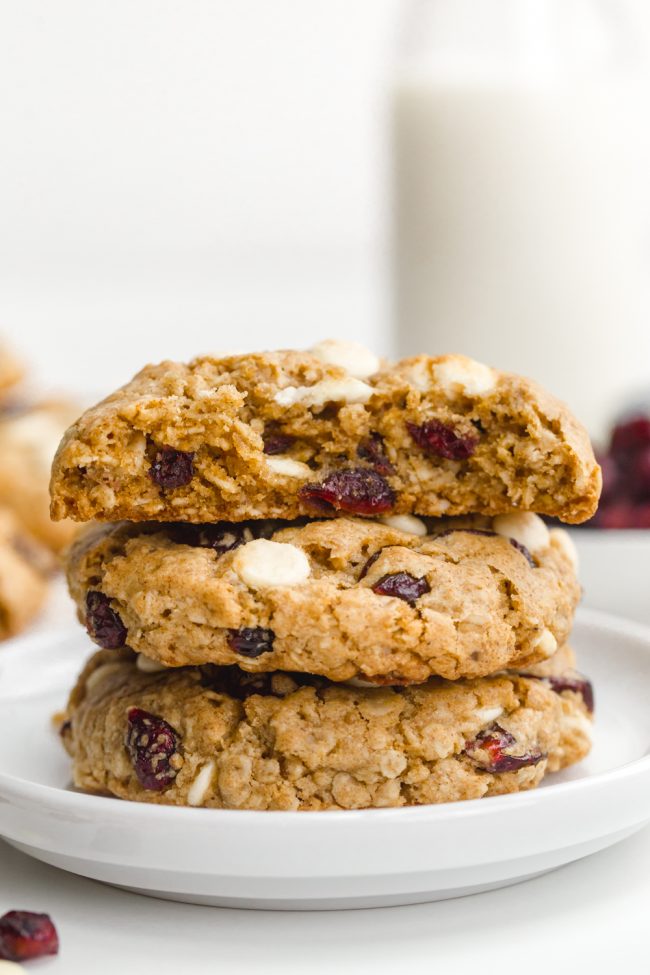 If you can have dairy, butter works in these cranberry cookies instead of coconut oil. But they're chewier with coconut oil so I highly recommend that!
I used unrefined coconut oil but couldn't taste any coconut flavor with the cinnamon in there. If you don't want to take the chance that there's some coconut taste to these, be sure to use refined coconut oil.
And that's it! These cookies call for a lot of sugar (1 1/3 cups) but the yield is also pretty big. You get 16 large cookies. Double the batch for a party bring-along and you're good to go!
❀
White Chocolate Cranberry Cookies (vegan, gluten-free, whole grain options)
Prep Time:
Cook Time:
Ready in:
Yield:

16
Ingredients
1 1/2 cups (190 grams) whole wheat flour, whole spelt flour, all-purpose flour or for a gluten-free version, 1 1/2 cups (207 grams) 1-to-1 GF Baking Flour or the flour blend listed below1
1 teaspoon baking soda
1 teaspoon baking powder
1/2 teaspoon salt
1 teaspoon ground cinnamon
3/4 cup (168 grams) coconut oil (or butter for a non-vegan version)
1 1/3 cups (266 grams) coconut sugar, raw sugar, or brown sugar
2 large (50 grams each, out of shell) eggs or 2 chia eggs for vegan
1 tablespoon vanilla extract
2 3/4 cups (260 grams) quick oats (make sure to use gluten-free for GF)
3/4 cup (114 grams) dried cranberries
1/2 cup (85 grams) white chocolate chips (make sure to use vegan chips, if wanted)
Directions
Preheat the oven to 375°F (190°C) and line a cookie sheet with a piece of parchment paper.
Stir together the dry ingredients in a medium mixing bowl and set aside.
In a large mixing bowl, stir together the melted coconut oil, sugar, eggs, and vanilla and stir.
Add the dry mix to the wet mix and stir just until combined. Stir in the oats, raisins and white chocolate, again stirring just until combined.
Form the dough into 77-gram balls, about two inches or slightly over 1/4 cup in size, and place 4" apart on the prepared baking sheet. Press the balls down slightly with the palm of your hand. If your dough is too soft to roll into balls, refrigerate for about 30 minutes or until scoopable.
Bake for 13-17 minutes or until the middle appears to be set and the cookies have evenly browned. They'll still be very soft straight from the oven but firm up as they cool and sit for an hour or so. The gluten-free version might taste a bit gritty / sandy when still hot but this disappears as the cookies cool.
Let cool completely on the baking sheet. Store in an airtight container up to 5 days.
Notes
You can use your favorite gluten-free flour mixture that's a 1:1 substitute for regular all-purpose flour OR this one, which results in an amazing texture in these cookies:

1 cup (140 grams) white rice flour
1/3 cup (52 grams) potato starch
2 tablespoons + 2 teaspoons (20 grams) tapioca flour
1/2 teaspoon xanthan gum
As an Amazon Associate, I earn from qualifying purchases. For more info, see my disclosure.