Homemade Baci Perugina – Italian Nutella hazelnut candy that only takes a few minutes to make! Happens to be dairy-free, vegan, and naturally gluten-free too.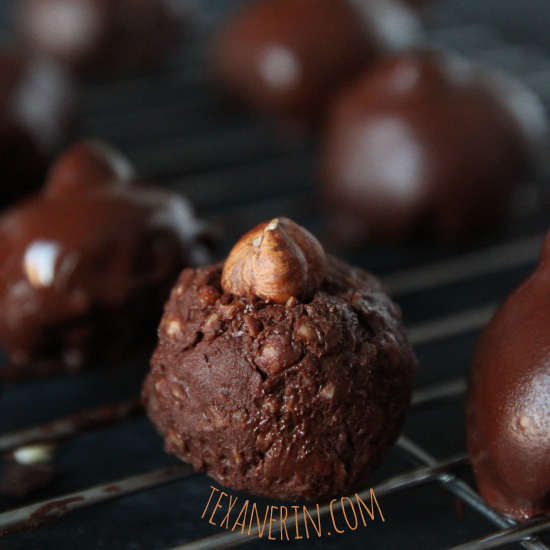 Back when I had my Italy fever in May, I made these. Baci, which means kisses in Italian, also contain little love notes in the packaging, but I wasn't feeling quite that ambitious today. After making this recipe, which I found on an Italian cooking forum, I went on down to the Italian store and happened to find the "real" Baci Perugina!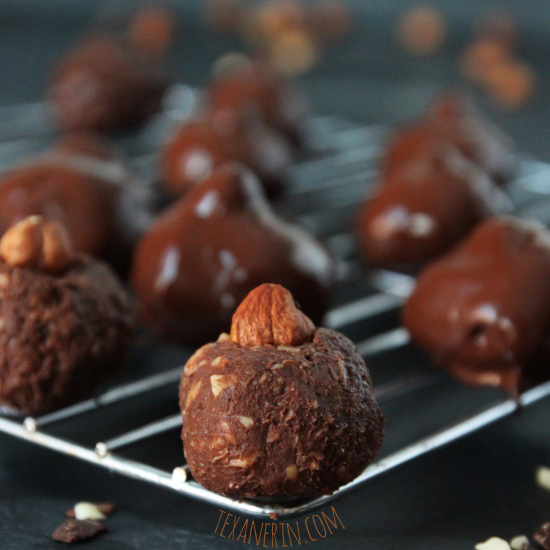 I excitedly opened one and was let down. They tasted so… packaged and stale. Although it could have been that chocolates had been sitting on the shelf for months. But really, why buy them? These homemade Baci Perugina are so easy! And everyone loves them and can't believe that they're not store bought.
And as far as candy goes, I don't think these are all that bad. I mean, most candy is just butter and sugar, but these at least have some healthy hazelnuts, coconut oil and the Nutella portion isn't all that evil if you make the homemade version! Also feel free to use dark chocolate in these. I'm just not a fan.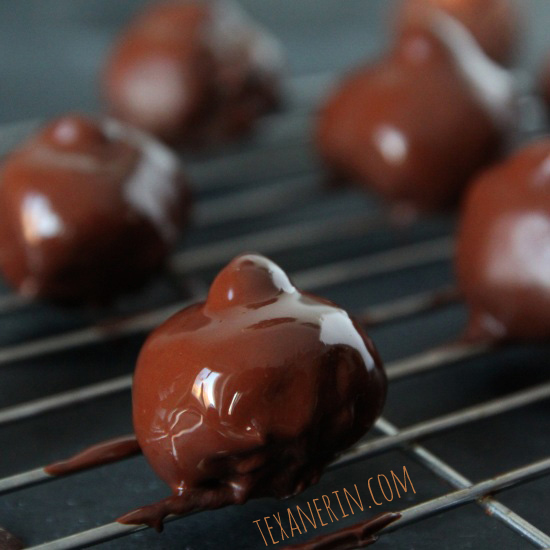 I've made these with real Nutella and with my not-so-smooth but healthier homemade Nutella and they taste exactly the same. So should you have some healthier Nutella-like spread around, go ahead and use that.
German friends thought that they taste just like Ferrero Rocher, which is very similar if not the same as Baci. Really, these are a great Christmas present. Who wouldn't love getting some Nutella hazelnut chocolate candies?
❀
Homemade Baci Perugina - Italian Nutella Hazelnut Chocolates
Prep Time:
Cook Time:
Ready in:
Yield:

14-18 1" candies
Ingredients
100 grams (3.5oz) semi-sweet chocolate chips (for dairy-free use Enjoy Life Chocolate Chips)
20 grams (1 1/2 tablespoons) coconut oil
100 grams (3.5oz) chopped and roasted hazelnuts
100 grams (3.5oz) Nutella or homemade Nutella for a dairy-free and vegan version
14 - 18 hazelnuts
120 grams (4.2oz) semi-sweet chocolate chocolate chips (for dairy-free and / or vegan, use Enjoy Life Chocolate Chips)
Directions
In a medium saucepan over medium heat, melt the 100 grams of chocolate and coconut oil. Take off of the heat and add the chopped hazelnuts and Nutella. Place in the freezer for about 20 minutes or until firm enough to roll into balls.
Roll into 1" balls (or whatever size you like), add a hazelnut on top, press down and place back into the freezer for a few minutes to harden a little again. Meanwhile, melt the remaining 120 grams of chocolate in a small saucepan over low heat, stirring occasionally to prevent burning.
When melted, take the pan with the chocolate off the heat, take the chocolate balls out of the freezer, and dip in the melted chocolate. Place the coated balls on a Silpat or cooling rack to harden. Store at room temperature.
Adapted from Misya