Coconut lime macaroons that have chewy centers and crisp outsides. They're paleo and vegan but taste like traditional macaroons.
I posted these vegan coconut macaroons a few months ago and was so excited about them that I tried out a few different versions.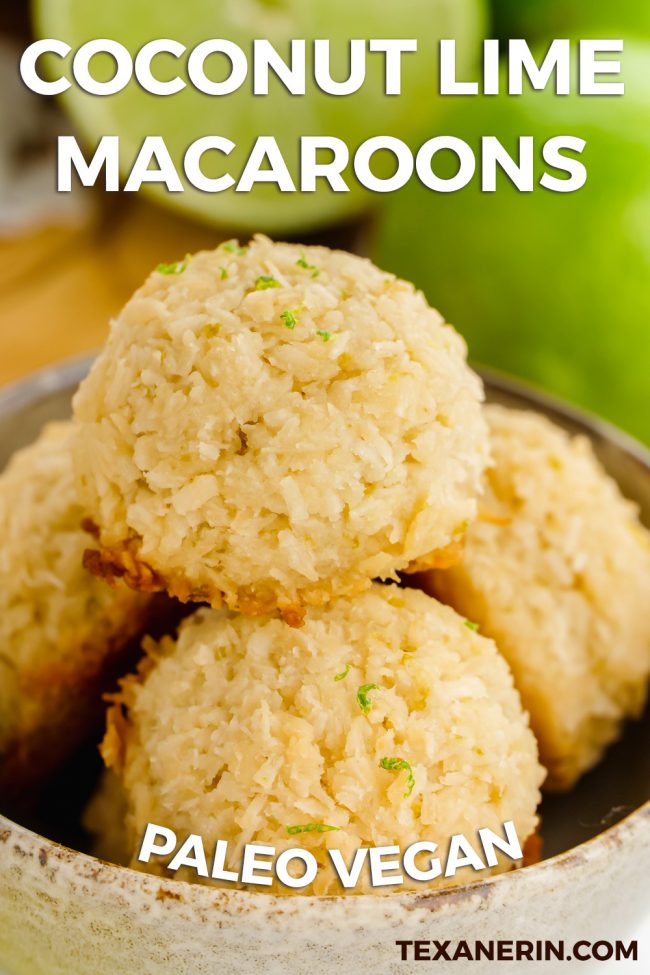 Adding a little lime zest and lime juice to that recipe results in these hard-to-resist coconut lime macaroons!
I've been working on a no-bake version but it's still not ready so I figured I might as well post these baked macaroons. If it's too hot to turn on the oven but coconut lime sounds good right now, try these paleo vegan key lime pies. The filling really does taste like regular key lime pie!
These vegan and paleo lemon bars would also be awesome with lime in place of lemon and are no-bake.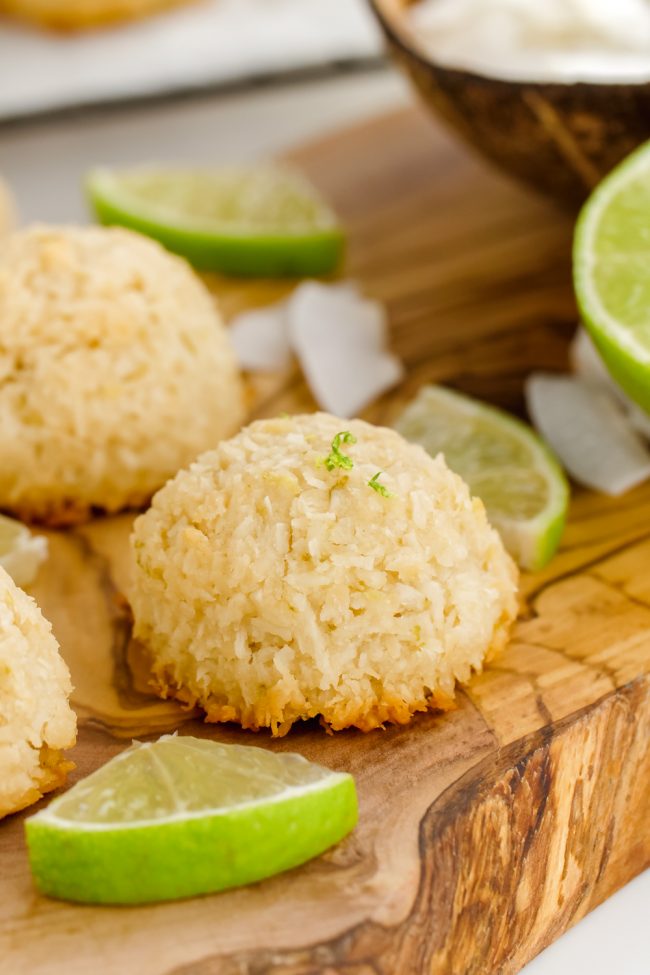 Lime not your thing at all? Lemon juice and zest works great in place of the lime in these citrusy macaroons!
I've made the original recipe for pretty much everyone I know and they all agree that they're really, really amazing.
And when you dip the bottoms in chocolate and drizzle more chocolate on top?! Aaaah. I think it's the most addictive cookie recipe I've ever posted (with the addition of chocolate!).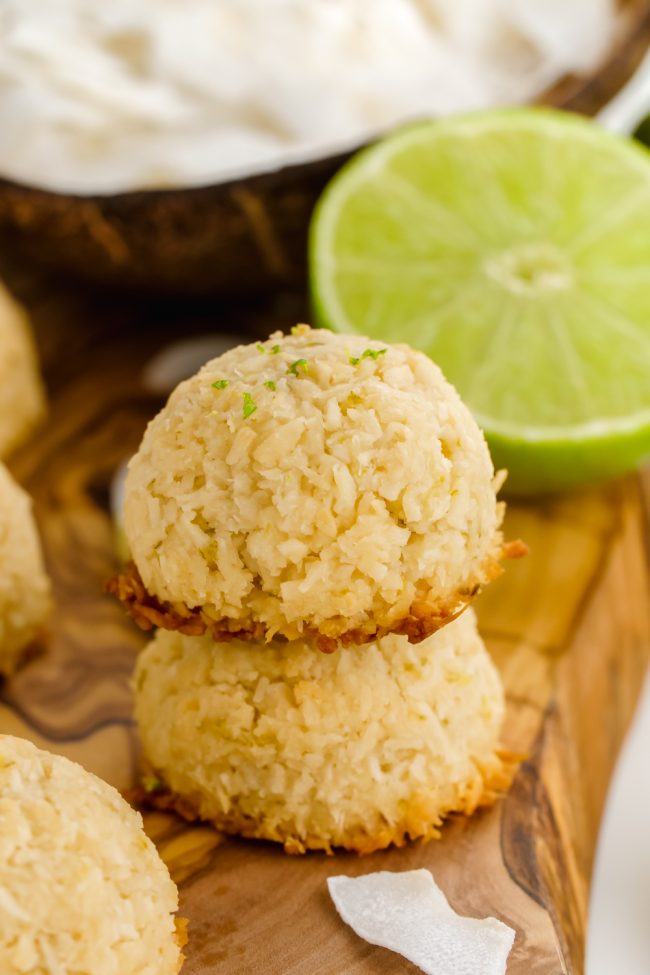 These macaroons just call for maple syrup (I like to use one with a light flavor, not a dark, super maple-y one), coconut butter, shredded coconut, and lime zest / juice. Mix them together and your dough just needs to sit before baking!
They're really super easy, unlike most French macarons. Plus they're not super sweet!
If you try them out, I'd love to hear what you think of them!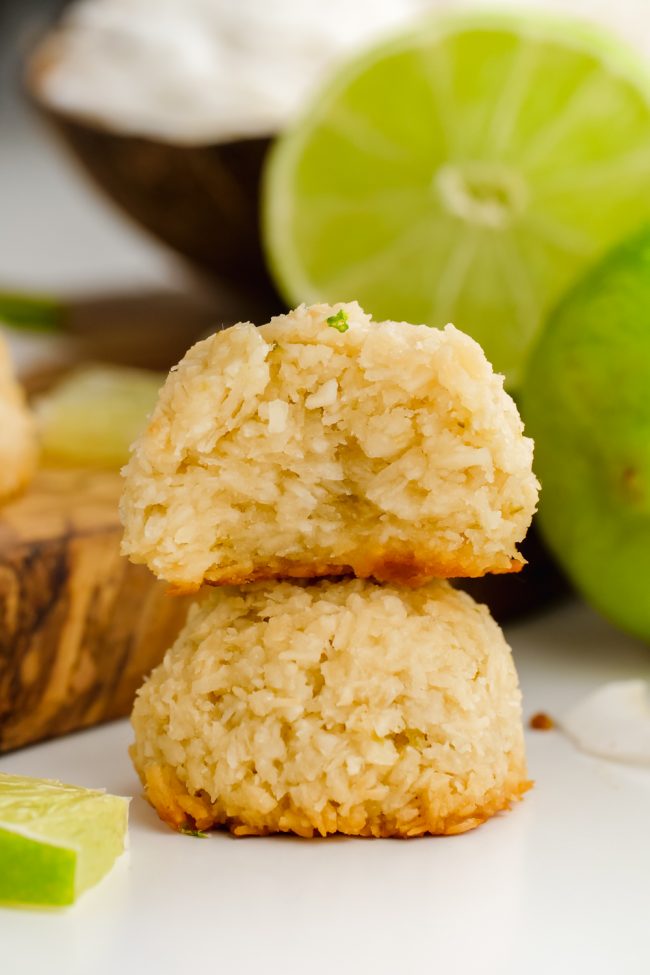 Questions about these coconut lime macaroons?
Can I use something other than maple syrup? I'm guessing another liquid sweetener would work fine but since I haven't tried, I can't say for sure.

Can I use something other than coconut butter? Unfortunately not. There's no sub for coconut butter and coconut oil will absolutely not work.

Can I use something other than shredded coconut? These won't come out properly if you don't use shredded coconut. I don't think flaked coconut (those are the longer strands) would work and coconut flakes / chips definitely wouldn't work. Desiccated coconut probably would.

Can I reduce the maple syrup? I used the least amount that I thought was enough. You could try reducing it by a little, but the macaroons will be drier and more crumbly. They might not even hold together. So I really don't recommend reducing it!

Do I have to let the dough sit? When I didn't let them sit, they didn't hold their shape as nicely. The edges were overbaked and the cookies were overall kind of greasy. I also tried chilling them to speed things up but letting them sit at room temperature for 30-60 minutes was better.
❀
Coconut Lime Macaroons (paleo, vegan)
Prep Time:
Cook Time:
Ready in:
Yield:

12
Ingredients
5 tablespoons (80 grams) coconut butter – not coconut oil! (please weigh this as it's hard to measure correctly and different brands vary quite a bit)
1/4 cup + 2 tablespoons (90 milliliters) maple syrup
1 tablespoon lime zest (I needed 2 limes)
2 teaspoons lime juice
1/4 teaspoon salt
1 1/2 cups (120 grams) shredded unsweetened coconut
Directions
In a medium saucepan over medium heat, mix together everything except the coconut. Stir frequently until everything is melted and well combined. Remove from the heat.
Stir in the coconut, lime zest and lime juice. Let the mixture sit for 30-60 minutes at room temperature.
Preheat the oven to 325 °F (163 °C) and line a cookie sheet with a piece of parchment paper.
Use a 1.5 tbsp cookie scoop (the scoop is important so they have the right shape – if you don't care about the shape, you can roll them into balls and flatten slightly with your palm) to form 12 25-gram balls. Place at least 2" apart of the cookie sheet. If any bigger bits of coconut are sticking out, pat them down so that they don't burn.
Bake for 21-23 minutes or until the cookies are lightly browned. Let cool on the cookie sheet and let cool completely before storing in an airtight container. They should stay good for up to 4 days.