Wondering how to make cranberry sauce? It couldn't be any easier! You just need cranberries, orange juice and zest and a sweetener. Can easily be made vegan and paleo! For a how-to recipe video, scroll to the bottom of the post.
I already have a recipe for cranberry orange sauce that's honey-sweetened but I wanted to share a vegan cranberry sauce recipe for today.
The only difference between the two cranberry sauce recipes is the sweetener. Instead of honey, you can use maple syrup for a naturally sweetened paleo cranberry sauce or granulated sugar for a non-paleo version.
I love the cranberry and orange combination so much in cranberry sauce and I see no need to fix something that's not broken, so here we are. :)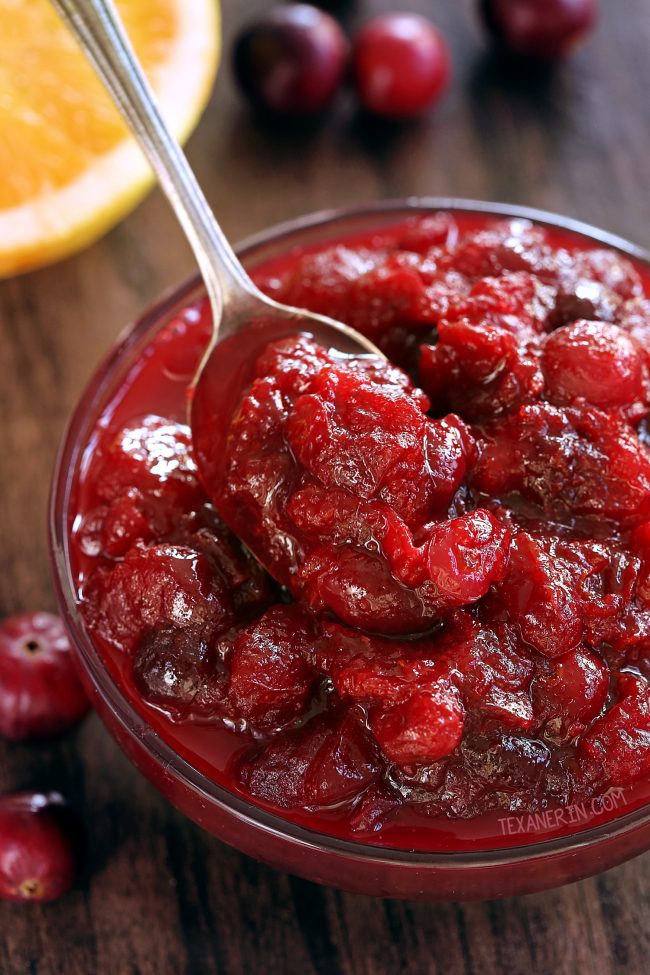 I also thought I'd try out this cranberry sauce with cinnamon and it's also really, really good! But I still think I prefer the orange version.
If you've never had homemade cranberry sauce before, you're in for a treat! This is nothing like the canned stuff. I've always passed on that stuff.
I'd much rather have saved room for dessert, like my maple cheesecakes, pumpkin cupcakes>, or caramel apple cake.
So how to make cranberry sauce. It's way easier than you'd think. You just mix together a few ingredients and simmer for 10-15 minutes. Just don't forget about it on the stove and you can't mess it up!
Homemade cranberry sauce is the perfect task for those family members who don't know how to cook or bake but still want to participate in the Thanksgiving preparation! If you want something a little different, try this cranberry pomegranate sauce!
This gluten-free gravy would also be a great option to delegate!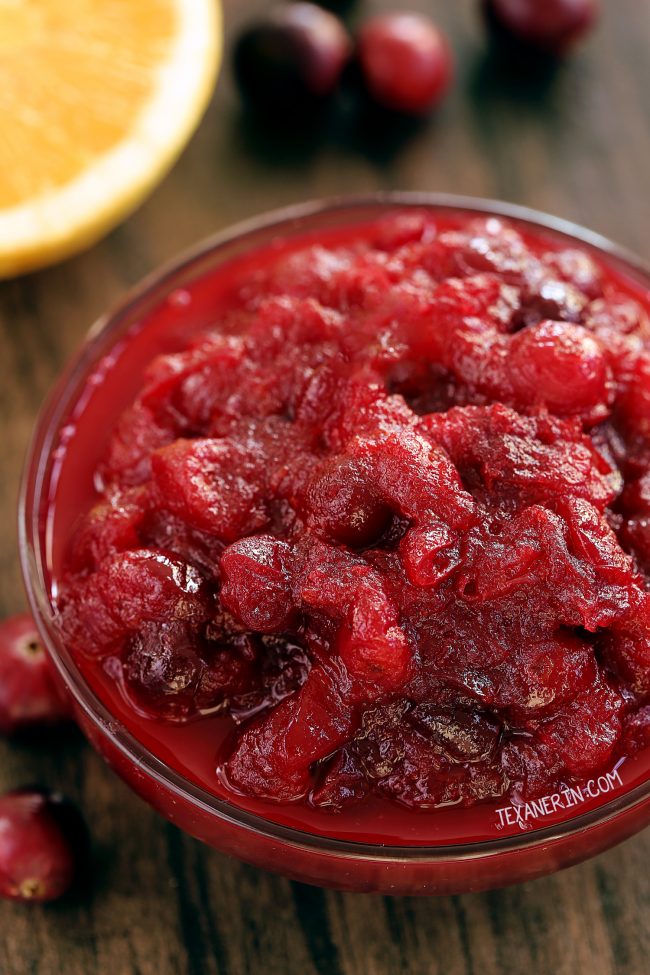 So with just a few days left before Thanksgiving – are you ready? We haven't done a darn thing. With a 1-week-old at home, we don't even know if we're going to do Thanksgiving! It's so much effort for two people.
I might just make these gluten-free apple crumbles for two and call it a day.
Looking for some other easy Thanksgiving sides recipes? Try my gluten-free cornbread (which can also be made with all-purpose flour!) or soft and fluffy whole wheat dinner rolls.
And for dessert? I have loads of options! Some of my favorites are these pumpkin pie bars, which have an easy and simple streusel crust and topping and these mini pumpkin cheesecakes!
Click below to view the how to make cranberry sauce video!
❀
How to Make Cranberry Sauce (naturally paleo, vegan)
Prep Time:
Cook Time:
Ready in:
Yield:

2 cups
Ingredients
1 cup (240 milliliters) orange juice
1/2 cup (120 milliliters) maple syrup or 3/4 cup (150 grams granulated sugar) for vegan options or 1/2 cup (160 grams) honey for a non-vegan version1
2 tablespoons orange zest (from about 2 oranges) and / or up to 1 teaspoon ground cinnamon (you can add more to taste after it's done simmering)
1 12-ounce package (340 grams) fresh cranberries
Directions
Over medium heat, mix together the sweetener, orange juice. and orange zest and / or cinnamon. Add the cranberries and cook, uncovered, until most of the berries have popped and the sauce has thickened a bit (it'll continue to thicken as it cools, which takes about 15-20 minutes). It takes about 10 – 15 minutes of simmering. I don't bother stirring, but you can if you like. Taste the sauce and add more cinnamon, if desired.
Pour the cooled sauce into an airtight container and store in the refrigerator for up to 5 days.
Notes
For paleo, make sure to use honey or maple syrup.