These soft and chewy vegan orange cookies are paleo, grain-free, gluten-free, and dairy-free and have orange icing (that doesn't melt at room temperature!).
I'm guessing everyone has their Thanksgiving menu already planned so let's move on to Christmas! Also, I wish everyone a happy, healthy and safe Thanksgiving. :)
Every Christmas, my grandmother, and then grandfather, would make orange cookies. They were the puffy kind with icing.
I've never actually made them before because I'm not a huge fan of that puffy texture – though I certainly ate a ton of them growing up! I very rarely turn down a homemade cookie.
If you'd like something more traditional than these orange cookies, these chewy gingerbread cookies are always a hit. I've got also a gluten-free version, these paleo gingerbread cookies. Both also have a vegan option.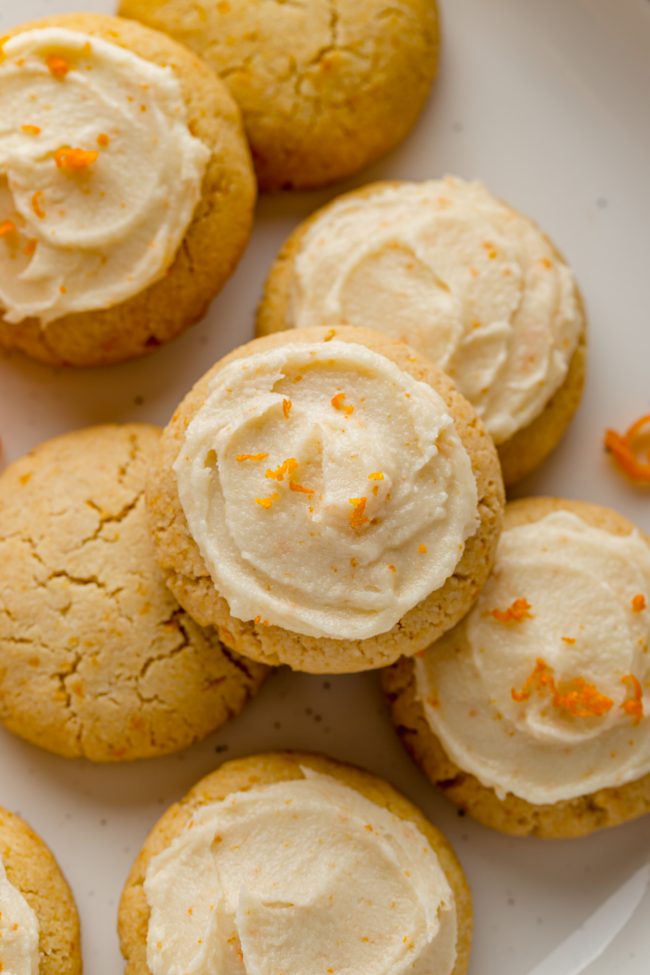 While these vegan orange cookies aren't puffy, they don't have a normal all-purpose flour cookie texture. But that shouldn't prevent you from making them! They're lovely. And perfect for holiday parties and gift-giving.
If you like my gluten-free lemon cookies, you'll love these! It's basically the same recipe with orange.
The reviewers have loved that recipe for years. People seem to love them, whether they're vegan or paleo or not!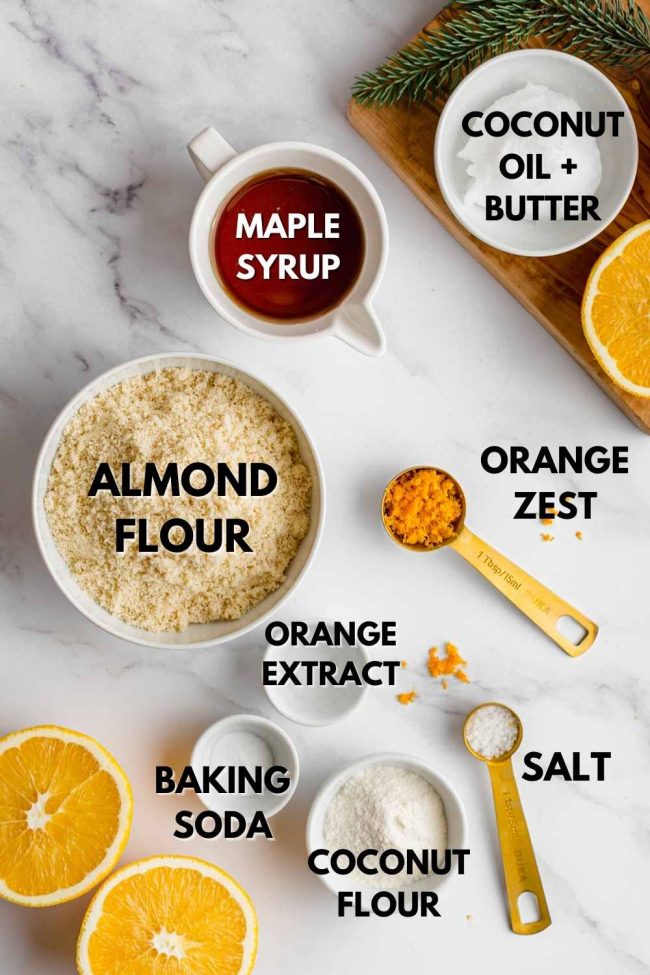 How to zest
Please excuse the 4-year old video. I wanted to include it in this post because I've seen so many videos of people zesting the other way.
The way in my video is SO much easier than holding the zester right side up! It might feel awkward at the beginning but then you're going to wonder why you ever did it the other way.
You can see what you're doing and it stays put on the top of the zester rather than falling into the bowl. For the video, I just dumped all the zest into the bowl but in real life, I measure it.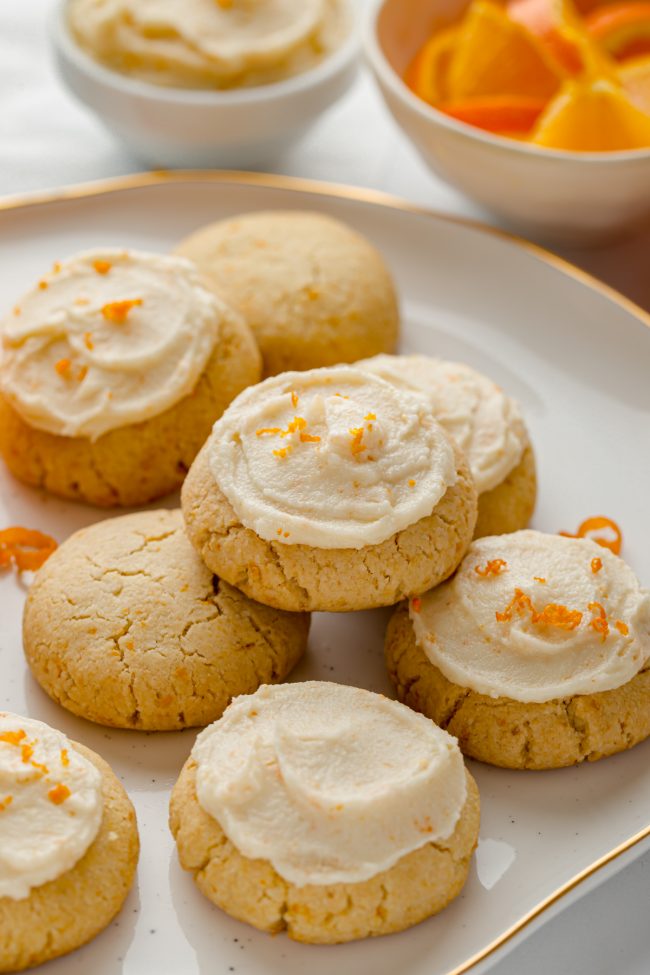 The frosting
You can make the icing in a high-speed blender, or if your coconut butter and oil are softened, you can easily mix in the other ingredients by hand.
But I don't recommend actually melting the coconut oil and butter. Melting it seems to do weird stuff.
If you use unrefined coconut oil in the cookies and the icing, you can taste it. If you've got a spouse who is tired of "coconut flavored everything," then you'll probably want to use refined coconut oil.
But! You can still taste it a bit in the icing because of the coconut butter. There's no sub for it so I'm afraid there's nothing to do about that. It's super delicious, though.
One thing I love about the icing is that it holds up well at room temperature (thanks to the coconut butter!). At least in the winter. If your room temperature coconut oil is melted, the frosting's going to melt, too. So if you make these during the warmer months, definitely refrigerate them!
The icing hardens so that you can stack them. In these pictures and in the video, I iced them and put them in the fridge for only 10 minutes to try to get the frosting to firm up just a little, but they were still quite soft.
Concerning the sweetener – I used maple syrup (which you can't taste as long as you use a lighter kind) but I'm thinking honey would be awesome in these for a non-vegan version. You might have to watch the bake time, though, since they'll probably cook a little quicker. I've tried it in the icing and loved it! If you need some keto cookies, check out these keto orange cookies.
I'd love to hear how you like these cookies should you give them a try!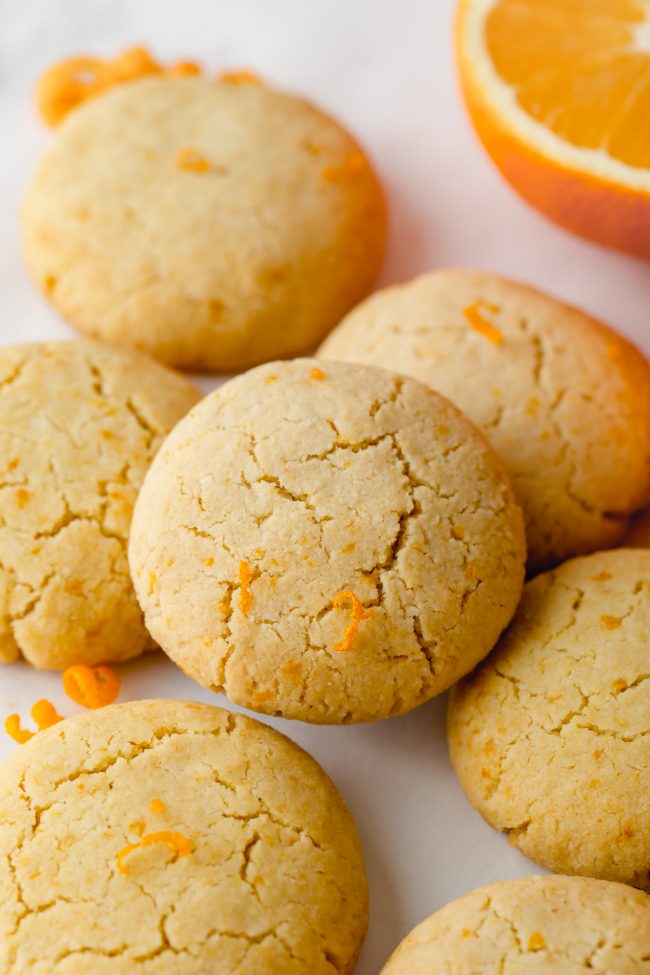 Substitution questions about these gluten-free orange cookies?
Can I use something instead of coconut oil?

For a non-paleo and non-vegan version, I think butter or ghee would work. Or vegan butter, which also isn't paleo.

Can I use something instead of maple syrup?

Honey would probably work if you don't mind a bit of honey taste (for a non-vegan version). Honey + lemon is delicious together! If you want to use honey, bake them at 325 °F (162 °C) instead of 350. Honey bakes quicker than maple syrup. But if you want just a lemon taste, go with maple. Agave syrup would probably work, too.

Does it have to be blanched almond flour?

You can use almond meal if you don't mind the little bits of almond skin in your cookies. Hazelnut meal would also probably work but I think that's a weird flavor combination with the lemon.

Can I use something instead of coconut flour?

Unfortunately not. There's not a good sub for coconut flour as it absorbs so much more liquid than other types of flours. I've heard of people using oat flour (if you can have grains) but I have absolutely no idea how much you'd need to use or if it'd be as tasty.

Can I use something instead of coconut butter in the frosting?

Nope! Like I said in my post on how to make coconut butter, there's no sub for it.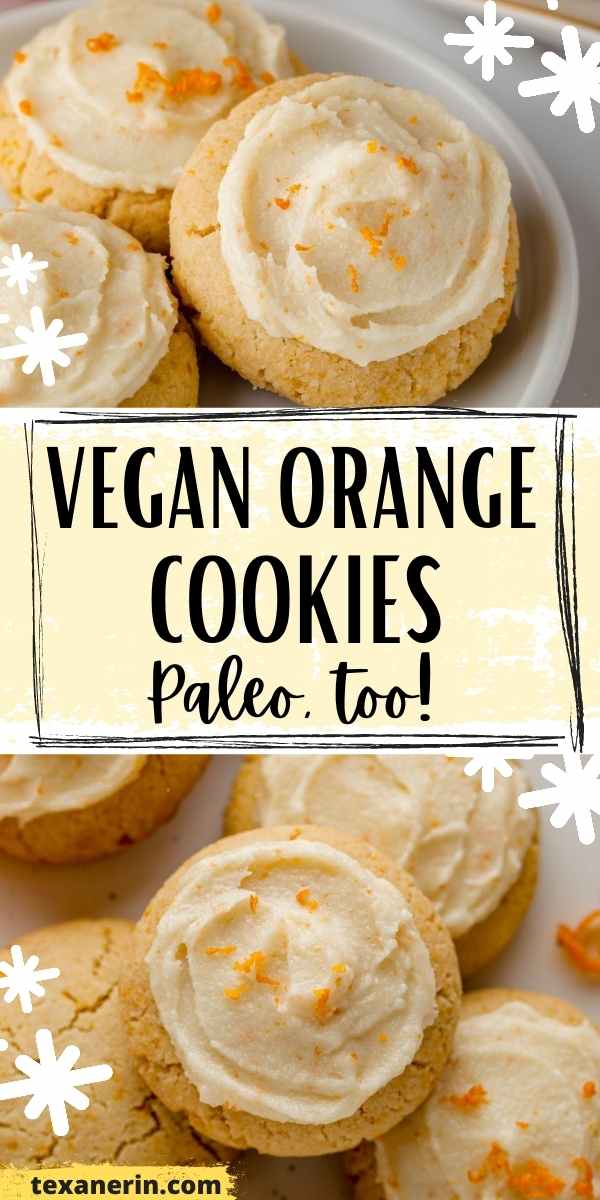 ❀
Paleo Orange Cookies (vegan, grain-free, gluten-free, dairy-free)
Prep Time:
Cook Time:
Ready in:
Yield:

6 cookies
Ingredients
For the cookies:

1/4 cup (56 grams) refined coconut oil, melted1 (I'm guessing butter would work for a dairy-containing version but I haven't tried it)
1/3 cup (80 milliliters) maple syrup (I used a light Grade A syrup, which results in no maple taste in the cookies)
1 tablespoon orange zest
1 1/2 teaspoons orange extract
1 1/3 cups (133 grams) blanched almond flour
2 tablespoons (17 grams) coconut flour, sifted if lumpy
1/2 teaspoon baking soda
1/8 teaspoon salt

For the icing:

1/4 cup coconut butter, softened but not melted
1 1/2 tablespoons maple syrup (or honey for a non-vegan version)
1 tablespoon (14 grams) refined coconut oil, softened but not melted
2 tablespoons + 1 teaspoon orange juice
1 teaspoon (or more) orange zest
1/8 - 1/2 teaspoon orange extract (the amount will depend on your brand of extract and how orangey you want them)
pinch of salt
Directions
In a large mixing bowl, mix together the coconut oil, maple syrup, orange zest and extract. Add the almond flour, coconut flour, baking soda and salt. The mixture will be thin and wet and much more like batter than dough. Do not add any additional flour! Chilling will firm it up. Let the dough sit for 5 minutes and then place the bowl in the refrigerator for 30 minutes or until the dough is firm.
Preheat the oven to 350°F (176°C) and line a baking sheet with a piece of parchment paper.
For the large cookies pictured, roll into six 53-gram balls. Place 3" apart on the prepared baking sheet and press the balls down slightly with your palm.
Bake for 12-15 minutes or until the cookies have lightly browned (not just the edges but also the middle of the cookies). The cookies may crackle a little.
The cookies will still be very soft when you remove them from the oven. Let them cool on the pan completely.
Store in an airtight container for up to 4 days.
Prepare the frosting. Combine all of the ingredients in a high-powered blender and blend for about 20 seconds at medium or until totally smooth. Don't blend too long or it'll melt. You can also mix this by hand if your coconut butter and oil are soft enough. Spread a heaping tablespoon over each cookie. Iced cookies can be kept at room temperature for up to 2 days or refrigerated for up to 4-5 days.
Notes
Using unrefined coconut oil would yield cookies with some coconut flavor