This cranberry orange avocado smoothie is naturally sweetened with banana and can be made dairy-free and vegan!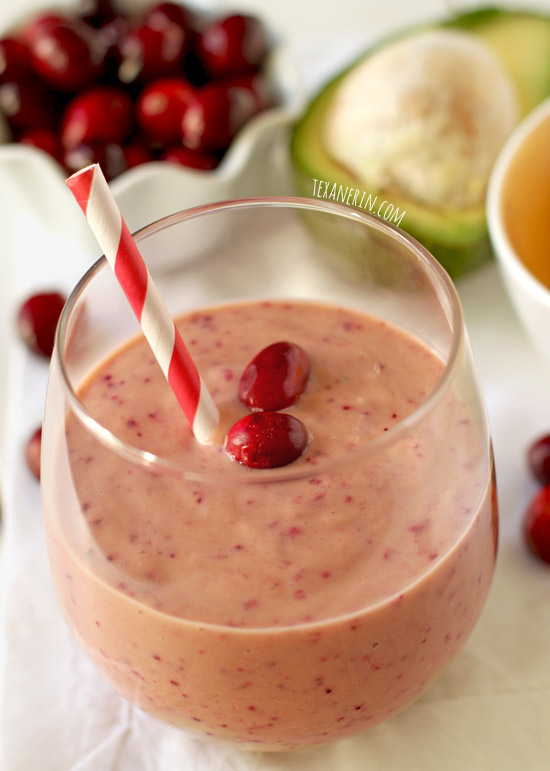 I hope you all had a great Christmas! After taking a longer than intended break from all things blogging, I'm back with something naturally sweet, healthy, and refreshing! I don't know about you but the last thing I want to do right now is bake some cookies or any other baked goods. Because I need sweetness in my life and because I still had leftover cranberries from Thanksgiving, I put together this cranberry orange avocado smoothie.
My goal was to create a bright red smoothie that tasted like a cranberry orange dessert. That's not what happened here. You can hardly taste the cranberries. So think of this as a way to use up leftover cranberries! I can't think of anything else to do with 1/2 cup of cranberries, so why not give this a try? ;) More cranberries and no banana would have made the cranberry flavor more apparent but I don't even want to think about how much added sugar would be necessary.
If you don't have any cranberries around, you could absolutely leave them out and make this as an banana orange avocado smoothie.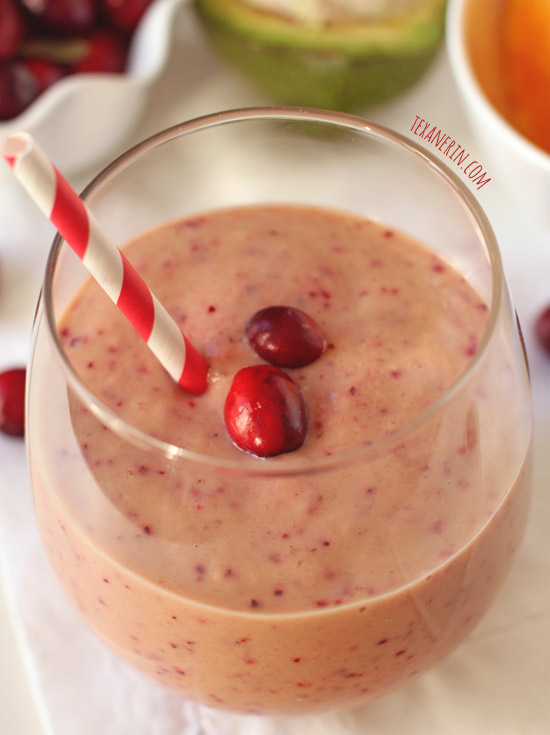 I wanted to make this smoothie completely without sweetener but that was a challenge with just cranberries, orange juice and avocado. So I was forced to use banana. You can definitely taste the banana so if you don't like the taste of bananas, add some sweetener of choice to your smoothie.
What you can't taste is the avocado! Really. You can't taste it at all. I always toss some into my smoothies for added nutrition. What I like to do is buy avocados when they're on sale, scoop out the flesh, cut it up, and freeze. That way I can pop some avocado into my smoothie whenever I want! No waiting around for the avocados to ripen. Like bananas, avocados make smoothies super creamy. They're nothing but good! :)
Bananas are great to freeze, too. I peel them, cut them into pieces and freeze them. That, along with freezing the avocados, helps make the smoothie extremely creamy. I really dig creamy so I added some Greek yogurt. If you can't have dairy, you can easily leave it out and add some almond milk or more orange juice. Then it'd also be vegan! I've made this cranberry orange avocado smoothie without Greek yogurt or almond milk and loved it that way as well.
And if this cranberry orange avocado smoothie isn't your speed, here are my two favorite smoothies (both of which have avocado!)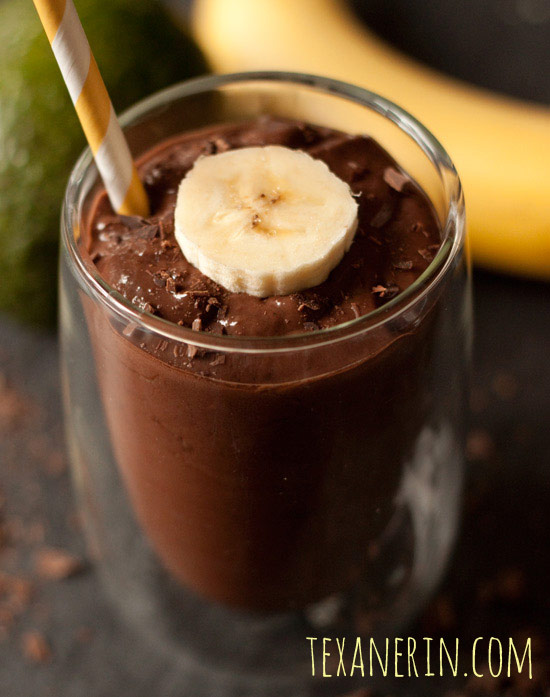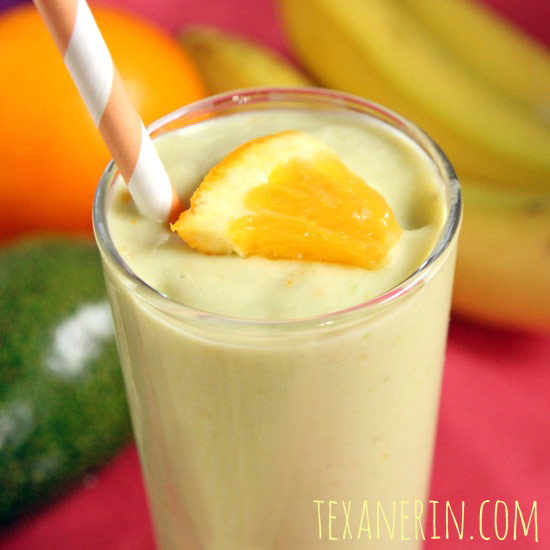 ❀
Cranberry Orange Avocado Smoothie
Prep Time:
Cook Time:
Ready in:
Yield:

1 smoothie
Ingredients
1 large banana (210 grams banana with peel; 150 grams without the peel), cut into 1/2" chunks and frozen
1/4 (35 grams) avocado, cut into 1/2" chunks and frozen
1/2 cup (50 grams) fresh or frozen cranberries
1/4 cup (50 grams) orange juice
1/2 cup (120 ml) Greek yogurt, almond milk or additional orange juice, optional
1/4 teaspoon vanilla
Directions
Remove the banana and avocado from the freezer and microwave them for about 10 seconds to slightly defrost them. Or just let the fruit sit for about 15 minutes at room temperature.
Using an immersion blender, food processor, or blender, blend together all the ingredients.
Add Greek yogurt, almond milk, or more orange juice, if desired. The smoothie will be very thick if you don't add any additional liquid.
Serve immediately and refrigerate any leftovers for up to 2 days.