This healthy banana orange smoothie, with paleo, vegan and whole30 options, really benefits from the addition of avocado! It adds extreme creaminess and nutrition that you won't find in other smoothies. Perfect for brightening your dreary wintery days!
I regularly make my other avocado smoothies, this raspberry smoothie and chocolate avocado smoothie, but my favorite is probably this orange banana smoothie.
Especially during miserable winter days. It always puts me in a good mood!
I know there's nothing tropical in it, but it makes me feel in a tropical mood. If that's such a thing.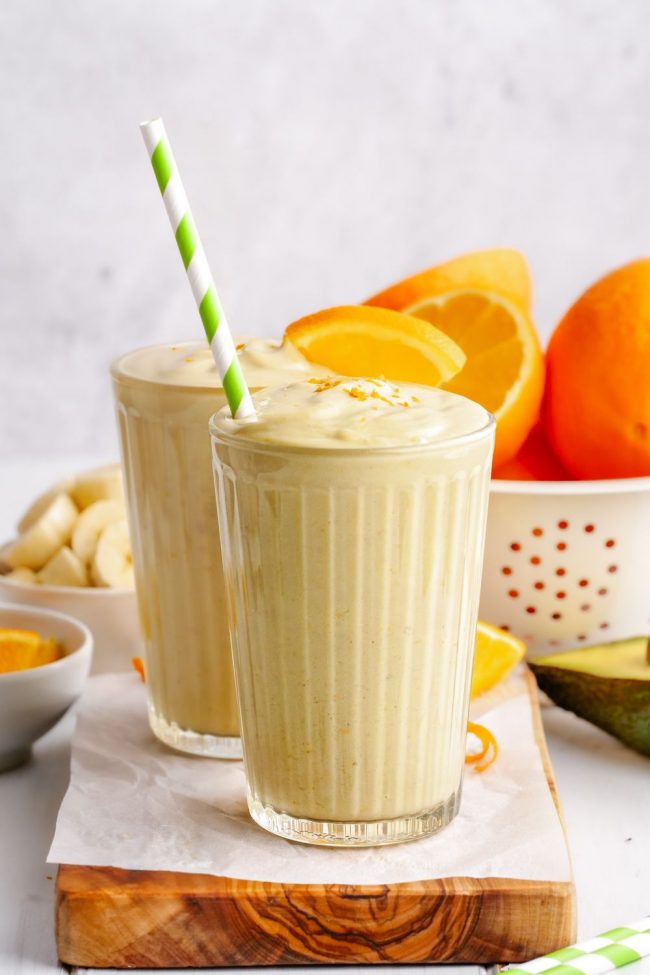 Simple ingredients
This banana orange smoothie uses four basic ingredients you probably already have.
You just need:
Bananas
An orange (juice + zest)
Avocado
Yogurt (or milk)
If you don't have any yogurt on hand, it's still great with just milk in it. It's just thinner. I've used regular milk, cashew milk and canned coconut milk, and they all taste great.
Should you want to omit the avocado, that'd be fine, but the smoothie won't be as creamy. It'll also be quite a bit sweeter.
I would not recommend skipping the bananas! The orange juice or orange isn't enough to sweeten this smoothie. The bananas also add bulk and creaminess.
If you need a banana-free smoothie, try my raspberry coconut smoothie instead. It also uses avocado but since there's nothing sweet in it, you need to add a bit of sweetener.
And if you love bananas in your smoothie, check out this dragon fruit smoothie.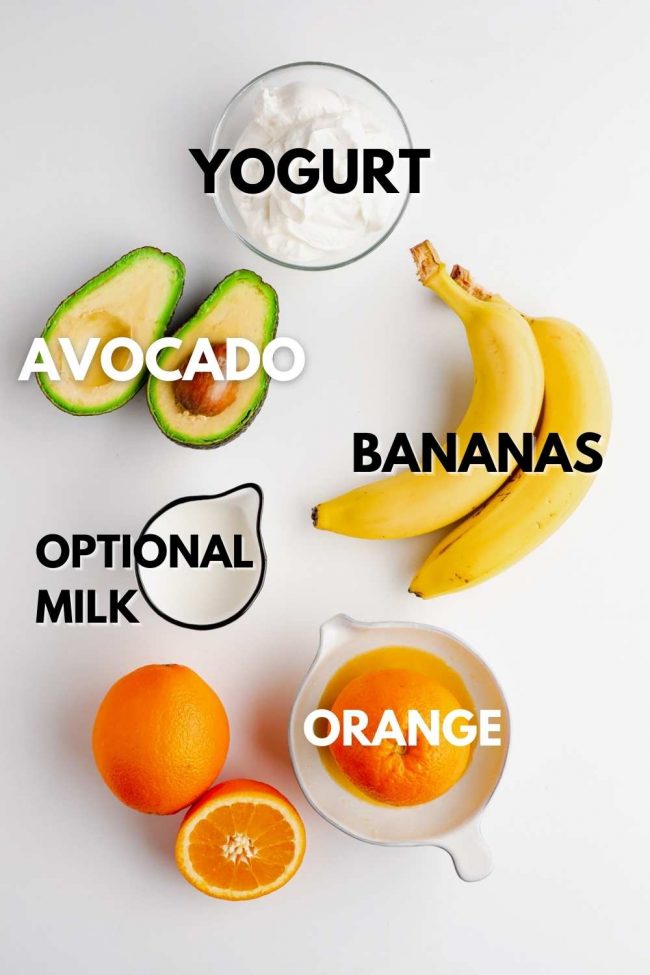 Paleo, vegan, whole30 options
It's an easy swap – just use coconut milk yogurt and milk, or whatever compliant yogurt and milk you'd like.
I love the flavor of coconut milk yogurt in this smoothie, but whatever you have will be tasty.
For more paleo vegan smoothies, check out my paleo blueberry smoothie and apple smoothie.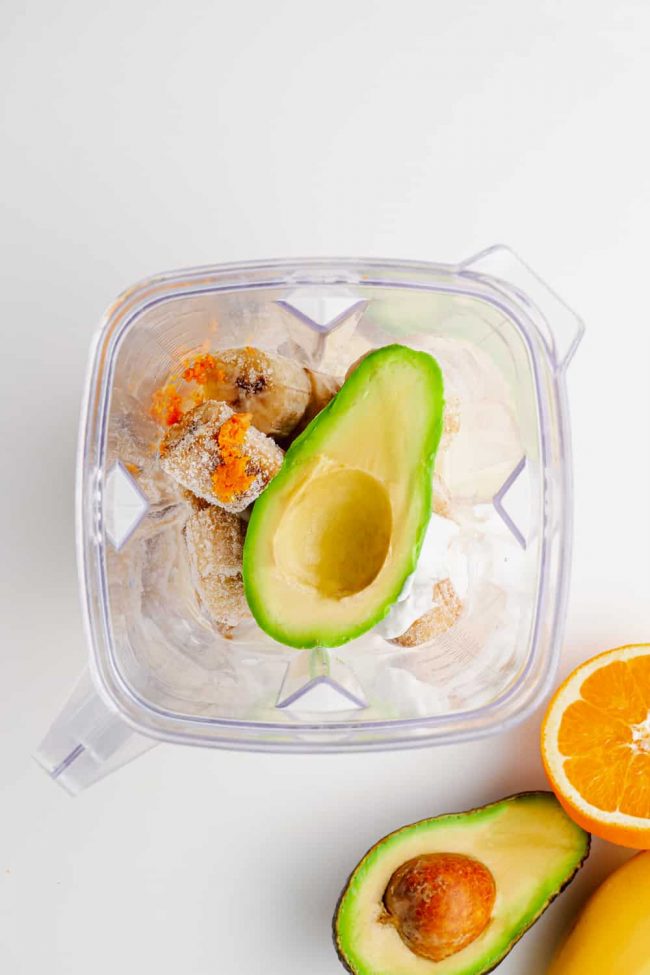 Want your smoothie cold?
If you want your smoothie to be really cold, make sure to use cold ingredients. If everything is at room temperature, you can cut your bananas into chunks and freeze them for 1 hour.
Frozen avocado also works! In my ultimate guide to avocados, I have lots of tips on all things avocados, including how to freeze them.
So if you go crazy buying avocados on sale, go check out how to freeze them. They're great for smoothies!
I usually have half an avocado and some bananas in the fridge and don't need my smoothies to be super cold, so I don't usually use any frozen ingredients.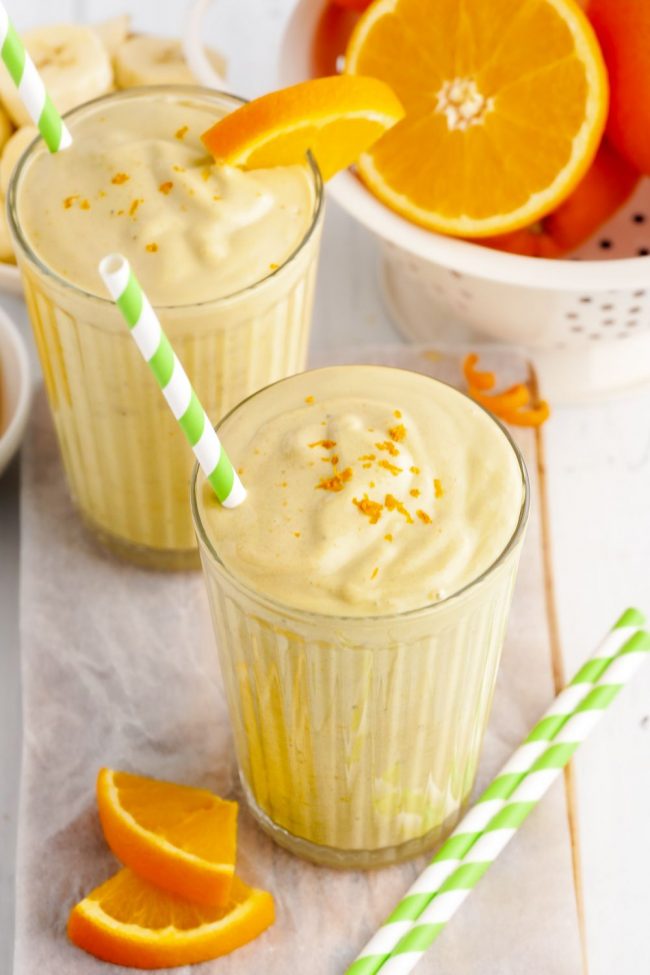 The color
Depending on your avocado, this smoothie will have a very light orange color, like in the photos and video or a light green and orangeish color. If you want to avoid the green color for kid reasons, don't use the dark green part of the avocado that clings onto the skin.
But! Those darker green parts have the largest amount of health-boosting antioxidants. So I'd only avoid using that part if your kid would be weirded out by a light green color.
Or save those parts for these healthy fudgesicles or these healthier raspberry truffles!
If you're making this orange banana smoothie for picky kids, note that if you make the smoothie and then refrigerate it, the top layer will turn a little brown due to the avocado. Using a stretchy, airtight silicone lid for glasses will help prevent that. If you don't have one, remove the top part of the smoothie, with a spoon, eat it, and then give the smoothie to your kids. ;)
Does it taste like avocado?
It most definitely does not taste like it has avocado in it. It tastes like a wonderful blend of bananas and orange.
The orange zest is important to get the orangey taste. If you just use the juice, it's not very orangey.
You can toss in half an orange instead of the orange juice. That would add quite a bit of fiber and pulp. Could be a good or bad thing, depending on what you like!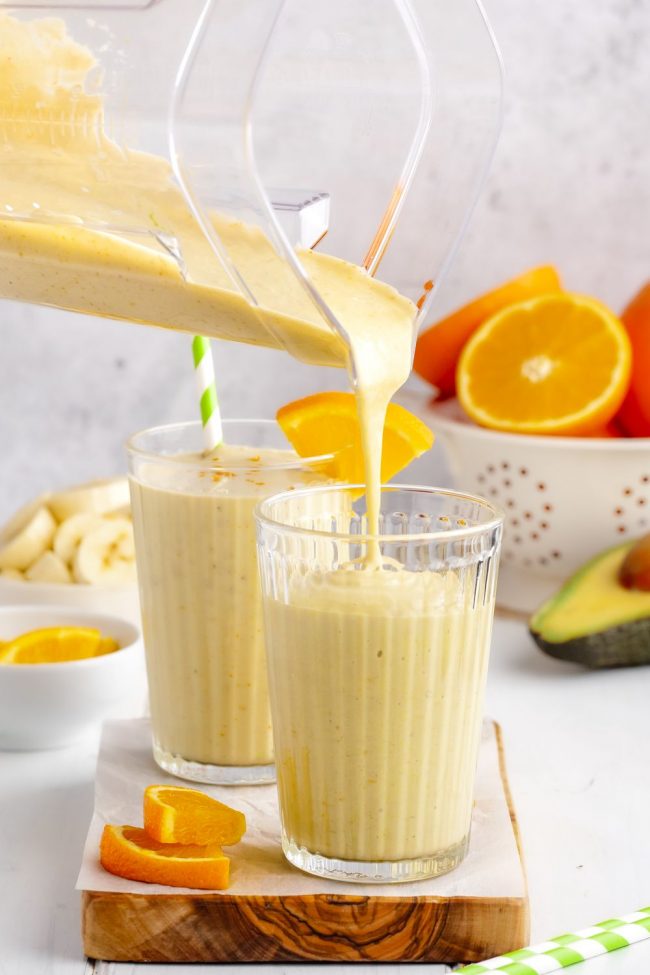 A healthy smoothie!
With avocado, orange and bananas, this is one healthy smoothie. I love starting my day off with something like this, rather than donuts, waffles, etc., knowing that I'm getting in some nutrition.
For another healthy smoothie, try this cherry mango carrot smoothie.
Health benefits of avocados
Avocados have been deemed a superfood with a variety of health benefits, and rightfully so. They're packed with many essential nutrients, are naturally cholesterol-free, sugar-free, gluten-free, low in sodium, and high in fiber.
Avocados are a good source of 20 necessary vitamins and minerals such as vitamin C, vitamin K, vitamin E, folate, and potassium. Vitamin C is great for promoting a healthy immune system; vitamin K is necessary for healthy bones; vitamin E is an antioxidant that helps repair cells; folate helps with the production of new cells and is needed for a healthy pregnancy, and potassium is great for lowering blood pressure.
They're also great for healthy skin, hair, and nails; lowering the risk of depression; fighting cancer; and with the amount of fiber they have, they're great for improving digestion.
The majority of the fat in an avocado is unsaturated fat which helps increase HDL (good cholesterol) and lower LDL (bad cholesterol), making them great for lowering your overall cholesterol levels and a heart-healthy choice in the battle against heart disease.
Adding avocados in smoothies is a great way to add nutrition and creaminess to your smoothie without clashing with other flavors. They're also great in pudding, like this healthy mint chocolate pudding and chocolate raspberry pudding!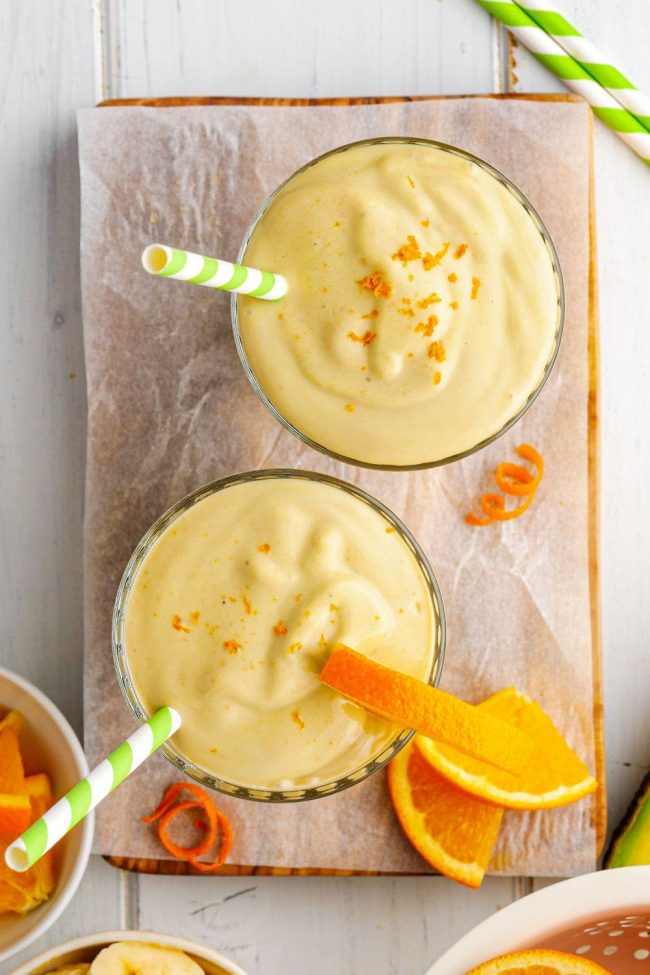 Banana nutrition
Bananas are as nutritious as they are delicious!
Bananas have numerous health benefits that help moderate blood sugar levels; are high in fiber, improving digestive health; are a great dietary source of potassium and magnesium, which are essential for heart health; contain antioxidants and anti-inflammatory agents; and because of resistant starch, they fill you up (as do these 100% whole grain banana pancakes!).
Bananas are one of the best fruits for vitamin B-6, vitamin C, manganese, and potassium, and they give you lots of energy.
Bananas make this heart-healthy smoothie blend taste great and add extra essential nutrients and fiber to your day.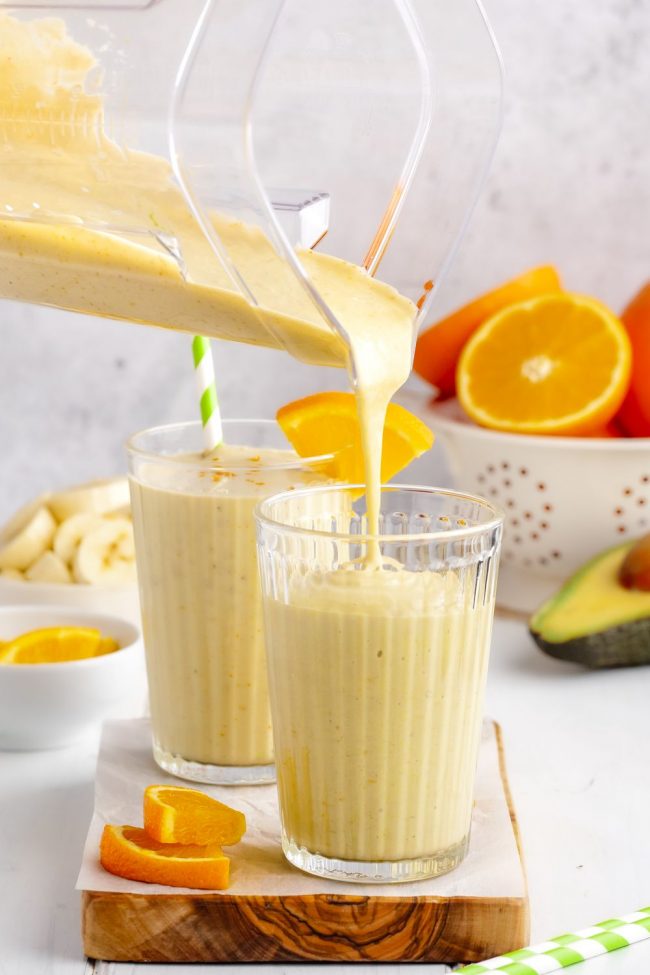 What makes oranges so healthy
Oranges are a low-calorie, highly nutritious citric fruit.
They're a good source of fiber that promotes heart health; an excellent source of Vitamin C which means it's a powerful antioxidant and aids in immune system support; a great source of potassium, and helps to lower blood pressure.
Oranges are good for clear skin, lowers the risk of cataracts with thiamine, and helps fight cancer-causing free radicals. An orange provides 6% of the daily calcium needed to keep your muscles, organs, and bones strong.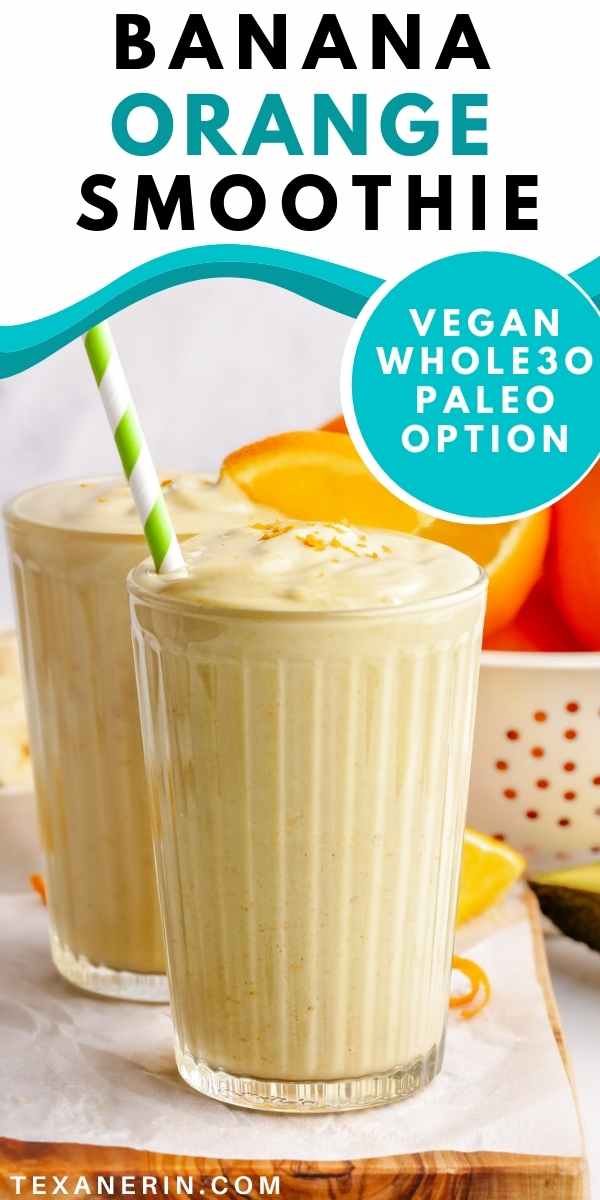 Interestingly, when you're feeling anxious, vitamin C can lower your stress hormone, cortisol, and reduce your blood pressure, so including oranges in your daily diet is helpful to maintain calmness in a stressful world. So would these vegan orange cookies. ;)
Overall, the healthy benefits of oranges combined with the added benefits of bananas and avocados, make this hearty blend a super-smoothie packed full of nutrition and amazing tasty goodness!
If you're like me and add avocados to your smoothies, what is your favorite flavor combination? And for another refreshing drink, this try frozen lemonade!
❀
Orange Banana Smoothie (paleo, vegan option)
Prep Time:
Cook Time:
Ready in:
Yield:

2 small servings
Ingredients
2 medium or large bananas (about 120-150 grams each, without peel)
1/2 cup (120 grams) plain Greek yogurt (use compliant coconut milk yogurt for paleo / vegan / whole30)
zest of 1 orange (about 1 tablespoon)
1/2 cup (120 ml) orange juice or 1/2 peeled, deseeded orange (80 grams)1
1/2 medium avocado (80 grams)
optional - more orange juice or milk (use paleo / vegan / whole30 compliant milk, if desired)
Directions
Optional step - cut the banana into chunks and freeze for 1 hour. This makes your smoothie colder. Using refrigerated ingredients that are already cold also do the trick.
Blend everything together in a blender or a food processor.
If you want the smoothie thinner, add milk until you're satisfied with the consistency. Serve immediately.
Store leftovers in the fridge for up to 1 day. Note that after sitting for a while, the top layer will turn a little brown due to the avocado. Just mix it in and it won't be as noticeable. Or remove the top part if you've got picky kids.
Notes
If you don't mind the pulp / fiber