This chocolate orange Halloween cake is 100% whole grain and sure to be a crowd pleaser!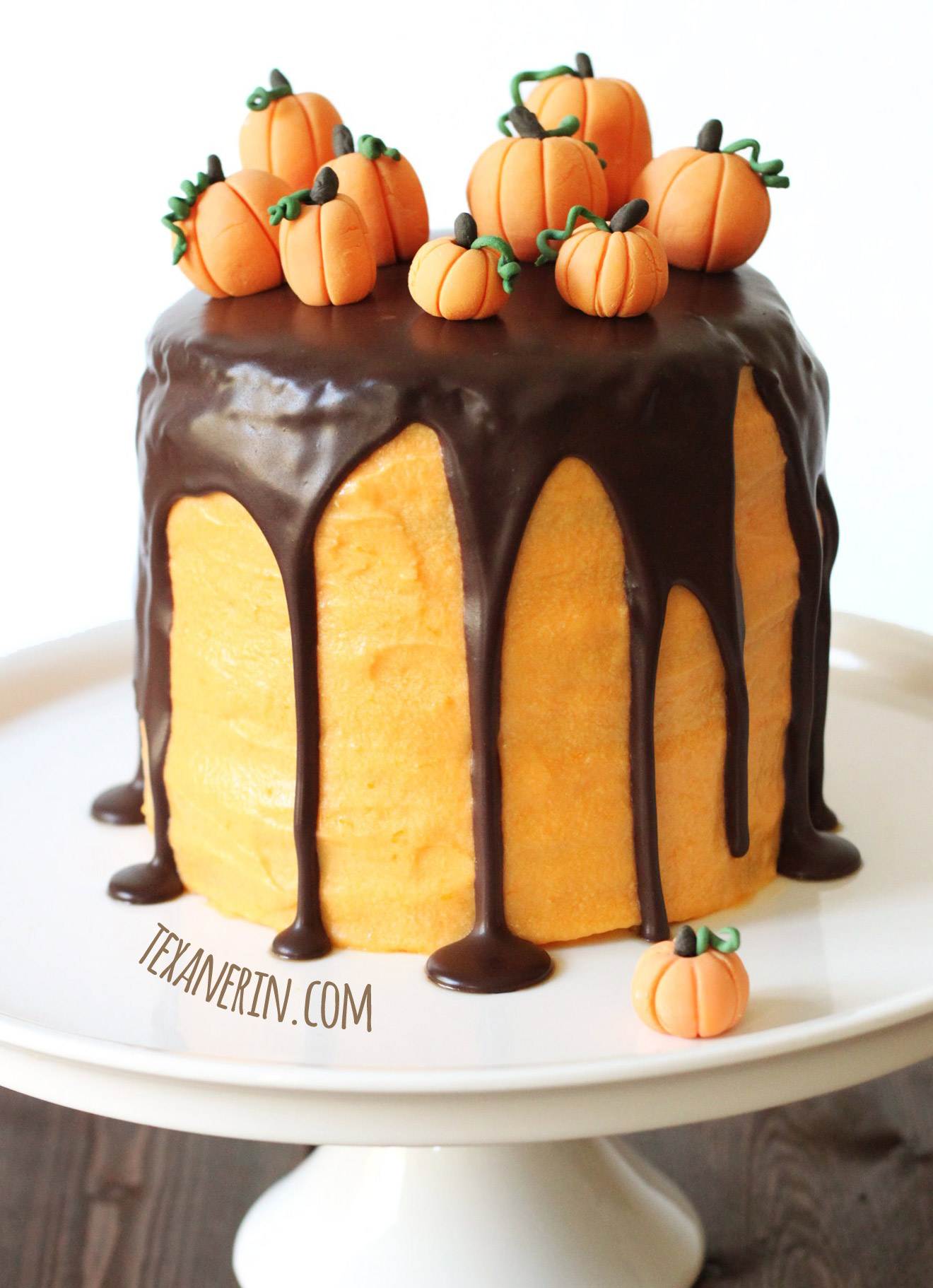 I originally posted this chocolate orange Halloween cake shortly after I started blogging two years ago. So why am I reposting it? Because after two years – only a handful of people have actually seen it!
Got time to waste? Here's your cake! :D I wish I could say that I put this together in a jiffy but that'd be a gigantic lie. I recommend starting it at least eight hours before serving. There's cooling and chilling time involved so it's not all active time.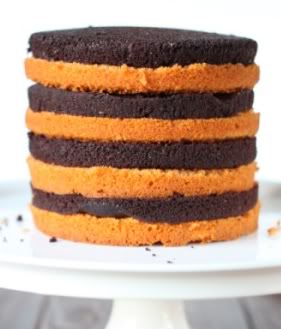 Have you ever seen Bakingdom's Halloween Chocolate Orange Layer Cake? It's amazing and I did my best to recreate it. You can tell that I'm not an expert cake decorator. But I brought it to a party and people freaked out. That was all worth it! :)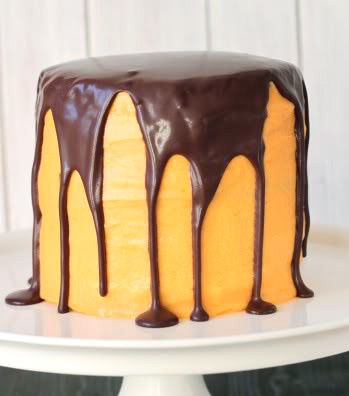 So. This is half orange cake and half chocolate cake. It has chocolate cream cheese filling, orange buttercream, and chocolate ganache. So, yeah. That means there are five different parts to the recipe. But if you want, you could just whip up your favorite frosting and top and fill the cake with that. It just wouldn't be as pretty!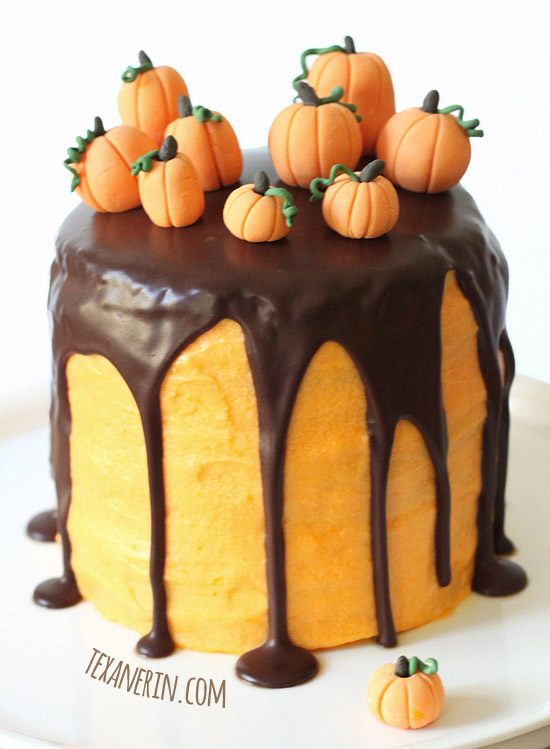 Nobody will be able to tell that this is whole grain. Or made with olive oil. I know because I made the same chocolate orange cake last year, but using white flour and butter. It tastes the same. :)
I know that this was very bad of me, but I used some orange dye in the cake and the frosting. I've looked at some alternative "natural" dyes but they're insanely expensive and the reviews are pretty bad. So I just used Wilton food gel that I got at Michael's. You can certainly just leave it out.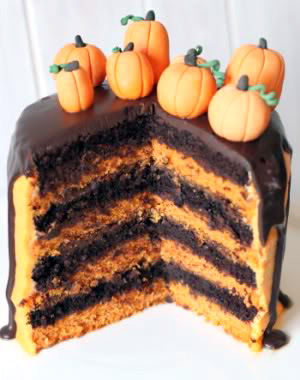 Whatever you do, don't put the pumpkins on until just before serving! Or if you want to put them on a few hours before serving, that'd be okay. I put my little pumpkins on in the evening, and in the morning, they had fallen all over the place. And they were oozing. It wasn't pretty.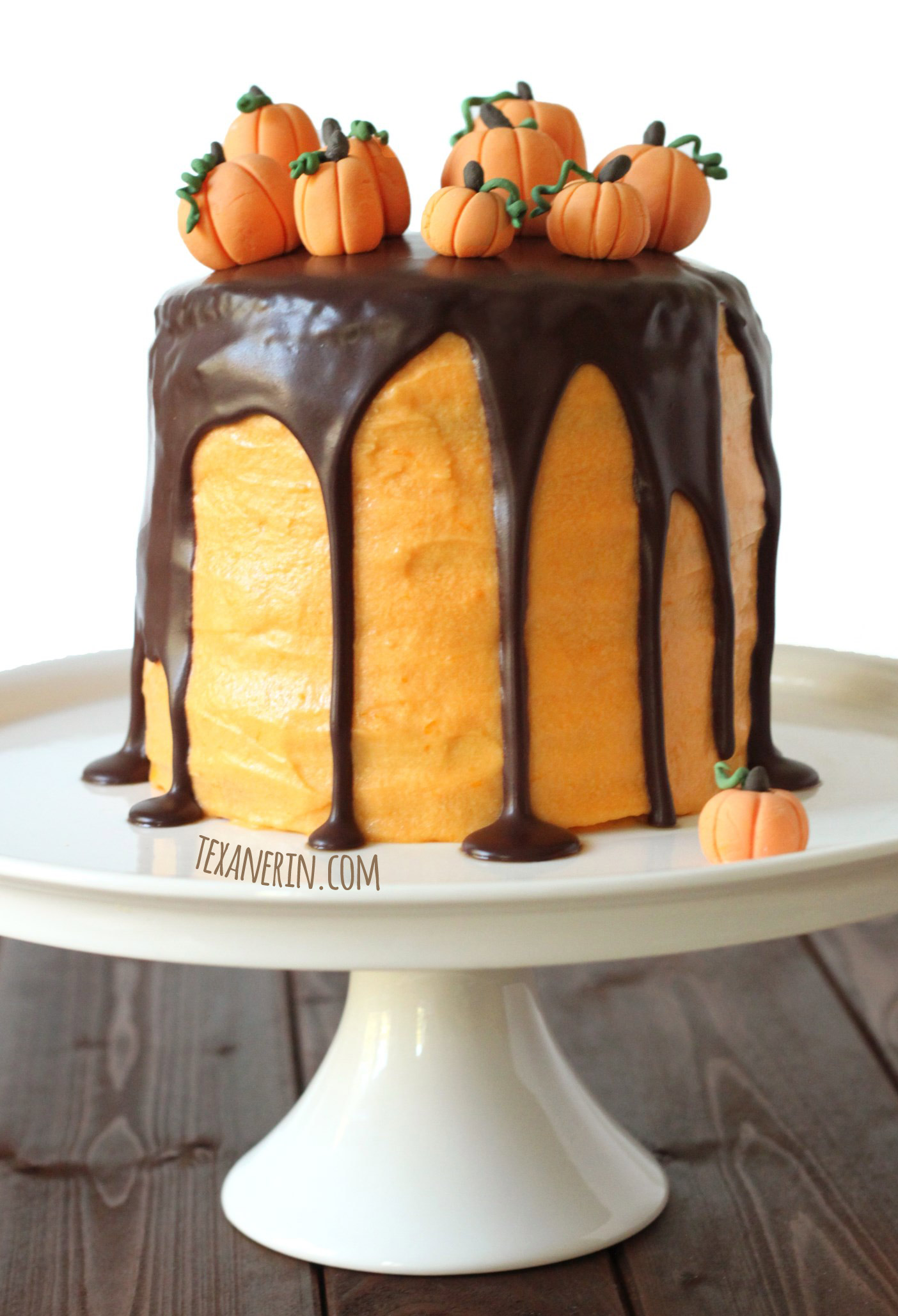 And here's the fondant pumpkin tutorial. Honestly, if I can do it, you can too! Even Mr. T was able to make those little pumpkins. If you have kids, I bet these fondant pumpkins would be really fun to make together. :)
So good luck with the cake! And remember… start it well before you want to serve it!
❀
Chocolate Orange Halloween Cake
Prep Time:
Cook Time:
Ready in:
Yield:

16 slices
Ingredients
Chocolate cake:

2/3 cup (135 grams) unrefined sugar
3/4 cup + 2 tablespoons (115 grams) whole spelt, whole wheat pastry, or whole wheat flour
1/4 cup + 2 tablespoons (42 grams) cocoa powder
3/4 teaspoon baking powder
3/4 teaspoon baking soda
1/2 teaspoons salt
1 egg
1/2 cup (118ml) milk
1/4 cup (60ml) olive oil
1 teaspoon vanilla extract
1/2 cup (118ml) boiling water

Orange cake:

92 grams (that's 6.8 tablespoons or .42 cup) olive oil
125 grams unrefined or granulated sugar (1/2 cup + 2.5 tablespoons)
2 eggs
zest of 2 oranges
125 grams (1 1/4 cup) whole spelt, whole wheat pastry, or whole wheat flour
1 1/2 teaspoon baking powder
1/4 teaspoon salt
43ml (a tiny bit less than 3 tablespoons) orange juice
orange food coloring, if desired

Chocolate cream cheese filling:

1 8-ounce package (225 grams) cream cheese
1/4 cup (56 grams) butter, room temperature
2 – 3 cups (260 – 390 grams) powdered sugar, sifted (I prefer 2 cups)
1/2 cup (55 grams) cocoa powder

Orange buttercream:

6 tablespoon (85 grams) butter, room temperature
5 – 6 cups (650 – 780 grams) powdered sugar
1/4 cup (60ml) orange juice
1/2 teaspoon vanilla
zest of 2 oranges
2 tablespoons milk, as needed
orange food coloring, if desired

Chocolate ganache:

4.5 ounces (125 grams) semisweet chocolate chips or chopped chocolate
1/2 cup (118ml) cream
Directions
For the chocolate cake:

Preheat the oven to 350°F / 175°C. Grease two 6-inch pans. You could use 8-inch pans, but the layers will be thinner and you need to reduce the baking time.
In a large bowl, stir together the sugar, flour, cocoa powder, baking powder, baking soda and salt. Add the eggs, milk, oil and vanilla, and mix for 2 minutes on medium speed with a hand mixer. Then stir in the boiling water. Batter will be very thin, almost as watery as water.
Pour evenly into the prepared pans. I use a scale to make sure that they're even. Bake for 20 – 25 minutes or until a toothpick inserted in the middle comes out clean. This cake is super super moist. Don't overbake! Cool for about 5 minutes in the pan, and then turn out onto a wire rack. Clean the pans so you can start with the orange cake.
Source: adapted from the best chocolate cake recipe ever, One Bowl Chocolate Cake

For the orange cake:

Preheat the oven to 340°F / 170°C. Grease two 6-inch pans.
Combine the olive oil and sugar. Add the eggs and orange zest. Beat well. Add the flour, baking powder and salt and then slowly mix in the orange juice. If you want the layers to be orange, you'll have to use a little food coloring. It doesn't take much (definitely waaay less than red velvet cake), at least when using icing gel.
Bake for 25 – 30 minutes or until a toothpick inserted in the middle comes out clean. Let it cool in the pan.
Source: adapted from Sicilian Orange Cake

For the chocolate cream cheese filling:

Beat the cream cheese and butter until fluffy.
Add the powdered sugar, one cup at a time.
Add the cocoa powder. Beat until fluffy! And try not to eat it all. You'll need some for the cake.
Germans: I used a 300 gram package and drained it a bit. It turned out to be around 225 grams. It's just too runny if you don't drain it at all.
Source: My favorite chocolate cream cheese frosting from Cupcake Project

For the orange buttercream:

Cream together the butter and 2 cups of the powdered sugar. Stir in the orange zest and then the juice, and mix thoroughly. Beat in another 2 cups of powdered sugar and then the vanilla. Add the remaining sugar and beat very well. It should be fluffy. If you need a little milk, add it. If you want it orange, use a little food coloring.
There was quite a bit leftover, but I'm worried that 2/3 of the recipe might not be enough.
Source: Bakingdom

For the chocolate ganache:

Place the chocolate in heatproof bowl. In a saucepan over medium heat, bring the cream to a boil. Pour the cream over the chocolate and stir until melted.

To assemble the cake:

Once your layers are completely cool, cut each layer horizontally in half so you have a total of eight layers. I used a cake leveler, but use whatever way you're used to. You can start with either orange or chocolate on the bottom. I used about 2 tablespoons of filling on each layer, but I ended up with quite a bit leftover. I'd suggest using about 3 tablespoons of filling per layer.
Apply a crumb coat using the orange icing. It can be messy. Look at mine. Notice all the crumbs and how crooked my cake is. I'm just not good at this decorating thing.
I let mine sit in the fridge for a few hours until it was hard. And I mean hard.
Add more orange icing. Make it pretty this time and then let it sit in the fridge again for another hour or so, or until it's hard or almost hard.
Pour on the chocolate ganache. I just poured all the chocolate in the middle of the cake and hoped it would run down nicely.
Shortly before serving, put on the fondant pumpkins. Here's the fondant pumpkin tutorial.
As an Amazon Associate, I earn from qualifying purchases. For more info, see my disclosure.