These super moist and flavorful cranberry orange muffins use oat flour, making them 100% whole grain and gluten-free! With a dairy-free option.
My latest post over on My Baking Addiction is these gluten-free cranberry orange muffins. I hope you all aren't sick of the orange and cranberry combination yet because these are so worth making!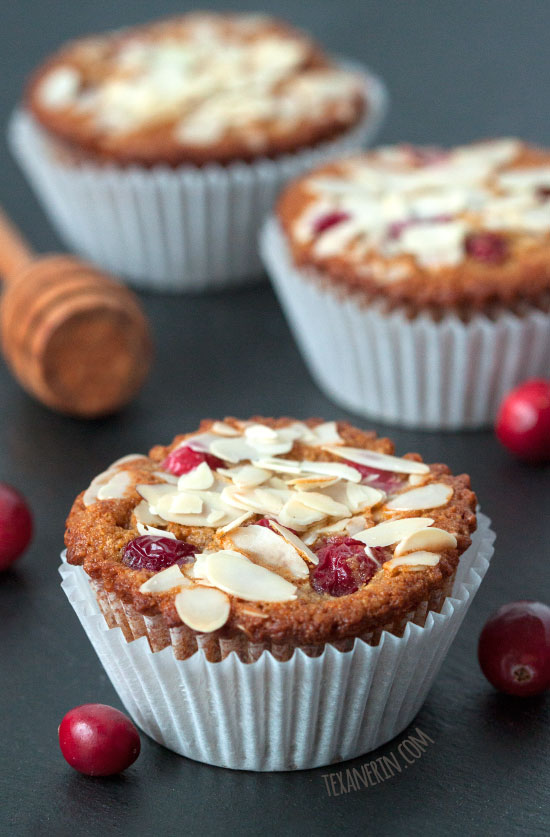 I went through 8 versions of a different recipe until I finally just decided it'd be easier to adapt my whole grain apple muffins. Those are already pretty moist and soft and weirdly enough, the oat flour makes them even moister and more delicate! If you don't want to use oats and don't need them to be gluten-free, white whole wheat flour works, too. But make sure to go with white whole wheat and not the traditional kind! Unless you don't mind the muffins tasting grainy.
I used buttermilk in these muffins but I've listed a way to make homemade dairy-free buttermilk in the recipe. The same lemon juice + milk trick works with dairy-free milks, too! Except for canned coconut milk. I've never tried it and it'd be too thick, anyway, so stick to soy, almond, oat, etc. milk.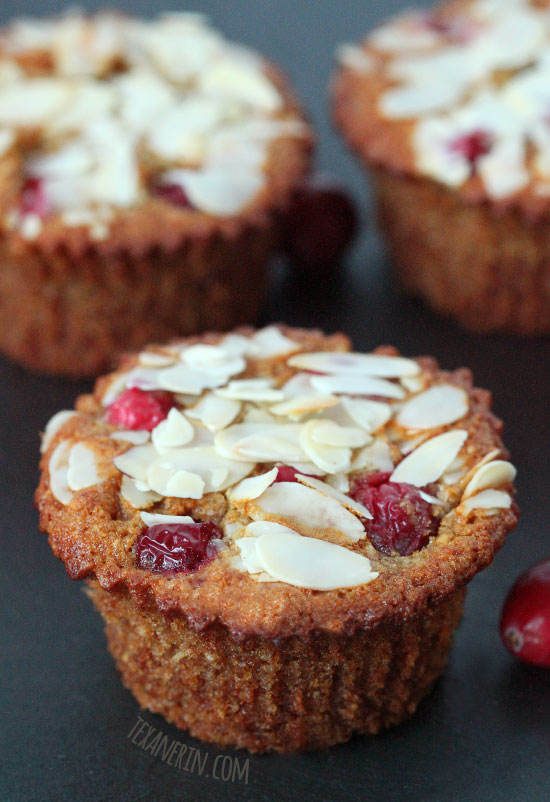 These cranberry orange muffins are entirely honey sweetened and you can taste it, but it's not overwhelming at all! Orange is definitely the predominant flavor here. I don't recommend subbing honey with anything else. It's a large amount to sub (2/3 cup) and I'm afraid using anything else would throw off the entire recipe.
I also haven't tried these with dried cranberries but I don't see why they wouldn't work. And I can't wait to try these muffins with blueberries! I'm so, so ready for berry season. Speaking of berry season and summer… do I have any readers in Australia or New Zealand? I was wondering how Christmas food works for you. Do you eat gingerbread, cranberry, and chocolate mint flavored treats or do you eat strawberry pie, no-bake treats, and ice cream? I've always wondered. :)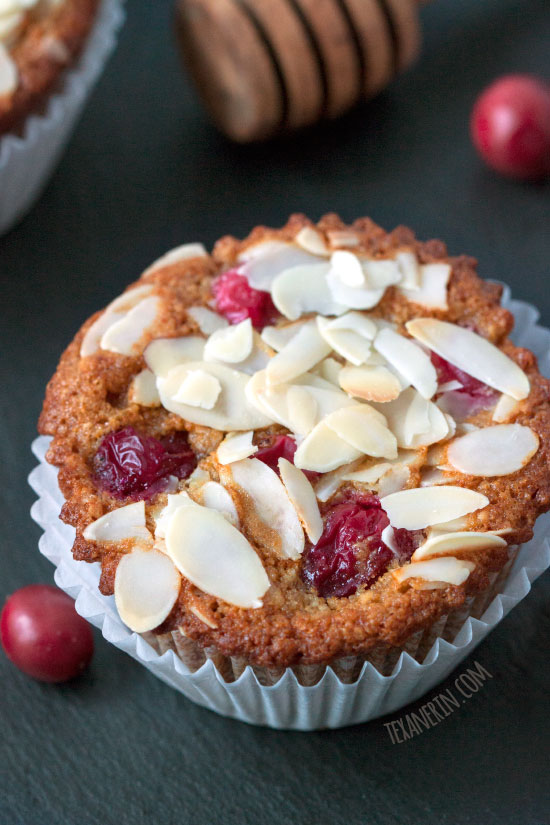 These make for a great make-ahead breakfast, by the way. They stay fresh at room temperature for a few days and stay nice even once refrigerated. I hate it when my muffins dry out in the fridge but that's definitely not an issue with these. :)
❀
Gluten-free Cranberry Orange Muffins
Prep Time:
Cook Time:
Ready in:
Yield:

12
Ingredients
2 cups (184 grams) gluten-free oat flour1 or 2 cups (250 grams) white whole wheat flour for a non-GF version
1 1/2 teaspoons baking soda
1 teaspoon baking powder
1/2 teaspoon salt
2 large eggs, room temperature
2/3 cup (213 grams) honey
3/4 cup (177 milliliters) canola oil or light olive oil (I'm guessing melted coconut oil would work but I haven't tried it)
1 tablespoon orange zest
1 1/4 teaspoons orange extract
3/4 teaspoon vanilla extract
1/2 cup (120 milliliters) buttermilk2
1 1/2 cups (180 grams) fresh cranberries, divided
1/3 - 1/2 cup (30 - 45 grams) sliced almonds for sprinkling on top, optional
Directions
Preheat oven to 350°F and line a muffin pan with 12 muffin liners.
In a medium mixing bowl, whisk together the oat flour, baking soda, baking powder and salt. Set aside.
In a large mixing bowl, whisk together the eggs, honey, oil, orange zest, orange extract, vanilla extract and buttermilk.
Add the dry mixture to the wet mixture and stir just until combined. Stir in 1 cup cranberries, reserving the rest to sprinkle on the top.
Divide the batter among the liners, filling almost to the top, and sprinkle the remaining cranberries over the top.
Add sliced almonds, if using.
Bake for 16-20 minutes or until a toothpick inserted in the middle comes out clean.
Let the muffins cool for 5 minutes in the pan and then carefully turn them out onto a wire rack to cool. If you used almonds, you may want to tilt the pan and use a spoon to remove them from the pan so that the almonds don't fall off.
Once cool, store in an airtight container at room temperature for up to 2 days or refrigerate for 4 days.
Notes
To make oat flour, pulse gluten-free oats in a food processor or coffee grinder until finely ground and powdery.
For dairy-free buttermilk, put 1 1/2 teaspoons of lemon juice in a 1/2 cup measuring cup. Fill with dairy-free milk (almond, soy, oat, etc. but not canned coconut milk), and let sit for 5 minutes.
Source: My post on My Baking Addiction: gluten-free cranberry orange muffins