These caramel apple cheesecake bars feature an oatmeal cookie-like crust / topping with a simple caramel glaze! They're oat-based making them gluten-free and 100% whole grain.
Before we talk about these cheesecake bars, I wanted to share some information about a program that involves the ingredient I've been featuring all month long – apples! I'm working with the U.S. Apple Association today to tell you about their fundraising initiative, Apples for Education.
Its aim is to provide financial support to important student causes nationwide. Basically, by sharing a picture of an apple, an apple product, or a product from participating brands (see below for more details) you can help raise money for a student cause of your choice.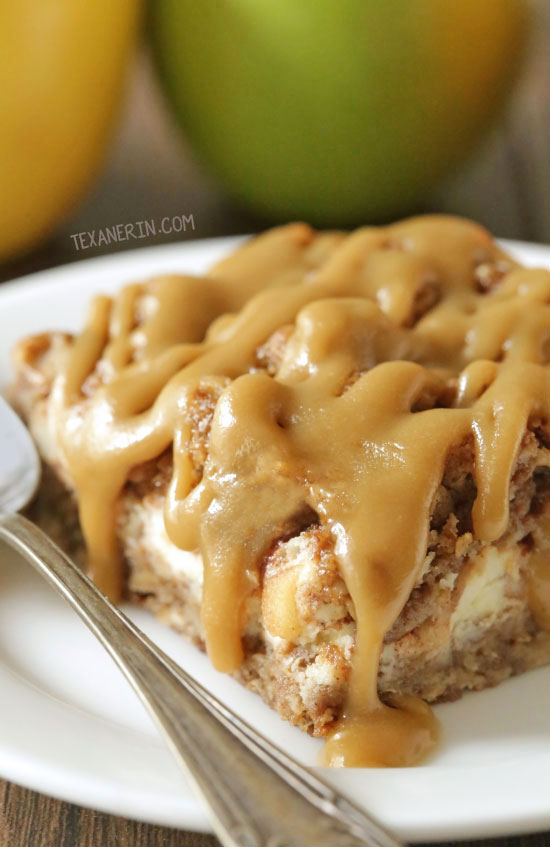 I love this campaign not only because it raises funds for student causes and classroom projects but because it gets people eating more apples! I think we can all agree that most of us eat far too much processed junk food.
For me, apples have always been the perfect healthy on-the-go snack. Studies have shown that eating apples keeps you fuller longer, which keeps you fit, and can even reduce your risk of cancer, heart disease, diabetes and asthma. Think about that the next time you grab a bag of potato chips. ;)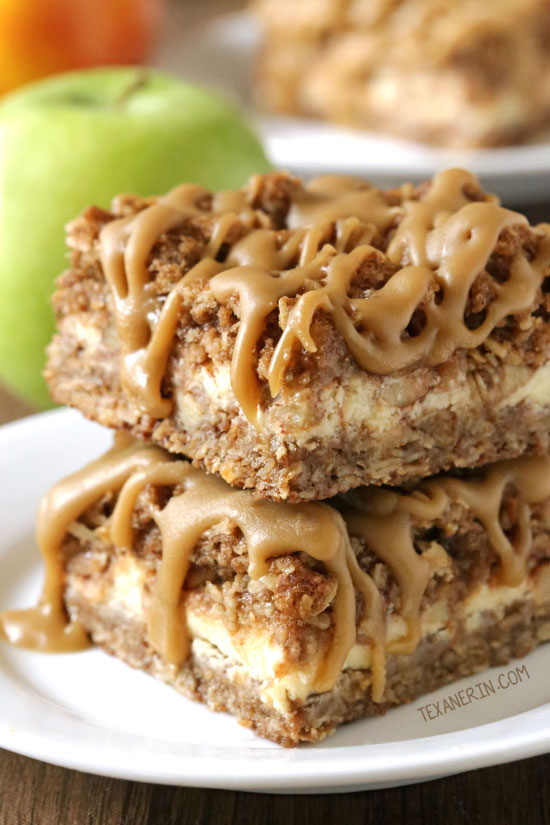 Here's how you can participate! Now through November 15th, all you need to do is:
Grab an apple, apple juice, apple sauce and / or products made by Marzetti, KIND, Roth Cheese or Johnsonville Sausage.
Take a picture enjoying it – selfies preferred, not required. Just to clarify, pictures of apple baked goods count!
Find a school cause here. Click "Vote Now!" and upload your picture using the online form OR post to Instagram with the project's name and the hashtag #Apples4Ed. You can see an example I just posted on Instagram here!
You can vote as often as you'd like and each picture you upload counts as a vote. When you vote, you automatically enter for a chance to win one of eight weekly $100 Visa gift cards!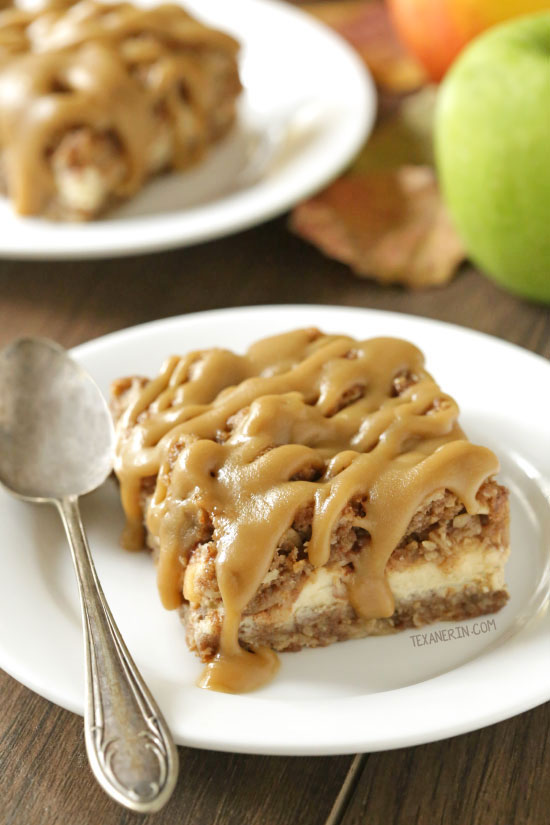 Now for the apple cheesecake bars! They were a HUGE hit. The crust and topping is made of an oat flour and oat-based crust that's almost like a cross between an oatmeal cookie and streusel. Top it with a layer of cheesecake, some cinnamon apples, and the other half of the streusel mixture. The result? Totally magical.
I wanted the bars to be somewhat portable so I topped them off with a caramel glaze rather than caramel sauce. You can see what the glaze looks like once refrigerated and slightly hardened in the middle picture. It doesn't get totally hard but firm enough to make things a little less messy during transportation. Though if you're anything like me and get a moment alone with these cheesecake bars, there won't be all that much left to share. ;)
❀
Caramel Apple Cheesecake Bars (gluten-free, 100% whole grain)
Prep Time:
Cook Time:
Ready in:
Yield:

12 bars
Ingredients
For the crust and topping:

1 1/4 cups (115 grams) oat flour (use certified gluten-free, if necessary)
2 cups (180 grams) rolled oats (use certified gluten-free rolled oats, if necessary)
1 tablespoon ground cinnamon
1 cup (200 grams) brown or raw sugar
1/4 teaspoon salt
3/4 cup + 2 tablespoons (196 grams) unsalted butter, melted and cooled slightly

For the cheesecake layer:

8 ounces (225 grams) cream cheese, room temperature
1/4 cup (50 grams) granulated or raw sugar
1 teaspoon vanilla extract
pinch of salt
1 large egg, room temperature

For the apples:

2 cups chopped and peeled apples (from about 2 medium-sized, firm baking apples)
1 tablespoon granulated or raw sugar
2 teaspoons ground cinnamon
1/8 teaspoon ground nutmeg

For the caramel glaze:

1/4 cup (56 grams) unsalted butter
1/2 cup (100 grams) brown sugar
1/3 cup (80 milliliters) whipping cream
3/4 cup (86 grams) powdered sugar
1 teaspoon vanilla extract
1/8 - 1/4 tsp salt1
Directions
Preheat the oven to 350 °F (175 °C). Line an 8" x 8" pan with a full piece of parchment paper so that the entire pan is lined (and not just the bottom). Set aside.

For the crust and topping:

In a large mixing bowl, stir together the dry ingredients (oat flour through salt). Stir in the melted butter until thoroughly combined.
Pat half of the mixture (about 1 1/2 cups or 350 grams) firmly onto the bottom of the parchment-lined pan.
Bake for 18 - 22 minutes or until lightly golden brown. The crust may bubble a little during baking.
Let the crust cool for at least 10 minutes while preparing the filling. If the crust has any small bubbles, lightly press down the crust after it's cooled for a few minutes.

For the cheesecake layer:

In a large mixing bowl using an electric hand mixer, beat the cream cheese and sugar at medium speed until light and fluffy. Add the vanilla, salt and egg and beat on low just until combined. Set aside while you prepare the apples.

For the apples:

Mix everything together in a small bowl.

To assemble:

Spread the cheesecake batter evenly over the partially cooled crust. Distribute the apple filling over the top. Add walnut-sized pieces of the remaining oat mixture over the filling. Very lightly press down any parts of topping that are sticking out (to prevent burning). Bake for 30 - 35 minutes or until the filling is golden brown, firm and the middle doesn't jiggle when the pan is tapped.
Remove from the oven and let cool completely. Refrigerate for at least 3 hours before serving. Cover and refrigerate any leftovers for up to 4 days.

For the caramel glaze:

Melt the butter in a small saucepan over medium heat. Stir in the brown sugar and cream. Once well combined, stop stirring and let the mixture come to a full boil. Boil for 1 minute (without stirring) and then remove from the heat. Stir in the vanilla, salt, and gradually add the powdered sugar. Whisk until the powdered sugar is fully incorporated. Once the bars have cooled, cut into squares. Drizzle the glaze over the bars before serving.
Notes
I prefer 1/4 teaspoon for more of a salted caramel variation.
Thanks to the U.S. Apple Association for sponsoring this post! As always, all opinions expressed are my own. The U.S. Apple Association (USApples) is the national trade association representing all segments of the apple industry. Their mission is to provide the means for all segments of the U.S. apple industry to join in appropriate collective efforts to profitably produce and market apples and apple products.