This German apple cake has a layer of cake topped with a thin layer of pudding, apples and then streusel! 100% whole grain, all-purpose flour and dairy-free options.
In four years of blogging, I've never shared a recipe for any German sweets. Mr. T posted this Eierlikör (egg liqueur) which is awesome, but German baked goods aren't my thing.
What you find in a typical bakery (which are absolutely everywhere!) is not nearly as moist and flavorful as American stuff. It's not as sweet, either, but I actually like that! I should say that I've heard the baked good situation is much better in Southern Germany but in my opinion, it's pretty sad in Berlin.
And whenever there's a get together with friends or a birthday at the schools I've worked at and people bring cake, I can only remember one time when a German brought a truly homemade cake.
I'm not a cake mix snob but I think Dr. Oetker has a thing or two to learn from Betty Crocker because the cake mixes over here yield such dry and tasteless cakes. It could be that the bakers are to blame and over bake them but every single time? I don't know about that.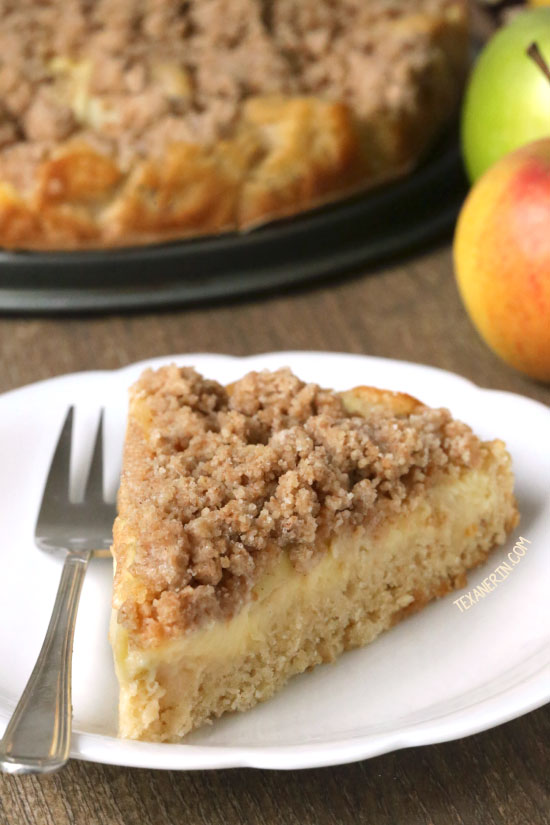 So I've been majorly hating on all German baked goods for the past six years. I gave up on bakeries after about a year. I was always disappointed and what I was getting wasn't even worth the calories.
Then a few months ago, I thought I'd do some research on Berlin bakeries and it turns out that most bakeries don't bake everything from scratch any longer. So I found out which ones do and have visited a few so far. I've enjoyed at least half of what I've tried so it turns out that the problem is just that it's hard to get your hands on homemade goodies around here!
Like this apple cake. It's actually a German streuselkuchen with added apples. There's a thin layer of pudding, too. Some streuselkuchen recipes have pudding, some don't.
When searching for homemade streusel cake recipes with pudding, I couldn't find any at all with homemade pudding. Every single one called for pudding mix. I put Mr. T on the job, thinking I wasn't using the correct German terms in my googling. He didn't find anything, either.
I asked my German ESL students what was up with that and it was pretty hilarious. About 15 women of all ages had never even heard of making pudding from scratch. "You just use the pudding mix! You can't make pudding without it."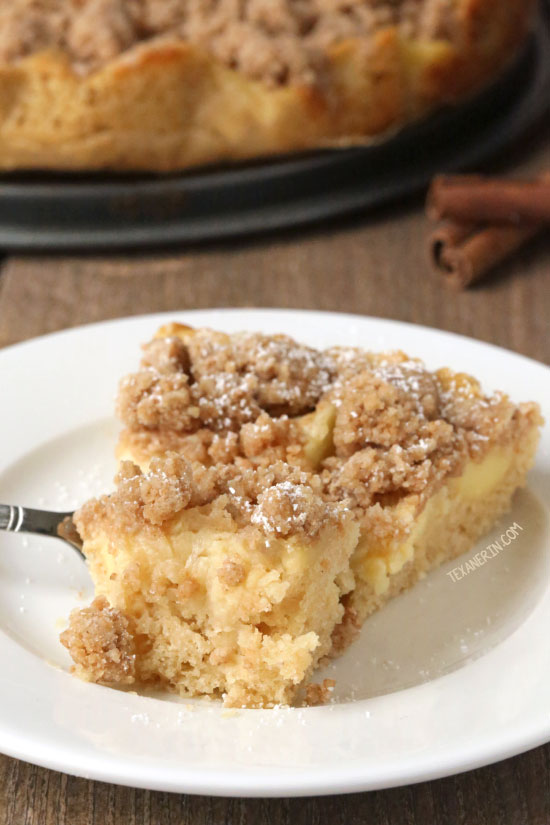 When I told them that homemade pudding only takes a few minutes to put together and consists of only a few ingredients, they were dumbfounded. It was so bizarre!
I came up with my own pudding recipe for this cake and then the problem was finding a cake base that actually tasted good using American whole wheat pastry flour. After over a dozen iterations and a month later, I just gave up and decided to adapt someone else's recipe. ;) I found this awesome Rhubarb Buttermilk Streusel Cake on The Daring Gourmet (Kimberly is a German living in the US!) and made it whole wheat and dairy-free. It's perfect.
Her cake is way quicker than mine. If you don't have much time but want a whole wheat and dairy-free version, just make hers with whole wheat pastry flour and coconut oil and fold in some apples instead of rhubarb. Use the streusel recipe here because coconut oil doesn't work as a 1:1 sub for butter in streusel, pie crusts, and some other things. If you don't need your cake to be dairy-free, I bet Kimberly's butter version tastes even better than the coconut oil version!
I also halved her recipe because I was adding a layer of apples and pudding and was worried about it being too much. Her recipe calls for 1 egg so the first time I made it, I used an egg yolk, assuming that'd be the tastiest way to go. Loved it.
The second time, I used an egg white, knowing that people would want to use that since one egg yolk is used in the pudding. Don't do that! The egg yolk version is definitely better. And if you don't mind halving eggs, just whisk an egg in a small container and add 25 grams to the cake batter. Add the remaining half egg to your breakfast eggs the next morning!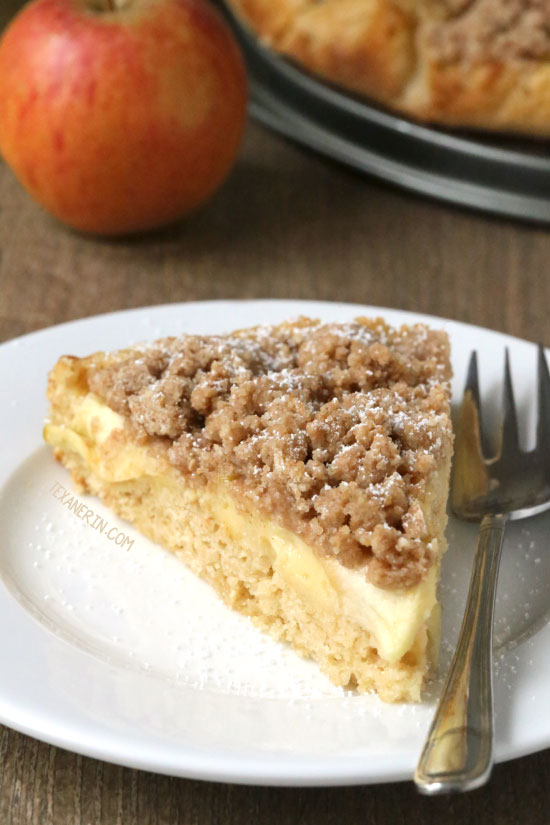 This cake is really thin by American standards but I'm afraid to tell you to double it because the only way you can tell if it's truly done is to dig a big old gaping hole in the center of the cake. The problem I had with all the previous German apple cakes was that when the area around the edges were done, the middle was still totally undone.
Then when the center was done, the rest of the cake was totally dried out. What I can tell you is that this recipe takes 30 minutes to bake in a 9″ pan. If you want to use a different size, you'll have some hole-digging to do!
If you've never had a German apple cake before, it's pretty different than American apple cakes, which are usually loaded with spices, like my apple cake with caramel frosting. They're also not quite as moist as my apple upside down cake. But still totally worth trying!
For people in Germany: I made this with whole wheat pastry flour that I brought with me from the US. You could try this cake with regular whole wheat or whole spelt flour but since there's not much flavor in the cake batter, it will taste very much of whole grains (which wouldn't taste very good in my opinion!).
You could try Type 405, which is similar to American pastry flour (pastry flour – not whole wheat pastry flour) but the texture will likely be different). But if you're going to use that, you might as well just find a Streuselkuchen recipe on Chefkoch. ;)
For more German dessert recipes, try these German pepper nut cookies or these cinnamon stars!
And if you're feeling the apple love but this cake sounds a bit too fussy, try my gluten-free apple crisp (it's made with oats and oat flour so it's also 100% whole grain) or my apple blondies!
❀
German Apple Cake (100% whole grain, dairy-free options)
Prep Time:
Cook Time:
Ready in:
Yield:

8 slices
Ingredients
For the pudding:

2/3 cup (158 milliliters) milk of choice (soy, almond, cow's milk for a non-dairy-free version, etc. but not canned coconut milk)
1 large egg yolk
3 tablespoons granulated or raw sugar
2 tablespoons (16 grams) cornstarch
pinch of salt
1 teaspoon vanilla extract

For the streusel:

1/2 cup + 1 tablespoon (68 grams) whole wheat flour1 or all-purpose flour
1/4 cup (50 grams) granulated or raw sugar
1/2 teaspoon ground cinnamon
1/8 teaspoon salt
3 tablespoons (42 grams) coconut oil, room temperature2

For the apples:

2 small firm (not old mushy ones) baking apples, peeled and sliced into 1/8" slices
1 tablespoon granulated or raw sugar
1/2 teaspoon ground cinnamon

For the cake batter:

1 cup (120 grams) whole wheat pastry flour (I think white whole wheat would also work) or all-purpose flour
1/2 teaspoon baking powder
1/4 teaspoon baking soda
1/4 teaspoon salt
2 tablespoons (24 grams) coconut oil, room temperature
1/2 cup (100 grams) granulated or raw sugar
1 teaspoon vanilla extract
1 large egg yolk
1/2 cup (120 milliliters) buttermilk3
Directions
For the pudding:

In a medium saucepan, whisk together all pudding ingredients, except for the vanilla. Turn the heat on medium and cook, stirring frequently, until thickened – about 7-9 minutes. After about 5 minutes, start to stir constantly. It will go from thin and watery to thick in a matter of seconds. Do not let the pudding boil! It's okay if it boils for a few seconds, but not more. Stir in the vanilla. It will be quite a bit thicker than regular pudding and will thicken even more as it cools. Set aside to cool while you prepare the cake. If you want to prevent a film from forming, cover with a piece of plastic wrap. I skip that step and just give it a good stir after it's cooled. There will still be some lumps, but you don't notice them in the finished cake.

For the streusel:

In a small mixing bowl, stir together the flour, sugar, cinnamon and salt. Incorporate the coconut oil until well combined. If the mixture isn't firm, place in the refrigerator to chill while preparing the rest of the cake.
Preheat the oven to 350 °F (175 °C) and place a piece of parchment paper in a 9" springform pan and press it down to conform to the pan's shape.

For the apples:

Mix the apple slices, sugar and cinnamon together. Set aside.

For the cake batter:

In a medium mixing bowl, stir together the flour, baking powder, baking soda and salt. Set aside.
In a large mixing bowl, beat the coconut oil and sugar at medium speed until well combined - about 1 minute. It won't become light and fluffy like when you cream butter and sugar together. This will be more crumbly. Beat in the vanilla and egg yolk on low and mix just until combined. Add half of the flour mixture and beat on low until mostly combined. Stir in the buttermilk until combined and then the remaining flour mixture. Stir just until combined. Do not over mix!
Spread the batter onto the bottom of the prepared springform pan. Spoon the pudding as evenly as possible over the cake batter. Use a spoon to very gently spread it, if necessary. Arrange the apples over the pudding and then sprinkle the streusel evenly over the top.
Bake for 30 minutes. The center should only jiggle a little when tapped. The toothpick test doesn't work here due to the pudding.
Let cool completely and serve. Cover and refrigerate any leftovers for up to 3 days. It's okay cold but tastes better once it's warmed to room temperature.
Notes
I tried this with whole wheat pastry flour and the streusel spread out too flat.
I used refined coconut oil, which doesn't have any coconut taste. If you use unrefined coconut oil, this cake may have some coconut taste to it.
To make dairy-free buttermilk, pour 1 1/2 teaspoons of lemon juice or vinegar into a 1/2 cup measuring cup. Fill with dairy-free milk of choice (but not canned coconut milk). Let sit for 5 minutes.
Cake base adapted from Rhubarb Buttermilk Streusel Cake on The Daring Gourmet