This apple cake is super easy, full of cinnamon and apples and is topped off with a simple salted caramel frosting. With gluten-free, 100% whole grain and all-purpose flour options.
Just a little warning – this isn't healthy in any shape or form. No need to send me nasty emails about it, though. ;) If you'd like something a little healthier, I highly recommend these paleo apple muffins or these whole wheat apple muffins.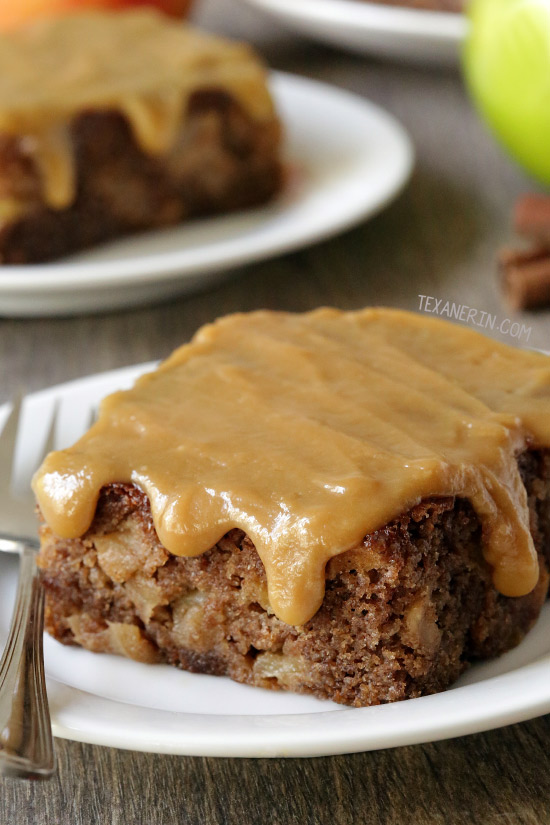 There's actually more sugar than flour in this apple cake. Yup. You could reduce it by a little and I'm pretty sure it'd still be plenty sweet and moist. There's also a ton of oil. If you want, I think that could be reduced by a tablespoon or two. But I wouldn't go cutting it in half!
Only as I'm writing this did I think about using half applesauce / half oil. That sounds like it could work and obviously the cake wouldn't be hurt by the addition of more apple flavor.
The cake is actually a lot moister than you can tell just by looking at the pictures. I'm not quite sure why that is. Lighting? My photography skills? Who knows.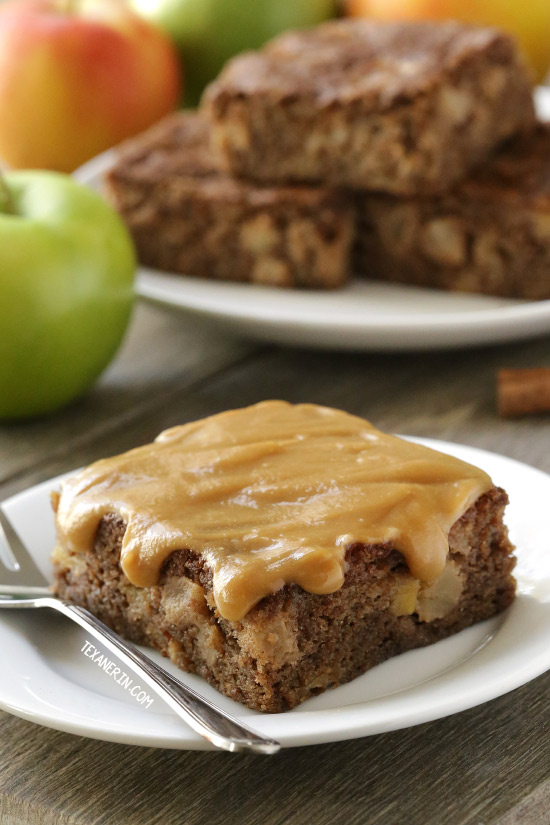 You can use whole wheat flour, a blend of gluten-free flours (listed in the recipe) or even all-purpose flour in this caramel apple cake. I've tested them all!
I probably wouldn't recommend whole spelt unless you reduce the oil by a tablespoon or so. The cake itself is dairy-free but the frosting isn't. If you need a dairy-free frosting, I'm thinking this vegan cream cheese frosting would be great on this cake!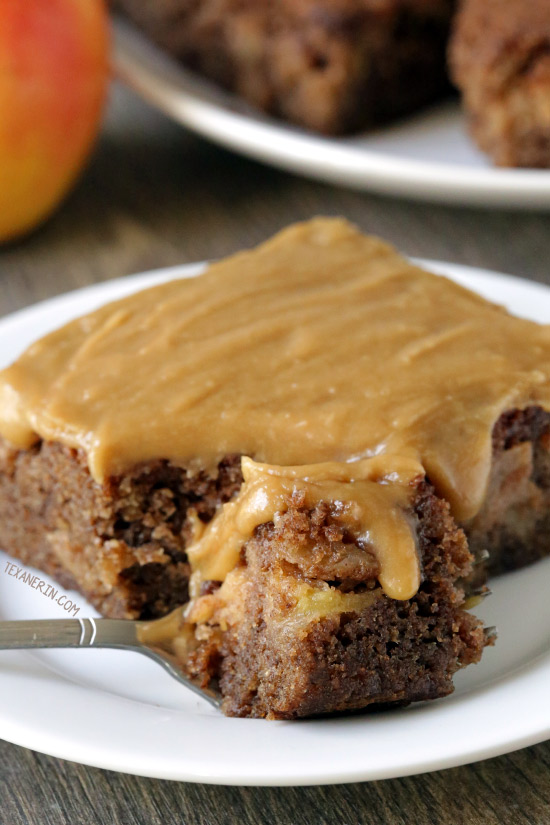 The frosting in this recipe is the same one I used in my caramel apple cheesecake bars. It's so easy! I don't like complicated caramel recipes because really – I'm destined to ruin it. If you're a capable caramel maker, I bet this cake would be awesome together with some vanilla ice cream.
If you want to try an apple cake that's a little different, you have to try my upside down apple honey cake! It's gotten rave reviews and is one of my very favorite recipes.
And if you want to make this in bundt form, I have to say I have no idea how it'd work out. I'd recommend giving this caramel apple bundt cake from Shugary Sweets a shot! It looks great.
❀
Caramel Apple Cake (gluten-free, 100% whole grain, options)
Prep Time:
Cook Time:
Ready in:
Yield:

12-16 slices
Ingredients
For the cake:

1 3/4 cups (219 grams) whole wheat flour, white whole wheat flour, or all-purpose flour or a gluten-free flour blend1
1 tablespoon + 1 teaspoon ground cinnamon, divided
1/2 teaspoon ground nutmeg
1 teaspoon baking soda
1/2 teaspoon salt
1 cup (200 grams) brown sugar or coconut sugar
3/4 cup (150 grams) + 1 tablespoon granulated or raw sugar, divided
1 cup (225 grams) oil (I used melted refined coconut oil)
3 large eggs, room temperature
2 teaspoons vanilla extract
3 1/3 cups (367 grams) peeled and diced apples (from about 3 1/2 medium apples)

For the caramel frosting:

1/2 cup (113 grams) unsalted butter
1 cup (200 grams) brown sugar or coconut sugar
2/3 cup (158 milliliters) whipping cream
2 teaspoons vanilla extract
1/4-1/2 teaspoon salt
1 1/2 cups (165 grams) powdered sugar
Directions
Preheat the oven to 350 °F. Line a 9" x 13" baking pan with a piece of parchment paper or alternatively spray the pan with baking spray.
In a medium mixing bowl, stir together the flour, 1 tablespoon cinnamon, nutmeg, baking soda, and salt. Set aside.
In a large mixing bowl, stir together the brown sugar, granulated sugar, oil, eggs and vanilla until thoroughly combined. Add in the flour mixture and mix just until well combined.
Place the apples in a small bowl and sprinkle the remaining 1 tablespoon granulated sugar and 1 teaspoon ground cinnamon over the apples. Stir to coat the apples in the cinnamon sugar. Fold the apples into the batter.
Pour the batter into the prepared pan and bake for 33-40 minutes or until a toothpick inserted in the center comes out clean. Let cool completely before frosting.
Prepare the frosting. Melt the butter in a medium saucepan over medium heat. Stir in the brown sugar and whipping cream. Once the mixture starts bubbling, stop stirring. Let the mixture come to a full boil and boil for 1 minute without stirring. Remove the pan from the heat. Stir in the vanilla, 1/4 teaspoon salt, and gradually add the powdered sugar. Whisk until the powdered sugar is fully incorporated and no lumps of sugar remain. Add the remaining 1/4 teaspoon salt, if desired. Once the cake has cooled, spread the frosting over the top and refrigerate any leftovers for up to 4 days. Let come to room temperature before serving.
Notes
Although this doesn't yield 1 3/4 cups flour, this is what worked for me:

1 cup (140 grams) rice flour
1/3 cup (51 grams) potato starch
2 tablespoons + 2 teaspoons (20 grams) tapioca starch
1/2 teaspoon xanthan gum
Source: My post on My Baking Addiction – Caramel Apple Cake