In about 6 hours I'll be landing in New York City! I've asked some blogger friends to help out the next three weeks while I'm visiting friends and family in the US. First we have another Erin! Erin blogs over at Dinners, Dishes, and Desserts. She has a lot of other healthy snacks that I'm sure you'll want to check out like these Chocolate Peanut Butter Granola Bars, Homemade Cliff Bars, and Healthy Peanut Butter Cups. She posts a lot of savory goodies too so be sure to go and check her out! Now over to Erin.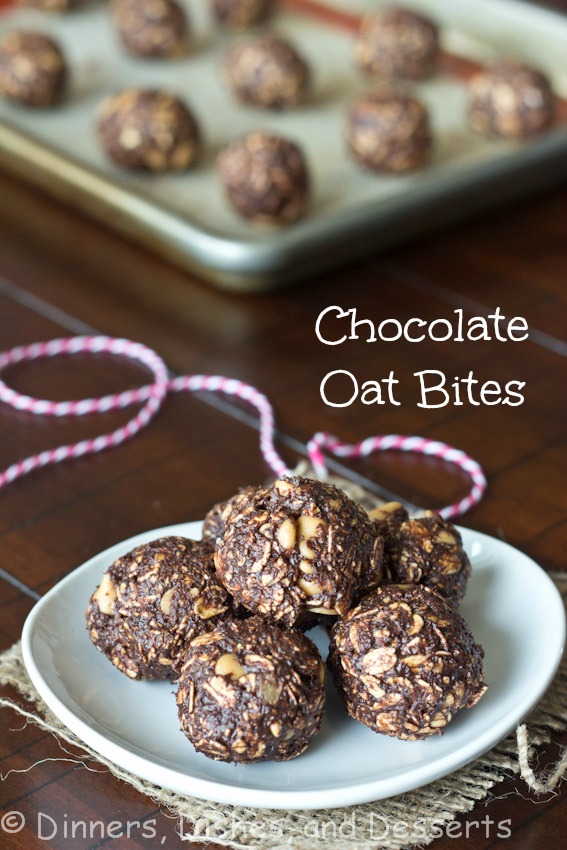 Hi! I'm Erin from Dinners, Dishes, and Desserts. I am excited to be helping Erin out today. She was gracious enough to make Espresso Chocolate Chip Scones for me while I was traveling a couple months ago, it was the least I could do to repay the favor. Not to mention Erin has quickly become a great friend. This blogging world can be tough to navigate sometimes, it is so nice to have a friend to turn to.
So as Texanerin Baking fans you are used to the healthier side of sweets. Erin said I didn't have to make something healthy, but I wanted to try to fit in around here. So I made these chocolate oat bites. They are kind of a cross between a no bake cookie and a granola bar, rolled into one little bite. I love making my own granola bars; I have done a Biscoff Granola Bars, Almond Butter Granola Bars, Chewy Granola Bars, and a Chocolate Granola Bar. They are so easy, and so much better than the store bought kind.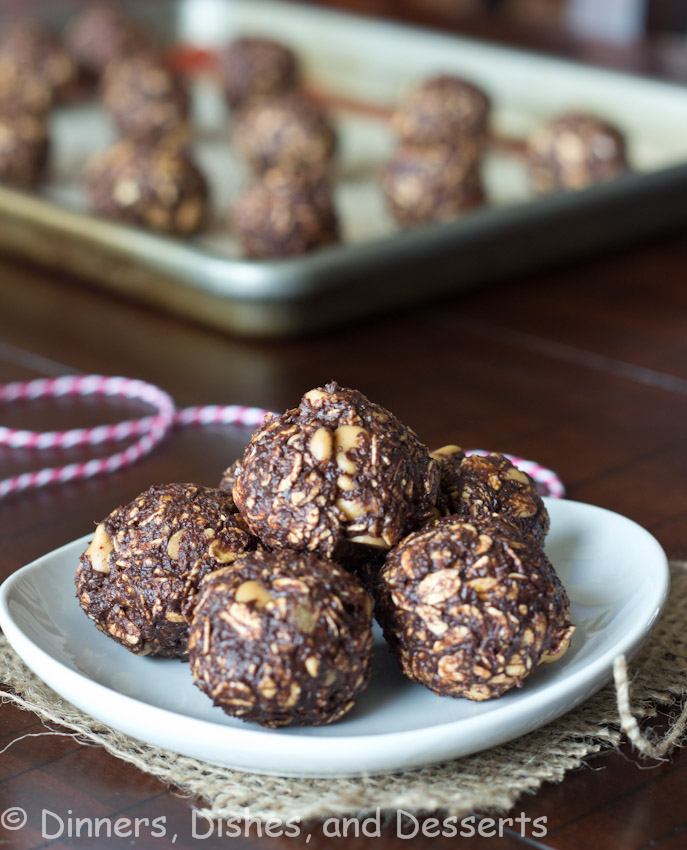 Chocolate oat bites come together in just a few minutes, with no baking involved. So they are perfect now that we are in the hot months of summer. They can be left out or stored in the fridge. I enjoyed mine cold, straight out of the fridge. You can even mix up the flavors very easily too – mix in dried fruit, nuts, or a different flavored chip. We are taking a road trip this summer, and I know I will be packing these in the car for quick healthy snacks.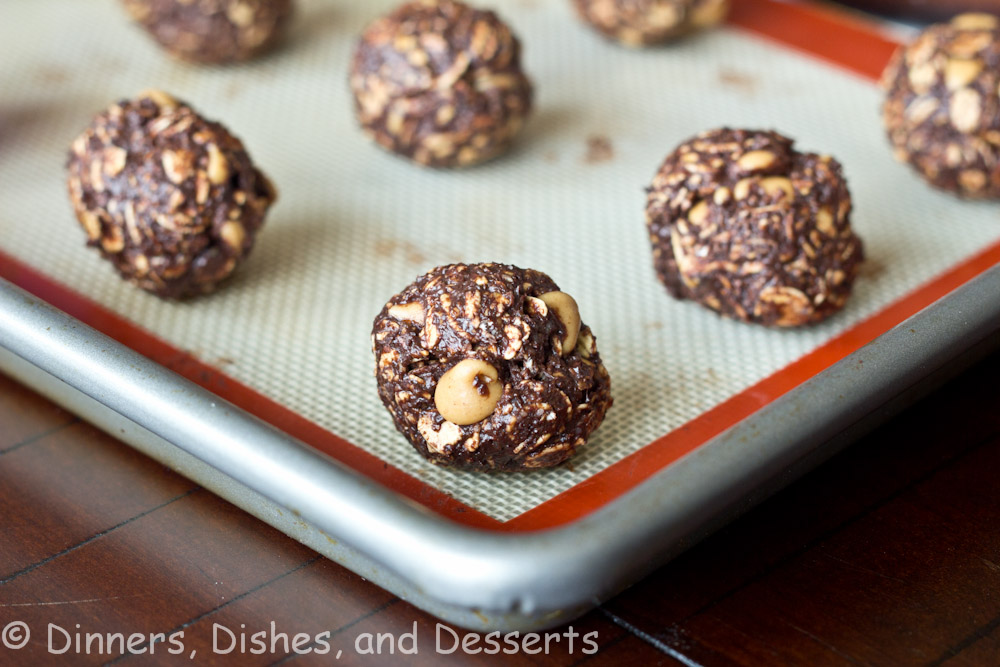 For another healthy snack that kids will love, try this Whole30 Homemade Larabars Recipe. They look amazing, don't they?
Thanks for letting me take over today Erin!
❀
Gluten-free Chocolate Oat Bites
Prep Time:
Cook Time:
Ready in:
Yield:

20 bites
Ingredients
1 banana, mashed
1/2 cup coconut oil, melted
1/4 cup honey
1 tsp vanilla
1/4 cup Dutch-process cocoa powder
1 1/2 cups old fashioned oats (non-contaminated for GF)
1/4 cup peanut butter chips
Directions
In a bowl mix together the mashed banana, coconut oil, honey and vanilla.
Mix in cocoa powder until well combined.
Add oats, mixing until everything is evenly coated.
Fold in the peanut butter chips.
Scoop golf ball sized balls of dough, place on a baking sheet.
Place in fridge for 1 hour to harden.
Store in an air tight container.