This mint chocolate fudge is creamy, easy to make and is a little healthier than traditional fudge (but no less delicious!). It's also paleo and vegan.
I meant to post this recipe before Christmas but I ran out of time. So here it is now! In time for St. Patrick's Day.
I never understood how minty desserts were a thing for St. Patrick's Day. Just because mint desserts are often green?
To add a pop of green to this mint chocolate fudge, I tossed some pistachios on top. It's totally not necessary and I just did it so the photos wouldn't look boring. I hope you like my honesty. :D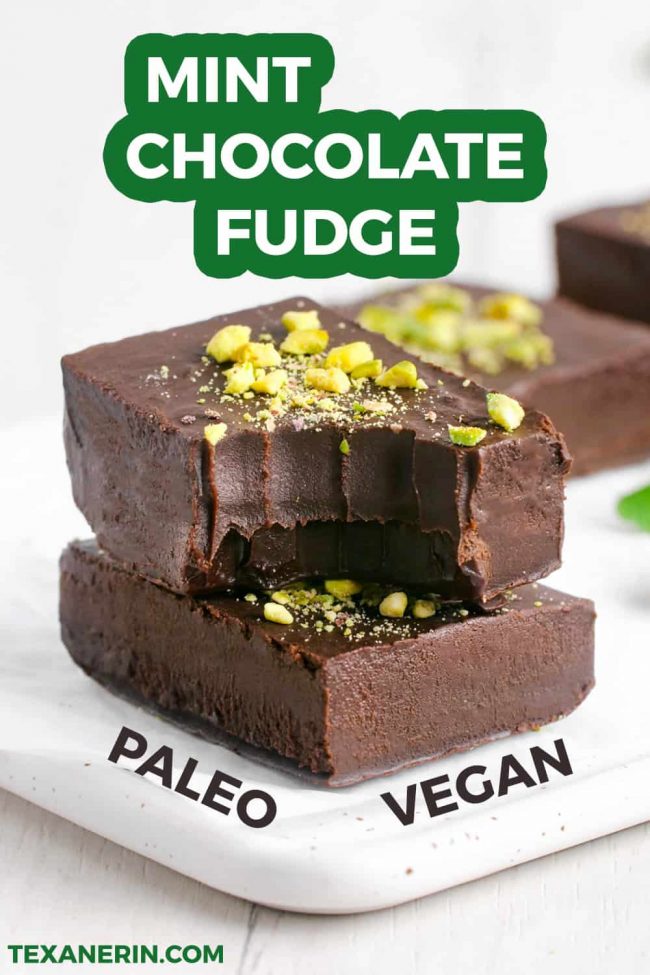 It's a super easy recipe. You probably even already have the ingredients in your cupboard.
You just need chocolate, coconut milk, nut butter and peppermint extract. And a little maple syrup and salt!
I've made it with hazelnut butter (but without peppermint extract), almond butter, cashew butter and sunflower seed butter for a nut-free version.
They all work equally well! I thought they might taste a little weird with the extract but all I tasted was mint and chocolate.
Since posting the original vegan fudge recipe that this mint version is based on, I've made it at least another dozen times. And I'm about to make more because it's so quick and easy. And most importantly – it tastes 100% like regular fudge!
Another bonus is that unlike most paleo vegan fudge recipes, it doesn't melt at room temperature. Woohoo!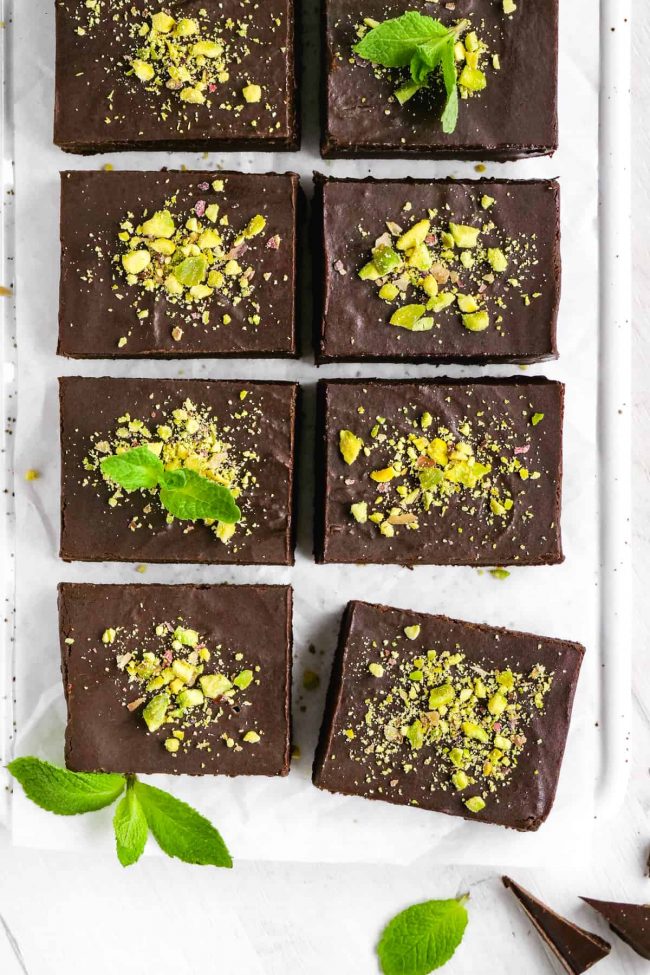 That's because this fudge recipe is coconut oil-free. It's firm just like traditional fudge is at room temperature. Perfect for holiday parties!
My only issue with it is that I don't seem to know many people who like mint chocolate. I don't get it. It's one of my favorites.
If you also love that combination, try my gluten-free mint chocolate tart! It's really amazing. I just need to experiment with an egg and dairy-free version.
These mint chocolate brownies are also amazing! Those are based on my super popular right now (5 years after posting!) gluten-free brownies.
When buying the extract, make sure to get peppermint and not mint extract, which has more of a spearmint taste.
And if mint isn't your thing, just use vanilla instead. Or use almond extract! That would be amazing. Start off with 1/4 teaspoon, taste and add a bit more until you're happy.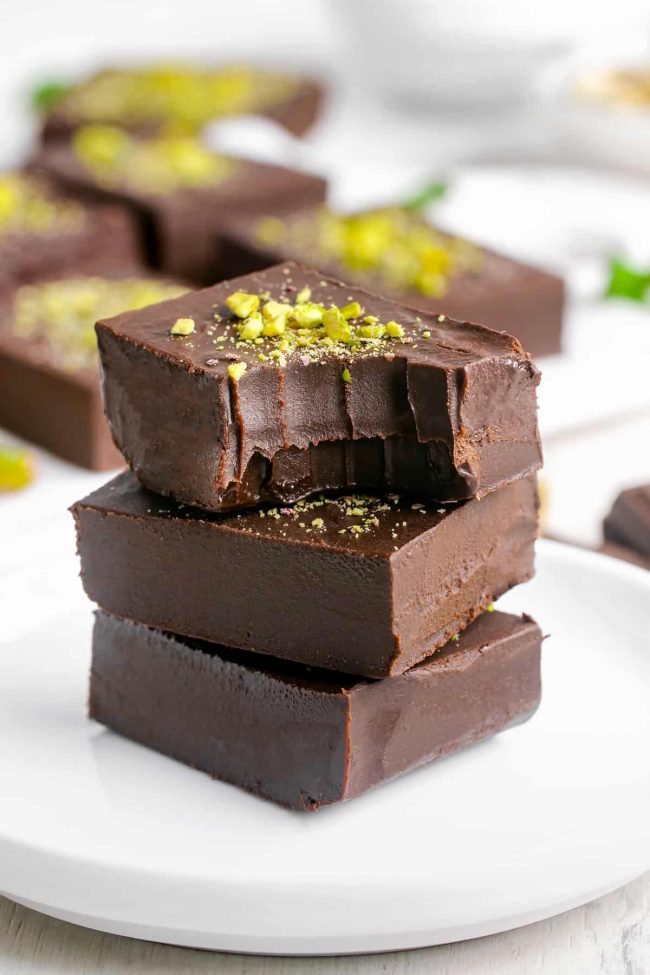 Substitution questions about this mint chocolate fudge recipe?
Can I use a different type of chocolate?

Dark chocolate would work (if you prefer your chocolate fudge on the dark side). Milk chocolate would also be fine (if you have a sweet tooth and don't need it paleo / dairy-free). I haven't tried white chocolate but think it might taste odd with the nut butter. I might be wrong about that, though! It might also be too sweet.

Can I use something instead of almond butter?

Any natural nut or seed butter should work! It just can't have any added fat or sugar for it to have the right texture.

Can I use something other than coconut milk?

I haven't tried it but I'm guessing that'd work. The result might not be as creamy since coconut milk is so much thicker and has more fat than other types of milk.

Can I use something other than maple syrup?

Any liquid sweetener that you would use as a 1:1 sub for maple syrup or honey would probably work.

Can I omit the maple syrup?

I wouldn't recommend it. It's not super important to the taste (although for me, it wasn't sweet enough without it) but it won't be as fudgy without it. I originally tried it that way. And I don't think you can use water in its place.

Can I use a different extract?

You can use whatever extract you think goes well with your nut butter and chocolate! Peanut butter + chocolate + lemon extract? No. Almond butter + chocolate + peppermint or almond extract? Definitely!
❀
Mint Chocolate Fudge (paleo, vegan)
Prep Time:
Cook Time:
Ready in:
Yield:

20 pieces
Ingredients
2 cups (340 grams) finely chopped semi-sweet chocolate or chocolate chips (use paleo / vegan chocolate)
1/3 cup (80 milliliters) full-fat canned coconut milk
1/4 cup (64 grams) natural almond butter (the kind with just nuts and maybe salt)
4 teaspoons maple syrup
1/2 teaspoon peppermint extract
a pinch of salt
Directions
In a large saucepan, mix everything together. Melt over low heat while frequently stirring. Meanwhile, prepare a 9"x5" loaf pan with
Pour the fudge into the prepared pan. Refrigerate for 2 hours or until set. You can cut this when cold but it's easier when at room temperature. Store at room temperature for 1 day and then refrigerate. It'd likely stay well for much longer than 1 day at room temperature but I figure I'd better stay on the safe side and say 1 day due to the nut butter.