This strawberry blueberry jam is relatively quick and easy to make, honey sweetened and doesn't contain any pectin!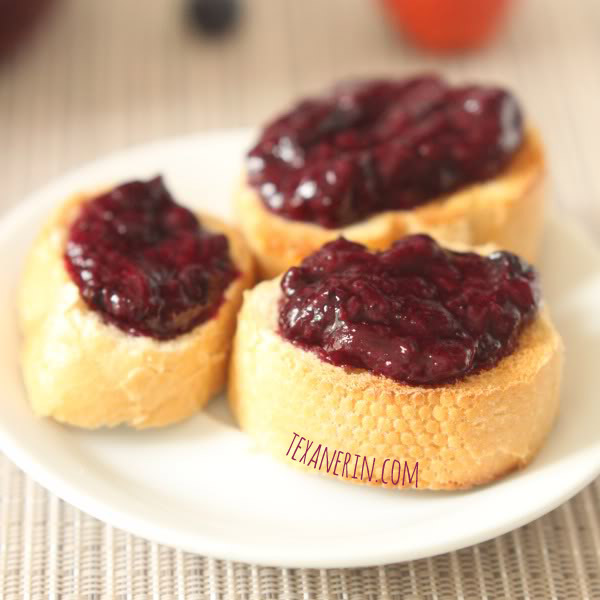 Okay, why are y'all pinning fall baked goods? Stop that! :) Fall is my favorite season, in general and for baking, but it's still summer and pretty soon all the fruit will be gone and we'll be stuck with apples. And only apples. Until oranges appear.
So let's celebrate berries!
After our strawberry picking adventure, I made strawberry jam. And loved it. I also made some blueberry strawberry jam. Although it was lovely, I've figured out I'm a one-type-of-fruit-per-jam-girl. I also made some strawberry apricot jam. And some other weird combinations. With just one type of fruit, the flavor is just so… vibrant. Like it punches you in the face. That's what I like.
But in case someone out there enjoys a mix of flavors, here you go.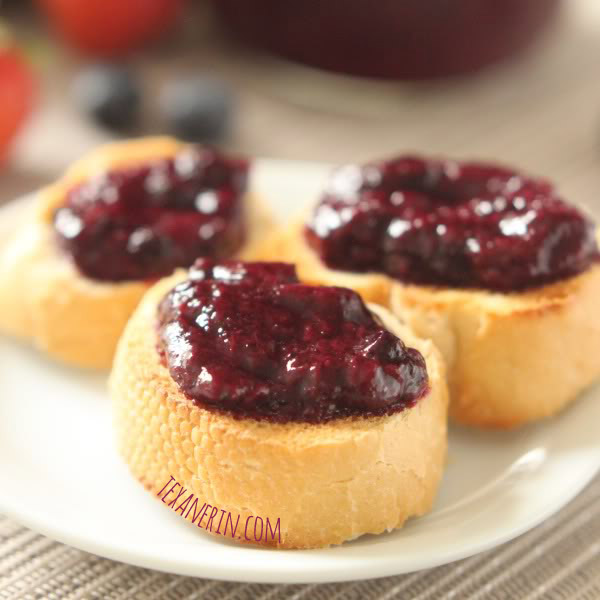 ❀
Honey Sweetened Strawberry Blueberry Jam (pectin free)
Prep Time:
Cook Time:
Ready in:
Yield:

600 ml / 20 oz. jar
Ingredients
665 grams (about 2 cups smushed) strawberries 1
240 grams (about 2 cups) blueberries
2 tablespoons honey
2 tablespoons lemon juice
2 teaspoons zest
Directions
Place the strawberries and blueberries in a large pot and smush with the bottom of a glass. For me, this was really easy as mine were really juicy.
Add the honey, lemon juice and lemon zest and heat over medium high. Boil, stirring every now and then, until the mixture thickens. With my really soft and juicy berries, this took about 35 minutes. It could take more or less time depending on your berries.
To test, put some of the jam on a clean spoon and then put the spoon on a plate in the freezer. Let it sit in there for five minutes and then take it out. If the jam doesn't fall easily off the spoon when you turn it to the side, it's ready and you can take the pot off the heat. If it does pour off easily, continue cooking for another 5 minutes and try the test again.
Let cool and then pour into jars and store in the fridge. Yields about a 600ml / 20oz jar. Could be more or less depending on exactly how long you cook the jam. I kept mine in the fridge for 1 1/2 weeks before using it all up and had no problem with it going bad.
Notes
Mine were smushed because that's how they were when we got home. So go by weight!