These grain-free and gluten-free protein pancakes are loaded with protein thanks to the addition of 1/4 cup cottage cheese per serving – but I promise you can't taste it!
I wanted to spread out the grain-free recipes but somehow, the only things I have lined up are grain-free. I'm going to remedy that tomorrow!
And there were supposed to be cinnamon rolls for today, but they didn't really come out as expected. They tasted way too healthy and I just can't have that. So for now, here are some pancakes. :)
These have a whole lot of protein per serving (one serving being half the batch)! 21.5 grams. And 9.1 grams fiber. Obviously they're not low fat or low calorie, but I'm not too concerned about that. I struggle with getting enough protein and so I'm all about these pancakes (and these Cottage Cheese Scrambled Eggs) right now.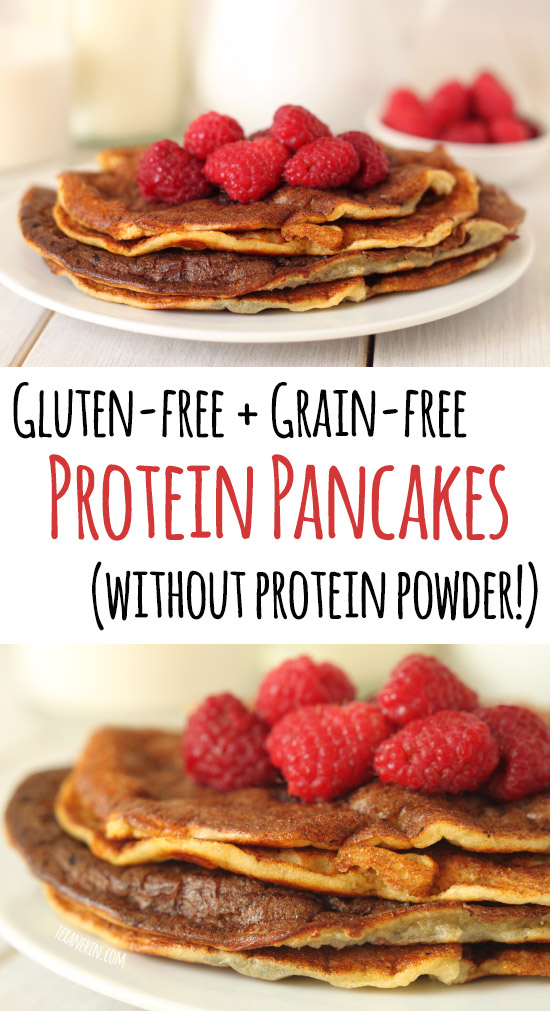 I've tried lots of grain-free pancake recipes and they were just so eggy and I couldn't handle the texture. So I added cottage cheese and that seemed to help. I remember reading cheesecake recipes years ago with cottage cheese in them and thinking how crazy those people were.
Why in the world would someone want to put cottage cheese in… anything? I still think cottage cheese is incredibly nasty, but once it's been whirled around in the food processor with lots of other stuff, it's less scary.
If you don't eat gluten-free or grain-free, I recommend these 100% whole grain protein pancakes for two, just because I prefer the texture. The texture in these grain-free protein pancakes isn't bad, but it's hard to compete with wheat!
One thing I don't recommend is adding fruit to the batter. I tried that with a few pancakes and it was just a soggy mess. So bake up your pancakes and add your fruit on top, like I did in the pictures, and you'll be good. :)
For some more grain-free pancakes, try these coconut flour pancakes from Wholesome Yum! Her Keto Paleo Almond Flour Waffles Recipe also looks amazing.
❀
Protein Pancakes
Prep Time:
Cook Time:
Ready in:
Yield:

six 4" pancakes
Ingredients
1/2 cup (113 grams) cottage cheese
2 large eggs
1/4 cup + 2 tablespoons (90ml) canned coconut milk
2 teaspoons vanilla extract
1 teaspoon honey
30 grams (about 1/3 cup) blanched almond flour
5 tablespoons (40 gram)s coconut flour
1 teaspoon baking soda
a pinch of cinnamon (optional)
a pinch of salt
Directions
Combine all ingredients in a food processor or blender and process until you no longer see cottage cheese chunks. Different flour and coconut milk brands are different, so it could be that your batter is too thick. If it is, just add a tiny bit of coconut milk. It should be thick and not soupy like normal pancake batter. If you're not sure, you can do a tiny test pancake and see if you need more milk or not.
Heat a medium non-stick pan over medium heat and spray with cooking spray. Pour some batter into the pan (I did 1/4 cup at a time) and cook for about 2 – 3 minutes or until the bottom in nicely browned, and then flip and cook for another minute or two. The pancakes you see above have been spread thin on purpose. You can also make them fluffy by not spreading them so thin. They're also delicious was fluffy pancakes!
Notes
I don't recommend adding fruit to the batter! It's too runny that way.