This protein pudding is no-cook, tastes just like traditional pudding, and can easily be made paleo or vegan.
I'm SUPER excited to be sharing this recipe today! It really does taste exactly like real, actual pudding without any aftertaste from the protein powder as long as you use the protein powders I've tested this recipe with and that are recommended below.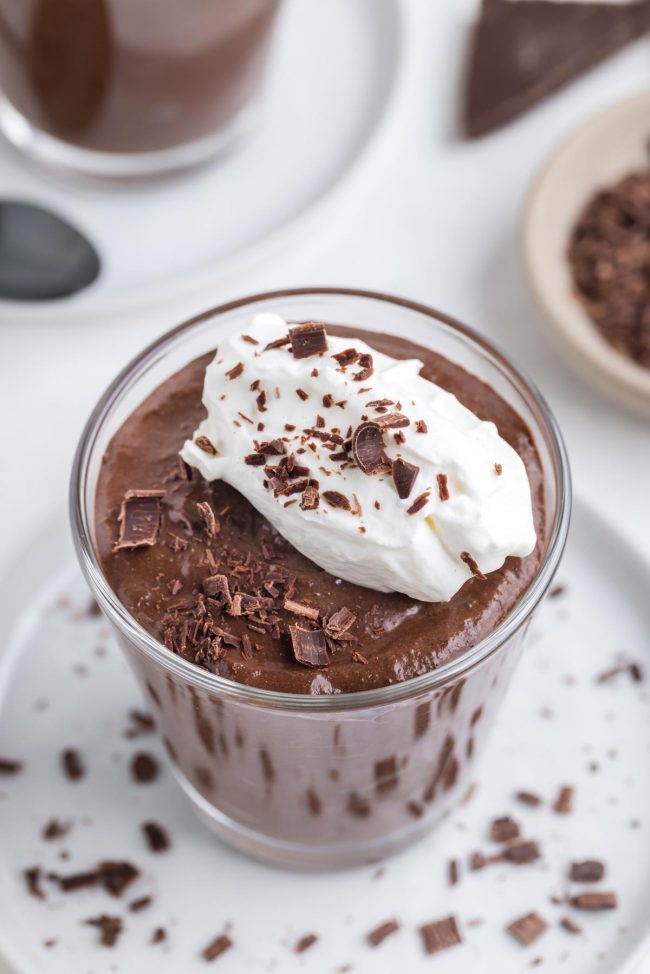 This protein pudding has more ingredients than some other recipes. But it also tastes WAY better.
There's no way that combining protein powder with one or two other ingredients is going to create something that actually tastes like pudding.
I know because I tried some of those recipes out of curiosity. The result was far from pudding (or edible, in my picky opinion).
So I hope you'll give this one a try!
Ingredients
I talk about every ingredient below except for the vanilla and salt. But here's an overview of what you'll need!
Canned full-fat coconut milk
Protein powder
Cocoa powder
Maple syrup
Chia seeds
Nut or seed butter
Vanilla + salt
Milk of choice or water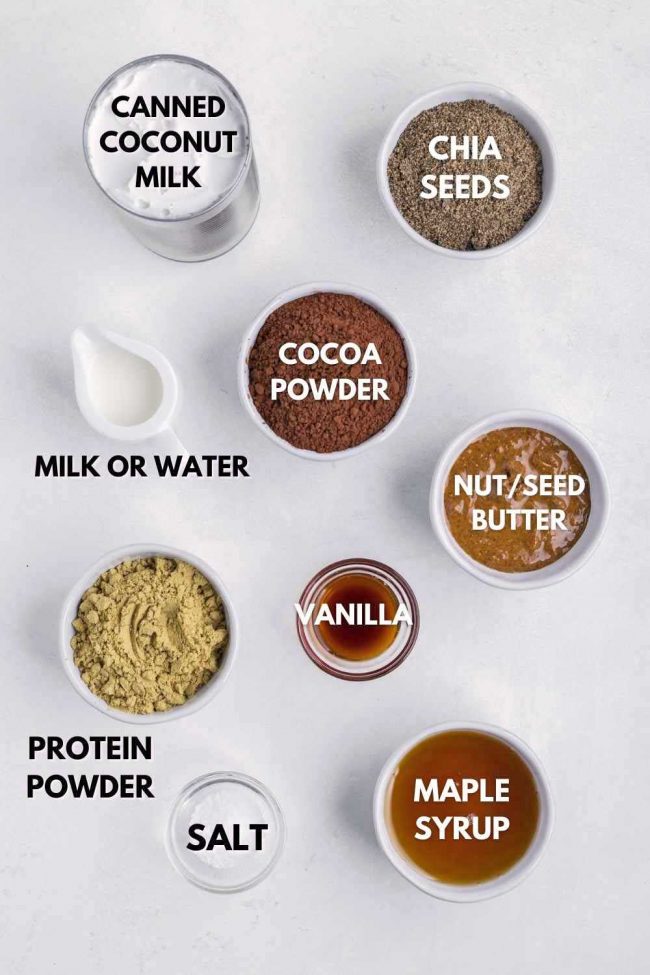 Do I have to use coconut milk?
You could probably use whipping or heavy cream if you can have dairy. But almond, cashew, oat, dairy – any kind of milk other than canned coconut milk – is too thin to make pudding with. If you used that, you'd end up with a very rich chocolate milk!
What type of protein powder
Non-vegan option
The clear winner for me was this Orgain Keto Chocolate Collagen Protein Powder (from grass-fed and pasture-raised collagen peptides).
The ingredients are: collagen peptides, coconut medium chain triglycerides, organic alkalized cocoa, acacia, sea salt, organic reb A (stevia extract).
You can't taste the protein powder at all in this pudding!
Vegan option
For a vegan option that also happens to be much cheaper, my next favorite is Dr. Murray's Vanilla Protein Powder. It's what you see in the photos.
The ingredients are: vegan protein blend (pumpkin protein, flax protein, sunflower protein), natural flavors, MCT powder (MCT oil, soluble tapioca fiber), gum blend (organic guar gum, organic acacia gum, xanthan gum), monk fruit extract, lactobacillus paracasei.
I first tried this pudding with their chocolate protein powder. Then I tried it with vanilla and thought the taste was a little better.
I have no idea why. And it doesn't make much sense.
But the good news is that you can use either chocolate or vanilla protein powder in this recipe and still get strong chocolate flavor.
What about other brands?
If your protein powder is gross, then your pudding will be, too. If you try this pudding and think that it doesn't taste very good, but you followed the recipe exactly – the problem is your protein powder.
Please try one of the brands I recommend above!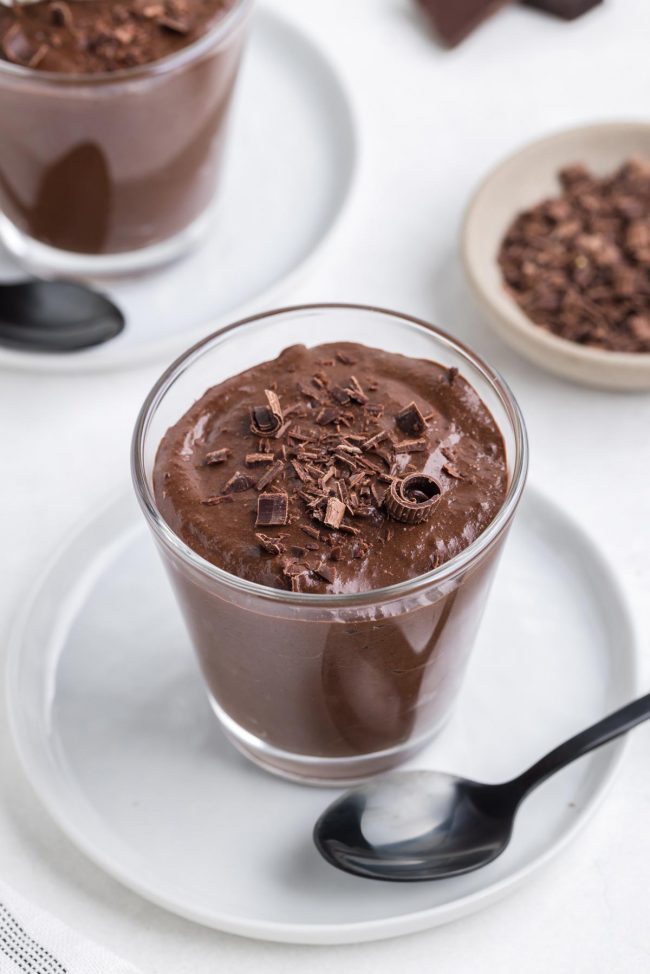 Do I have to use Dutch-process cocoa powder?
No. But it makes the pudding more chocolaty than with regular natural cocoa powder like Hershey's.
What about cacao?
I don't recommend that. I'm not a fan of using cacao in place of cocoa powder, and you can read why here → Cacao vs Cocoa.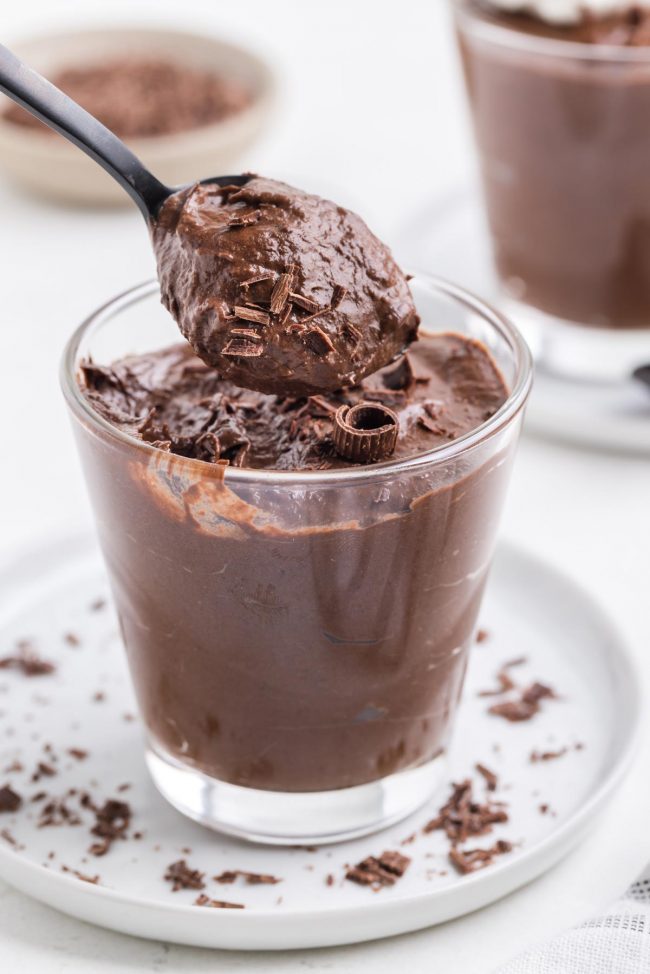 Maple sub?
You could use honey (if you're not vegan), but your pudding will likely taste of honey.
If you use maple syrup, you don't taste it. It tastes like normal pudding.
If you want to use a granulated sugar, it'd probably work. You might need to add a little extra water.
I haven't tried anything but maple syrup, though. Should you be looking for a keto option, I have this Keto Chocolate Pudding.
Can I omit the chia seeds?
You'll have chocolate milk if you don't add them. You could try using flax, but I honestly have no idea how much you'd need to use and if they would pulverize during blending.
Can I omit the almond butter or use another nut butter?
You can omit it, but I added it to help with the flavor. But that was when using the Dr. Murray's protein powders. It could be that it's unnecessary when using the Orgain powder I recommended.
And you can use any nut or seed butter that you'd like!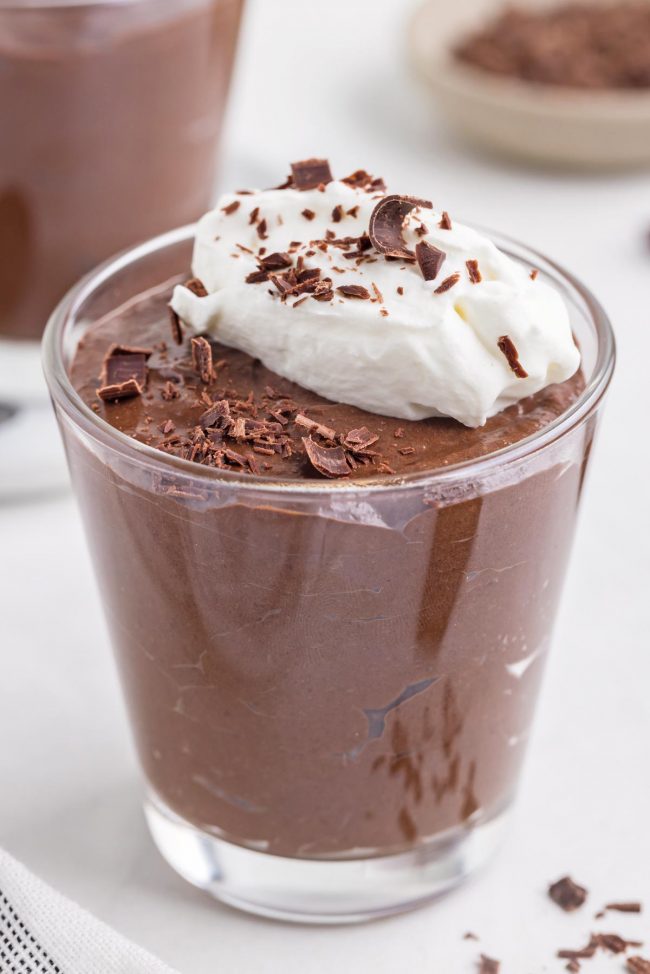 Can I just stir it together?
If you're okay with mushy lumps in your pudding, then yes. I tried it, and I found the lumps disturbing.
If you want your protein like real pudding, then you need to blend it. And if you do like lumps of chia, then you might like my Protein Chia Pudding. Today's recipe is much more like traditional pudding!
Do I need a high-speed blender?
My photographer has a 300-watt 7-cup Kitchenaid food processor. She said she couldn't get the right texture in there and had to move the mixture to a blender.
And that was with her using ground chia seeds.
My 1000-watt food processor didn't have an issue with it, but I had to double the recipe for it to be enough to go over the S-blade.
If it doesn't go over the blade, then it can't process. But my food processor is 15 cups.
So. If you've got a powerful, smaller food processor and use pre-ground chia seeds, it should work.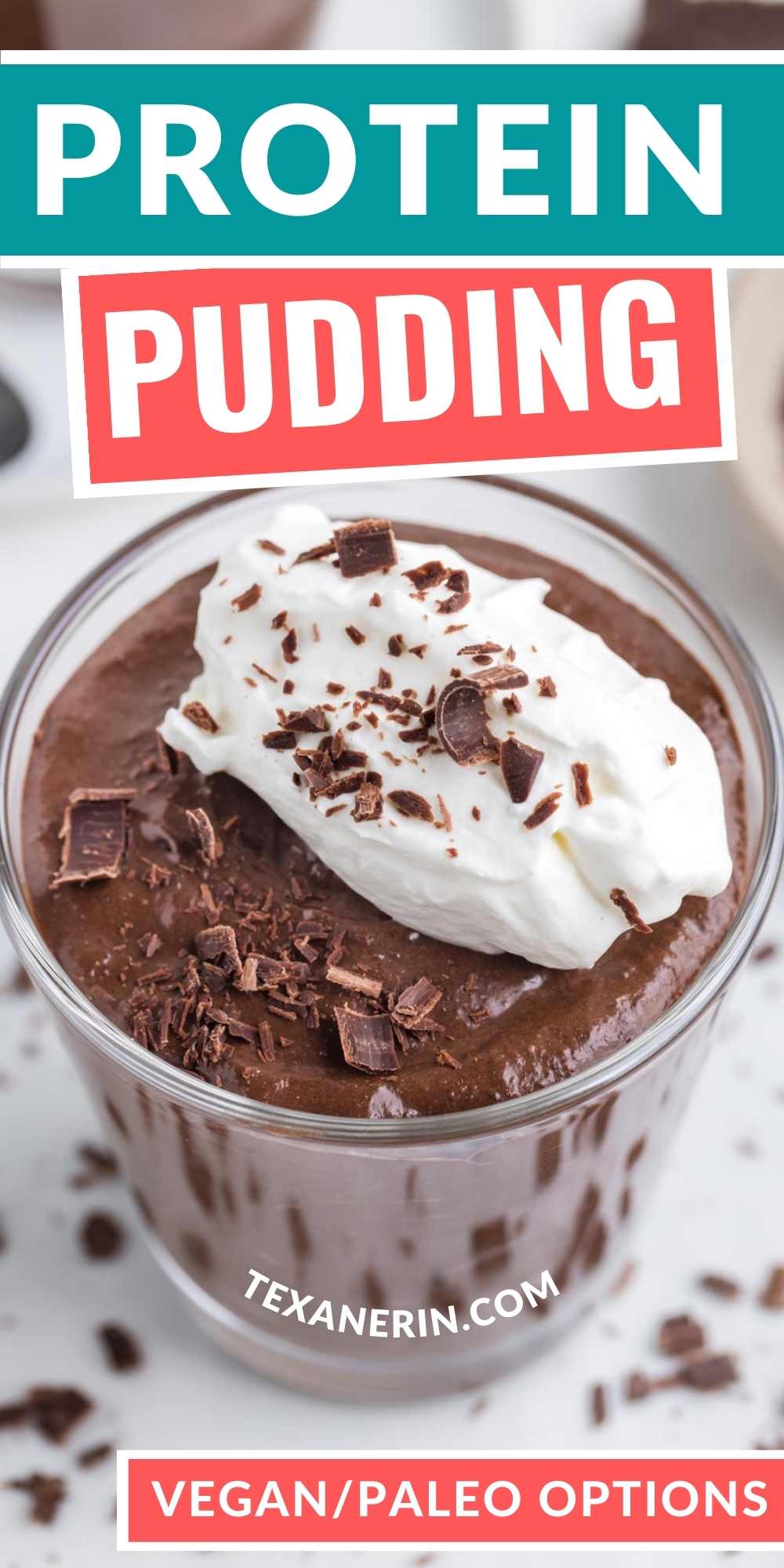 Other healthy pudding recipes
Think protein powder is gross? I understand. It took me a long time to find brands I like! For some protein powder-free pudding recipes, check these out.
If you try this pudding, I'd love to hear your thoughts! Please leave a comment below, or if you share it on social media, tag #texanerin so I can be sure to see it. Thank you. :)
❀
Protein Pudding (vegan, paleo options)
Prep Time:
Cook Time:
Ready in:
Yield:

2 1/2 cups
Ingredients
1 14-ounce (400-ml) can full-fat coconut milk, divided
2/3 cup (86 grams) protein powder1
1/2 cup (55 grams) Dutch-process cocoa powder
1/2 cup (120 milliliters) maple syrup
1/4 cup (42 grams) chia seeds
1/4 cup (64 grams) natural almond butter
1 teaspoon vanilla extract
3/8 teaspoon salt2
2 tablespoons milk of choice or water
Directions
Add about half3 the canned coconut milk to a high-speed blender, and set aside the rest for now. Then add everything else and blend at high speed for about 1 minute until totally smooth. There should be no lumps of chia seeds.
Add the rest of the coconut milk and blend until totally combined.
Depending on your ingredients, you might need to chill the pudding a little so it's firmer like pudding. I didn't need to do this.
Serve or chill for a few hours first until it's as firm as you'd like.
Refrigerate leftovers in an airtight container for up to 4 days.
Notes
Orgain Keto Chocolate Collagen Protein Powder was my favorite option. For vegan, and a close second, I used Dr. Murray's Vanilla Protein Powder.
Use less salt if your almond butter is already salted.
Using just half of the coconut milk to begin with will make it quicker and easier to pulverize the chia seeds.