This raw vegan peanut butter cookie dough only has 4 ingredients and it so quick, easy and delicious! It's also grain-free, gluten-free, and dairy-free.
I've been trying to get pictures of this raw peanut butter chocolate chip cookie dough since August. That means I've consumed about 7 pounds of peanut butter in dough form and more importantly – I've had some time to perfect the recipe!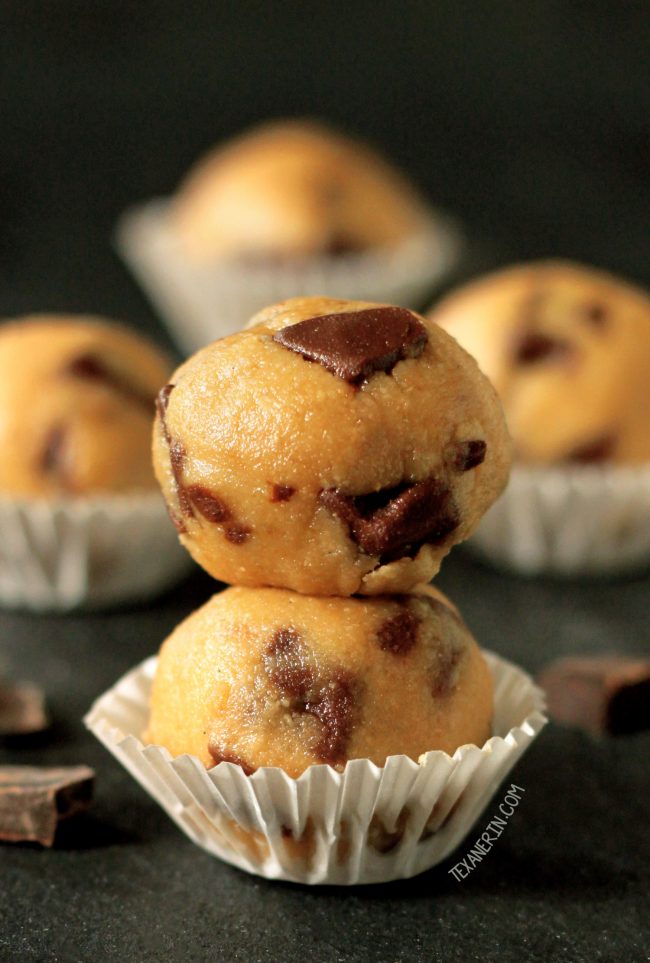 My problem at the beginning was that my cookie dough was too greasy. The vanilla weirdly enough seemed to be the issue! I used homemade vanilla and really have no idea why this resulted in greasiness.
So I left it out this final time and it worked. I also used a vanilla bean but I really didn't taste any difference between pre and post vanilla bean. So save your vanilla beans for something else!
For the flour, I had to use something a little more neutral tasting than whole wheat flour. Almond flour worked wonderfully and you can't taste it at all. So if you don't like almonds, you can still make and enjoy these!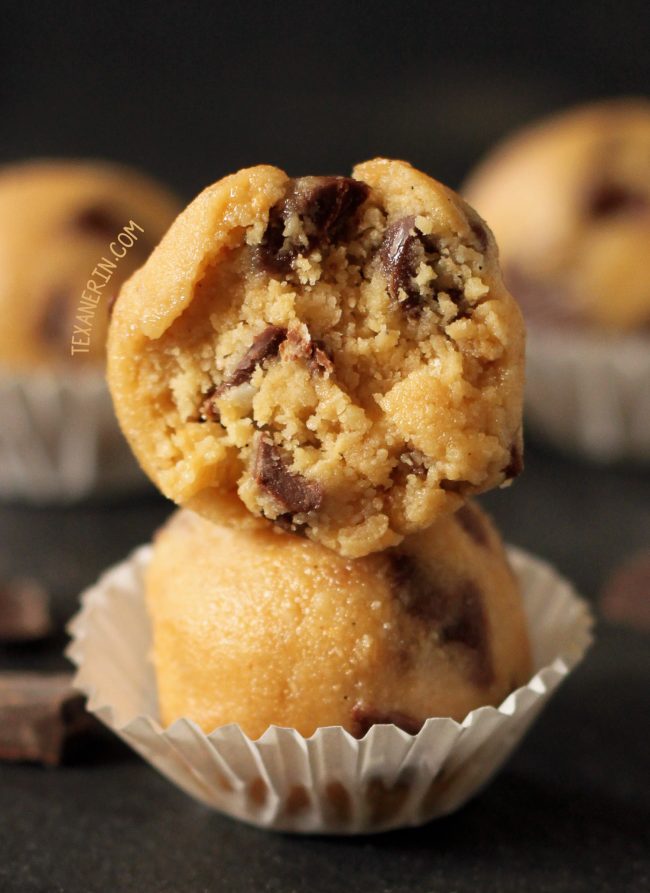 I have to admit that I wasn't exactly sure about the yield. Because every time I make this cookie dough, I roll a ball, eat a chunk of dough. Eat another piece of dough, roll a ball. Eat half of the ball and then repeat.
So I just made 1/6 of the recipe and got 2 nice sized balls. That makes these the perfect solution for people with self-control issues. All you do is mix together the four ingredients and roll the dough into balls. So it's not like you're putting in a lot of time and effort for such a small yield. Woohoo!
If you store them in the refrigerator, these peanut butter cookie dough balls harden and get crumbly when you bite into them. So I left mine at room temperature and ate them up really quickly. I had no problem with this. :)
I bet these balls would be amazing in this Single Serve Cookie Dough Dip from Food Faith Fitness!
If you're dealing with peanut allergies, stick around. I have some ideas for a few other nut butter cookie dough variations.
❀
Peanut Butter Chocolate Chip Cookie Dough (vegan, grain-free, gluten-free, dairy-free, raw)
Prep Time:
Cook Time:
Ready in:
Yield:

twelve 1.5" balls
Ingredients
3/4 cup (192 grams) natural peanut butter1
70 grams almond flour3
6 tablespoons mini semi-sweet chocolate chips (if dairy-free, use Enjoy Life Chocolate Chips)
a pinch of salt if your peanut butter is unsalted
Directions
Mix everything together and roll into 12 1.5" balls.
If it seems crumbly, let it sit for 10 minutes. If it doesn't seem doughy enough, add a teaspoon of water at a time until you like the consistency.
Store in an airtight container at room temperature for up to one week.
Notes
I haven't tried these with commercial peanut butter (Skippy, Jif, etc.) but I'm assuming that they would not work.
I used honey in these but agave would also work for a vegan version. Maple syrup also might work, but I'm thinking you might have to add a little extra almond flour.
70 grams almond flour is about 2/3 cup but it's really better to weigh almond flour as most brands are different.