This vanilla milk is brimming with the essence of vanilla and a subtle hint of sweetness from maple syrup. Enjoy it chilled for a refreshing treat or warm it up for cozy comfort. With just 3 wholesome ingredients, this paleo and vegan-friendly drink is made easy.
It's a good option for those who want a more natural beverage, and making your own means it won't have all the junk found in quick powders or store-bought brands.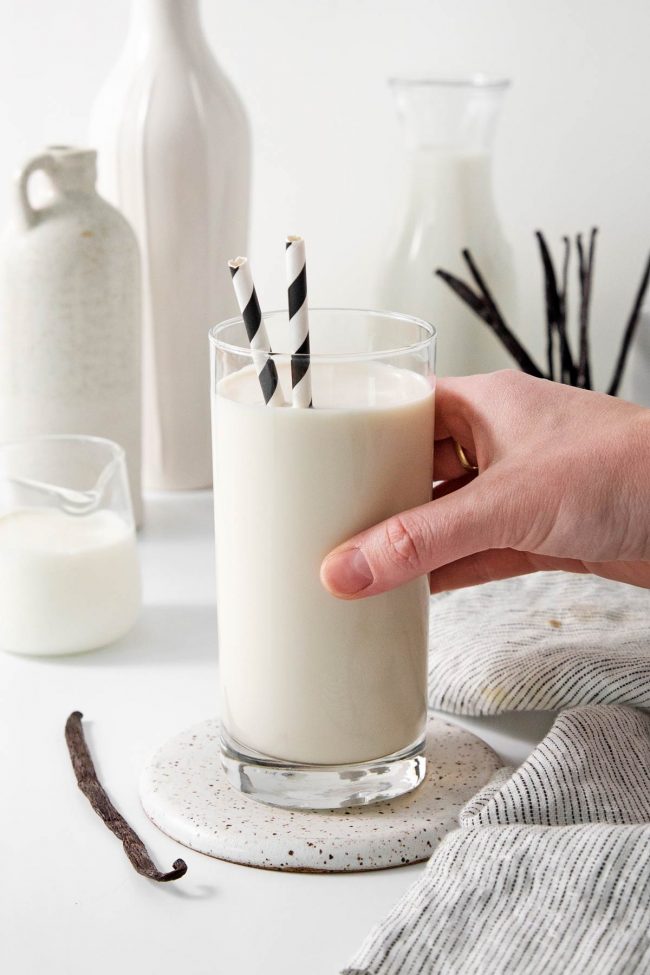 Type of milk
I use cashew milk, which contributes to a slightly silky texture, but you can use any type of milk you like, including dairy if you can have it.
You can also have it two ways: warm or cold, and it's tasty either way, but I much prefer it warm.
If you want it warm, you can microwave the milk or heat it on the stovetop just until it starts to steam because you don't want to burn it.
Sweetener
This vanilla milk has a sweet taste with lots of flavor, and you can add more or less vanilla and maple syrup as you wish.
I like drinks on the sweeter side. 2 to 3 teaspoons of maple syrup has just the right amount of sweetness, but if you want it sweeter, start with 2 teaspoons and add more to your liking.
Using maple syrup or a liquid sweetener is best so you don't have any gritty particles in your drink.
Adding granulated or powdered sugar isn't easily dissolvable in cold liquids, but you could use simple syrup. I have a recipe for vanilla syrup in my Starbucks Chocolate Cream Cold Brew post.
If you're not vegan, you could try honey, but it'd have a different taste. I haven't tried it, so I can't comment on whether it'd be good. If you try it, please let us know how it turned out, and we'll update this post. :)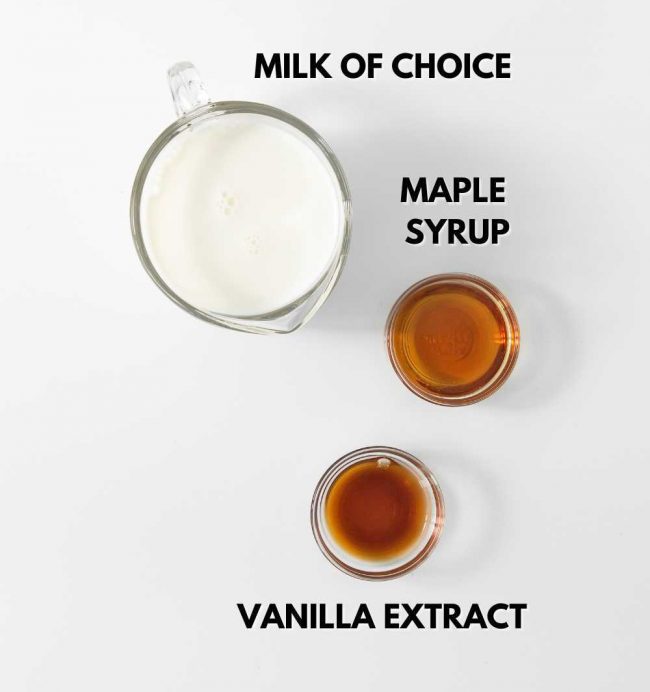 What to do with vanilla milk?
Besides just drinking as is, vanilla milk in coffee or tea would be great. Or try it in smoothies or milkshakes.
This Chai Tea Latte or this Iced Chai Latte would be excellent using the drink we have here today.
And if you need an extra punch, you can use it with a combination of both chai and espresso in this Dirty Chai Latte or use it to sweeten up this Mason Jar Cold Brew.
You can even substitute vanilla milk to make Overnight Oats with Water, which is great to make ahead for an on-the-go breakfast food or simply pour it over cereal.
And if you want to make it especially fun for the kids, you could rim the glass with vanilla sugar.
Why make your own?
We only use 3 ingredients to make this vanilla drink. There are many store-bought brands; even organic name brands have extra ingredients to increase shelf life and use stabilizers for texture.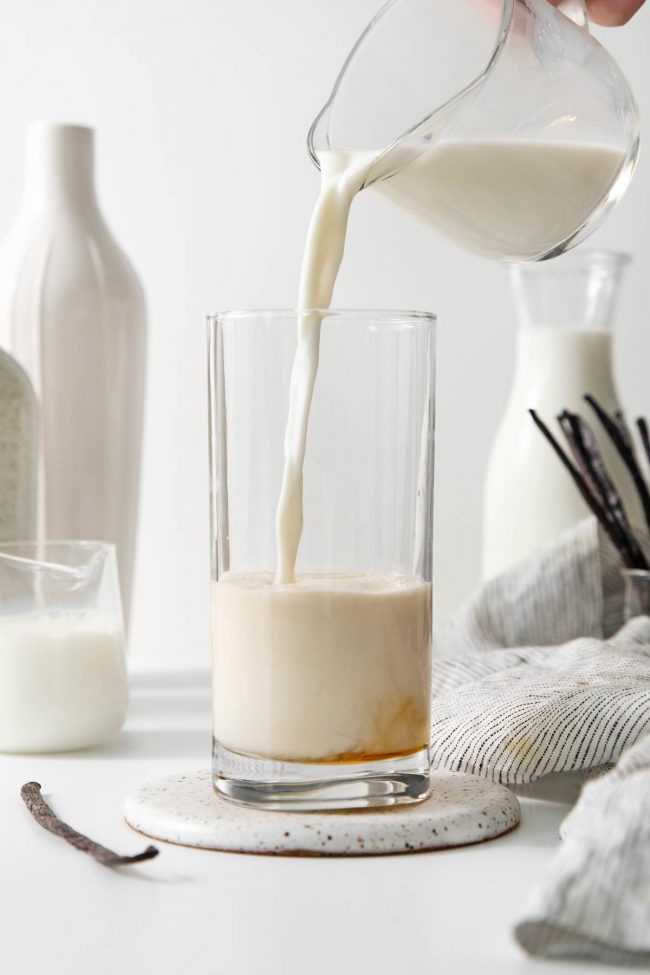 So, let's compare ingredients in the top brands of vanilla milk drinks:
Nestle NESQUIK Vanilla Flavored Powder – Skim Milk Powder, Sugar, Corn Maltodextrin, Oligofructose/Inulin, Lactose, Artificial Flavor, Cellulose Gum, Vitamins and Minerals (Vitamin A Palmitate, Ascorbic Acid, Thiamine Mononitrate, Riboflavin, Niacinamide, Ferric Orthophosphate).


Silk Vanilla Flavored Almond Milk – Almondmilk (Filtered Water, Almonds), Cane Sugar, Contains 2% or Less of: Vitamin and Mineral Blend (Calcium Carbonate, Vitamin E Acetate, Vitamin A Palmitate, Vitamin D2), Sea Salt, Gellan Gum, Ascorbic Acid (Vitamin C To Protect Freshness), Natural Flavor.



Horizon Organic Lowfat Vanilla Milk – Grade A Lowfat Organic Milk, Organic Cane Sugar, Gellan Gum, DHA Algal Oil, Organic Natural Flavor, Ascorbic Acid and Vitamin E Blend (to preserve freshness), Vitamin A Palmitate, Vitamin D3.

Some of the ingredients above aren't too bad, but gellan gum is an additive used to bind, stabilize and texturize processed foods.

One study showed that chronic intake of high doses of gellan gum leads to abnormalities in the gut lining, while other studies show no harmful effects. However, it has been shown to slow digestion in some people, and it's advised to limit the intake of gellan gum (source).
Using wholesome ingredients is always best, and making homemade vanilla milk is easy and straightforward, with no guesswork about what's in your drink.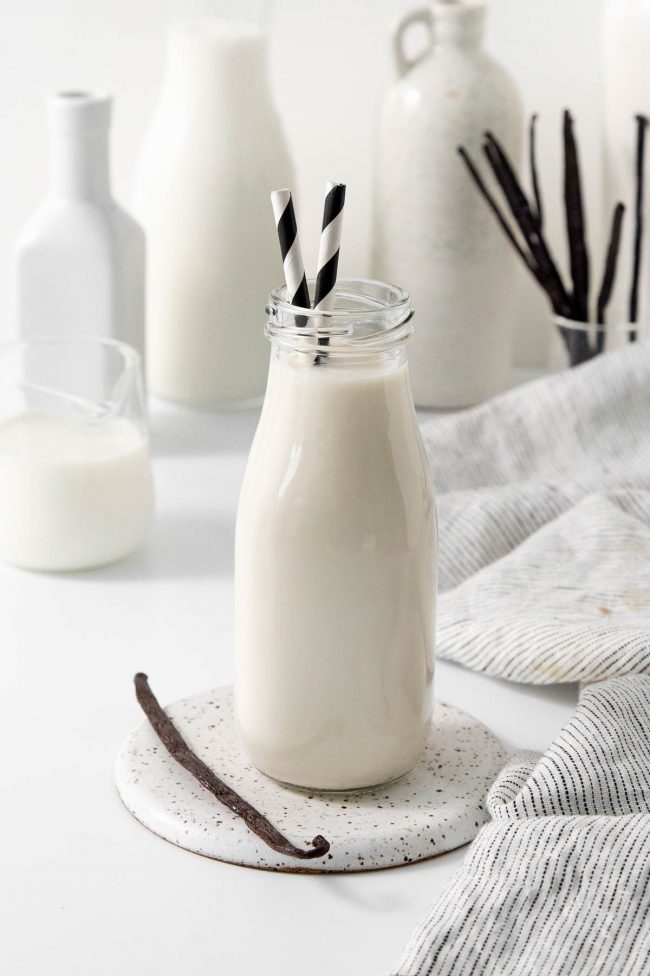 Paleo vegan
If you're vegan, you'll want to use unsweetened plant-based milk for this recipe.
If you're paleo, you need to use unsweetened nut milk. The only ingredients should be nuts, water and salt.
Again, beware of ingredients like "natural flavors" and other additives when searching for appropriate milk.
More wholesome drink recipes
That's it! I hope you'll enjoy this vanilla milk. If you try it, let us know your thoughts by commenting below. Thanks! :)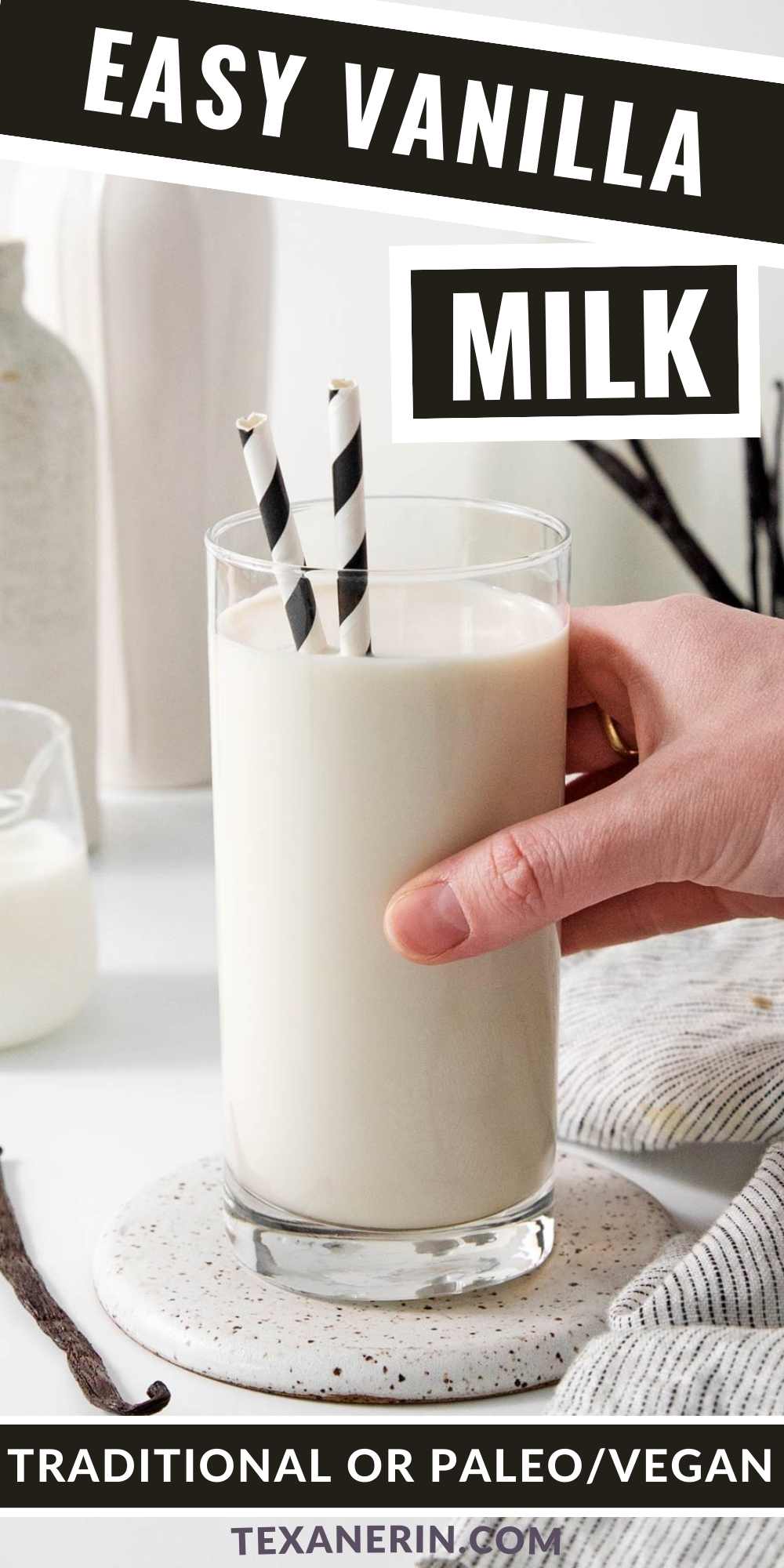 ❀
Vanilla Milk Recipe
Prep Time:
Cook Time:
Ready in:
Yield:

1
Ingredients
1 cup (240 ml) milk of choice (I used unsweetened cashew milk)
2-3 teaspoon maple syrup
1 1/2 teaspoons vanilla extract
Directions
Stir together the milk, maple syrup (I used 3 tsp, but like things sweet) and vanilla extract.
Serve cold or warm.
Refrigerate leftover for up to 4 days.