These paleo protein bars are no-bake, require minimal ingredients, and won't lead to a sugar crash. They're also vegan, as long as your protein powder is vegan.
Here's another quick and easy protein recipe. Like the Protein Cookie Dough that I posted recently, this recipe requires only a few ingredients and takes just a couple of minutes to make.
Ingredients
I go into detail about each ingredient below, but here's an overview of what you'll need.
Nut or seed butter
Protein powder
Maple syrup
Almond flour
Chocolate
Coconut oil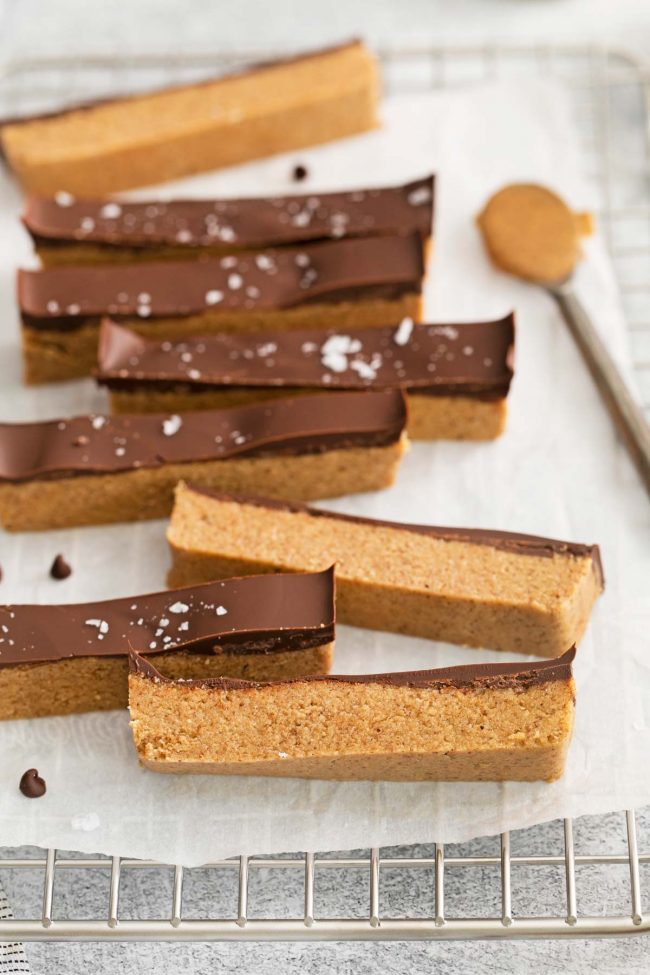 What protein powder to use
I was able to find two paleo protein powders on iHerb. For those that don't know, I live in Germany, and iHerb is where I can order US products.
Since 90% of you live in the US, I, of course, want to test my recipes with US brands.
NaturesPlus
The first paleo protein powder I tried was NaturesPlus Unflavored Paleo Protein Powder. It's also vegan. Note that the product page says unsweetened, but it is, in fact, sweetened with stevia!
The ingredients are:
Protein blend (pea, pumpkin, almond, flax, coconut), guar gum, stevia, protein energy-liberating enzyme blend (cellulase, hemicellulase, xylanase, bromelain, papain)
The bars needed a little more sweetener than when using sweetened protein powder. I added just a tiny bit more maple syrup.
It was such a small amount that it didn't affect the texture at all. They tasted great and didn't have any weird aftertaste.
But the vanilla flavor in the bars was clearly missing, especially when comparing them to the bars made with the other two protein powder brands below. So perhaps add in 1/2 teaspoon of vanilla extract.
Orgain
I also tried these bars with Orgain Vanilla Ketogenic Collagen Protein Powder with MCT Oil.
The ingredients are:
Collagen peptides, coconut medium chain triglycerides, natural flavors, acacia, sea salt, organic stevia
It doesn't say paleo on the package description, but the product page says paleo-friendly, and I thought the ingredients seemed paleo-ish, so I bought it.
Natural flavors sound iffy, I know, but the FDA defines natural flavors as "a substance extracted, distilled, or similarly derived from natural sources like plants (fruits, herbs, veggies, barks, roots, etc.) or animals (meat, dairy products, eggs, etc.) via a method of heating, with its primary function in food being flavoring not nutritional."
So it sounds like they're indeed natural and not some nasty concoction.
I liked the vanilla flavor that this powder gave the bars, and they also didn't have a weird aftertaste.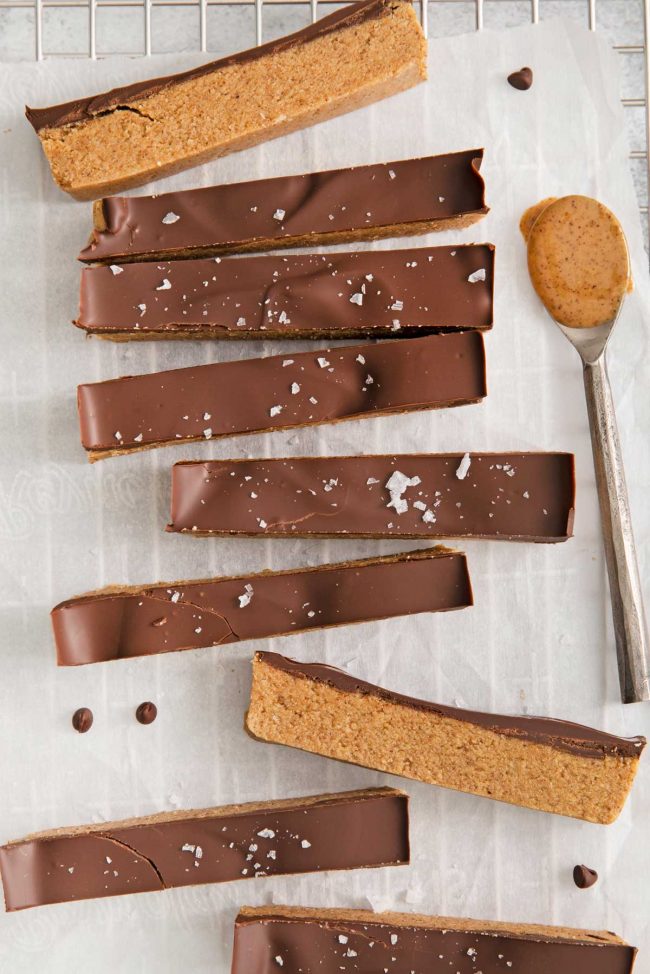 Cheaper not totally paleo option
If you're not paleo, then you can use Dr. Murray's 3-Seed Vanilla Protein Powder. This one is also vegan.
The ingredients are:
Vegan protein blend (pumpkin protein, flax protein, sunflower protein), natural flavors, MCT powder (MCT oil, soluble tapioca fiber), gum blend (organic guar gum, organic acacia gum, xanthan gum), monk fruit extract, lactobacillus paracasei.
Other than having a gum blend rather than just guar gum, the ingredients seem similar to the NaturesPlus product (that's labeled as paleo on the package) I listed first.
This is the protein powder I always use. I love the taste in sweets, and I use it every day in my Matcha Protein Shake.
It's also by far the cheapest. Right now, on iHerb, it's $14.08/lb. NaturesPlus is $26.50/lb and Orgain is $34.34/lb.
This one does have a stronger taste than the other two powders above. My husband describes it as artificial tasting, but tasty.
There's nothing artificial in there, though!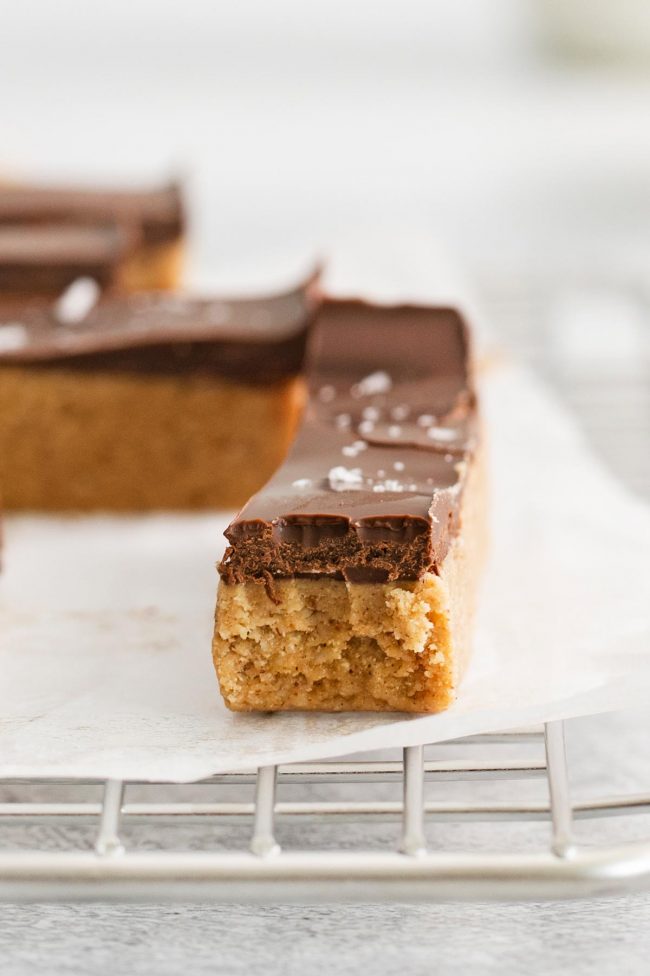 Can I use chocolate protein powder?
If you used chocolate protein powder, the bars probably wouldn't be very chocolaty but rather have a hint of chocolate. If you added cocoa powder to make them more chocolaty, then the proportions would be off.
You could add cocoa powder instead of or partly in place of the almond flour, but cocoa powder is more absorbent than almond flour. So again, the proportions would be off.
But you're not baking the bars, so it might work. If you try it with chocolate-flavored powder and are disappointed, please try them again with vanilla protein powder!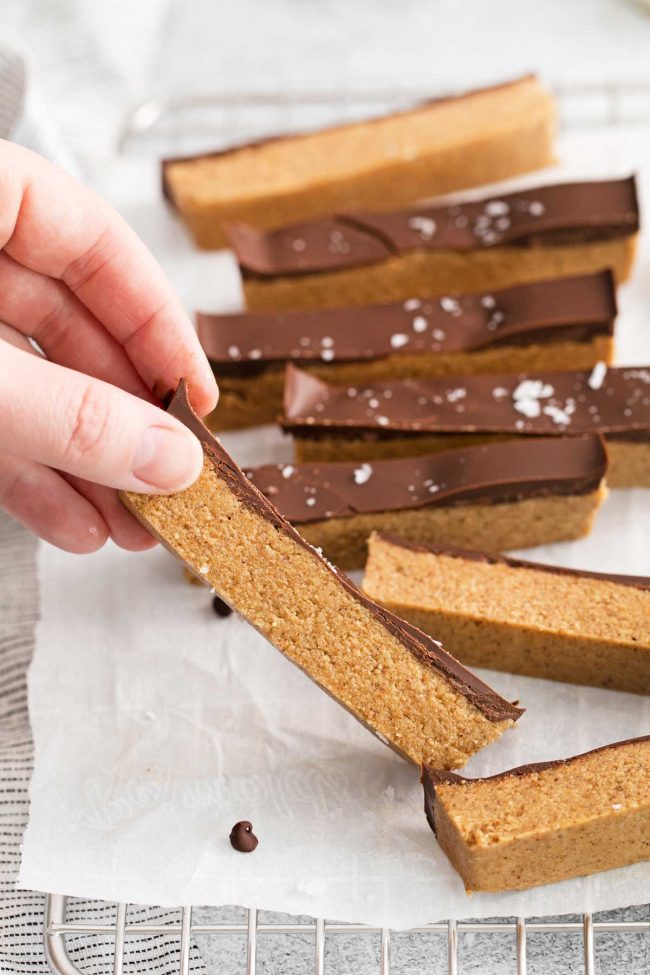 Can I use unsweetened protein powder?
If you don't want the bars to be sweet, then you an use unsweetened protein powder. If you have liquid stevia or powdered stevia, and just have to add a drop or a pinch of stevia, you can add that.
However, adding in enough maple syrup to sweeten the bars would totally throw everything off. So don't try that.
Almond flour range
I list a range for almond flour because every type of protein powder has a different absorbency rate. The same is true of every type and brand of nut butter.
These are some cookies I've been working on. The only difference was the protein powder!
I used less dough for the two flat ones because I knew they'd fail, and I didn't want to waste the dough.
Luckily, there's not a huge difference with these bars. You can simply add up to 1/4 cup of almond flour if needed. If you don't need any at all, then don't add it.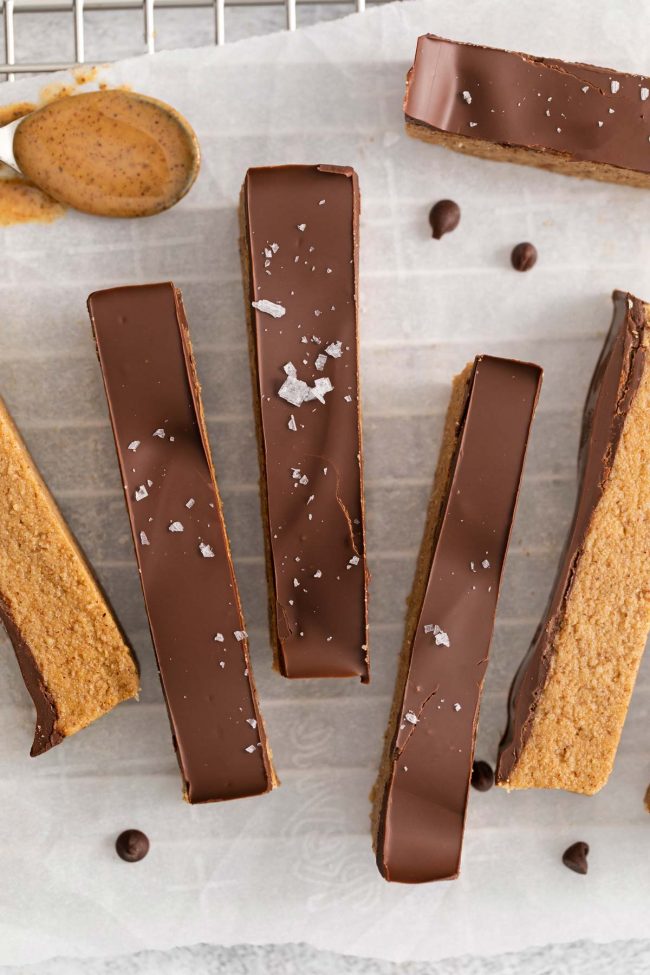 What nut butter to use
You can use anything here. I usually write about how nut and seed butters aren't interchangeable, but since there's a large range in the amount of almond flour listed in the recipe, it's all good.
My favorite is a 50/50 mix of sunflower seed butter and cashew butter. It's as close to peanut butter as you can get without using peanut butter (which isn't paleo).
Can I omit the maple syrup?
It'd probably work. You likely wouldn't need the almond flour if omitting the maple syrup. If the mixture is way too firm, you can add in some vanilla extract.
You can use whatever sweetener you'd like, but if you use a granulated one like coconut or maple sugar, it won't dissolve. So you'd have crunchy bits of sugar in your protein bars.
Other protein recipes
I hope you'll enjoy these paleo protein bars! If you make this recipe, I'd love to see photos. Please hashtag them #texanerin so I can find them. :) Thanks!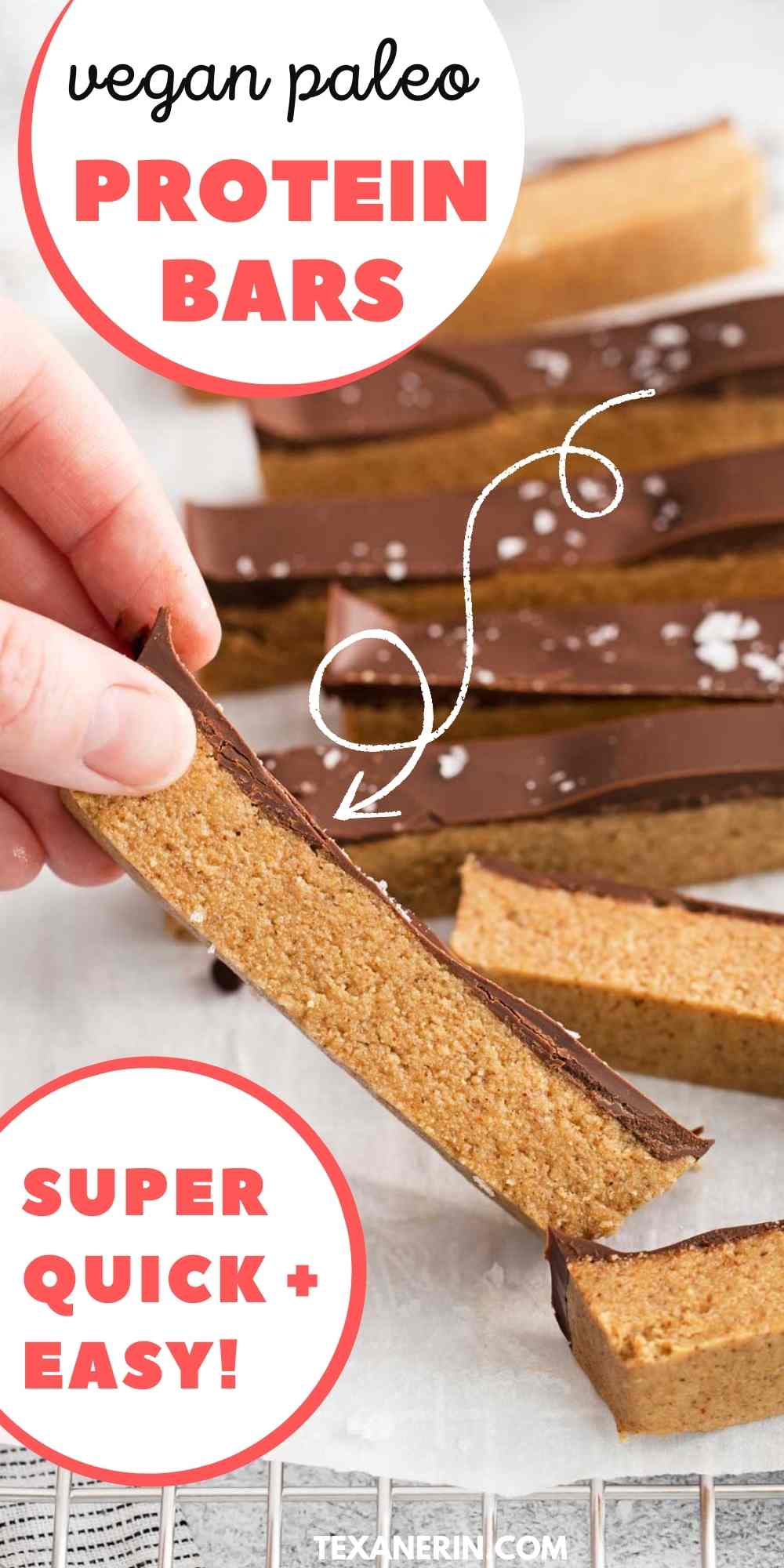 ❀
Paleo Protein Bars (vegan)
Prep Time:
Cook Time:
Ready in:
Yield:

12 bars
Ingredients
Bars:

3/4 cup (192 grams) unsalted natural almond butter
1/4 cup (25 grams) paleo vanilla protein powder1
2 tablespoons (39 grams) maple syrup2
1/4 teaspoon salt (use 1/8 teaspoon if using salted nut butter)
1/4 to 1/2 cup (25-50 grams) almond flour

Topping:

6 tablespoons chopped paleo chocolate
1 teaspoon refined coconut oil3
Directions
In a medium mixing bowl, add all the ingredients but the almond flour. Stir with a wooden spoon until combined (it'll seem very thin the first few stirs and then gets thick very quickly).
If you're using very absorbent protein powder and your nut butter is thick, you might not need any almond flour. If it's not really thick, about 2 tablespoons of almond flour at a time until the dough is firm. You want to be able to cut them into bars and pick them up without them being floppy.
Pat it onto a piece of parchment paper so the dough is about 3/4" thick (or however thick/thin you'd like).
Melt the coconut oil and chocolate together and then spread over the bars, using a silicone spatula to smooth it out.
Place in the fridge for about 20 minutes or until set enough to cut.
Refrigerate in an airtight container for up to a month. They're also great frozen!
Notes
If you need these bars to be vegan, make sure your protein powder is vegan. NaturesPlus Unflavored Paleo Protein Powder is both paleo and vegan, and Dr. Murray's 3-Seed Vanilla Protein Powder is vegan, but not labeled as paleo. However, the ingredients are almost the same as the NaturesPlus powder.
If using a very lightly sweetened protein powder, like NaturesPlus, you might need another 1-2 teaspoons of maple syrup. Start off with 2 tablespoons of maple syrup and add about half a teaspoon at a time until you're happy with the sweetness.
You can use unrefined coconut oil if you don't mind the coconut flavor it'll add.
If you're vegan, make sure your protein powder and chocolate is vegan!