These rainbow carrots are multi-colored carrots that are sweetly roasted with maple syrup and brown sugar or coconut sugar and garnished with fresh herbs. They're the most colorful dish to serve at Thanksgiving or any other special occasion and with very little effort. With paleo and vegan options.
I don't have many side dish recipes so I thought I'd work on that this year. Up first, these tasty colorful carrots!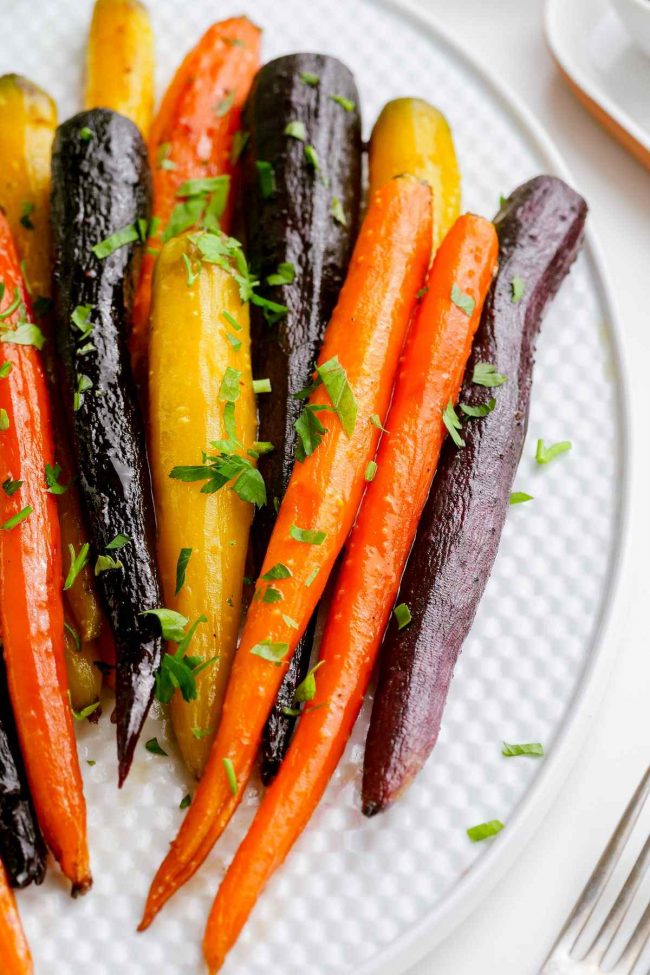 Ingredients:
Rainbow carrots – you can cut them lengthwise for faster cooking. You can also use regular carrots!


Maple syrup – the sweetness of the maple syrup highlights the sweet taste of the carrots making this dish seem fancy but with minimal effort.

I've only tried these carrots with maple syrup and have no idea if honey would work. I'd recommend finding a honey-glazed carrot recipe if that's what you want.


Unsalted butter – olive oil works great for a dairy-free, paleo and vegan version. You could likely use any kind of oil you'd like, but I wouldn't recommend unrefined coconut oil (unless you want some coconut flavor).


Brown sugar or coconut sugar – you need this so the carrots caramelize properly.


Chopped fresh parsley – or other fresh herbs, for garnish


Salt + pepper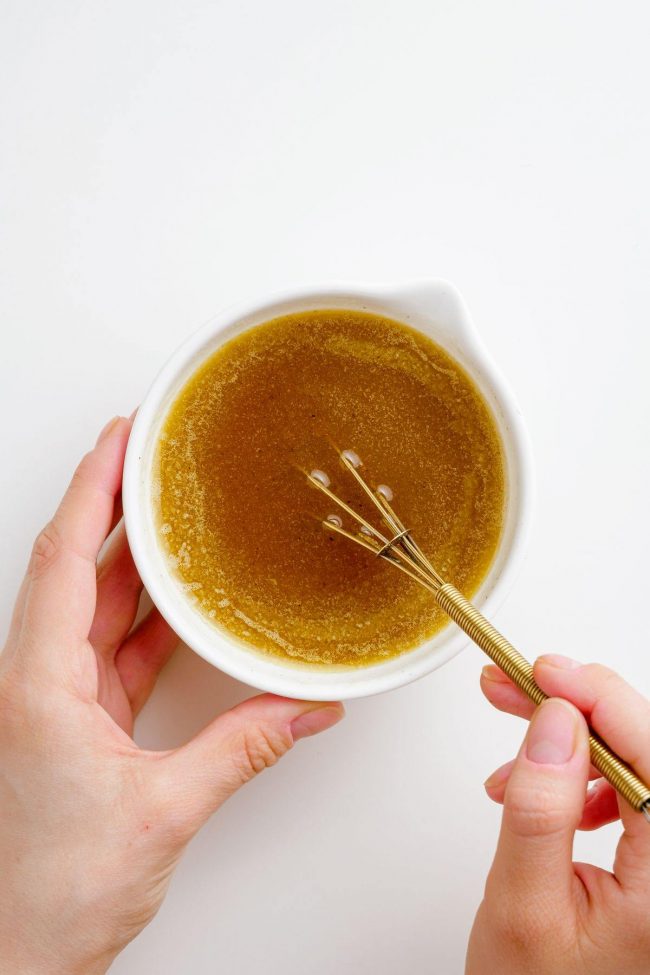 How to make the carrots
Place prepared carrots on a baking sheet.
Mix together the remaining ingredients.
Pour over the carrots.
Bake!
Tips
Fresh garden carrots will cook faster than store-bought carrots, so if you found yours at the farmers market, just keep a close eye on them at the 20-minute mark.
Chop the green tops off if you use fresh carrots. If you want a more rustic look, you can chop them an inch above the top of the root leaving just a bit of the carrot tops.
You can cut the carrots lengthwise for them to cook faster, just cut them evenly so they roast at the same rate.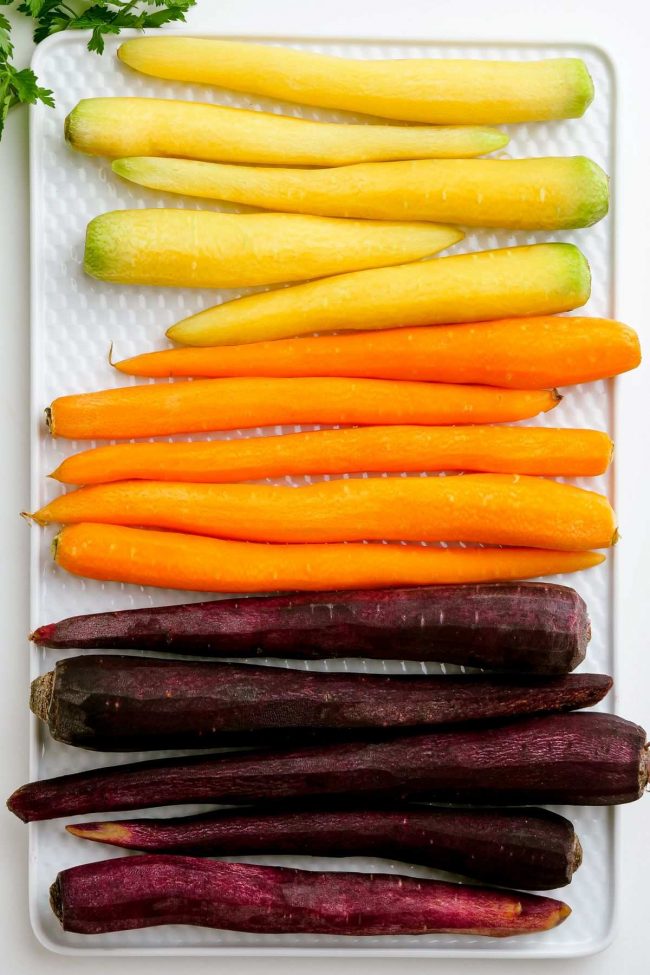 To peel or not to peel
You'll definitely want to peel the carrots. I tried this recipe once with unpeeled carrots, and none of us liked the texture.
I googled it and according to Cook's Illustrated, that's to be expected.
They did an experiment and "tasters unanimously preferred the peel-free carrots in the glazed and roasted samples. In both cases, the skins on the unpeeled carrots became wrinkled, tough, and gritty."
I agree. Definitely take the time to peel them!
Can you make them ahead?
Yes, you can prep the carrots (peeling and cutting) and the maple mixture ahead of time and store them in the fridge two days prior to showtime. Then all you have to do is pour on the maple mixture and put them in the oven as directed.
How to reheat leftovers:
If you have leftovers, you can store them in an airtight container in the fridge for up to 5 days. Just put them in the microwave to reheat them or broil them a bit until they're hot.
Or chop and toss them in a salad for added nutrition and crunch.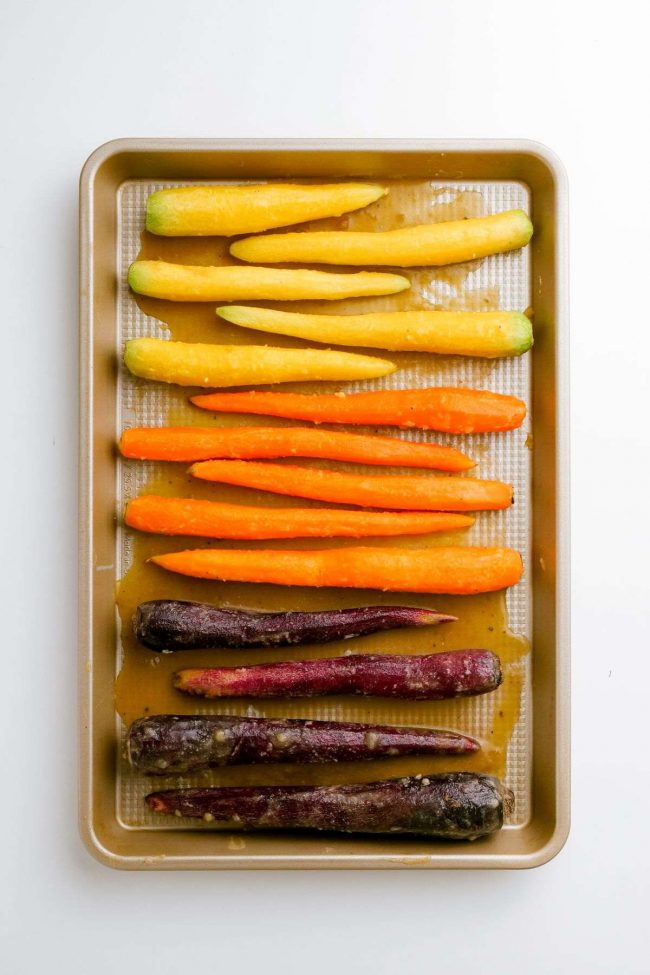 Can you freeze carrots?
I wouldn't freeze the carrots with the maple mixture after they have been cooked. But if you have an abundance of carrots that you didn't use in the dish, you certainly can freeze them fresh.
Just wash them up and prep them how you would like (diced, cubed or slices) and place them on a lined baking sheet that will fit nicely in your freezer until they are frozen.
Then pop them in a sealable bag, squeeze out the air and date them. They'll be ready to use for soups and stews or any other dish you create.
How do rainbow carrots taste?
The short answer is they taste like carrots. ;) The taste difference between vibrant colors like orange, red, purple, yellow and white carrots isn't really detectable. If you eat them raw, you may taste a slight change in taste, but not in an exaggerated sense.
It's the effect of eye candy that makes these carrots so special, well, that and they taste great!
I guess if I had to note one difference, I would say the eye-catching purple carrots are sweet and have a peppery finish, but that becomes more subtle once they are cooked.
They're also the healthiest carrot (even though any color of carrot is pretty healthy), but it seems that the purple ones have the most antioxidants that have impressive health benefits.
Do I have to use rainbow carrots?
No, it's not necessary. Any fresh ordinary carrot will be just as tasty as the rainbow-colored ones. Like I said above, any taste difference is slight, so you're not losing out on taste if all you can find are normal carrots.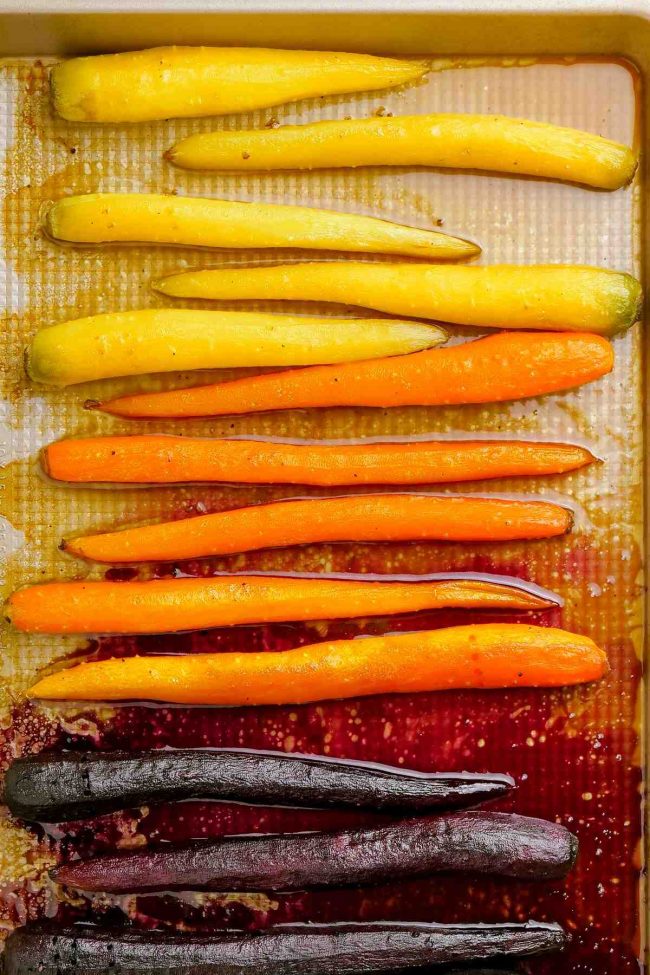 Where can I buy rainbow carrots?
It's easy to find multi-colored carrots these days! From local farmers markets to Walmart, you shouldn't have any trouble.
With a quick online search, I even found an organic bag of rainbow carrots at Walmart and they seem to be in season year-round.
Whole Foods also has fresh rainbow carrots with the tops for that rustic look. Just chop the tops off about an inch above the root.
Can I use baby carrots?
Yes, baby carrots are just cut regular carrots, but you'll want to adjust the time since they will cook faster. Just keep an eye on them and you should be fine.
I also saw a bag of baby rainbow carrots at Walmart, so you have an assortment to choose from.
How to garnish?
Aromatics are the best way to leave subtle hints of a terrific dish. Parsley is always a favorite garnishing herb, and I used it here for the finishing details.
Since Thanksgiving is around the corner, you can incorporate other fresh herbs to compliment the entire spread like sage, thyme or rosemary.
Have colored carrots been modified?
No, actually, they haven't been modified to create that fantastic array of colors. In fact, orange is not the original color.
It's wildly claimed that in the 1700s the Dutch cross-bred yellow and red carrots to give us that spirited orange color to represent the flag of that period and in honor of William of Orange.
When we talk about GMOs, we are referring to artificial modification. Rainbow carrots evolved naturally more than 450 to 1000 years ago in the wild.
Although rainbow carrots are considered novel in the United States, it may surprise you that colored carrots get their amazing color from carotenes which are natural pigments. These pigments are made from hydrocarbons and minerals.
Carotenes are a natural antioxidant. So even if colored carrots taste similar, it is interesting that they contain different benefits based on their color.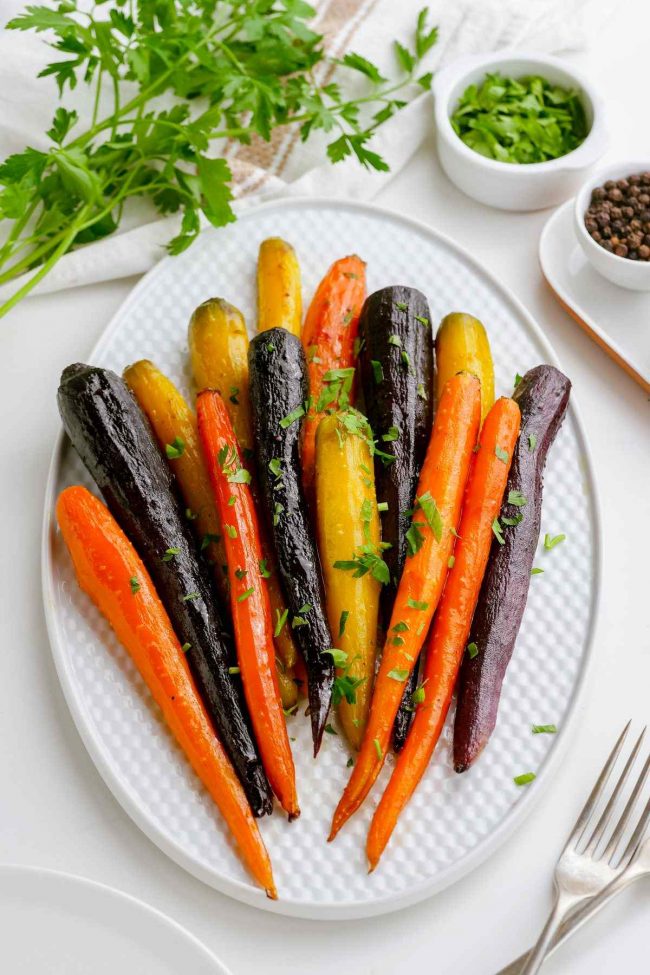 What are the benefits of eating rainbow carrots?
Besides their outrageously gorgeous look, by adding them to your diet, you are adding a variety of benefits.
Orange carrots have beta and alpha-carotene pigments which promote vitamin A production and are great for the eyes.


Purple carrots are high in anthocyanin which has antioxidant effects and can help to prevent heart disease, plus they have beta and alpha-carotene pigment giving you more vitamin A.


Red carrots, besides beta-carotene pigment, have lycopene which is linked to lowering the risk of certain cancers.


Yellow carrots have xanthophylls which is a light-gathering pigment that helps protect against phototoxic damage, and they contain lutein which has anti-inflammatory properties.


White carrots are high in fiber which promotes healthy digestion. They've also been linked to reducing lung, breast and colon cancer. They have good levels of antioxidants and phytochemicals that can help with sugar regulation, improve immune function and delay the effects of aging.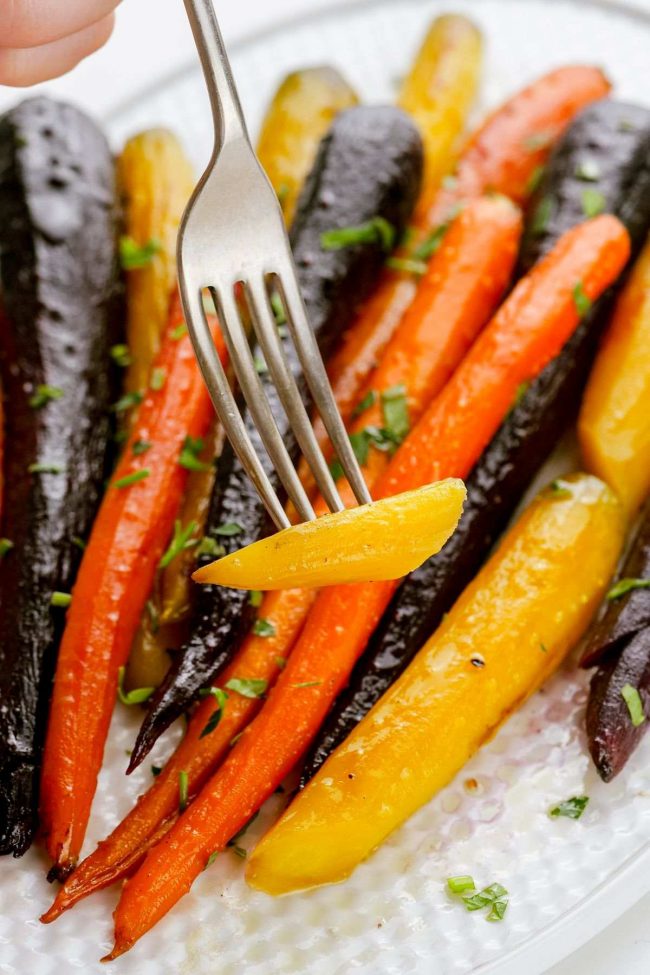 Other Thanksgiving dishes:
That's it! I hope you enjoy the Rainbow Carrots! If you make them, I would love to see them, so snap a photo 📸 and tag #texanerin 📣🤩 so I can be sure to see them. Enjoy!
❀
Rainbow Carrots
Prep Time:
Cook Time:
Ready in:
Yield:

6 servings
Ingredients
2 pounds (908 grams) fresh carrots
1/4 cup (56 grams) unsalted butter, melted or for dairy-free/vegan/paleo, use olive oil
1/4 cup (60ml) pure maple syrup
3 tablespoons brown sugar or coconut sugar for paleo
1/4 teaspoon salt
1/8 teaspoon ground black pepper
chopped fresh parsley or other fresh herbs, for garnish
Directions
Preheat oven to 400 °F (205 °C) . Get out a large rimmed baking sheet.
Wash and peel your rainbows. Trim the ends. If you need them to cook faster or if they're quite thick, cut them lengthwise.
Transfer prepared carrots to the baking sheet and spread out in one single layer. Set aside.
In a small bowl, mix together the melted butter, maple syrup, brown sugar and salt and pepper.
Bake for 30 to 40 minutes, tossing after 15 minutes, until tender. Towards the end of the baking time, stick around the kitchen to make sure that they don't start to burn (mine were never close to burning, but it's better to be safe than sorry). To test for doneness, start checking at the 25-minute mark by piercing the thickest part of the carrot with a fork. If it goes through easily, the carrots are done.
Remove from oven. Taste for seasonings, mostly salt, and adjust accordingly.
Garnish with fresh herbs and serve.
If you have leftovers, you can refrigerate them in an airtight container for up to 5 days. Just put them in the microwave to reheat them or broil them a bit until they're hot.
Notes
Don't be shy with the salt! Without enough, the maple syrup flavor doesn't pop. I tend to like things overly salty, so I listed 1/4 teaspoon + more to taste.
You can prep the carrots (peeling and cutting) and the maple mixture ahead of time and store them in the fridge two days prior to showtime. Then all you have to do is pour on the maple mixture and put them in the oven as directed.