This Baileys Irish cream cake is made completely from scratch and can be made with all-purpose flour or with 100% whole grain flour. Perfect for St. Patrick's Day!
I bought a bottle of Irish cream on Saturday night and it's almost gone. I think most of it went into this Irish cream cake! It's pretty boozy. I took this totally from scratch rum cake and halved it, which involved some funky calculations, and exchanged the rum for Irish cream.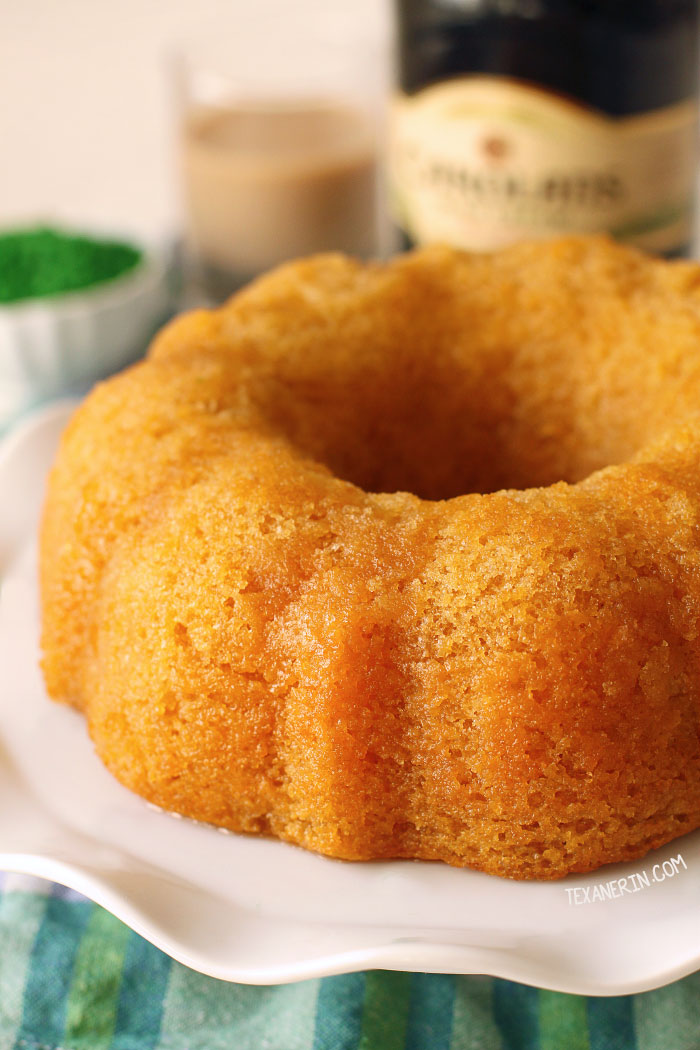 I used Carolans Irish cream here, which is smoother than Baileys. That means it's great for drinking, at least in my opinion, but when you bake with it, the alcohol isn't that apparent. And when I bake with booze, I want my goodies to actually taste boozy. So use Baileys!
I wanted my Irish cream cake to be drenched in syrup so only make half of the syrup if you just want a little. Mr. Texanerin actually complained that, "It's dripping!" when he picked it up. But then he took a bite and stopped complaining. :D
It's kind of hard to make a Baileys cake healthy but I did what I could. No cake mix, no pudding mix, and it's 100% whole wheat. I used white whole wheat and you absolutely can't taste it! But it's important to use white whole wheat here and not regular whole wheat. If you use regular whole wheat, you will be able to tell it's been made healthier. You could also do a mix of all-purpose and regular whole wheat if you don't have access to white whole wheat. I've also made this with all-purpose and it tastes exactly the same.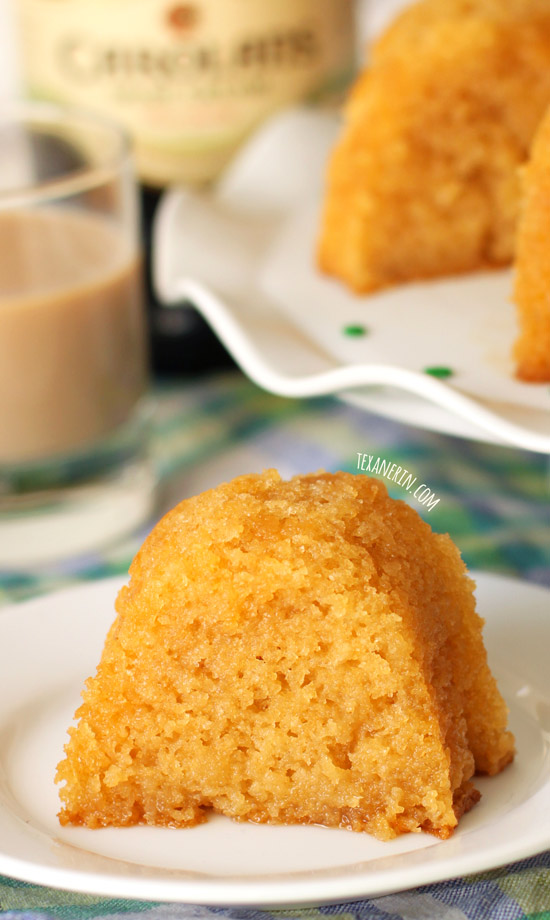 And this Irish cream cake is SO moist. I tried it before I drowned it in syrup (see here on my method :D) and it was fluffy, light and not very boozy (hence the syrup!)
I used a 6-cup bundt pan here but you could bake these in cupcake form (I'm just guessing that it'd yield 8-12 cupcakes) or if you want a full-sized bundt cake, go check out my rum cake and use Baileys instead of rum. Easy!
So there. A St. Patrick's Day dessert recipe without food coloring! And I have at least one more dye-free St. Patrick's Day recipe coming up. But for next time – something with chocolate and peanut butter for my grain-free friends. :)
❀
Totally From Scratch Irish Cream Cake
Prep Time:
Cook Time:
Ready in:
Yield:

8 pieces
Ingredients
For the cake:

3/4 cup + 2 tablespoons (114 grams) white whole wheat flour or all-purpose flour
1/4 cup (25 grams) non-fat or whole-milk dry milk powder
3 tablespoons (26 grams ) cornstarch
2 teaspoons baking powder
1/4 teaspoon salt
1/2 stick (1/4 cup or 56 grams) butter, room temperature
3/4 cup (168 grams) granulated or unrefined sugar
1/3 cup (78ml) canola oil
1/4 cup + 2 tablespoons (90ml) milk
2 large eggs
1/4 cup + 2 tablespoons (90ml) Irish cream
1 1/2 teaspoons vanilla extract

For the syrup:

1/2 stick (1/4 cup or 56 grams) butter
1/4 cup + 2 tablespoons (75 grams) granulated or unrefined sugar
1/4 cup (60ml) water
1/8 teaspoon salt
1/4 cup (60ml) Irish cream
Directions
Preheat your oven to 325°F (162°C). Spray a 6 cup bundt pan very well and set aside.
In a large bowl, combine the flour, dry milk powder, cornstarch, baking powder and salt. Set this aside.
In a large bowl with a stand mixer or electric mixer, cream the butter and sugar for about 2 minutes.
Add the dry flour mix to this. It will resemble fine crumbs at this point.
In the bowl that just had the flour mix, whisk together the oil, milk, eggs, Irish cream, and vanilla extract. Add this to the crumb mixture and beat until well combined. The batter will be very thin.
Pour the batter into the greased bundt pan and bake for 25 minutes or until a toothpick inserted in the middle comes out clean.
When there are about 15 minutes remaining on the timer, start the syrup. In a medium saucepan, combine the butter, sugar, water and salt over medium heat. Bring to a boil and continue boiling for 5 minutes, stirring constantly. Remove from heat and stir in 1/4 cup Irish cream.
Let the cake cool in the pan for about 10 minutes and then invert onto a wire rack. Wash and thoroughly dry the bundt pan and place the cake back into the pan. Poke holes into the cake (I used a meat thermometer) and pour the syrup slowly over the cake. Let it sit in the pan for one hour to properly absorb the liquid. It might seem soggy at first (there's a lot of syrup!) but will eventually be absorbed by the cake.
Serve immediately or cover the cake and refrigerate for up to 5 days.
Adapted from Totally from Scratch Rum Cake, which was adapted from Rum Cake from Scratch From Always Order Dessert