These incredibly chewy healthier M&M cookies are 100% whole grain, dairy-free and are made with coconut oil, coconut sugar and whole wheat or spelt flour. The best part? They don't actually taste healthy!
After a bunch of baking flops, I was so really pleased with myself when I took a bite of these. After I took the pictures, I googled "monster cookies" to see what other peoples' cookies looked like, and then I saw it. Monster cookies involve peanut butter. Whoops. So here we are with peanut butter-less monster cookies!
I'm posting my M&M cookies, anyway. They are tasty. Just missing a really important ingredient.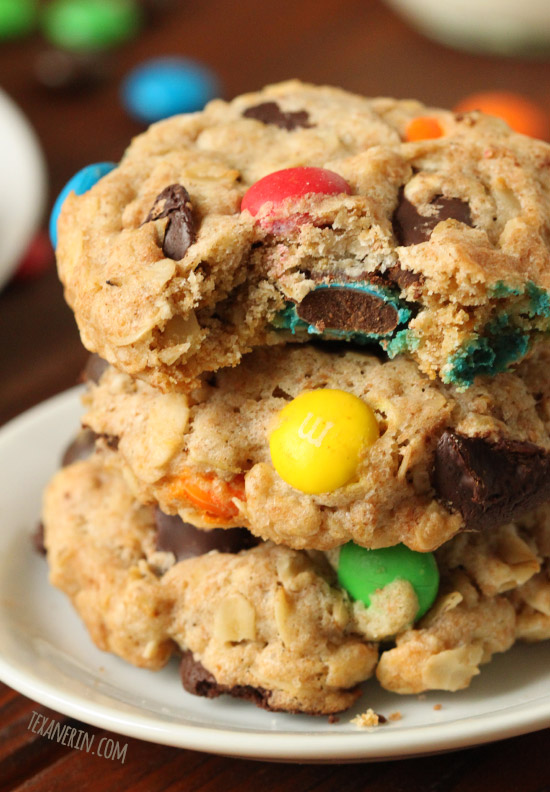 These cookies are so fat and chewy. The way a cookie should be, right? I adapted these from my oatmeal raisin cookies. I reduced the sugar because of all the added sweetness from the M&Ms and chocolate chips, but feel free to reduce it even more. These were basically as sweet as a normal cookie but not overly sweet!
Hey, have any of you made any peanut butter cookie recipes that use natural peanut butter and that actually taste as good as cookies with normal peanut butter? Natural peanut butter is nice for raw stuff but whenever it gets baked, I don't know… it's just not as good as the unhealthy stuff! I've tried coming up with my own creations using natural peanut butter but none of them have been worthy of sharing. I suppose I'll just have to keep plugging away at it!
I'm sure some of you are cringing at the M&Ms and I get it. I totally admit to using M&Ms because of their bright colors. If I hadn't needed to take pictures, I would have used some naturally colored M&M type of candies from Aldi. If they don't have those at American Aldi, Unreal Milk Chocolate Gems (previously called: Candy Coated Chocolates) are made without artificial ingredients. I've never tried them but apparently you can find them at CVS, Target, and Michael's. Or if you don't like the thought of either alternative, just add more chocolate chips or whatever add-ins you'd like!
❀
Healthier M&M Cookies (whole grain, dairy-free)
Prep Time:
Cook Time:
Ready in:
Yield:

18-20 cookies
Ingredients
1 1/2 cups (190 grams) whole spelt or whole wheat flour
2 teaspoons cornstarch
1 teaspoon baking soda
1 teaspoon baking powder
1/2 teaspoon salt
3/4 cup (168 grams) coconut oil
1 cup (200 grams) raw or coconut sugar
2 large eggs
1 tablespoon vanilla
2 3/4 cups (260 grams) oats (I used half rolled and half quick oats)
2/3 cup (200 grams) M&Ms (use Choco No No's for dairy-free)
1/3 cup (57 grams) semi-sweet chocolate chips (use dairy-free chocolate chips, if necessary)
Directions
Preheat your oven to 375°F (175°C) and line a cookie sheet with parchment paper or a Silpat.
Whisk together the dry ingredients (flour through salt) in a medium bowl and set aside.
In a large microwave safe bowl, melt the coconut oil in the microwave. Add the sugar, eggs, and vanilla and stir.
Add the dry mix to the wet mix and stir just until combined. Stir in the oats, M&Ms, chocolate chips and stir until combined.
Form the dough into balls, about two tablespoons in size, and press the balls down into cookie shape. These don't spread very much so be sure to flatten them.
Bake for 9 - 12 minutes or until the middle appears to be set. The cookies will still appear very, very light, even when they're done.