Nobody will miss the gluten in these soft and chewy gluten-free chocolate chip cookies!
When Jamie of My Baking Addiction asked if I could post some chocolate chip cookies, I kind of panicked. At that point, I had never had a gluten-free chocolate chip cookie with the texture of a traditional cookie. I've made oodles of delicious gluten-free cookies, but they're usually kind of small, delicate and squatty-looking. Definitely not the bakery style cookie that first comes to mind when you think of chocolate chip cookies.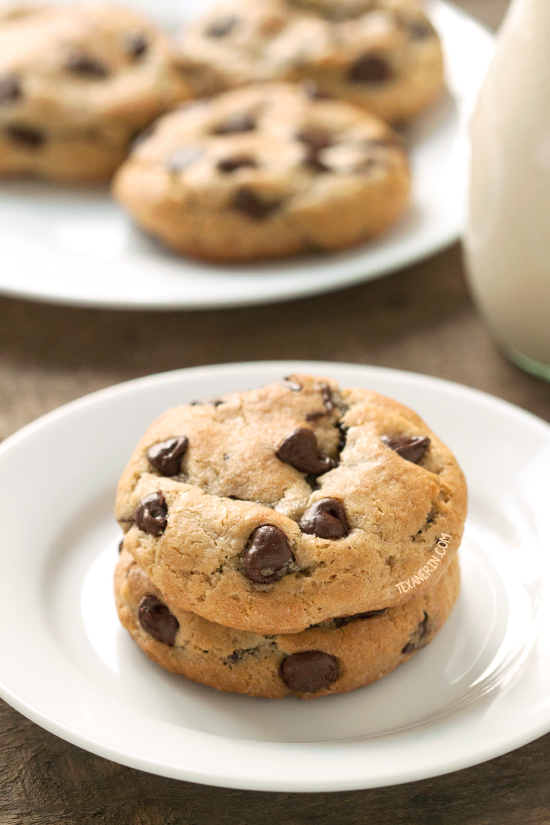 I knew I'd probably not be able to use my usual nut flours and would have to use some gluten-free flours that I'm not all that experienced with. I wanted to try something with brown rice flour, which would at least make the cookies whole grain, but that doesn't seem to exist in Germany. So that was out, as well as any recipe calling for a gluten-free baking blend. I don't feel comfortable using those, anyway, because they're not all the same and I knew the results would vary depending on what brand you use. That leaves way too much to chance! So after, like, 4 hours of searching, I found a recipe on Land O'Lakes that I could try with the flours I already had. Hooray!
In that recipe, they have you create your own baking blend with tapioca flour, potato starch and white rice flour. I didn't want any of the flour blend leftover so I used my mad math skills (or whatever – math was actually my worst subject) to calculate what portion of their mix to make just for this batch of cookies.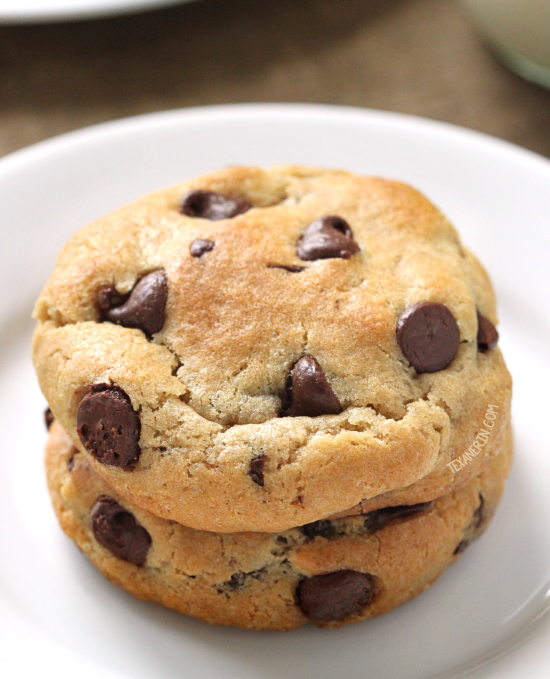 I was expecting these cookies to be gritty and chalky, kind of like the dough, but when you follow the directions (unlike me the first few times I made these!) they come out like a regular gluten-containing cookie. It's awesome. I didn't even know that was possible with these kinds of flours! Just don't try to make mega-large cookies like I did a couple times. They'll come out cakey and gritty. I really wanted these to be monstrous like the New York Times chocolate chip cookies but when they taste that good, I'll settle for the smaller version!
That said, I think using these flours is akin to using all-purpose flour, meaning there's no nutrition in these cookies whatsoever. Sorry about that. I brought these flours all the way back with me from the US and they're expiring soon so there – I was practically forced to make these. ;)
If you want something with a bit more nutrition, try this Gluten-free Chocolate Chip Cookie in a Mug. It looks amazing!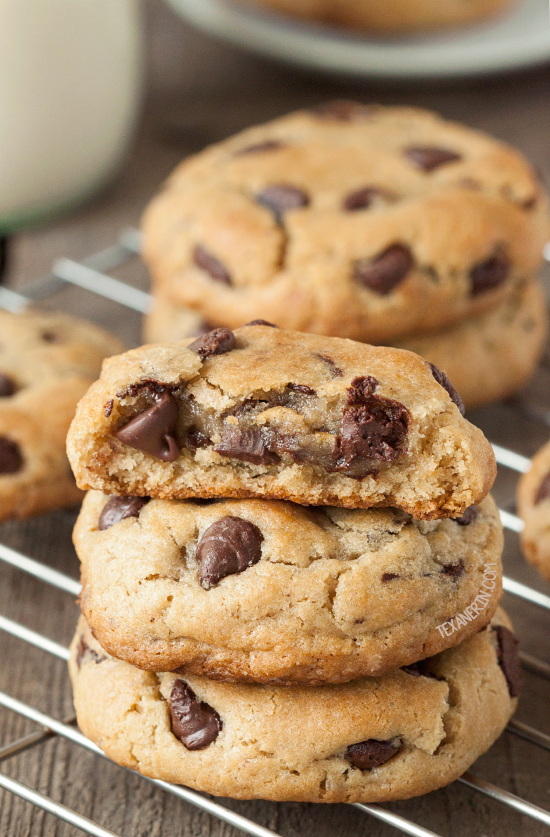 Looking for a sugar-free version? Try these keto chocolate chip cookies from Four Score Living!
I haven't tried these with coconut oil for a dairy-free version but I'm assuming it'd work. I wouldn't even bother reducing the amount of coconut oil, like I often do when subbing coconut oil for butter. I don't think a little extra fat (coconut oil is 100% fat and butter is 80-84% fat) will hurt these cookies at all.
If you don't need a gluten-free version, then you probably don't have any of these flours, in which case I suggest my whole wheat New York Times chocolate chip cookies!
And if you don't feel like baking, try this gluten-free edible cookie dough from Flippin' Delicious!
❀
Soft and Chewy Gluten-free Chocolate Chip Cookies
Prep Time:
Cook Time:
Ready in:
Yield:

24
Ingredients
1 1/2 cups (240 grams) white rice flour
1/2 cup (96 grams) potato starch (not potato flour)
1/4 cup (30 grams) tapioca flour
1 teaspoon xanthan gum
1 teaspoon baking powder
1 teaspoon baking soda
1/2 teaspoon salt
3/4 cup (169 grams) unsalted butter, softened
3/4 cup (150 grams) firmly packed brown sugar or coconut sugar
1/2 cup (100 grams) granulated sugar or raw sugar
2 large eggs, room temperature
1 tablespoon vanilla extract
1 12-ounce package (2 cups / 340 grams) semi-sweet chocolate chips, divided
Directions
Preheat the oven to 375 °F (190 °C). Line a baking sheet with a piece of parchment paper.
In a medium mixing bowl, stir together the rice flour, potato starch, tapioca flour, xanthan gum, baking powder, baking soda and salt. Set aside.
In a large mixing bowl using an electric hand mixer or a stand mixer fitted with the beater blade, beat the butter, brown sugar and granulated sugar until light and creamy. One at a time, add the eggs and beat until well combined. Add the vanilla and then gradually add in the flour mixture. Beat just until combined. Stir in 1 1/2 cups chocolate chips.
Form balls of dough, about 50 grams or a little less than 3 tablespoons in size, and roll the tops and sides of the balls in the remaining 1/2 cup chocolate chips. Place the balls 2 1/2" apart on the prepared baking sheet.
Bake for 9-12 minutes or until lightly browned and the surface no longer appears wet.
Let cool for 5 minutes and then remove to a wire rack to cool completely.
Store in an airtight container for up to 4 days.
Source: My post on My Baking Addiction for Chewy Chocolate Chip Cookies, which was adapted from Chewy Chocolate Chip Cookies on Land O'Lakes