These paleo double chocolate cookies are ultra rich, soft and chewy and taste just like traditional chocolate cookies! This recipe has a vegan option and they're also grain-free, gluten-free, and dairy-free.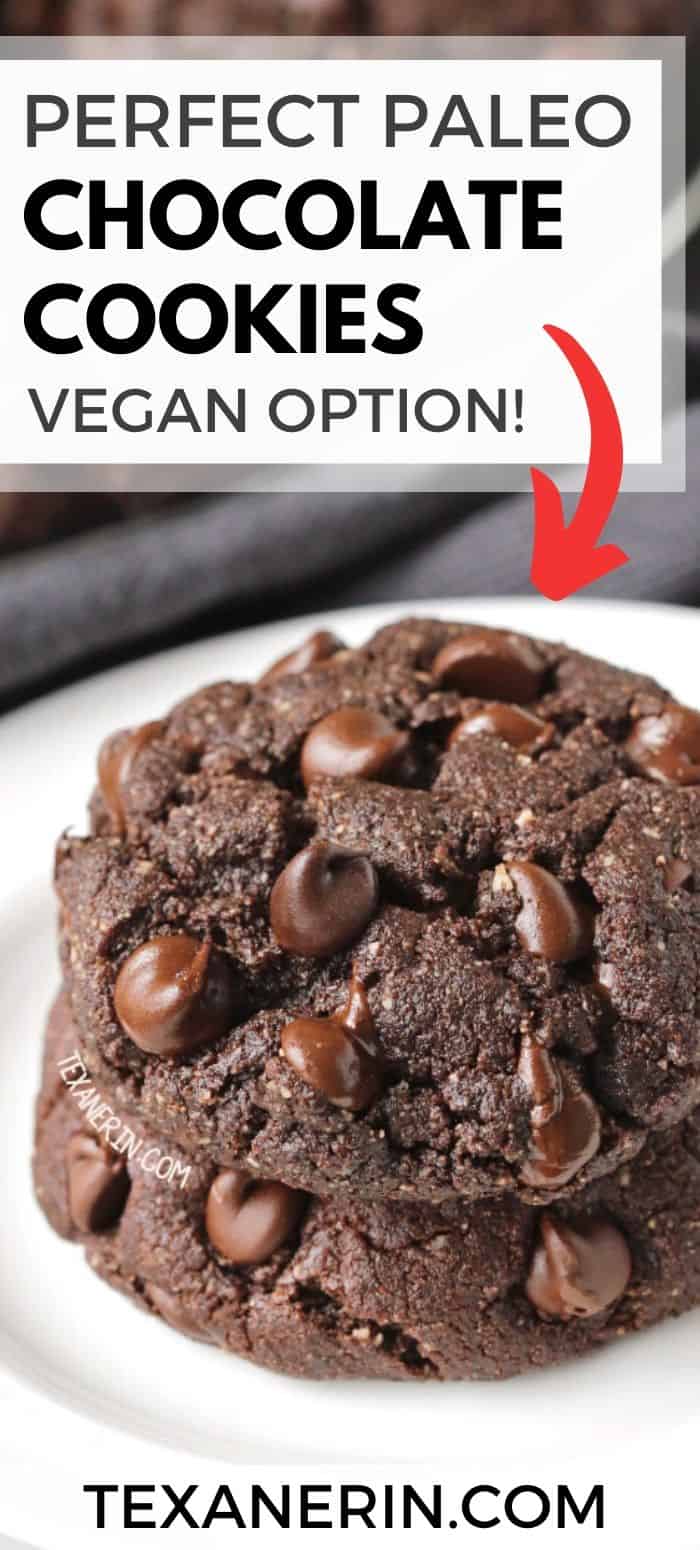 These are the best double chocolate cookies I've ever had. Never mind that they're paleo! The texture is spot on and they taste just like a gluten-filled double chocolate cookie. Especially fresh from the oven!
The only thing that'd give them away as not being made with all-purpose flour is the little specks of almond flour. And I don't think most people would even notice! I also now have an all coconut flour version of these cookies (check out these chocolate coconut flour cookies if that sounds interesting!).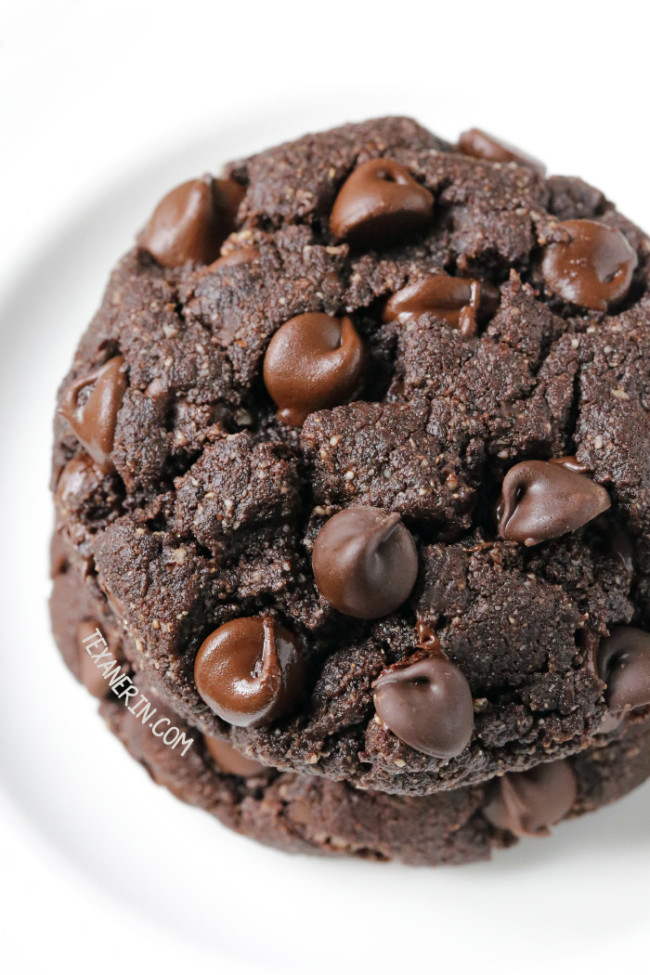 I adapted this recipe from my perfect paleo chocolate chip cookies. Mr. Texanerin thinks it's kind of funny how many variations of this cookie I intend on posting.
I don't think it's funny at all. I think to not post all the versions I can think of would just be stupid. ;)
To come up with the original recipe, I made them at least 2-3 dozen times – usually half batches. And I baked them up one cookie at a time, adding more flour or oil or whatever until I was closer to what I was going for.
It was actually kind of fun because of the almost constant stream of fresh cookies coming out the oven. So after that labor of love, I feel like posting several variations is totally acceptable. :D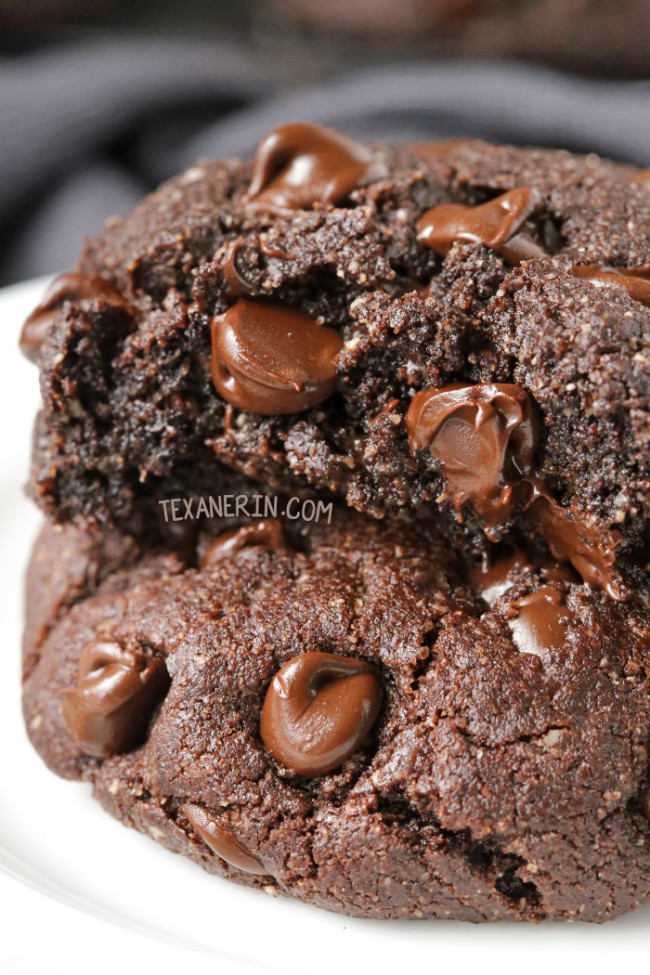 But none of the recipes are just calling for different add-ins! Different types of nut butters and flours have different fat contents and that requires adjustments to the recipe. If you use peanut butter in this recipe without making any other changes, it won't come out very well (I've tried).
These paleo oatmeal cookies, which are a variation on the original, are a reader favorite. So are these vegan peanut butter cookies.
If you use hazelnut butter and meal here, the batter is weirdly wet and so that requires some adjustments, too. This double chocolate version differs from the original in that I decreased the almond flour by 1/4 cup, added 1/3 cup + 4 teaspoons cocoa powder, and a little more oil.
These cookies are huge. Some commenters in the original recipe, which yields 8, said that they got way more than that. If you want normal-sized cookies, you can get about 16.
But I wanted big bakery-style cookies! I just like how they bake up that way. If making smaller (more reasonably-sized) cookies, be sure to adjust the baking time as necessary.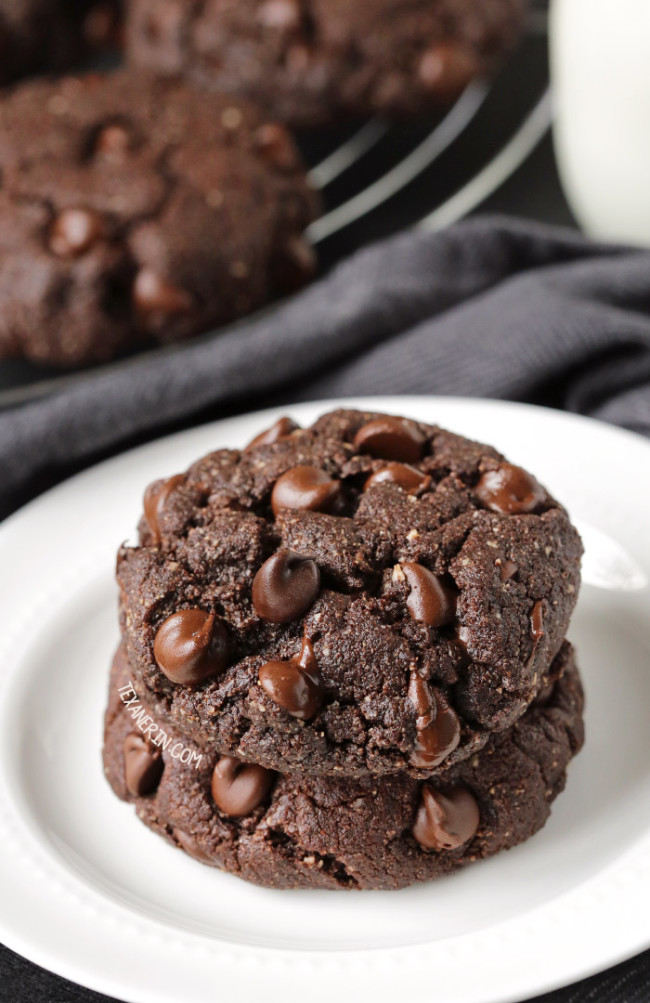 While I was in the US, I picked up some semi-sweet chocolate chips and whoa – those things are sweeter than I remember! At least the ones from Trader Joe's. I normally use chopped semi-sweet chocolate and didn't find the original cookies to be too sweet at all.
These cookies, though, with the added cocoa powder seemed somehow sweeter. Which does not make sense! So I blame the chocolate chips.
Make sure to use some chocolate that's on the darker side for these! And of course use paleo / dairy-free chocolate, if necessary.
Also, I always use Dutch-process cocoa powder because I like the darker, chocolaty taste and I recommend you do the same, at least for these cookies! If you can't find it, Hershey's Special Dark cocoa powder should do the trick.
Looking for more delicious paleo treats? Try these Gluten-free Dairy-free Chocolate Candy Cookie Bars!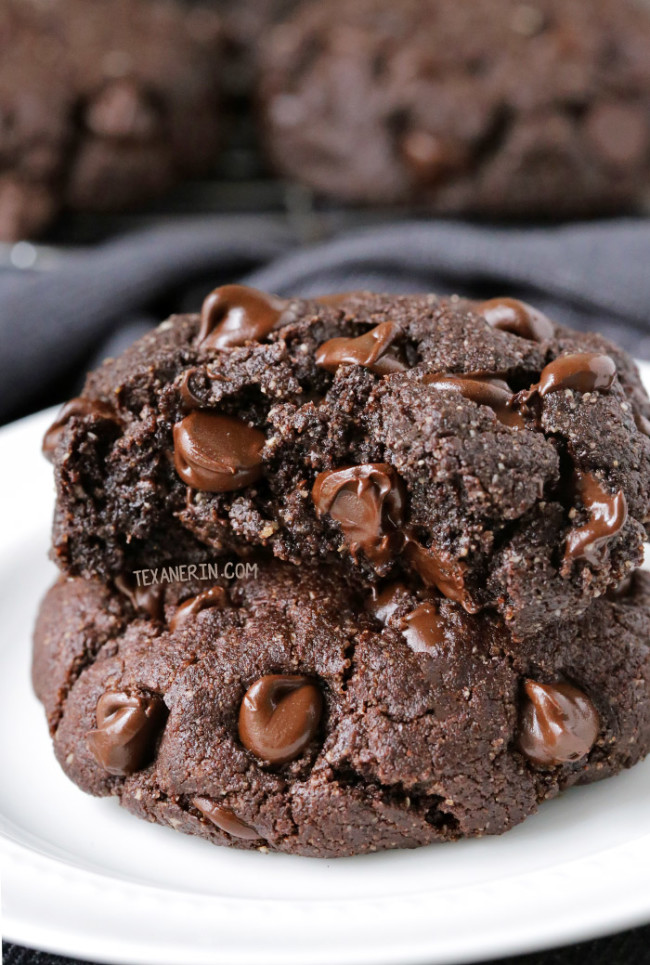 ❀
Paleo Double Chocolate Cookies (vegan option, grain-free, gluten-free, dairy-free)
Prep Time:
Cook Time:
Ready in:
Yield:

8 large cookies or 16 regular-sized cookies
Ingredients
3/4 cup (75 grams) almond flour
1/4 cup (32 grams) coconut flour
1/3 cup + 4 teaspoons (48 grams) Dutch-process cocoa powder (using regular natural cocoa powder may result in cakey cookies)
1 teaspoon baking soda
1/4 teaspoon salt
7 tablespoons (98 grams) coconut oil (if your coconut oil is a little melty, put it in the fridge for about 10-20 minutes or until firmer, like softened butter. If you use slightly melted coconut oil, the dough will be greasy and the chocolate chips will be hard to incorporate.)1 or unsalted butter2 , room temperature
3/4 cup (150 grams) coconut sugar or brown sugar
6 tablespoons (98 grams) natural almond butter (the kind with just almonds and salt), room temperature
1 1/2 teaspoons vanilla extract
1 large egg, room temperature or 1 chia egg for vegan3
1 cup (170 grams) semi-sweet chocolate chips, divided (use paleo / dairy-free chocolate, if needed)
Directions
In a medium mixing bowl, stir together the almond flour, coconut flour, cocoa powder, baking soda and salt. Set aside.
In a large mixing bowl with an electric hand mixer or using a stand mixer, beat together the fat and sugar at medium speed until well combined, about 1 minute. If you use coconut oil, it may not come together easily. If that's the case, use your hands to combine it and then beat another 20 seconds.
Beat in the almond butter and vanilla extract on medium speed and mix until combined. Beat in the egg on low and mix until well incorporated. Stir in the flour mixture until well combined. Then stir in 3/4 cup (128 grams) chocolate chips. If you used brown sugar, skip to the next step. If you used coconut sugar, place the bowl in the refrigerator for about 1 hour or until the dough is firm.
Preheat the oven to 350 °F (175 °C) and line a baking sheet with a piece of parchment paper.
Roll the dough into 8 (93-gram) balls and place the remaining 1/4 cup (43 grams) of chocolate chips on the top and on the sides of the dough balls. Place 3" apart on the prepared baking sheet. Press the cookies down lightly with the palm of your hand.
Bake for 11-14 minutes (if using coconut sugar) or 12-15 minutes (if using brown sugar) or until the surface of the center of the cookies no longer appears wet. They'll be very soft but will continue to cook as they sit on the cookie sheet.
Let cool completely on the baking sheet. Store in an airtight container for up to 3 days.
Notes
I used refined coconut oil. If you use unrefined, these cookies may have a little coconut taste to them.
Butter works in these cookies but they're fudgier and in my opinion, better, with coconut oil.
To make a chia egg, mix together 1 tablespoon of ground chia seeds and 3 tablespoons water. Let sit 5-15 minutes or until goopy like an egg.
For paleo: use coconut sugar, coconut oil, and paleo chocolate.
For dairy-free: use coconut oil and dairy-free chocolate.
Adapted from my Perfect Paleo Chocolate Chip Cookies