Greek yogurt is the secret to making this healthier macaroni and cheese super creamy! This easy one-pot stovetop recipe comes together in less than 15 minutes and can be made gluten-free or whole grain, if desired.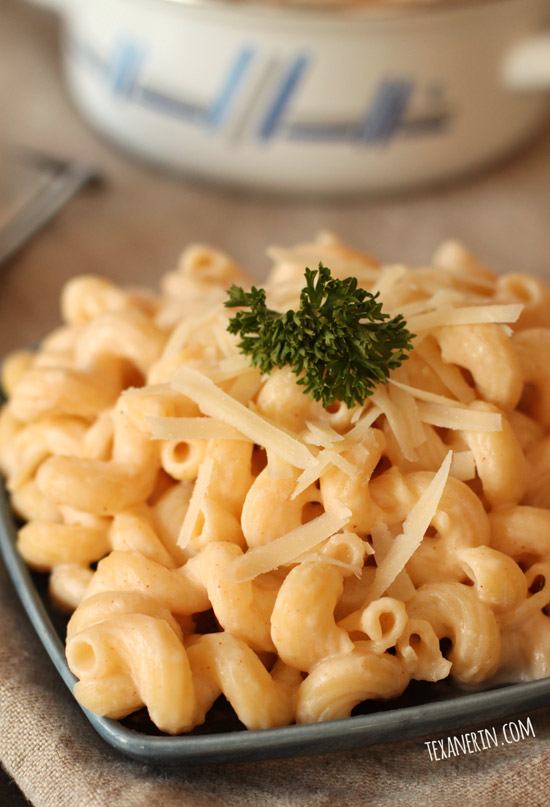 Today, Brandy and Rachel are hosting Mac & Cheese Mania! Be sure to check our their posts for a chance to win some awesome prizes. Scroll down for more info!
It was clear that I wanted to make some kind of healthier mac and cheese for today, but it took me a while to settle on the recipe. I tried making it with cottage cheese several times and although it came out well, it started to look quite unappetizing just a few minutes out of the pot. Delicious but perhaps a bit too ugly to post. I had difficulties with this one, too. It's WAY creamier than the pictures portray it. I'm very slow when it comes to photographing, which means taking pictures of room temperature food. Room temperature mac and cheese isn't the most beautiful.
I've also tried the cauliflower mac and cheese thing. I'm sure it's fantastic – if you like cauliflower. I thought I'd be able to whip up some of that and then have a way to consume veggies that was less painful (if you're new here, I have a hard time eating vegetables). But I could taste the cauliflower. No more tainting of my macaroni and cheese shall ever happen again. ;) Luckily, I found this recipe for creamy Greek yogurt mac and cheese from Cooking ala Mel. And my search for the perfect healthier macaroni and cheese ended!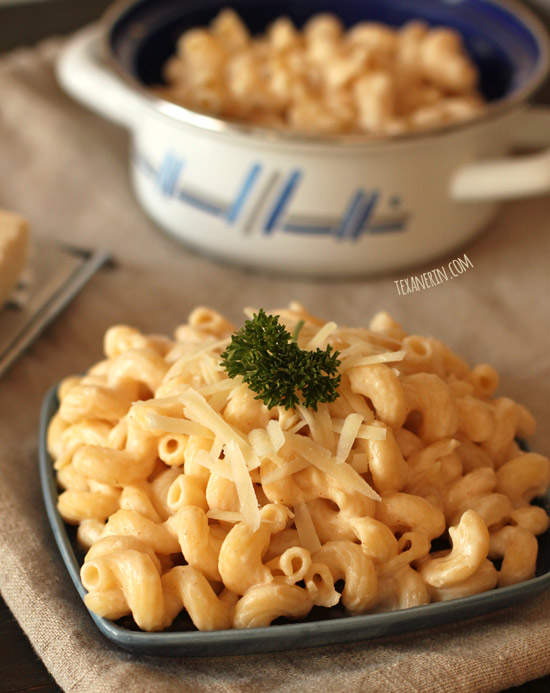 With this one-pot recipe, you boil the pasta, drain, return the pasta to the pot, and add the cheese and Greek yogurt. Stir. Tada! Easiest mac and cheese ever. You can use regular, whole wheat, or gluten-free macaroni here. Anything goes! And if you want to make it healthier (because pasta and a ton of cheese will never be healthy), you can throw in leftover roasted chicken, peas, or like Mel, spinach!
I used cheddar cheese and Pecorino Romano. I thought that it might be odd but – nope. It's kind of perfect. I've been battling a serious Pecorino Romano addiction lately. So much so that I skip the pasta and just grate a nice amount into a bowl and eat it with a spoon. Yup. :D
Pecorino Romano is similar to Parmesan in that it's grated over pasta and the like, but it's sharper, saltier and made with sheep's milk. And don't get Romano cheese confused with Pecorino Romano! It's different stuff. If you can't find this type of cheese, just add more cheddar. Or whatever kind of cheese you like! Though if you're interested, I found it on Amazon (but I haven't tried this brand myself!) and it seems like Sam's Club carries it, too.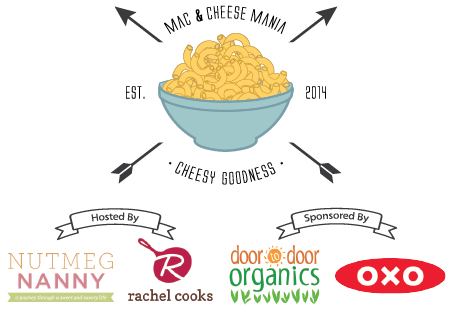 Check out Rachel's and Brandy's posts to link up to your favorite mac and cheese recipe (you don't need to be a blogger!) for a chance to win Door to Door Organics Gift Cards, OXO Gift Baskets, Zak Designs Prize Pack, a year's supply of Cabot cheese, a Vermont Creamery gift basket, a risotto kit from Marx Foods, Barilla pasta, Anolon Advanced Bronze 4.5 Qt. Tapered Stockpot, Rachael Ray Stoneware Casseroval, Wusthof CLASSIC Studio Block Set, Microplane Graters and Kitchen Tools, a SavorX Starter Block with spices and Le Cordon Bleu by Swissmar oven to table roasters.
❀
Healthier Macaroni and Cheese
Prep Time:
Cook Time:
Ready in:
Yield:

4 servings
Ingredients
8 ounces macaroni
4 ounces grated sharp cheddar cheese1
1 ounce Pecorino Romano (or more cheddar)
1/2 cup plain Greek yogurt
1/4 teaspoon paprika
1/4 teaspoon garlic powder
Directions
Prepare the pasta according to the package directions and reserve 1/2 cup of the pasta water before draining the pasta. I just took a 1 cup measuring cup and filled it up with water.
Return the pasta to the pot and add about 1/4 cup of the reserved water.
Stir in the cheese and when melted, add in the Greek yogurt, paprika powder, and garlic powder.
Stir until well combined.
If it's too thick for you, add in the remaining reserved pasta water.
Serve immediately.
Place any leftovers in an airtight container and refrigerate for up to 5 days.
Notes
The original recipe called for 8 ounces of cheese – I was more than happy with 5 ounces of cheese. This could have been because I used a good sharp cheddar.
Adapted from Creamy Greek Yogurt Mac and Cheese, from Cooking Ala Mel
If this healthier macaroni and cheese doesn't tickle your fancy, here are almost 50 other recipes. ;)
Mushroom and Swiss Mac and Cheese by Cookistry
Jalapeno Popper Mac & Cheese by Heather's Dish
Buffalo Cheddar Mac and Cheese by Eats Well With Others
Creamy Spinach Artichoke Macaroni and Cheese with Gouda by Sarah's Cucina Bella
Light Sweet Potato Mac 'n Cheese Recipe by Cookin' Canuck
Macaroni and Cheese Fritters by Amuse Your Bouche
Skinny Chicken Mac and Cheese Casserole by A Zesty Bite
Creamy Pancetta + Leek Macaroni and Cheese by Simply Scratch
Smoked Bacon Mac and Cheese by Cravings of a Lunatic
Pizza Mac and Cheese by Very Culinary
Crab Mac and Cheese by Dine & Dish
Bacon & Eggs Breakfast Mac & Cheese by Sweet Remedy
Fried Mac & Cheese Balls by The Little Kitchen
Sweet Pork Macaroni and Cheese by Oh, Sweet Basil
Butternut Squash Quinoa Mac n' Cheese Bake by Queen of Quinoa
Butternut Mac and Cheese with Pretzel Crust by Healthy. Delicious.
Skinny Greek Mac and Cheese with Crunchy Pita Chip Topping by The Law Student's Wife
Potato Skin Mac and Cheese by Eat Your Heart Out
Homestyle Baked Mac & Cheese by Pocket Change Gourmet
Bacon Mac and Cheese Egg Rolls by Miss in the Kitchen
Pepper Jack Mac and Cheese by Crunchy Creamy Sweet
Blue Cheese Bechamel Mac and Cheese by Sweetphi
Korean Mac & Cheese by Cooking with Books
Black and Blue Mac and Cheese by Fabtastic Eats
Tomato and Leek Mac and Cheese by Mrs. Olson's Kitchen
Healthier Mac & Cheese with Chipotle Peppers by Go Gingham
Mac and Cheese Ice Cream by Fat Girl Trapped in a Skinny Body
Blue Cheese & Bacon Macaroni & Cheese by Gimme Some Oven
Poutine Mac and Cheese with Andouille Gravy by Climbing Grier Mountain
Double Smoked Chicken Mac and Cheese by Girl Carnivore
Creamy Greek Yogurt Mac and Cheese with Peas and Bacon by Running to the Kitchen
Nudel Gratin by Crumbs and Chaos
Mushroom and Truffle Sea Salt White Cheddar Macaroni and Cheese by Big Bear's Wife
Roasted Poblano and Goat Cheese Mac by Daisy at Home
Creamy Cauliflower 'n Cheese with Bacon by Barefeet in the Kitchen
Wisconsin Cheese, Brats, and Onion Macaroni and Cheese by a farmgirl's dabbles
Spinach Queso Mac & Cheese by Bake Your Day
Roasted Garlic Mac and Cheese with a Pancetta Parmesan Crust by Mountain Mama Cooks
French Onion Mac & Cheese by Dinners, Dishes, and Desserts
Pulled Pork Mac and Cheese by CafeTerraBlog
Macaroni and Cheese Stuffed Peppers by Cook the Story
Jack Daniels Mac and Cheese by The Slow Roasted Italian
Lobster Mac and Cheese by FoodieCrush
Green Chili 5-cheese Baked Mac and Cheese by A Southern Fairytale
Homemade Elbow Noodle Tutorial + a Recipe for Roasted Veggie Mac by Bakeaholic Mama
Salsa Verde Mac-n-Cheese (two ways) by Eat2Gather
Cauliflower Mac and Cheese with Crispy Panko Topping by The Lemon Bowl
Thanks to Door to Door Organics and OXO for sponsoring Mac and Cheese mania!