Greek yogurt is the secret to making this healthier macaroni and cheese super creamy! This easy one-pot stovetop recipe comes together in less than 15 minutes and can be made gluten-free or whole grain, if desired.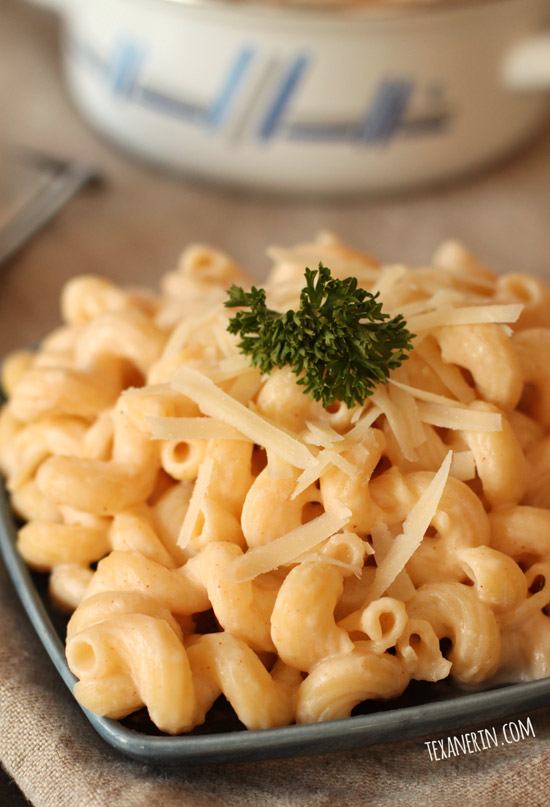 It was clear that I wanted to make some kind of healthier mac and cheese for today, but it took me a while to settle on the recipe. I tried making it with cottage cheese several times and although it came out well, it started to look quite unappetizing just a few minutes out of the pot. Delicious but perhaps a bit too ugly to post. I had difficulties with this one, too. It's WAY creamier than the pictures portray it. I'm very slow when it comes to photographing, which means taking pictures of room temperature food. Room temperature mac and cheese isn't the most beautiful.
I've also tried the cauliflower mac and cheese thing. I'm sure it's fantastic – if you like cauliflower. I thought I'd be able to whip up some of that and then have a way to consume veggies that was less painful (if you're new here, I have a hard time eating vegetables). But I could taste the cauliflower. No more tainting of my macaroni and cheese shall ever happen again. ;) Luckily, I found this recipe for creamy Greek yogurt mac and cheese from Cooking ala Mel. And my search for the perfect healthier macaroni and cheese ended!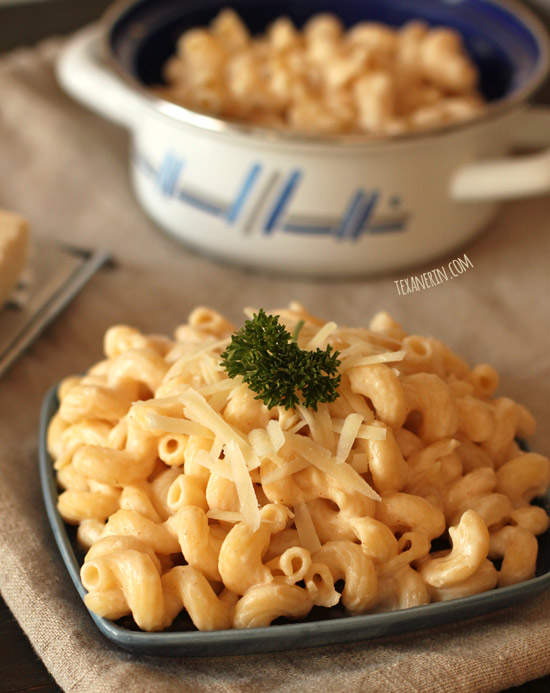 With this one-pot recipe, you boil the pasta, drain, return the pasta to the pot, and add the cheese and Greek yogurt. Stir. Tada! Easiest mac and cheese ever. You can use regular, whole wheat, or gluten-free macaroni here. Anything goes! And if you want to make it healthier (because pasta and a ton of cheese will never be healthy), you can throw in leftover roasted chicken, peas, or like Mel, spinach!
I used cheddar cheese and Pecorino Romano. I thought that it might be odd but – nope. It's kind of perfect. I've been battling a serious Pecorino Romano addiction lately. So much so that I skip the pasta and just grate a nice amount into a bowl and eat it with a spoon. Yup. :D
Pecorino Romano is similar to Parmesan in that it's grated over pasta and the like, but it's sharper, saltier and made with sheep's milk. And don't get Romano cheese confused with Pecorino Romano! It's different stuff. If you can't find this type of cheese, just add more cheddar. Or whatever kind of cheese you like! Though if you're interested, I found it on Amazon (but I haven't tried this brand myself!) and it seems like Sam's Club carries it, too.
Need a vegan version? Try this Cajun Mac and Cheese!
❀
Healthier Macaroni and Cheese
Prep Time:
Cook Time:
Ready in:
Yield:

4 servings
Ingredients
8 ounces macaroni
4 ounces grated sharp cheddar cheese1
1 ounce Pecorino Romano (or more cheddar)
1/2 cup plain Greek yogurt
1/4 teaspoon paprika
1/4 teaspoon garlic powder
Directions
Prepare the pasta according to the package directions and reserve 1/2 cup of the pasta water before draining the pasta. I just took a 1 cup measuring cup and filled it up with water.
Return the pasta to the pot and add about 1/4 cup of the reserved water.
Stir in the cheese and when melted, add in the Greek yogurt, paprika powder, and garlic powder.
Stir until well combined.
If it's too thick for you, add in the remaining reserved pasta water.
Serve immediately.
Place any leftovers in an airtight container and refrigerate for up to 5 days.
Notes
The original recipe called for 8 ounces of cheese – I was more than happy with 5 ounces of cheese. This could have been because I used a good sharp cheddar.
Adapted from Creamy Greek Yogurt Mac and Cheese, from Cooking Ala Mel
As an Amazon Associate, I earn from qualifying purchases. For more info, see my disclosure.