This gluten-free chocolate molten lava cake recipe makes just enough for two! Can be made with all-purpose flour or whole wheat if a gluten-free version isn't needed. It's also naturally dairy-free!
I spent my morning looking for something slightly healthier and chocolatey to make for a Valentine's Day post. I came across a lot of chocolate molten lava cakes, which all looked amazing, but I don't need a stick of butter. Or a cup of sugar.
It's not like these are healthy but I cut way down on the sugar and fat. Plus I used coconut oil instead of butter and made it 100% whole grain. I also used coconut sugar instead of granulated sugar. If you don't have coconut sugar, you can use unrefined sugar or granulated. As a bonus, these molten lava cakes are also dairy-free!
I added a little bit of espresso powder because I wanted to jazz these up a little bit, but you can leave it out if you want. I also added some Frangelico, the hazelnut liqueur, just because I love it.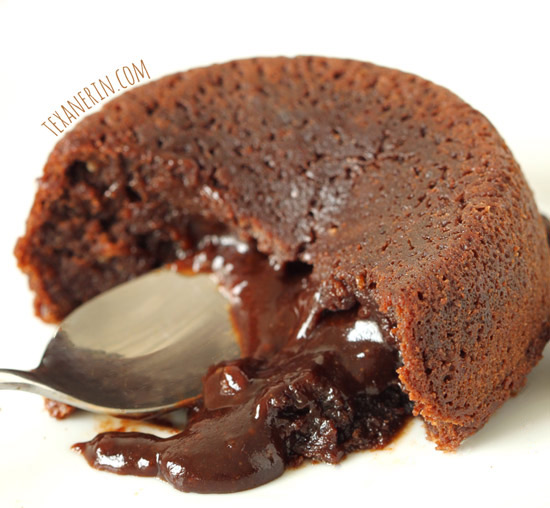 I was going for a chocolate hazelnut molten lava cake but it really "just" tastes like coffee and chocolate. So what does that mean? Feel free to leave the Frangelico out! I know that it's not a common liqueur to have around (but it should be! ;))
You can replace it with whatever alcohol you fancy or vanilla. Make sure whatever alcohol you use is gluten-free, if that's what you need.
I still used the hazelnuts for decoration. It was either that or powdered sugar but since I was trying to avoid refined sugar here, I went with nuts.
I'm not a fan of dark chocolate so I used semi-sweet and it was perfect. However, if you like dark chocolate – go for it! Remember when we discussed how dark chocolate and its antioxidants are gobblers in this homemade chocolate peanut butter post? Dark chocolate would definitely boost the healthfulness of these molten lava cakes!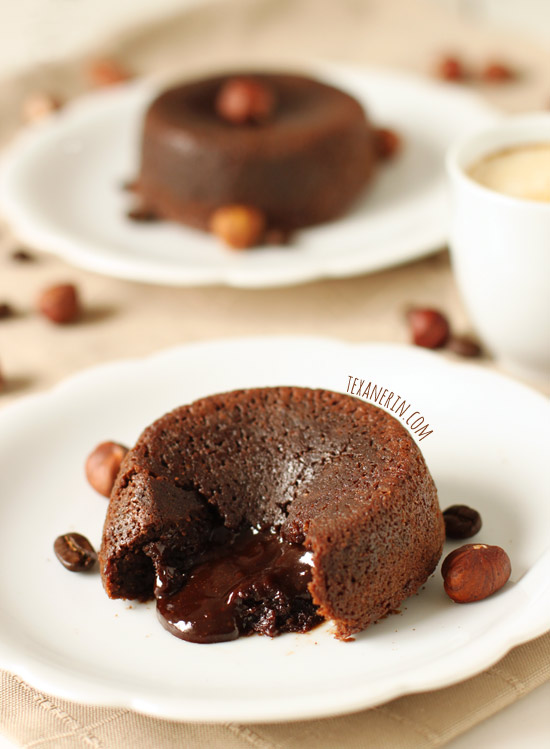 And if you're wondering if these gluten-free chocolate molten lava cakes taste whole grain or healthy… pssh! Look at them. They're super rich and decadent and perfect for Valentine's Day! Or if you're like me – breakfast.
Nothing like some antioxidant gobblers to start the day! (if I had actually used dark chocolate ;)) The ingredient list is quite short and it takes less than 20 minutes to prepare and bake. It's like instant chocolate gratification.
And finally, on my journey to find the perfect molten lava cake, I found a ton of recipes that made a large portion. These should be served while still warm and I don't know about you, but if I have 6 or 8 of anything that's warm, gooey and chocolatey sitting around, and I know it won't taste as good later… I'm going to eat it ALL.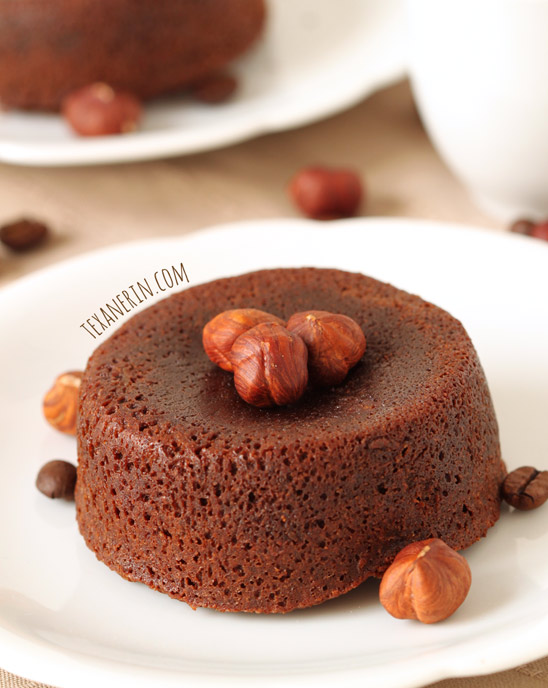 That problem is avoided with this molten lava cakes for two recipe! Two servings. One for you and your best friend. Your special lover friend. Your elderly neighbor. OR! Two for yourself if you're feelin' naughty.
If you prefer something a little different, try these white chocolate molten lava cakes! They look SO good.
❀
Molten Lava Cakes for Two (gluten-free, dairy-free, whole grain options)
Prep Time:
Cook Time:
Ready in:
Yield:

2 cakes
Ingredients
1/4 cup (40 grams) coconut sugar, unrefined sugar or granulated sugar
1 large egg
1 large egg yolk
2 teaspoons Frangelico or another type of liqueur or vanilla (make sure it's gluten-free, if necessary)
1/2 teaspoon espresso powder
1/8 teaspoon salt
2/3 cup (120 grams) semi-sweet or dark chocolate chips (use Enjoy Life chocolate chips for dairy-free)
3 tablespoons (42 grams) unsalted butter or refined coconut oil1 (use coconut oil for dairy-free)
3 tablespoon (28 grams) buckwheat flour (for a gluten-free version) or whole wheat flour, whole spelt flour, all-purpose flour for a non-GF version
Directions
Preheat the oven to 350°F (176°C) and spray two 6-ounce (180ml) ramekins very well with cooking spray.
In a medium bowl, mix together the sugar, egg, egg yolk, Frangelico, espresso powder and salt. Let it sit for 10 minutes. This is so the coconut sugar has a chance to dissolve.
Meanwhile, melt the chocolate and coconut oil in the microwave at half power, in 30 second increments, until melted. Stir after every increment.
Add the chocolate mixture to the sugar mixture and stir just until combined.
Sprinkle the flour over the chocolate mixture and fold in. Do not over mix! Your cakes will be tough if you do. Only fold in until no more flour streaks remain.
Pour the batter, which will be quite sticky, into the ramekins and bake for 13 minutes. The center should not longer appear wet when they're ready.
Let them cool for 10 minutes in the ramekins and then flip out onto a plate.
Serve immediately.
Notes
Refined coconut oil doesn't have any coconut taste. If you don't mind the coconut taste, use unrefined.