The famous New York Times chocolate chip cookies made healthier! Just as good, soft and chewy, but with less sugar, fat and made whole grain.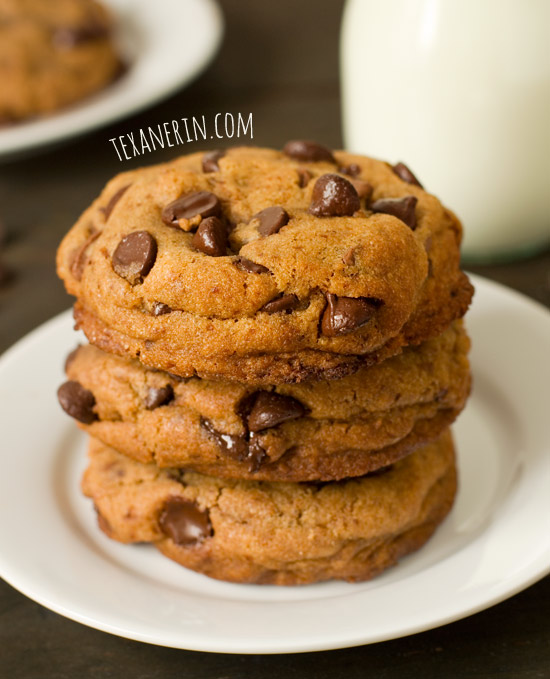 Today is a bit of a special post. A group of food bloggers and I have gotten together to do a husband appreciation post.
Mr. T's favorite baked good is without a doubt the New York Times chocolate chip cookies. Whenever I make a new recipe (cake, brownies, whatever) and I ask how Mr. T likes it, his typical response is, "Eh, it's not the New York Times cookies."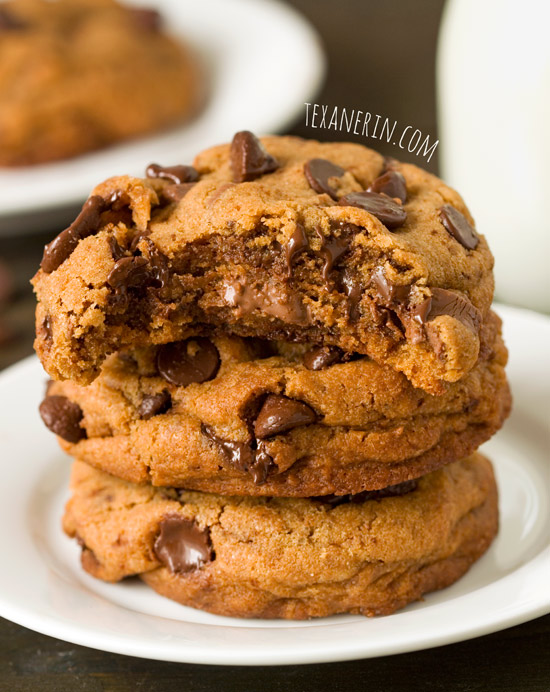 He's been asking me for two years to post this recipe and I've always refused because it seems like every other blogger out there has already posted it (they're that good!) and because I didn't think my readers would like me posting such a nutritional abomination.
So I created a slightly healthier version! He's happy, you're happy, we're all happy. :) They still have that amazingly chewy texture and as long as you use the correct amount of chocolate (I know it's a lot but just go with it!), you can't even tell they're whole grain.
The original New York Times chocolate chip cookies are really the best chocolate chip cookies (and perhaps cookies, in general) I've ever had and I can't control myself around them. I was really shocked that my healthier version was almost as good! And Mr. T's reaction? He liked this healthy version even better… and he never does that! He's all about the "naughty" stuff. He said that they were softer and had a little crunch to them (he was talking about some undissolved unrefined sugar).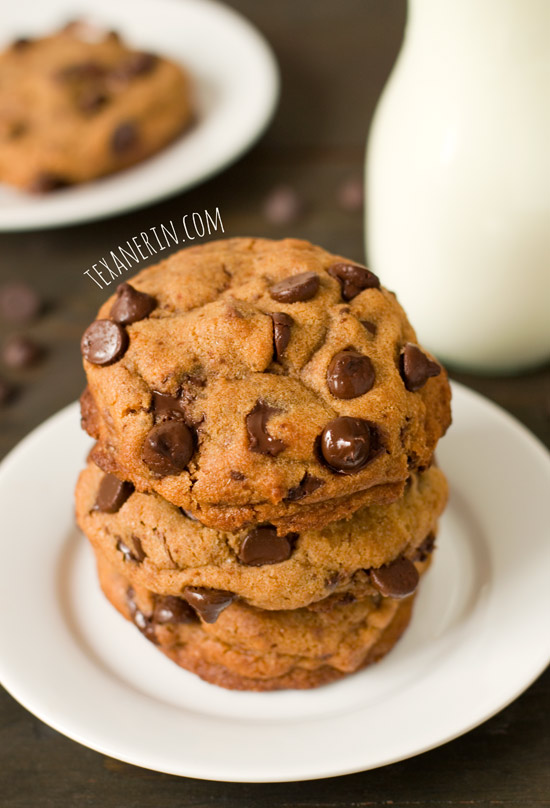 These were the healthy changes I made to the original New York Times recipe!
Replaced the butter with coconut oil and reduced it a little bit. I didn't miss the butter at all.
Used half coconut sugar and half unrefined sugar instead of granulated and regular brown sugar and reduced it by 6 ounces. They're still plenty sweet!
Used white whole wheat instead of all-purpose flour. I wouldn't try these with regular whole wheat, though. Unless you really enjoy the taste of whole wheat goodies!
More than doubled the vanilla. Not a healthy change but a good one. :)
This recipe makes 16 large cookies so if I were you, I'd bake a few of them, and then freeze the rest of the dough (already rolled into balls). That way, whenever you have the oven on for something else, you can pop a cookie or two in the oven and truly enjoy them instead of feeling like you have neverending cookies.
And unlike the original recipe, you don't have to chill these for 24 hours. Just pop 'em in the refrigerator for 2 hours to firm them up a little and you're good to go. And you need to get out your kitchen scale for this recipe! They only cost about $15 on Amazon and are really handy.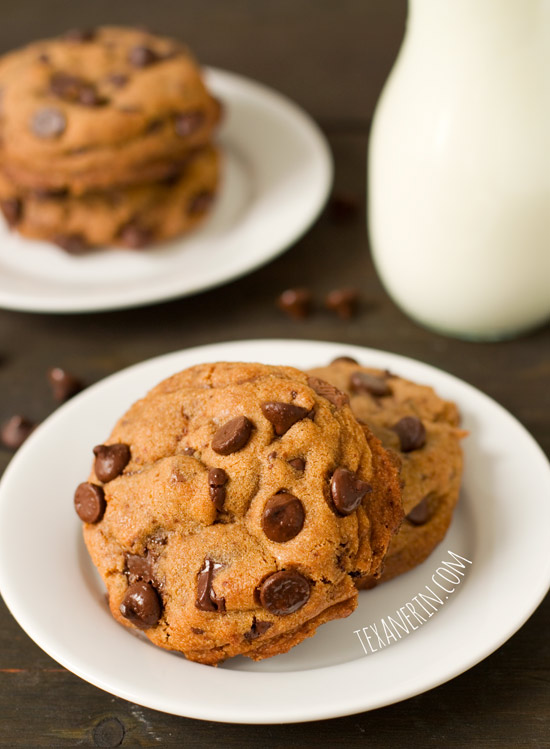 So now on to the appreciation part of the post! I asked Mr. T some questions and as you can see, he's just full of words! ;)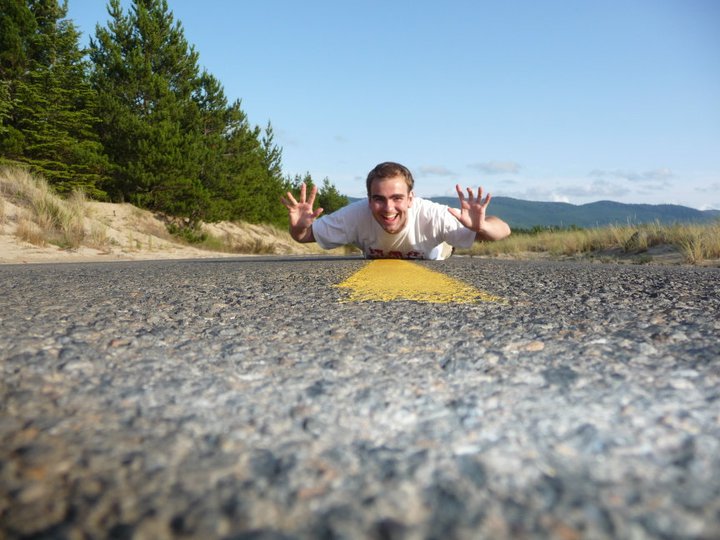 What is Erin's favorite blog called? Ppppffff – I don't know.
What is Erin's favorite prop?
A small and flat white plate which, unfortunately, I accidentally chipped a little.
(He killed my favorite plate and I can't find a replacement! – Erin)
If you could have your own blog, what would you call it? I don't know but it would either be about technology and programming related stuff or about travelling. Or both, but that might make finding a good name even harder.
What do you do for a living and what are your hobbies? I studied business and computer science and now I'm writing my thesis. My hobbies, besides the usual stuff everyone likes doing, are tinkering with technology stuff, and messing with Erin's webpage.
And now, dear husband, a message for you:
Thank you for:
Putting up with a constantly dirty kitchen. I just get so tired after baking! ;) And there's nothing I hate more than cleaning.
Making me a pretty new webpage! (He actually learned all the necessary stuff just for my redesign)
Always being on the lookout for new props! You're a great prop shopper.
Be sure to check out what the other ladies have made!
❀
Healthier New York Times Chocolate Chip Cookies
Prep Time:
Cook Time:
Ready in:
Yield:

16 large cookies
Ingredients
1 cup + 1 tablespoon (240 grams) refined coconut oil, room temperature (should be like softened butter - do not use melted coconut oil! The dough will be very greasy and the cookies will come out badly. Chill the coconut oil for 10-20 minutes or until firm if your room temperature coconut oil is melted.)
6 ounces (170 grams) coconut sugar
6 ounces (170 grams) unrefined sugar
2 eggs
2 tablespoons vanilla
15 ounces (425 grams) white whole wheat flour
1 1/4 teaspoons baking soda
1 1/2 teaspoons baking powder
1/2 teaspoon salt
1 1/4 pounds (566 grams) semi-sweet chocolate chips (for dairy-free, use Enjoy Life Chocolate Chips)
Directions
In a large bowl with a stand mixer or electric hand mixer, cream together the coconut oil, coconut sugar, and unrefined sugar until well combined.
Add the eggs and vanilla and beat.
Beat in the remaining ingredients, except for the chocolate chips.
When well combined, add in the chocolate chips.
Roll into sixteen 3.5 ounce balls and refrigerate for 2 hours.
Preheat the oven to 350 degrees F (176 degrees C). Line a cookie sheet with a Silpat or a piece of parchment paper.
Place 6 balls on the cookie sheet and bake for 11 – 14 minutes. The cookies might still appear slightly undone in the middle but they will continue to bake.
Remove the cookies along with the Silpat or parchment paper from the oven and let cool for 10 minutes.
Remove the cookies to a wire rack to continue cooling.
Once cool, store in an airtight container for up to 3 – 5 days. They'll be gone much sooner, though, promise!
Adapted from New York Times Chocolate Chip Cookies Recipe
As an Amazon Associate, I earn from qualifying purchases. For more info, see my disclosure.