This moist and flavorful orange pumpkin gingerbread bundt cake can be made 100% whole grain and dairy-free and is soaked in a buttery orange sauce!
Like I mentioned in my last post, this cranberry apple crisp, my sense of smell and taste is gone, meaning I can't exactly make anything new to share. So today I'm sharing a pumpkin gingerbread bundt cake recipe from my book, which would make an excellent Christmas gift, by the way. ;)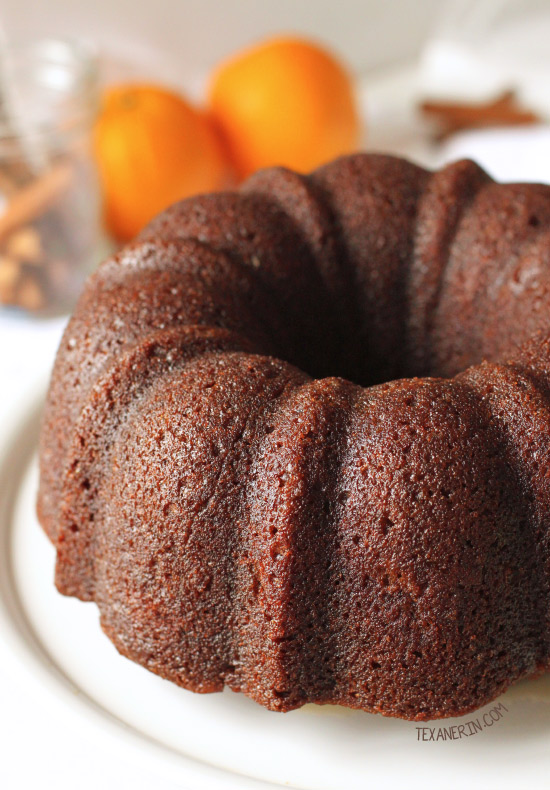 This bundt cake is perfect for Thanksgiving! It yields a huge cake that can feed a crowd, no decoration is required and it stays moist overnight. One less thing to worry about on Thursday! But most importantly, it's ridiculously delicious.
I've been making this cake for about 6 years. It transformed from a pumpkin bundt cake to pumpkin gingerbread to orange pumpkin gingerbread. And for the book, I wanted to add something a little extra. So now it's one of those recipes where you poke holes throughout the cake and then pour in a sugary flavored sauce. It's great without but with the sauce?! So much more tasty but I guess butter, sugar, orange juice and vanilla tend to have that effect on things.
If you want to keep this cake dairy-free, you can use refined coconut oil, which is tasteless, or some kind of vegan butter sub in the sauce. I normally use whole spelt flour but I've also made it with whole wheat, white whole wheat and all-purpose flour. My apologies that I haven't tried a gluten-free version, yet! I'm guessing Bob's Red Mill 1-to-1 gluten-free baking flour would work but since I haven't tried it, I can't make any promises. It's worked in everything else I've tried, though.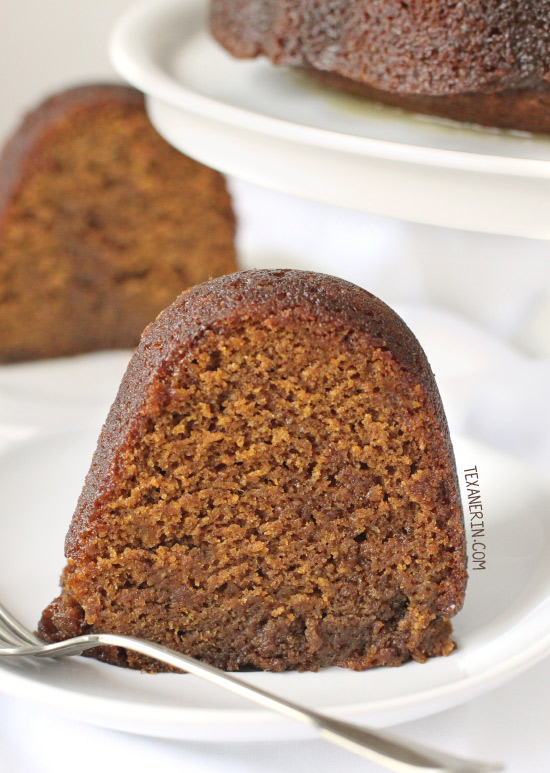 Don't need an entire bundt cake? This recipe can be halved and baked as muffins for 16-20 minutes (yielding 12 muffins) or in a 6-cup (8.5") bundt pan for 40-45 minutes. Enjoy! :D

❀
Orange Pumpkin Gingerbread Bundt Cake (whole wheat, dairy-free options)
Prep Time:
Cook Time:
Ready in:
Yield:

12-16 servings
Ingredients
For the cake:

3 1/2 cups (438 grams) whole spelt flour, white whole wheat flour or whole wheat flour
1 tablespoon ground ginger
1 1/2 teaspoons ground allspice
1 1/2 teaspoons ground cinnamon
1 1/2 teaspoons ground cloves
2 1/2 teaspoons baking soda
1/2 teaspoon baking powder
1 teaspoon salt
4 large eggs, room temperature
1 1/3 cups (266 grams) light brown sugar, raw sugar, or coconut sugar
2/3 cup (213 grams) honey
1 cup (237 milliliters) olive oil (I'm assuming refined coconut oil would work, too but I haven't tried it)
1/4 cup (60 milliliters) orange juice or water
2 teaspoons vanilla extract
2 teaspoons orange zest
1 15-ounce (425 grams) can pumpkin puree

For the sauce:

6 tablespoons (84 grams) unsalted butter1
3/4 cup (150 grams) granulated sugar or raw sugar
1/4 cup (60 milliliters) orange juice
1/2 teaspoon vanilla extract
Directions
Adjust oven rack to lower third of the oven. Preheat the oven to 325°F (163°C) and spray a 12-cup (10-inch / 25 cm) bundt pan very well with cooking spray.
In a large mixing bowl, mix together the dry ingredients (flour through salt). In another large mixing bowl, lightly beat the eggs and then add the remaining cake ingredients. Stir until thoroughly combined. Add the dry mixture to the wet mixture, and stir just until combined. Pour the batter into the prepared pan and bake for 60 to 75 minutes, or until a toothpick inserted in the middle of the cake comes out clean.
Let the cake cool in the pan for 10 minutes and then invert onto a wire rack. Wash and dry the bundt pan.
While the cake is cooling, prepare the sauce. Mix all of the sauce ingredients together in a small saucepan and heat over medium heat until the sugar has dissolved and the butter has melted. Place the washed and dried bundt pan back over the cake and flip over to invert. Using a thin skewer, poke holes almost all the way to the bottom the cake. The holes should be about 1 inch apart. Slowly pour the hot orange sauce over the cake. Serve immediately or let the cake sit in the pan until fully cool. Invert onto a serving plate, cover, and store at room temperature for up to 3 days. Do not store the cake in the pan as the sauce will make it difficult to remove!
Notes
For dairy-free, use refined coconut oil or vegan butter.
As an Amazon Associate, I earn from qualifying purchases. For more info, see my disclosure.