Healthier grain-free and gluten-free lemon muffins with an amazing pound cake-like texture!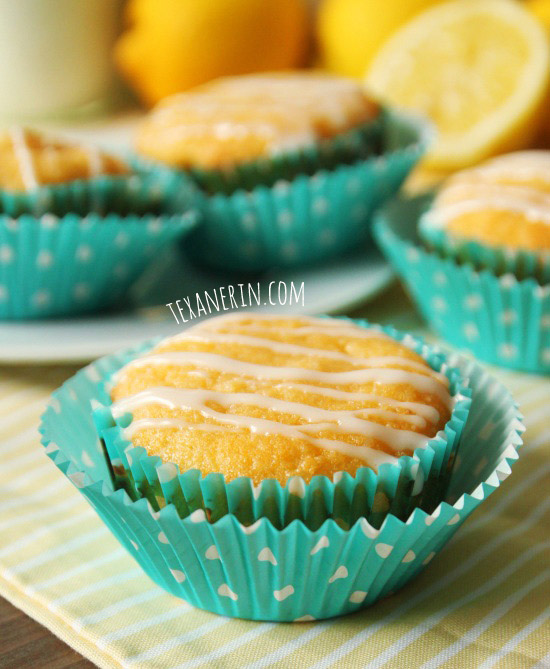 Here's one for our gluten-free friends. I feel like I've been neglecting you lately and for that, I'm sorry!
Gluten-free and especially grain-free baking is always an adventure and this one ended up as pound cake muffins. Yup, the texture is pretty similar to pound cake. They aren't fluffy but have this slightly dense, yet pleasant, thing going on.
With all the snow and gray depressing skies, I wanted to make something bright and cheery. And all lemony things qualify as cheery, right?! Other people are talking about the first signs of spring and well, I'm just going to pretend with these muffins.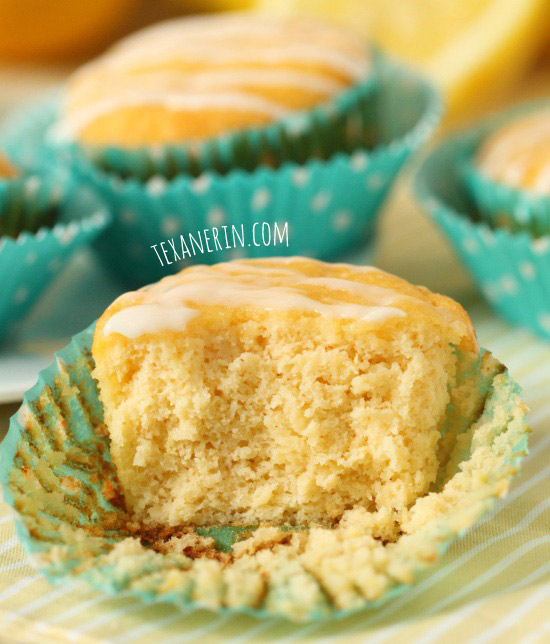 Baking with almond flour is pretty cool sometimes. Not only did it result in bright yellow muffins (whole wheat would have made them look pretty drab, I think) but it lets the lemon flavor really shine through. I suppose you could also use almond meal in them, but then don't blame me when they have little brown specks. Brown specks just don't belong in my cheery muffins. ;)
And one more thing. The lemon glaze isn't optional! It makes the lemon flavor pop even more so don't leave it out. The muffins aren't that sweet so the glaze helps them achieve that "naughty muffin" taste. I rarely use powdered sugar but I haven't found a way around it in glazes. Anyone have an idea how to make a processed sugar free lemon glaze?
I only made these yesterday but they're just as good today as they were out of the oven. Another plus for almond flour!
Want a paleo version? Try these easy paleo lemon chia seed muffins. And for keto, try this Keto Lemon Cake.
❀
Grain- / Gluten-free Lemon Muffins
Prep Time:
Cook Time:
Ready in:
Yield:

8 muffins
Ingredients
Muffins:

96 grams (~1 cup but please weigh!) almond flour
2 tablespoons (16 grams) coconut flour
1 teaspoon baking powder
1/8 teaspoon salt
1/4 cup (56 grams) coconut oil or butter, melted
3 eggs
3 tablespoons (60 grams) honey
2 teaspoons lemon zest
2 tablespoons lemon juice
2 tablespoons Greek yogurt
1 tablespoon milk, any kind
1 teaspoon lemon extract or vanilla extract

Lemon glaze:

up to 1 tablespoon lemon juice
up to 1 cup powdered sugar
Directions
Preheat your oven to 375°F (190°C). Line a muffin pan with 8 muffin liners.
In a medium bowl, mix together the dry ingredients (almond flour through salt) and set this aside.
In a separate medium bowl, mix together the remaining ingredients.
Add the dry mix to the wet and stir just until combined. Do not over mix! That will result in a bad texture.
Bake for 15 - 18 minutes or until a toothpick inserted in the middle comes out clean and the muffins are firm to the touch. Let them cool for 5 minutes in the pan and then turn the muffins out onto a wire rack to cool.
For the glaze, put 1 teaspoon of lemon juice in a bowl and stir in enough powdered sugar to get the glaze the consistency you want (you'll probably use 1/2 cup powdered sugar). Add more lemon juice, if needed. It should be thick but still easy to drizzle. Drizzle over the muffins and store in an air-tight container.