This healthier Swedish blueberry soup uses just a little maple syrup to sweeten this energizing dish that can be served either warm or cold! Naturally vegan, gluten-free, and paleo.
This may seem like an odd recipe to post now (or ever, if you've never heard of blueberry soup!) but it's a typical winter dish in Sweden. It's even served at the Vasaloppet, the world's oldest, largest, and longest ski race and also at ski resorts. Skiers seem to like the stuff. As do I!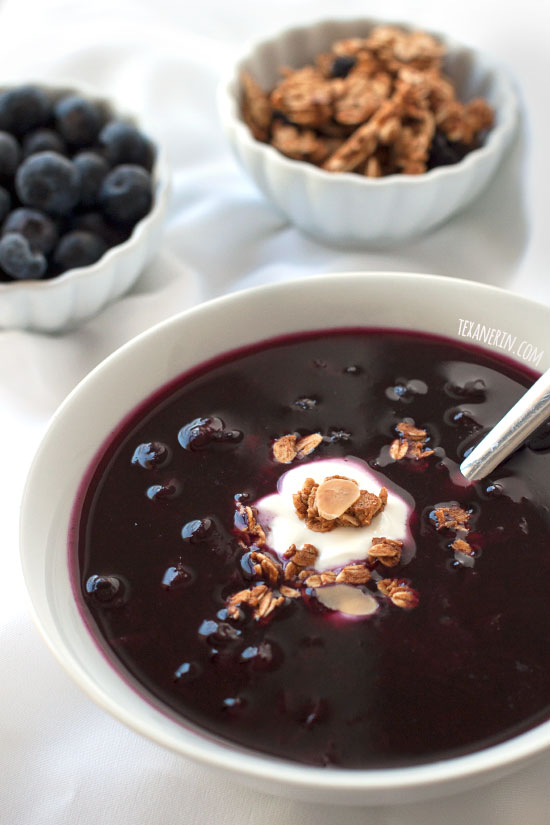 When I was an exchange student in Sweden, my host parents bought blåbärssoppa (blueberry soup) in a tetra pak and I loved having it as a drink for breakfast. Blueberry soup can also be served cold for a summertime version. If making this recipe in the summer, I'd skip the cardamom and cinnamon and add lemon zest instead.
Blueberry soup recipes pretty much all seem to call for lots and lots of granulated sugar, which seems silly considering how well maple syrup and blueberries go together. When I looked into blueberry soup recipes, I searched in Swedish and couldn't find a single one that used maple syrup. But then I remembered how ridiculously expensive maple syrup is over there and it all made sense. I used just 1/4 cup maple syrup to sweeten 4 cups of soup and found it to be the perfect amount. You may need more or less depending on the sweetness of your berries. I don't think cardamom is typically used in blueberry soup, either, but it's my recipe and so in it went. :) I toss cardamom into all my Swedish recipes, with the exception of these gluten-free Swedish meatballs.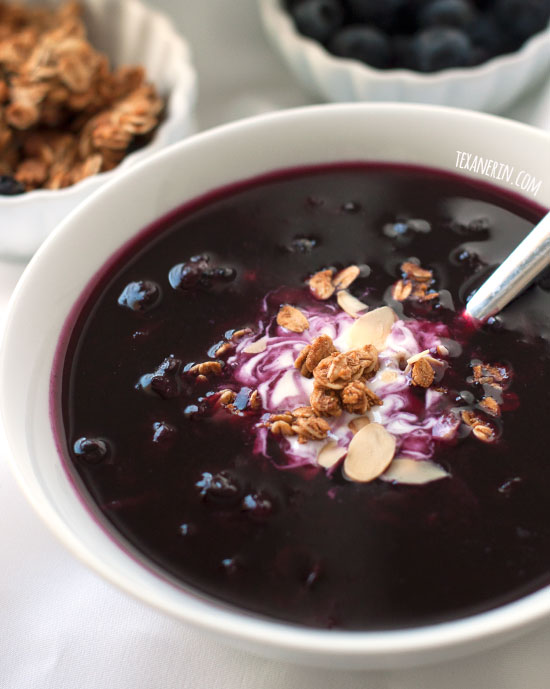 In Sweden, everyone has the right to walk into the forest and pick all the berries they want. It's pretty cool. I once visited a friend in Stockholm and when I opened up his freezer to freeze some cookie dough, I found a freezer full of blueberries. It seriously just had blueberries in there. I asked what the deal was and he said that his mother, who lives about 5 hours north, had picked them and brought them down for him. They're serious about their blueberries.
Perhaps because of this overabundance, they make blueberry soup. While I really enjoy this soup, I can't imagine paying full price for blueberries just to make this. Now if you have affordable frozen blueberries, fresh blueberries on sale, or a Swedish mother who has run out of places to store her blueberries, then go for it. :)
For another delicious variation, try this mango raspberry chilled soup from It's Yummi! It's also naturally gluten-free.
❀
Healthier Swedish Blueberry Soup (naturally vegan, gluten-free and dairy-free)
Prep Time:
Cook Time:
Ready in:
Yield:

4 cups
Ingredients
3 cups (450 grams) fresh or frozen and thawed blueberries
3 tablespoons - 1/4 cup (44 - 60 milliliters) maple syrup
1/2 teaspoon ground cardamom
1/4 teaspoon ground cinnamon
1 tablespoon freshly squeezed lemon juice
2 cups (474 milliliters water)
2 teaspoons cornstarch or tapioca flour for paleo + 1 tablespoon cold water, optional
Directions
In a large, deep, non-reactive saucepan, bring the blueberries, 3 tablespoons maple syrup, cardamom, cinnamon, lemon juice and water to a boil over medium heat.
Let boil for 5 minutes. Remove from the heat.
If you'd like the mixture to be thicker, mix together the cornstarch with 1 tablespoon cold water and stir into the soup.
Return the pan to the heat, bring to a boil, and then remove from the heat.
Let cool for 15-20 minutes before serving. Add the last tablespoon (or more) of maple syrup, if desired. Can also be served chilled. Goes well with a little Greek yogurt mixed in.
Refrigerate any leftovers for up to 3 days.