These carrot cake scones are made a little healthier with whole grains, less sugar and maple sweetened cream cheese frosting!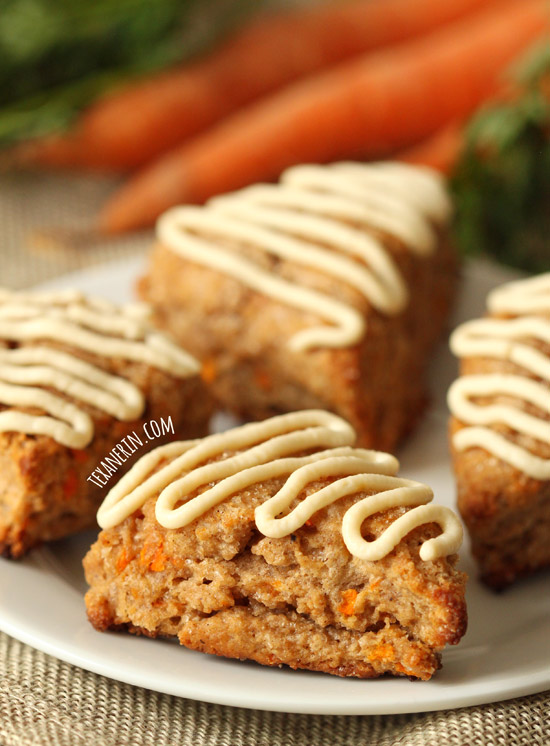 In preparation for Easter, I've been making carrot cake everything for the past month. Up first we have these carrot cake scones! I used my favorite scone base, which is the same one found in these chocolate orange scones. My attitude towards scones is why fix something when it's not broken? Or even kind of perfect? ;) I tried way too many scone bases before I came up with that one. I'm just super picky when it comes to my scones (and admittedly, almost everything else).
These carrot cake scones are softer than I like my scones to be, but they're not nearly as soft as some of the cakey and muffin-like carrot cake scones out there. I've been doing a lot of experimenting with baking with carrots and it seems like no matter what you do, carrots just make things softer. The little devils!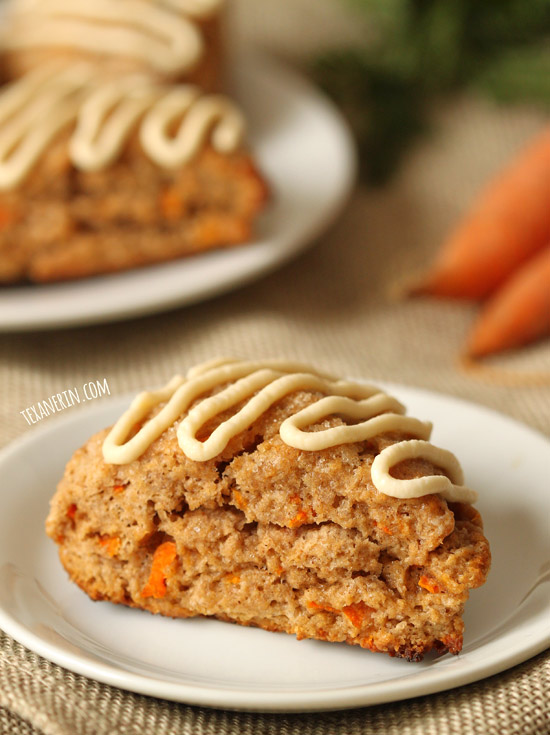 I've made these scones a few times now and they're definitely best served fresh from the oven. They're okay later, but they get a little too hard.
Carrot cake without cream cheese somehow involved is just kind of pointless (right?! ;)) so I felt like I had to pipe a little cream cheese frosting on top.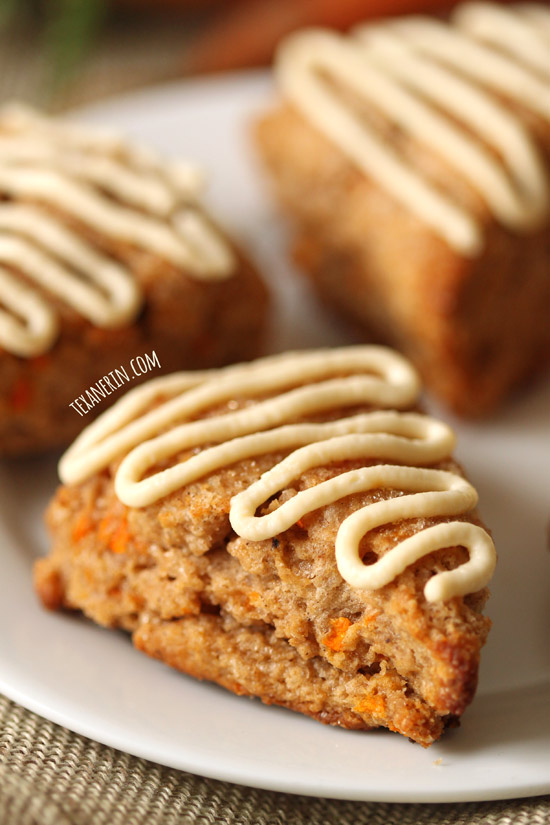 Before I made these scones, I didn't think it was possible to make cream cheese frosting without powdered sugar. But it is! I used just a little bit of maple syrup in this cream cheese frosting and it was awesome. The recipe, as written, probably wouldn't work for a cake (it's a bit firmer than traditional cream cheese frosting) but I'm going to work on that. I'm guessing a little milk is all that's needed to thin it out!
You'll have enough frosting to frost these scones more than I did in the pictures. You could probably even slather on a thin layer of frosting. I was just vain and wanted to make them pretty by piping on the frosting. ;)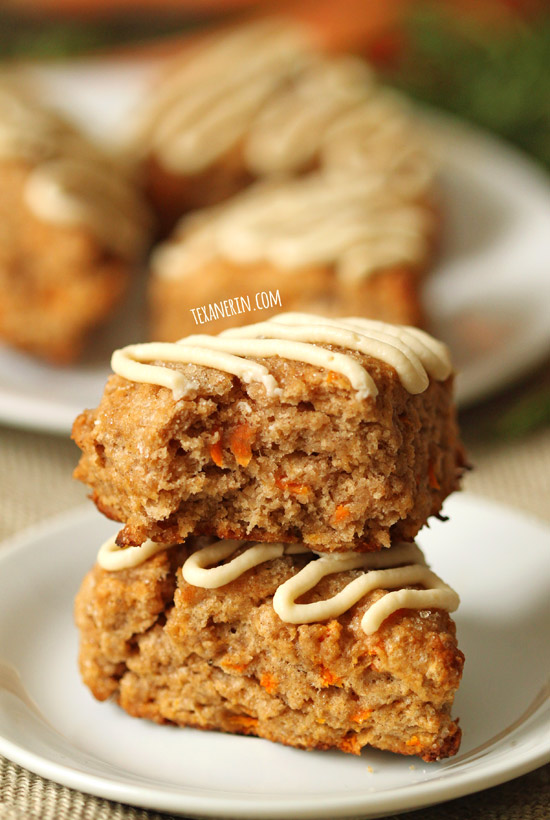 The scones themselves are dairy-free (you can use any milk you like in the scone base) but the cream cheese frosting obviously isn't. You can use a dairy-free cream cheese for the frosting or just leave it out completely and sprinkle some unrefined sugar on top of the scones before baking. These aren't very sweet at all so I highly recommend the additional sugar!
If you're looking for carrot cake scones with the usual add-ins like walnuts and coconut, check out Rachel Cook's recipe for carrot cakes scones! I'm pretty sure they'd be awesome with white whole wheat flour. :)
❀
100% Whole Grain Carrot Cake Scones with Cream Cheese Frosting
Prep Time:
Cook Time:
Ready in:
Yield:

8 scones
Ingredients
Carrot cake scones:

1 3/4 cups (210 grams) white whole wheat flour
1/4 cup (50 grams) coconut sugar or unrefined sugar
2 teaspoons baking powder
1/4 teaspoon salt
1 1/2 teaspoons cinnamon
1/2 teaspoon ginger
1/4 teaspoon nutmeg
6 tablespoons (85 grams) cold butter or room temperature coconut oil1
½ cup (50 grams) grated carrots
3 – 6 tablespoons (60ml – 90ml) milk of choice

Cream cheese frosting:

2 ounces cream cheese
4 teaspoons maple syrup
1 1/2 teaspoons vanilla
dash of salt
Directions
Preheat the oven to 400°F (205°C) and line a baking sheet with a Silpat or piece of parchment paper.
Mix together the flour, sugar, baking powder, salt and the spices.
Cut in the butter with two knives or a pastry cutter until the mixture resembles coarse crumbs.
Stir in the grated carrots and then tablespoon by tablespoon, mix in the milk. Sometimes I just need three tablespoons, but some days I need six. Don't over mix and don't add to much milk! You want to add just enough milk so that the dough holds together, but if you add too much, the dough will be muffin-like.
Transfer the dough to the Silpat or parchment paper and form a circle about 3/4" thick and then cut 8 triangles. Spread them apart on the pan and bake until slightly brown around the edges, about 12–15 minutes (it'll depend on how big they are). They should be firm and feel slightly hard when you press the top of the scones.
While the scones are baking, prepare the frosting by mixing all the frosting ingredients together.
Remove the scones from the oven and let them cool for 15-30 minutes.
Pipe or spread on the frosting and serve immediately.
If there are any leftovers (with frosting on them), store in the refrigerator. If the leftovers are unfrosted, store at room temperature. Store any remaining cream cheese frosting in the refrigerator until ready to use.
Notes
If you use unrefined coconut oil rather than refined, there might be a slight coconut taste.