These mini lemon curd tarts have a soft and chewy cookie-like crust and are 100% whole grain!
Today a group of bloggers and I are throwing a baby shower for Caroline of Chocolate & Carrots. I've followed her blog since before I started blogging and one of her posts was what actually inspired me to start with food photography and blogging.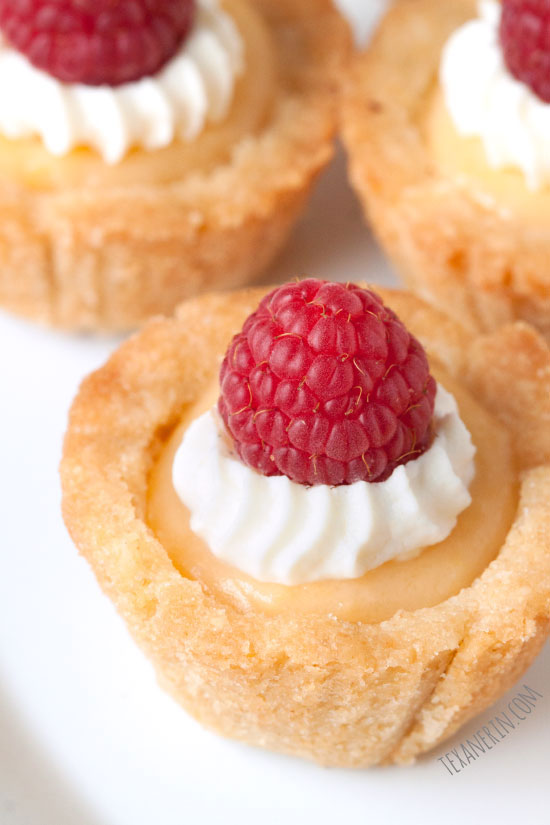 We were roommates at Blog Her Food in 2013 and after that, I went out to South Carolina and spent a week at her place. She's due next Thursday with her second little one and since I can't be there in real life, I thought a virtual baby shower would be the next best thing!
Caroline mentioned in her lemon poppy seed muffin post that she's been craving citrus and apparently it's a pregnancy thing, hence the citrus theme. We hope you like it, Caroline! :)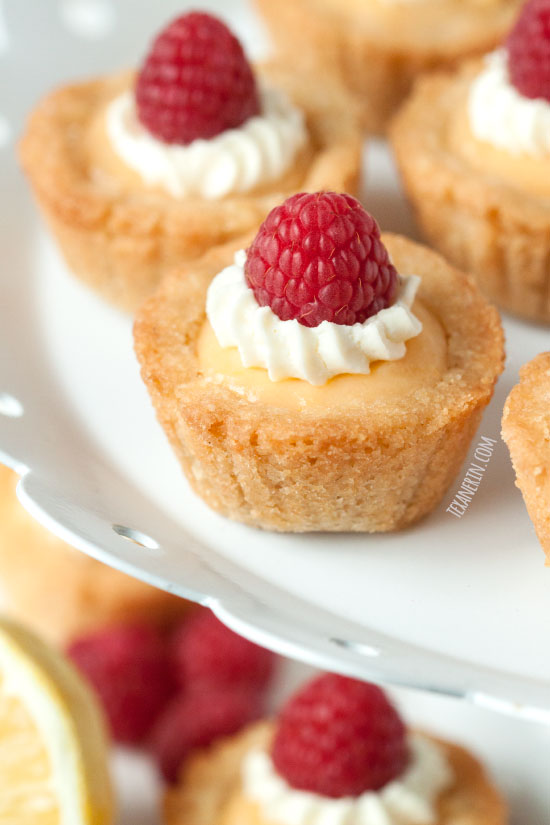 The base of these mini tarts is a cookie-like crust. You bake them up, fill with curd, top with whipped cream, plop on a raspberry and you're done! I really love tarts and pies with no-bake filling – they're so difficult to mess up.
For the filling, I used this honey sweetened lemon curd. You could probably use whatever type of citrus juice and zest in the curd that you want. I went with lemon just because it's my favorite and as I've mentioned oodles of times, it's so darn bright and cheery.
If you need something gluten-free, check out this keto lemon meringue pie! I've also got these delightful paleo mini lemon tarts.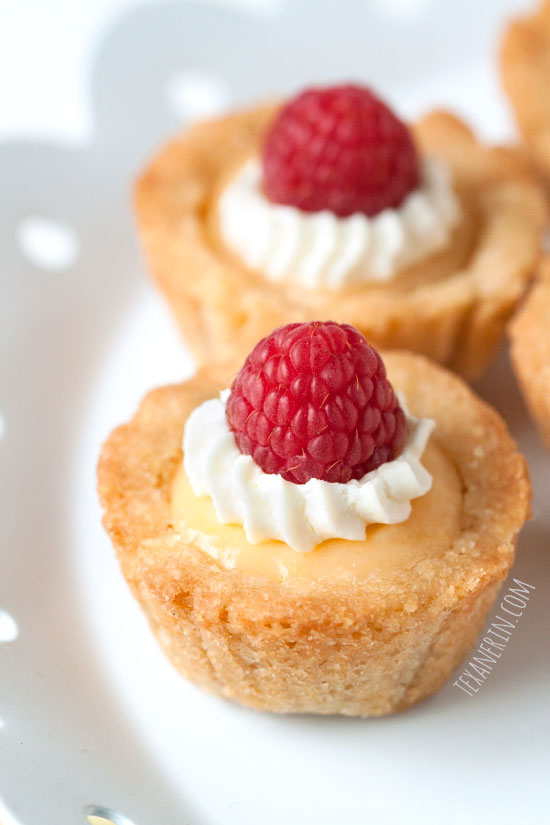 ❀
Mini Lemon Curd Tarts
Prep Time:
Cook Time:
Ready in:
Yield:

24 mini tarts
Ingredients
1/2 cup (113 grams) unsalted butter, softened
1/3 cup (67 grams) granulated sugar or raw sugar
1/2 teaspoon vanilla extract
1 cup + 1 tablespoon (134 grams) white whole wheat flour or all-purpose flour
1/2 cup (55 grams) almond flour (or almond meal if you don't mind speckles of almond skin)
2/3 - 1 cup lemon curd
1/2 cup (120 milliliters) whipping or heavy cream, optional
24 raspberries, optional
Directions
Get out a mini muffin pan and line it with 24 mini muffin liners. Note that this dough doesn't work very well in a normal sized muffin pan.
Using a stand mixer or an electric hand mixer, beat the butter and sugar together at medium speed until well combined. Beat in the vanilla.
Add the white whole wheat and almond flour and continue beating until well combined. It will be crumbly but should clump together when pressed.
Divide the dough between the muffin liners (this should be about 14 grams each) and press all the way up the sides and over the bottom of the liners.
Place the pan in the refrigerator and chill for 1 hour.
Preheat the oven to 375 °F . If using a dark pan like I did, preheat to 350 °F.
Bake the tart shells for 7-10 minutes or until lightly browned. They will puff up a little in the oven.
Remove from the oven and let sit for 5 minutes. Then take the bottom of a 1 teaspoon measuring spoon (or whatever tool you want to use) and press the dough down to create a well for the lemon curd.
Let the tarts cool completely, about 1 hour. If making these for later, store the cooled tart shells in an airtight container for up to 3 days.
When ready to serve, remove the liners and fill with about 1 1/2 - 2 teaspoons of lemon curd per shell.
Whip the whipping cream and dollop or pipe over the lemon curd.
Top with fresh raspberries, if desired.
Refrigerate leftovers in an airtight container for up to 1 day. If you just added lemon curd (and not the whipped cream and raspberries), they can be kept for up to 3 days.