This Swedish apple pie is similar to a crisp and has an amazingly easy topping. It's my most-requested Thanksgiving dessert and as a bonus, can easily be made gluten-free, vegan and dairy-free. It's perfect with ice cream, vanilla sauce or custard on top.
When I google Swedish apple pie, I see a lot of recipes that don't resemble the Swedish pie that I know. They're all missing oats!
And texture. So here's my version.
I've mentioned this before, but I was an exchange student twice in Sweden and have gone back for lots of visits during the summer. This has resulted in me eating lots of Swedish pies.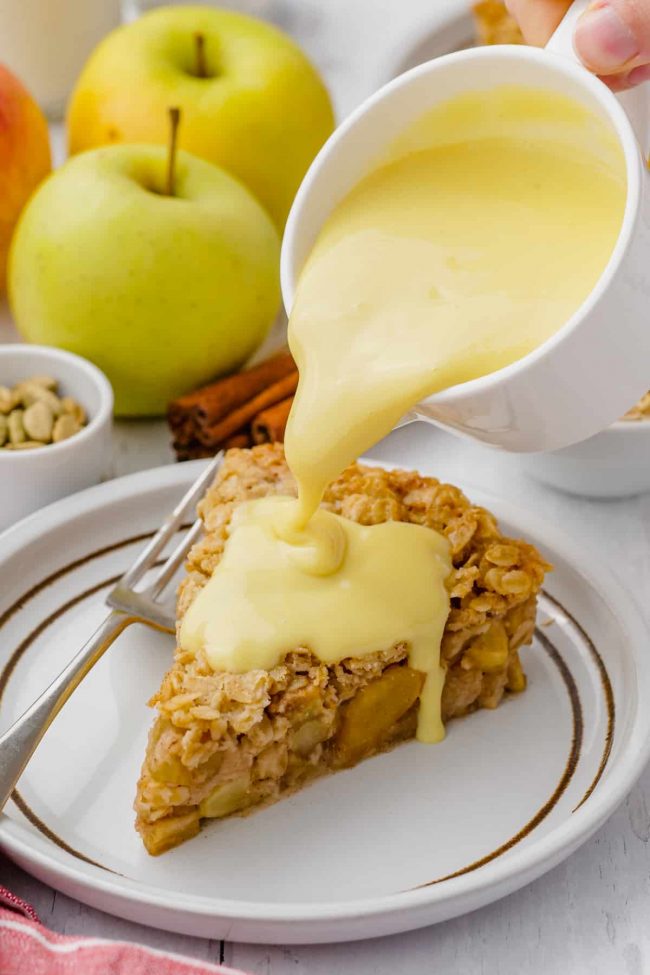 And lots of Swedish pancakes, kladdkaka (which is like a dense and fudgy brownie cake!), and pepparkakor (which are thin, crisp ginger cookies popular around Christmas!).
I have so much love and nostalgia for all things Swedish. Whenever I make this pie or the kladdkaka I mentioned above, which I make quite often, I feel all warm and fuzzy.
What is a Swedish apple pie?
The type of pie here is called a smulpaj, or crumb pie and is almost like a crumble or crisp. You can make a traditional version with all-purpose flour or white whole wheat flour, or you can make it gluten-free with oat flour.
Oat flour is just ground up oats, so if you don't have any, don't worry – you can make it yourself with oats (see more on that below).
To make this pie, you just have the apples on the bottom and a topping. No fussy crust. It's really so quick and easy!
Need to make something for gluten-free family or friends?
If you're not gluten-free but need to make a gluten-free pie for Thanksgiving, this is an awesome option. You don't need to buy any special ingredients.
You do need gluten-free oats + gluten-free oat flour, but the GF oats can be found in most grocery stores. And once you're done with this pie, you can use the oats up however you normally use oats instead of having a bag of gluten-free flour around.
Or you can make this gluten-free apple crisp, which also uses oats and oat flour. These healthy banana muffins also look fantastic!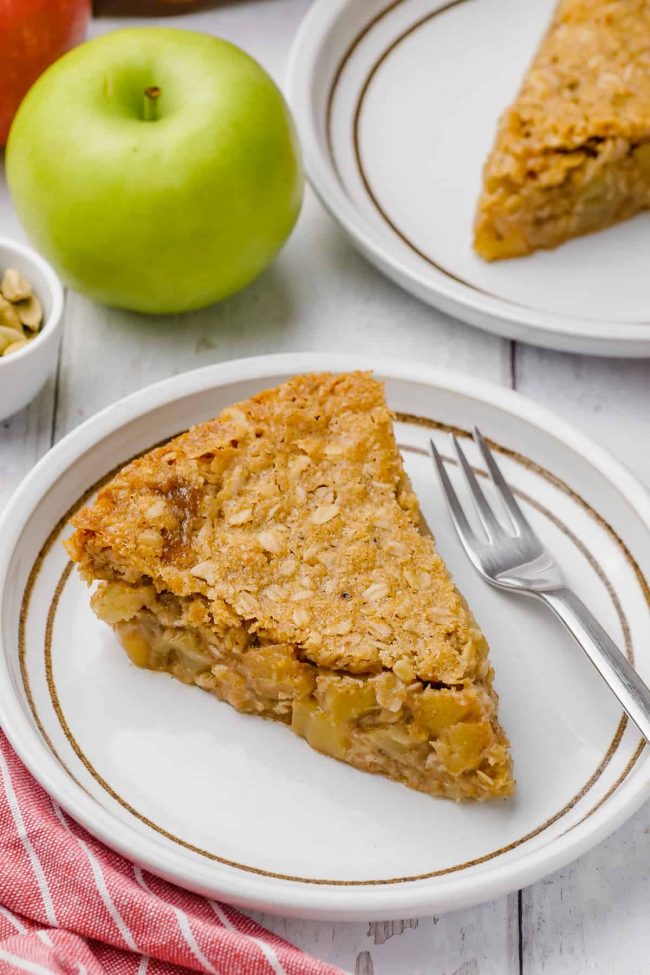 Traditional version vs. a healthier one
You've got several options when making this pie!
Flour: all-purpose flour, oat flour, or whole wheat flour
Fat: butter or coconut oil
Sugar: granulated sugar or coconut sugar
Note that if you use coconut sugar, the pie will be quite a bit darker in color.
What makes this pie better than regular pies
Pie crusts are kind of my nemesis. They often fail, they're messy, and I find that unless they're a cookie crust, they usually don't even taste good.
And when it comes to gluten-free pie crusts, a lot are soggy. No, thanks! These caramel apple pies are an exception. Their oatmeal cookie crust is amazing!
So I am all about this crustless apple pie. You just combine the apples with the spices and sugar, put them in the pie pan, and then pour the topping over the apples.
Most Swedish fruit pies I've had didn't have any spice but because I'm me, I added cinnamon and cardamom. Scandinavians love their cardamom and so do I! It belongs in this pie.
If apples aren't your thing, any kind of fruit can likely be used, though you'll probably want to adjust the amount of sugar and spices! Part of the beauty of this recipe is that it's really hard to mess up.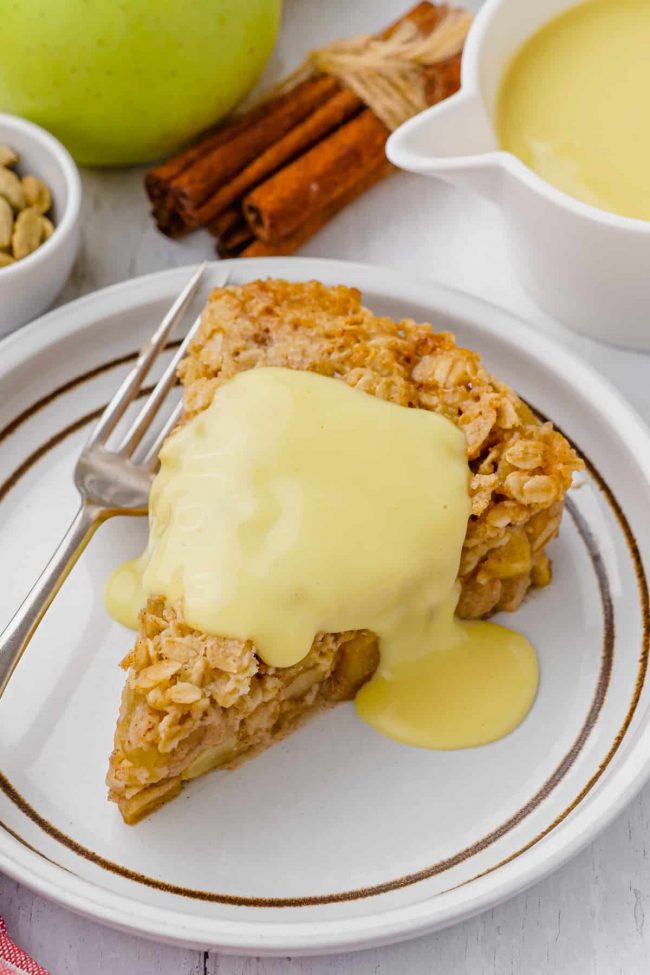 A great make-ahead pie
A lot of recipes, especially gluten-free pie recipes, are best when served on the same day. If you make them ahead of time, the pie crusts can be soggy when it's time to serve them.
This paleo vegan pumpkin pie is, by far, my favorite pumpkin pie, but it can only be made 1 day ahead of time.
That's not a problem with this apple pie. This is one pie that's actually better after it's sat for a bit. So this is a great option for Thanksgiving!
You can absolutely make it on Tuesday and let it sit on the counter until Thursday.
How to serve this pie
Instead of ice cream, Swedish fruit pies are usually topped with vanilla sauce (that usually comes from a box, I might add!). At least it did in the families I stayed with.
What you see in the pictures is this vegan custard. It is so thick, creamy and flavorful!
The sauce you see in the video is this paleo vegan vanilla sauce.
If you try out this pie, I'd love to hear what you think! And for another great apple dessert, try this Best Apple Streusel Pie!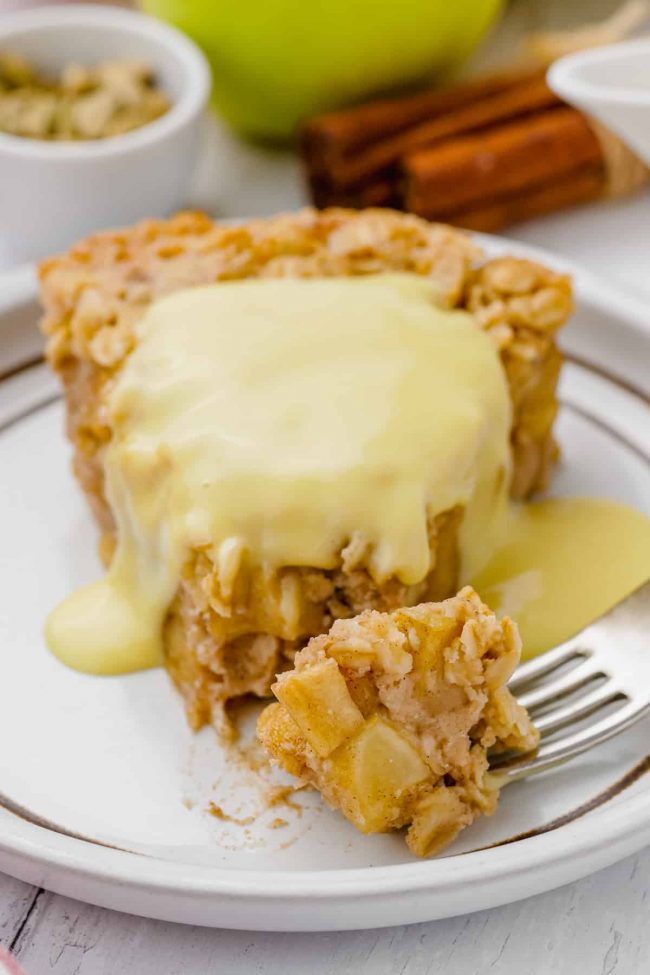 Questions about this pie?
Can I use different fruit?

I haven't tried it but any kind of fruit can be used, although you'll likely need to adjust the amount of sugar and spices!

Luckily, its way more forgiving than a regular pie. You don't have to worry about the filling making the bottom crust soggy because there is no bottom crust!

I'm thinking that a different fruit would make the pie harder to cut. I was able to get neat pieces pretty easily but think using berries would be messier.

Do I have to peel the apples?

Yes. I just made this pie again, to test it with unpeeled apples, for people who are in a hurry this Thanksgiving. Unfortunately, you can taste the peel and it tastes a bit funny.

What type of apples should I use?

To be honest, I usually make this with whatever we have sitting around. But if you're going shopping, anyway, you might as well pick up some proper baking apples!

According to this article, Granny Smith, Honeycrisp, Golden Delicious, Rome, Jonathan or Jonagold, Braeburn or Northern Spy are best for baking.

I've never tried Northern Spy but I'm intrigued and wish we had them where we live!

Can I omit the cinnamon and cardamom?

I mean, if you have to, sure. But if you're not allergic to or don't hate cinnamon, please at least just that.

The cardamom adds an amazing touch so I highly recommend it but know that most people don't have cardamom at home.

Can I use a different fat?

So far I've just made it with coconut oil and butter, so I'm really not sure. If you try something else out, let us know in the comments how it worked out!

Photos updated 10/2020. Here's an old one! You'll find the recipe for that sauce in the notes section, below the recipe. That sauce is not vegan. There are links to the two vegan sauces in the recipe.

Can I use a different sweetener?

I haven't tried it but think anything you usually use as a sub for granulated sugar would work here.

If you use coconut sugar, the crust will be much darker and have a darker taste, which I think isn't a bad thing for the flavors in this pie.

Can I reduce the sweetener?

I wouldn't recommend it. It's not a lot of sweetener for a whole pie and it's needed to keep the crust together.

Feel free to omit the 1 tablespoon of sugar in the filling, if you don't want the filling to be sweet.

Can I use something other than maple syrup?

Honey or agave would almost definitely work, though I haven't tried it.

Do I have to use oats / oat flour?

Yes, sorry, there's not a good sub for either one. See below for how to make oat flour!

How do I make oat flour?

You can whirl some quick or rolled oats in a food processor, high-powered blender like a Blendtec or Vitamix or an electric coffee grinder until it's very fine and powdery.

My favorite way for small amounts is the coffee grinder. Then the high-powered blender. Those both get the oat flour really fine.

If you have a large food processor, you'll probably need to grind more oats than you need for this recipe to get it to grind the oats finely enough. And even then, the oat flour won't be as fine as with the other two methods. But it'll still work!

I have a large food processor and need at least a cup or two of oats to even get it over the blade.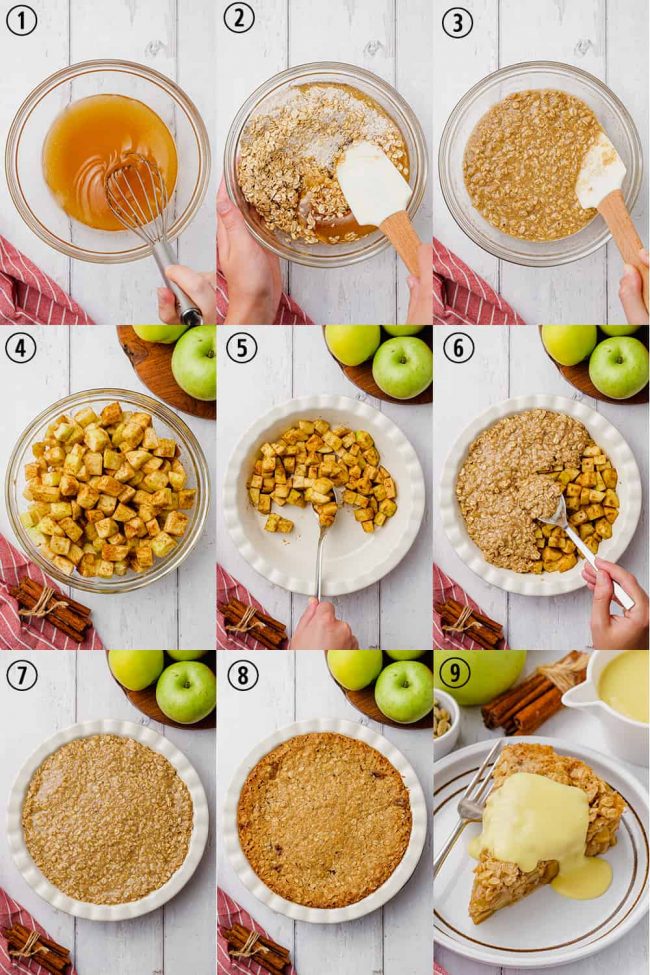 ❀
Swedish Apple Pie (gluten-free, vegan options)
Prep Time:
Cook Time:
Ready in:
Yield:

8 slices
This Swedish apple pie is almost like a crisp and is as easy as one, too.
Ingredients
For the filling:

4 cups firm baking apples, peeled, cored and chopped to 1/4" chunks (this was about 4 medium apples or 492 grams of chopped apples)
2 teaspoons ground cinnamon
3/4 teaspoon ground cardamom
1 tablespoon raw sugar or granulated sugar

For the topping:

9 tablespoons (126 grams) refined coconut oil1, melted and still warm or 9.5 tablespoons (133 grams) butter for non-vegan, non-dairy-free, melted and still warm2
1/2 cup (100 grams) raw sugar or granulated sugar
1/4 cup (60 milliliters) maple syrup
1 1/2 tablespoons vanilla extract
1 1/4 cups (113 grams) rolled oats (if GF, use GF oats)
3/4 cup + 1.5 tablespoons (78 grams) oat flour (if GF, use GF oat flour) OR for non-GF, use 3/4 cup + 2.5 tablespoons (113 grams) all-purpose flour or white whole wheat flour
1/2 teaspoon baking powder
1/4 teaspoon salt

For the vanilla sauce:

click here for the → vegan custard you see in the photos or use this cashew-based paleo vegan vanilla sauce or see the recipe in the notes section below for a non-vegan vanilla sauce3
Directions
For the pie:

Preheat the oven to 350 °F (175 °C) and grease a 9" pie pan.
In a large mixing bowl, stir together the filling ingredients. Spread the apples evenly over the bottom of the prepared pie pan.
In another large mixing bowl, stir together the the topping ingredients, just until combined. Spread the topping over the apples.
Bake for 40-45 minutes or until the apples are bubbly and the topping is firm.
Serve warm, room temperature or cold. I recommend letting it sit for about 3-4 hours or until it's cooled. This allows the flavors to come together better and it's much easier to cut. When still warm, it's more like a crumble and you won't get clean slices.
Cover and store at room temperature for up to 2 days. Refrigerate after that. This is great made a day or 2 ahead of time!
Notes
I prefer refined because it has no coconut taste. You can use unrefined if you don't mind some coconut flavor.
It's easier to get the topping over the apples if the topping is pourable. That's why I recommend using still warm melted fat. If your topping firms up, put it in the microwave at half power for a few seconds. Mix and pour over the apples.
This is the recipe for the non-vegan vanilla sauce.
– 1 1/2 cups (355 milliliters) milk of choice (just not canned coconut milk)
– 3 tablespoons raw sugar or granulated sugar
– 1 tablespoon cornstarch
– pinch of salt
– 1 large egg
– 1 vanilla bean or 1 tablespoon vanilla extract

In a medium saucepan over medium heat, stir together the milk, sugar, cornstarch and salt. Whisk in the egg. Slice the vanilla bean open and scrape out the seeds. Add them to the pan along with the scraped-out bean.

Bring to an almost simmer while stirring constantly. It should thicken quite a bit and coat the back of a spoon. It's okay if it simmers briefly, but do not let it boil. It'll likely take 5-10 minutes. If using vanilla extract instead of a vanilla bean, add it now. It will continue to thicken a little as it cools. Remove the vanilla bean before serving. Once cooled, refrigerate in an airtight container for up to 3 days.