This paleo chocolate fudge pie is silky smooth, fudgy and decadent and has an almond flour-based crust.
You might remember me mentioning Joan of Chocolate, Chocolate and More in my ultimate hot chocolate post from last October, shortly after Joan passed away unexpectedly.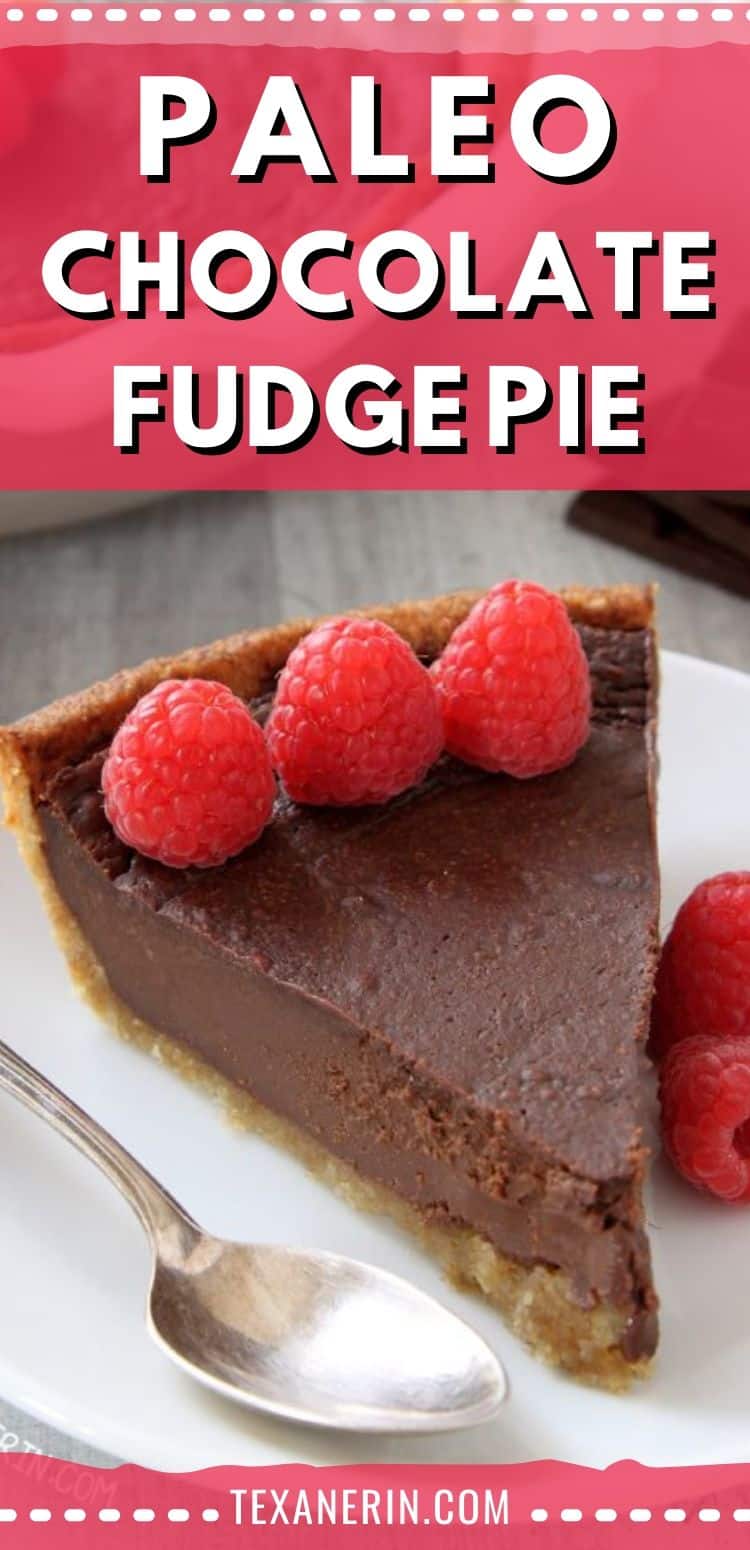 She was so generous – both with her time and knowledge and was really a pillar of the food blogging community. Joan would have turned 50 on Saturday and to honor her memory, some fellow food bloggers and I are making and sharing her recipes.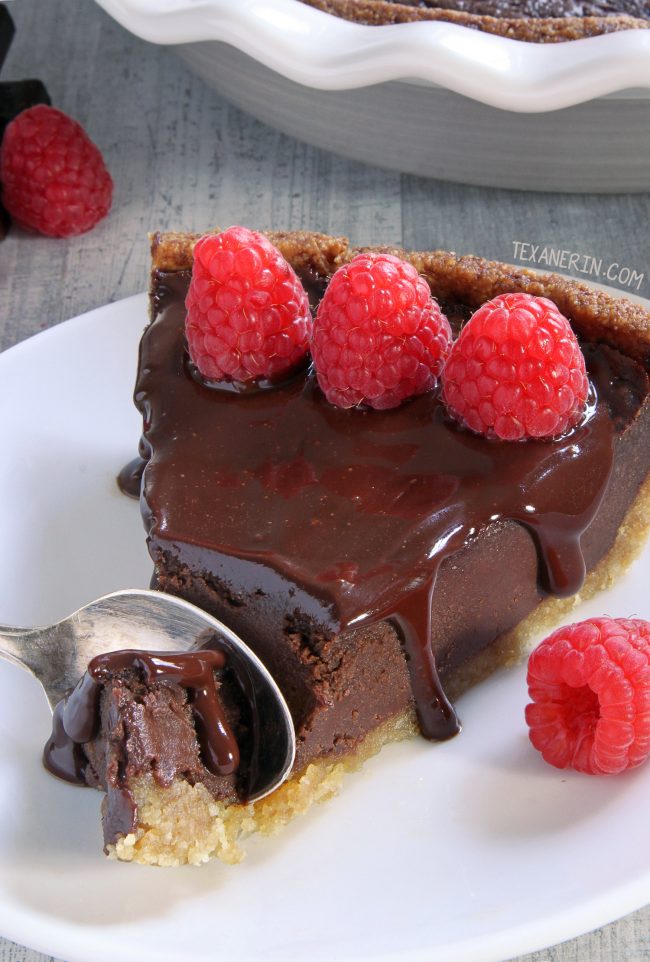 When going through her recipe archive, I was immediately drawn to her double chocolate fudge tart. The filling is made with chocolate, granulated sugar, butter and cream. I'm sure it's insanely delicious as written but I thought I'd adapt it to make it a tad bit healthier. And paleo!
So I pretty much changed every ingredient. Only the amount of eggs, chocolate and salt remain the same. I don't think Joan would have minded (or even noticed!) the changes. I really can't imagine this being any more decadent.
The only thing that would give away the filling changes is the slight coconut taste. Other people couldn't detect the coconut flavor but I could (maybe just because I knew it was in there?) so if you don't like coconut, I probably wouldn't recommend making this.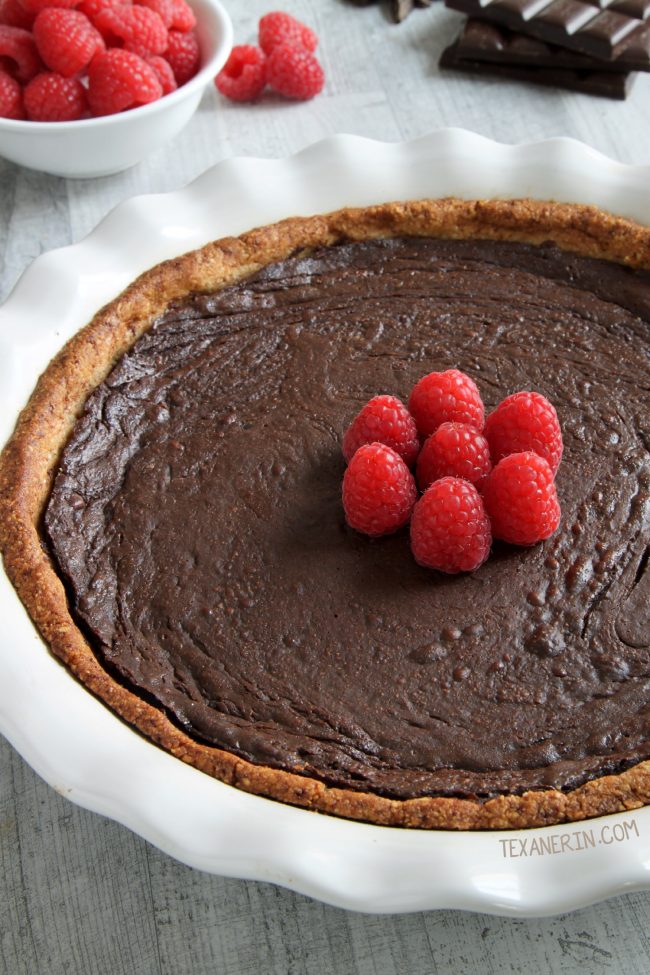 At first I tried making a paleo chocolate cookie crust. I tried others' recipes and coming up with my own but none of them actually tasted like an Oreo cookie crust.
So I changed gears and just went with a normal crust. It looks like a huge amount of the paleo pies out there use or adapt this pie crust from Elana's Pantry so I thought I'd give it a try. But with some added sugar (because pie crust without sugar makes me weep) and a tiny bit of extra coconut oil.
It worked great! It's not as crisp as I'd like on the bottom, but it went with the filling perfectly. If you want a crisp bottom crust, you could pre-bake the crust a bit but I'd be worried that the top part would burn while baking the filling.
This almond flour pie crust from Wholesome Yum also looks like an awesome option!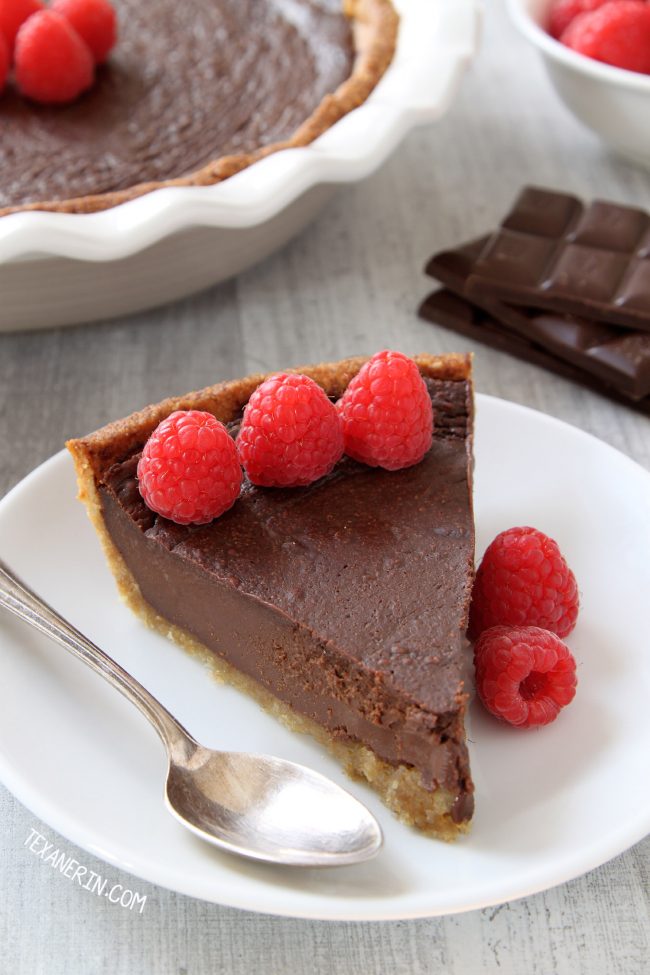 The ganache I used on here pretty much had no point as it tasted exactly like the filling. I melted 1/2 cup chocolate chips together with 1/4 cup of full-fat canned coconut milk and stirred until smooth. Instead of using 1/4 cup of coconut milk, I recommend using 2 tablespoons of coconut milk and 2 tablespoons of raspberry liqueur, rum or some other flavor.
If you're wondering how to make this with butter, cream, regular sugar or with an Oreo crust, be sure to check out the original recipe! This French silk pie from Amanda's Cookin' also sounds delicious!
And for a different crust, try this Gluten-Free Vegan Chocolate Pudding Pretzel Pie from Meaningful Eats!
❀
Paleo Chocolate Fudge Pie (grain-free, gluten-free, dairy-free)
Prep Time:
Cook Time:
Ready in:
Yield:

8 pieces
Ingredients
For the crust:

2 cups (200 grams) blanched almond flour
2 tablespoons coconut sugar
1/4 teaspoon salt
2 tablespoons + 1 teaspoon (33 grams) coconut oil
1 large egg (50 grams, out of shell)

For the Filling

1 2/3 cups (283 grams) paleo-friendly chocolate chips or chopped chocolate
7 tablespoons (98 grams) coconut oil
1 cup (225 grams) coconut cream from a can of full-fat canned coconut milk, chilled overnight1
2 large eggs (50 grams each, out of shell)
7 tablespoons (88 grams) coconut sugar
1 tablespoon vanilla extract
1/8 teaspoon salt
Directions
Prepare the crust:

Position the rack in the lower third of the oven and preheat it to 350 °F (175 °C).
Place the almond flour in the bowl of a food processor fitted with an S-blade. Sprinkle the sugar and salt over the top and then add the coconut oil and egg. Pulse just until a ball forms.
Press the mixture up the sides and over the bottom of a 9" pie plate. Set aside while preparing the filling.

Prepare the filling:

In a small pot over low heat, melt the chocolate and coconut oil, stirring until melted.
Remove from the heat and stir in the coconut cream until well combined.
In a large mixing bowl, mix together the eggs, sugar, vanilla and salt and then stir in the chocolate mixture until well combined.
Pour the filling into the unbaked crust and bake for 28 minutes. This is before little bubbles form all over the top (which you can see in this picture). The center will still be a little jiggly. Or actually a bit more than just a little jiggly. Remove from oven and let cool completely. Refrigerate for at least 4 hours before serving. If you decide to dig in before it's properly chilled, it'll have an odd texture and not the right silky, fudgy texture you see in the pictures.
Refrigerate for up to 4 days.
Notes
Coconut cream is the hardened part at the top of the chilled can. You can use the coconut water below the coconut cream in smoothies or just drink it.
See the post for notes on the ganache.
Filling adapted from Double Chocolate Fudge Tart on Chocolate, Chocolate and More, who adapted it from Rachel Ray's recipe. Crust adapted from Elana's Pantry.