I had no idea that white chocolate would be so difficult to make. You melt some stuff together and pour it into a mold, right? Well, kind of. I've tried so many recipes and the resulting white chocolate, from every batch except the final one, was pretty terrible. It tasted like eating sugar flavored non-butter tasting butter. I tried with powdered sugar, too. It wasn't just a honey thing. I also tried with maple syrup. It sounded like the best idea ever before I tried, but no. It wasn't.
I made some ginger white chocolate cookies with all my different batches. The recipes with powdered sugar left crusty sugary bits. It's like the oil melted and fried the sugar. Weird. And the honey versions just completely melted into complete nothingness. So I wouldn't bother putting this in cookies.
BUT! I did made some dip that required melted white chocolate and that was fine. FINALLY something this stuff is good for. :)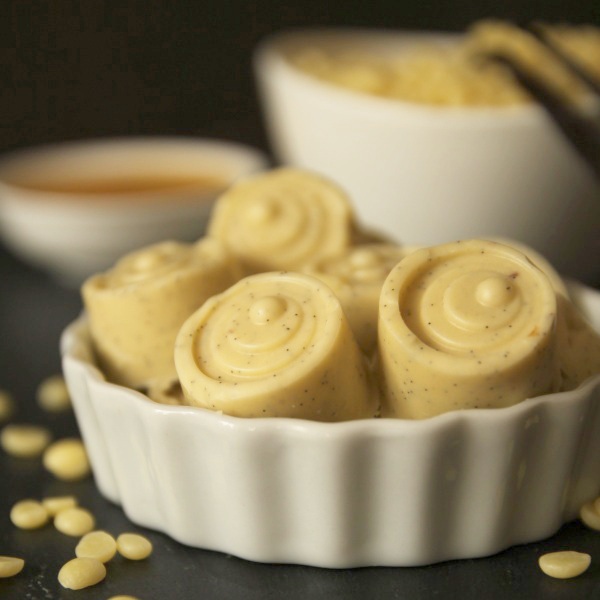 Good white chocolate should contain cocoa butter, which is an ivory colored fat which is extracted from cocoa beans during cocoa production. When doing my white chocolate research, I read that one brand of white chocolate chips doesn't even contain cocoa butter. Just hydrogenated oils, sugar, and emulsifiers. Eww. So make sure you at least buy white chocolate that contains cocoa butter!
Now cocoa butter. The stuff's expensive and for me, the taste of all the homemade batches weren't nearly as good as store bought. So why would anyone want to make it homemade? I originally bought my cocoa butter because I wanted to make non-processed white chocolate. But the question is if it's worth making when it's several times more expensive and doesn't taste as good as the processed kind.
It could be that the cocoa butter I got wasn't "good" cocoa butter. In the other homemade white chocolate posts online, people loved their white chocolate. It could also just be that I don't know what real white chocolate tastes like and I only like the junk that's artificially flavored. That wouldn't surprise me.
My experiment taught me that I need to cut down on the white chocolate. I eat a ridiculous amount of it. Milk chocolate doesn't even compare in my eyes. And dark? Bah. I don't like that stuff. Nope. I love the stuff that is basically fat + sugar + emulsifiers.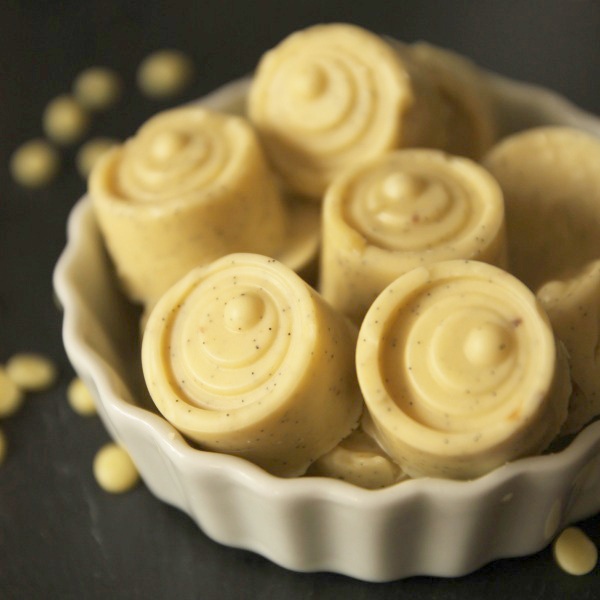 So in summary:
Don't bother making white chocolate unless you want to melt it and mix it in with other stuff. Eating it raw isn't so nice, in my opinion.
White chocolate is pure junk. Make sure the kind you buy at least has cocoa butter in it.
❀
Homemade Honey-Sweetened White Chocolate
Prep Time:
Cook Time:
Ready in:
Yield:

100 grams
Ingredients
3 ounces (85 grams) cocoa butter
3 tablespoons (60ml) honey
1 teaspoon powdered milk
seeds from one vanilla bean
Directions
Over medium heat in a small saucepan, melt the cocoa butter and add the honey, powdered milk and vanilla bean seeds. Mix until smooth.
This is where most recipes stop and they all resulted in grainy textures (at least for me). So you need to temper the chocolate. To do this, bring the chocolate up to 120F (49C) while whisking frequently.
Now let it come to 79F (26C). Let it cool for 5 minutes, stirring occasionally, and then put it in the fridge for 5 minutes. Continue this pattern until it reaches 79F (26C). This took me about 10-15 minutes.
Place the chocolate back on the stove and bring it back up to 87F (31C). Do NOT let it go over 89F (32C) or you'll need to start the entire process over again.
Pour the chocolate into molds and let it sit at room temperature overnight and then store the chocolate in an airtight container for up to 3 months.
Notes
Do not skip the tempering process! It resulted in a much better chocolate than the previous versions where I didn't temper the chocolate.
Tempering directions were adapted from Veganbaking.net