These homemade Reese's Peanut Butter Eggs taste just like the real thing! And as a bonus, they're made a little healthier with natural peanut butter and they're also naturally sweetened with honey. A perfect treat for Easter!
These peanut butter eggs are easy and surprisingly similar to the real thing. To be honest, I haven't had a Reese's peanut butter egg in years but this homemade version is just like how I remember! They're just a little less sweet. If you make the peanut butter filling and it's not sweet enough for you, just add a little more honey or even powdered sugar. But really – they're decently sweet with the amount of honey called for! And remember that you'll be dipping the peanut butter eggs into milk chocolate, which also adds quite a bit of sweetness.
Something I really love about this recipe is that you can easily halve the recipe. I have an issue with portion control so that's always a huge bonus for me! But if you're feeding a crowd, you can easily double or triple the recipe. These also freeze well so if you end up with too many, just stick them in the freezer.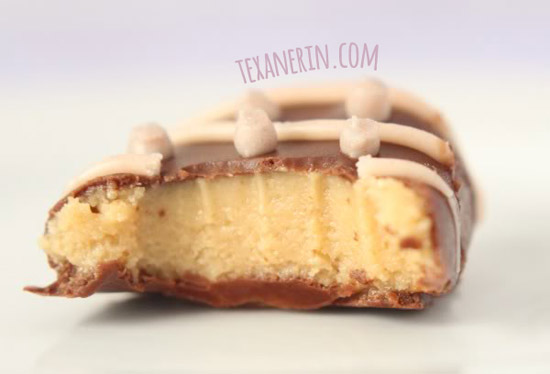 I thought adding red food gel to white chocolate would make a pretty pink color. It did not. And adding blue to this did not make a pretty purple color! It made grey. Obviously, it was a sign. Food coloring isn't good for us anyway. ;) So you'll just have to enjoy these little peanut butter Easter eggs with a little white chocolate for decoration. I'm sure your kids won't complain! Who cares what they look like when there's peanut butter and chocolate involved? :D
If you don't want to make these as peanut butter eggs, you can easily make them as peanut butter cups. Just press them into patties and check out this post on peanut butter and jelly peanut butter cups for the instructions on how to construct the peanut butter cups.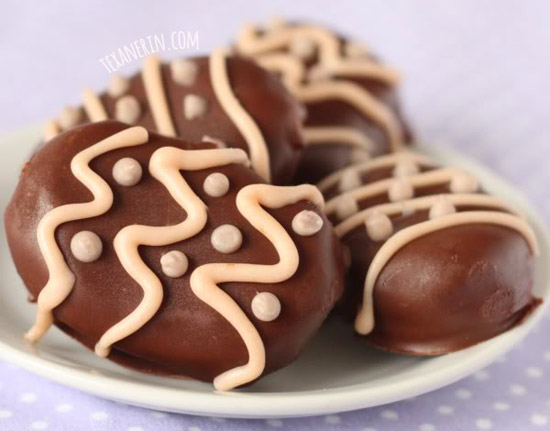 And these awesome little peanut butter eggs are dairy-free if you use dairy-free chocolate chips! They're also naturally gluten-free and grain-free. :)
❀
Homemade Reese's Peanut Butter Easter Eggs
Prep Time:
Cook Time:
Ready in:
Yield:

16 eggs
Ingredients
Directions
Beat the peanut butter, honey, and coconut oil together until well combined.
My dough was quite soft at this point so I placed it in some plastic wrap, pounded it thin, and put it in the freezer for about 10 minutes.
Form the mixture into 16 balls, squish them a little and form into egg shapes. If they start melting again, simply stick them back in the freezer. Once they look the way you want them, put them back in the freezer and freeze until firm, at least 30 minutes.
Melt the chocolate and coconut oil in a bowl in the microwave at half power, checking and stirring every 30 seconds, until thoroughly melted.
Dip the frozen eggs in the chocolate and flip over so that they're well-coated. If there's leftover chocolate, you can double dip a few.
Place on a Silpat or a piece of wax paper and let them set about 30 minutes in the fridge.
Decorate with white chocolate, if desired.
Refrigerate in an airtight container for up to 2 weeks.
Notes
I used refined coconut oil because I didn't want any coconut flavor.
As an Amazon Associate, I earn from qualifying purchases. For more info, see my disclosure.