These lemon popsicles are sweet, perfectly tart and healthier treats that will help you cool down. You only need 4 ingredients, and they're naturally paleo and vegan, too.
An icy popsicle is one of the best ways to cool off on hot days. With just a popsicle mold, you can create an infinite amount of tangy, sweet frozen treats that aren't just for kids.
And the best part is that you control what goes in them. So you can easily omit the artificial sweeteners, dyes, and artificial flavors of storebought pops and add more wholesome ingredients to your summer fun.
All you need to make these lemon popsicles is water, freshly squeezed lemon juice, honey or maple syrup, lemon zest, and popsicle molds.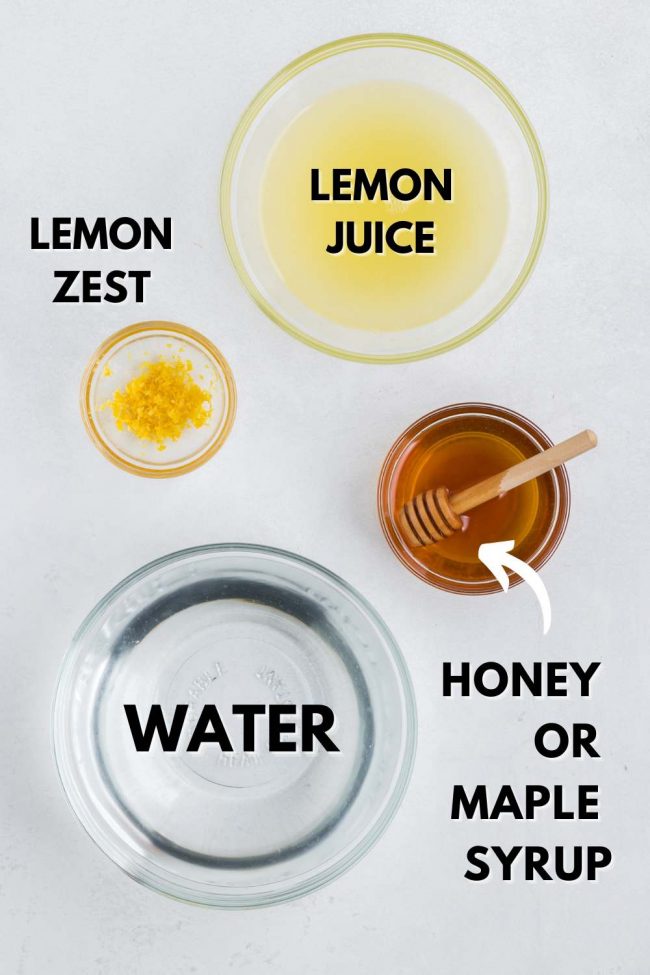 How long does it take for popsicles to freeze?
It'll take them about 8 hours to freeze solid, but it depends on the freezer and the size of the popsicles. I just freeze them overnight, and they're ready for the next day.
Some websites say popsicles need as little as 4 hours to freeze solid, but I think they must be talking about yogurt-based popsicles, which indeed freeze more quickly. You definitely need longer for water-based popsicles like these lemon popsicles.
How long do they keep in the freezer?
You can store them in the freezer for up to 2 months. They won't go bad if you store them longer, but the popsicles can develop frost.
How to store
You can store them in the popsicle mold, but if it takes up too much room, you can unmold them and individually wrap each popsicle in plastic wrap and store in a freezer bag or airtight container.
That way is actually better as it prevents the popsicles from taking on any odors that might be in the freezer.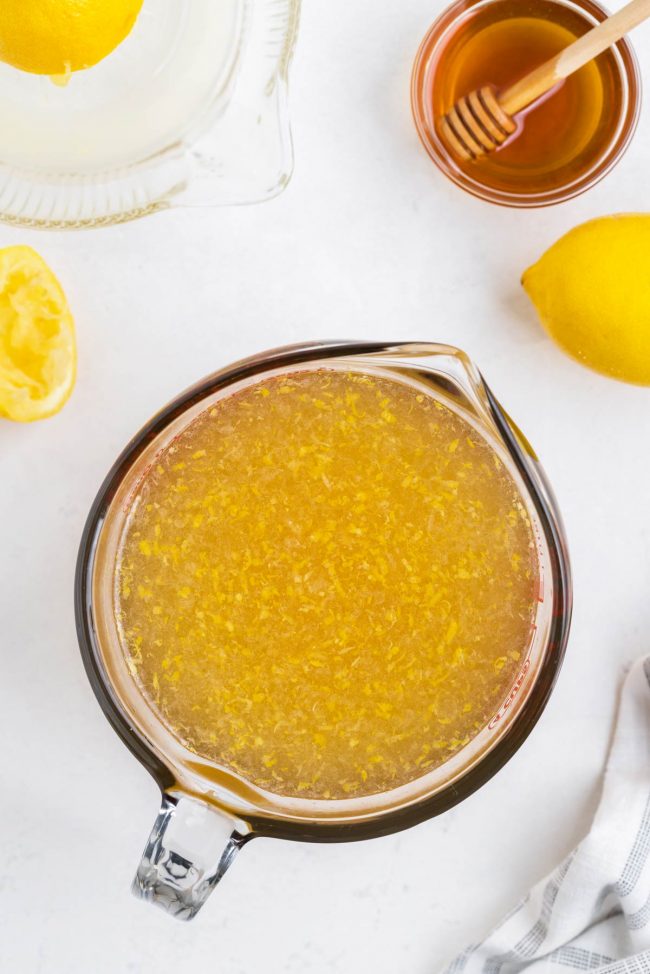 Popsicle molds
When you do a general search for popsicle molds, you've got loads of choices, and on top of that, you've got categories, colors and sizes to choose from.
Regarding mold types, you can find detachable and fixed. Detachable molds slide into a base which you can easily remove popsicles one at a time.
With fixed molds, the individual molds are fused together and cannot be detached, meaning you need to remove all the popsicles simultaneously.
The style of the mold depends on if you want it to be upright or laid flat in the freezer. The advantage of those that lay flat means you can easily suspend fruit without it sinking to the bottom, and you can create the swirl effect, but they have to lay perfectly flat in the freezer.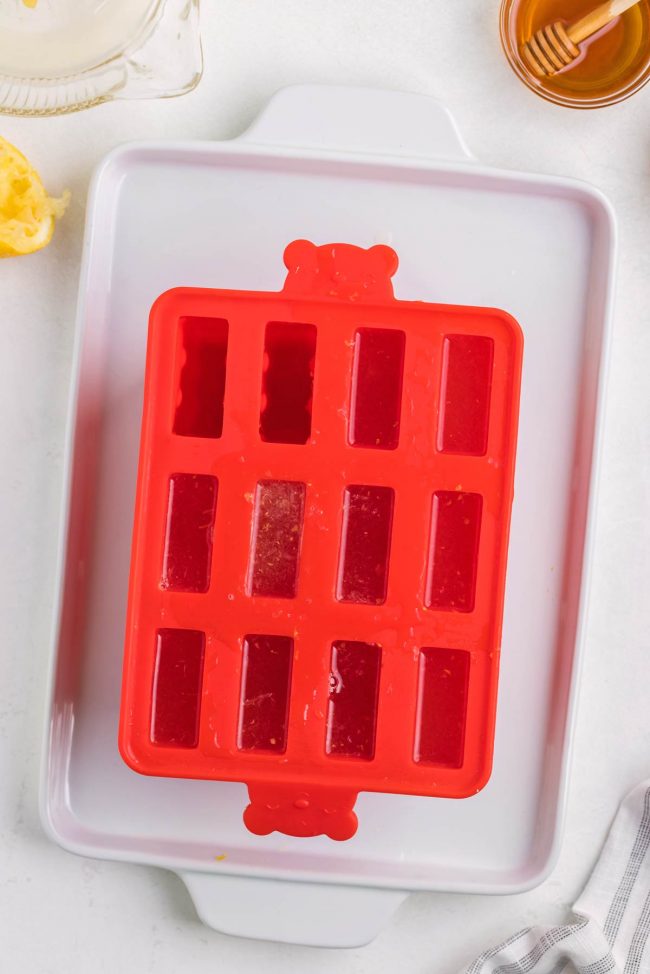 There's no standard size for popsicle molds, but most molds hold between two and four ounces of liquid. Today's lemon popsicle recipe makes 21.3 ounces.
You can also have molds with reusable plastic or bamboo or disposable wooden sticks. The drawback to wooden or bamboo sticks is that you must always have those around when making popsicles. As for those that come with the mold, it only works if you don't lose the lids.
The materials to choose from are plastic, silicone and stainless steel, each with its own price tag. Plastic molds are lightweight, inexpensive, and durable if you don't put them in the dishwasher too often.
Silicone molds are flexible, so you don't really need to run them under hot water to unmold them, and like the plastic molds, they don't hold up as well in the dishwasher.
Stainless steel popsicle molds are the most expensive, but if you plan on making some popsicles throughout the year, it might be the best investment. They're super easy to loosen with hot water because metal heats faster than plastic, and they're dishwasher-safe and will last a long time.
How to umold popsicles
Once the popsicles are frozen, it's time to unmold them. Run warm water around the sides of the mold. Then see if you can pull them out.
You can also fill a bowl (that's large enough for your mold) with hot water and dip the mold for 5 seconds, then attempt to get the popsicle out. If it's stubborn and feels a little stuck, drop it back into the water for another 5 seconds and repeat until the popsicles emerge.
Silicone molds are pretty flexible, and you can peel them away pretty easily.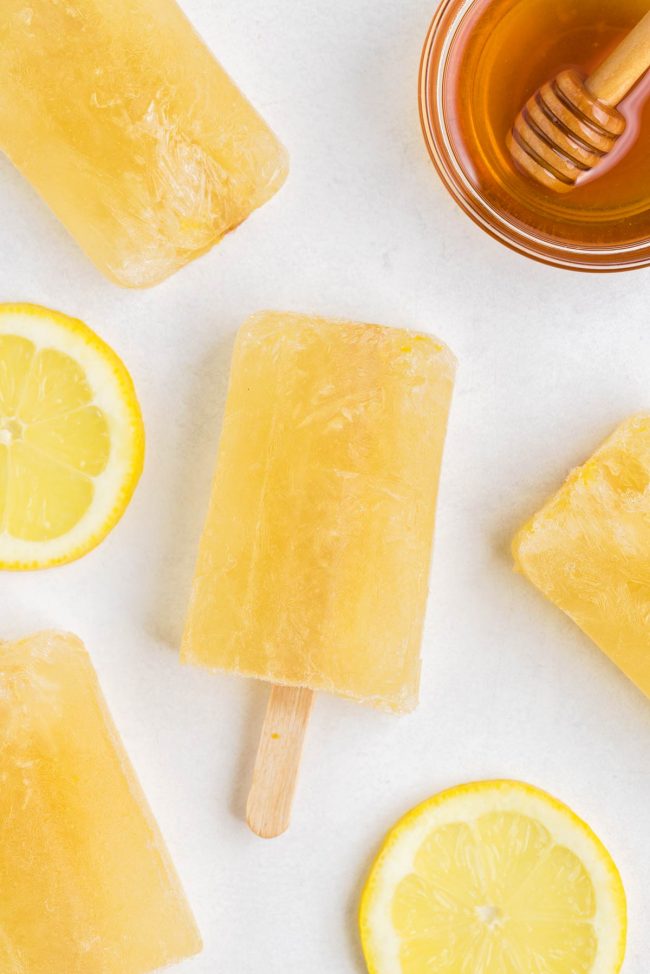 What to use instead of molds
If you don't have time to find the perfect popsicle mold, you can use an ice cube tray for mini-pops or splash the cubes into cocktails like this Limoncello Spritz.
If you have wax-coated paper cups, those work too. Let them freeze a bit before you put in the sticks, then continue until they are frozen. You can submerge them in a bowl of hot water to easily slide them from the cups.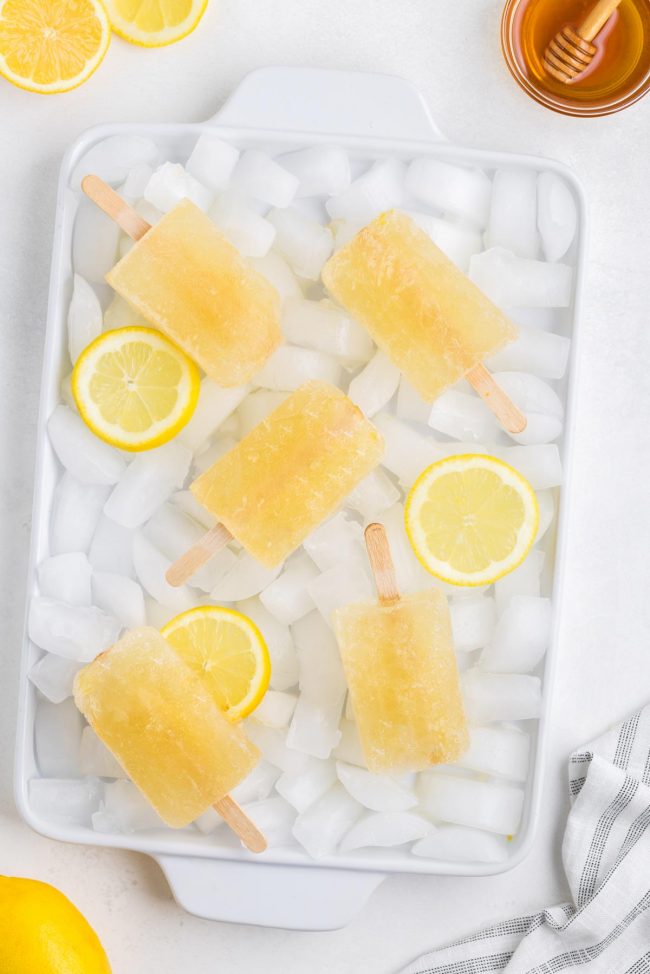 Variations and other healthy popsicle ideas
You can add fresh fruit like cut strawberries, blueberries or raspberries. It works best with a flat mold, so the fruit doesn't fall to the bottom.
I'm unsure about using lime juice instead of lemon juice, but it might work. I think honey and maple syrup fit better with lemon than with lime.
If water-based popsicles aren't rich enough for you, you could make ice cream popsicles. This Healthy Peanut Butter Ice Cream would be tasty and has a paleo and vegan option.
If you're into smoothies, try doubling a batch of your favorite recipe and pouring the second batch into a popsicle mold for the next day! This Blueberry Avocado Smoothie or this Raspberry Smoothie would be ideal, as they're both avocado-based, meaning they're very thick and rich.
That results in more decadent and less icy popsicles. And for something else super refreshing and fruity, try this Watermelon Sorbet!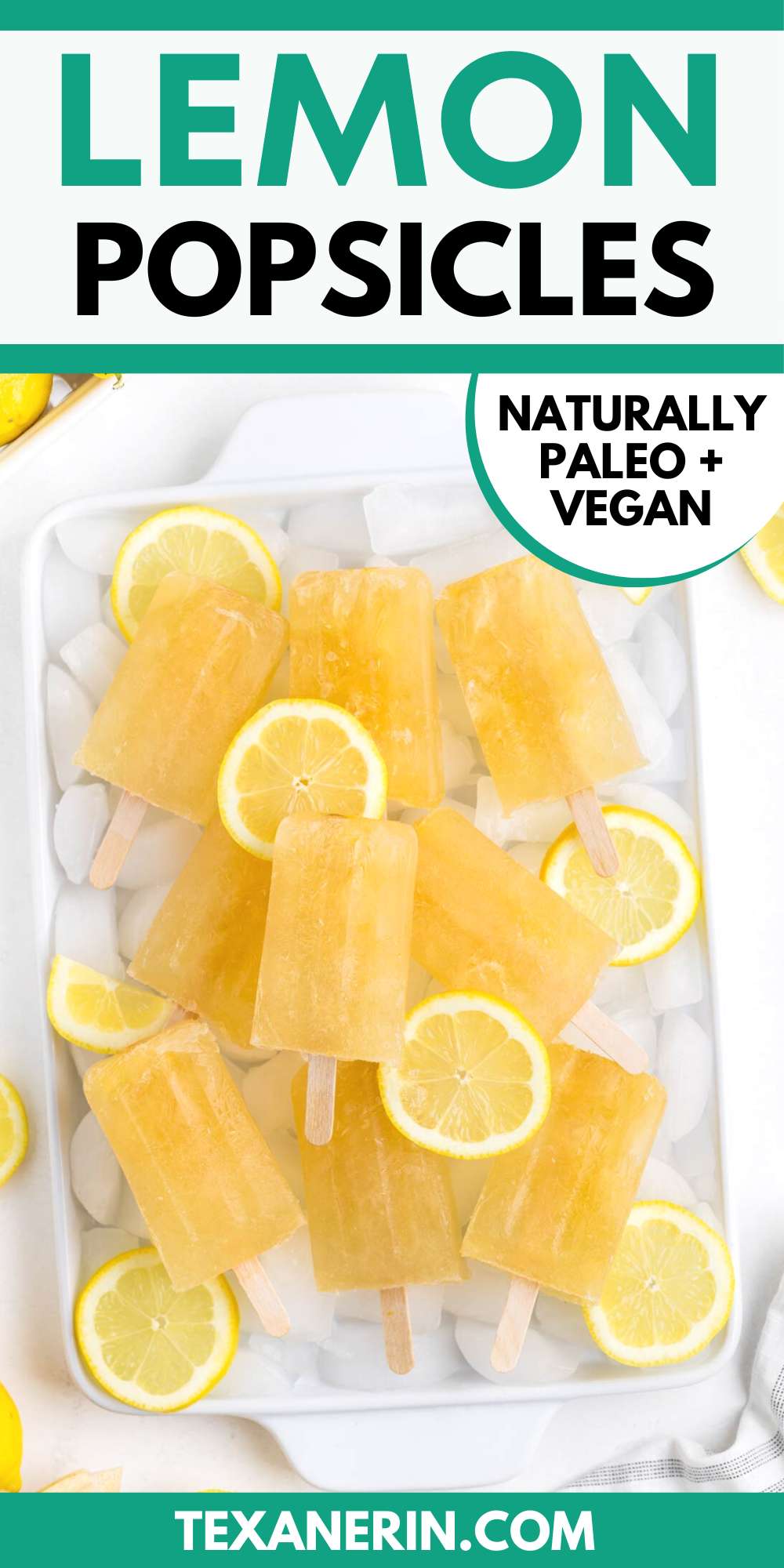 Other fun frozen treats
I hope you'll enjoy these lemon popsicles! If you make them, please comment below. I'd love to hear how they turned out. :) Thanks!
❀
Lemon Popsicles (naturally paleo and vegan)
Prep Time:
Cook Time:
Ready in:
Yield:

5-10 popsicles
Ingredients
2 cups (473 ml) water
1/2 cup (120 ml) freshly squeezed lemon juice
6 tablespoons (120 grams) runny honey or light maple syrup1
1 teaspoon lemon zest
Directions
This recipe yields 2.66 cups (21.3 oz), which should help you figure out the yield.
Mix everything together in a pitcher or a bowl with a lip or whatever lets you easily pour the mixture into the popsicle molds.
Pour into a popsicle mold. Put in the popsicle sticks and freeze overnight.
If they don't come out easily, you can pour warm water around the sides and bottom of the popsicle mold to help loosen them.
Freeze leftover popsicles for up to 2 months.
Notes
If using maple syrup, don't use a dark, robust flavored one. I use the lightest type, which is also the cheapest. Even using the lightest maple syrup, your popsicles will be a little darker in color than the ones made with honey.