This strawberry jam is honey sweetened and pectin free! You only need 1/4 cup honey for 2 pounds of berries, which means this jam is bursting with strawberry flavor (rather than sugar!) Naturally paleo, grain-free, gluten-free and dairy-free.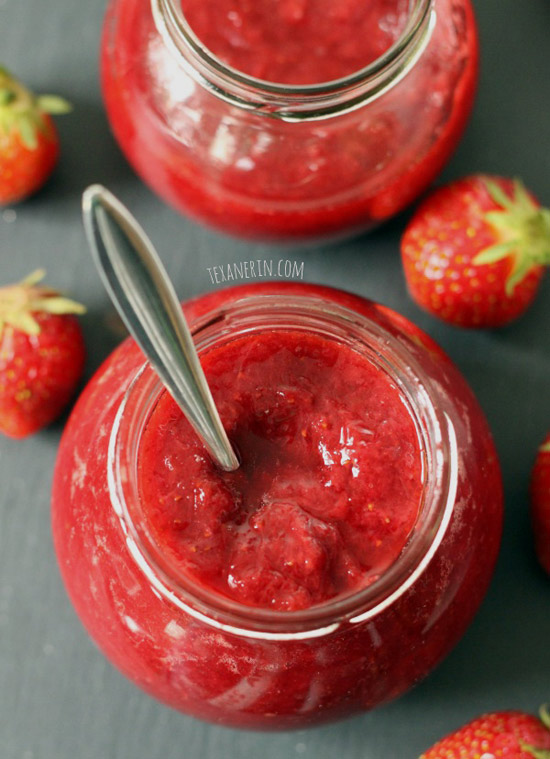 I went strawberry picking for the first time ever on Sunday. It was amazing. Strawberries were only 2.40 eur/kg ($1.35/lb) and cherries were 2.20 eur/kg ($1.27/lb). I have never tasted such juicy and sweet strawberries. It was ridiculous. We picked 15 pounds of strawberries and then we transported them home in a bag. Everyone else had box-like cardboard baskets and that should have been a sign that we also needed such things.
We rented a car but we had to walk and use public transportation to and from the car and home. By the time we got home, all 15 pounds were smushed. That meant I had to process them all immediately and being as it was Sunday, I couldn't go and buy pectin from the grocery store. So here we have a pectin free recipe. :)
This strawberry jam was SO good. I'm guessing it was because of the most-amazing-strawberries-ever, but I hope it's still good using normal strawberries. I bought some strawberries today to use in my pictures and eating them was just depressing. They're nowhere as sweet and juicy as the other ones. :(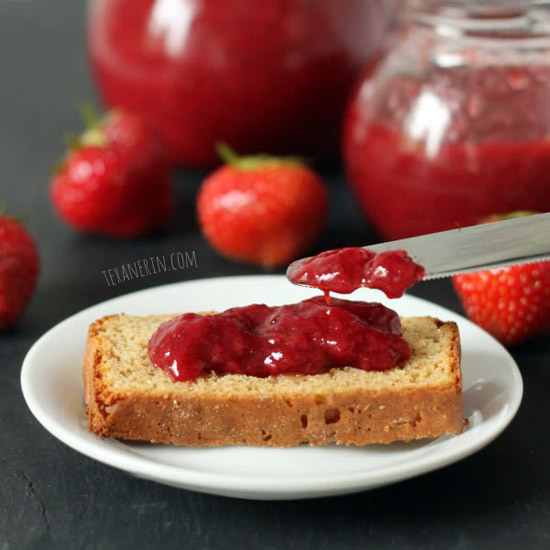 I never buy jam because of all the sugar in it. I think I used relatively little honey here, but if your strawberries aren't very sweet, I think you'd have to add more. Just keep adding more until it suits you. Really, these strawberries were like candy! I can't wait to go back next year.
I was worried that my honey jam wouldn't taste nearly as good as with white sugar but I was wrong. Really, really wrong! At the beginning, when you mix everything together, you can taste the honey. After a few minutes of boiling, all you can taste is strawberries with a lemony zing. And don't leave out the lemon juice! It's necessary due to the lack of pectin (or at least that's what I've read).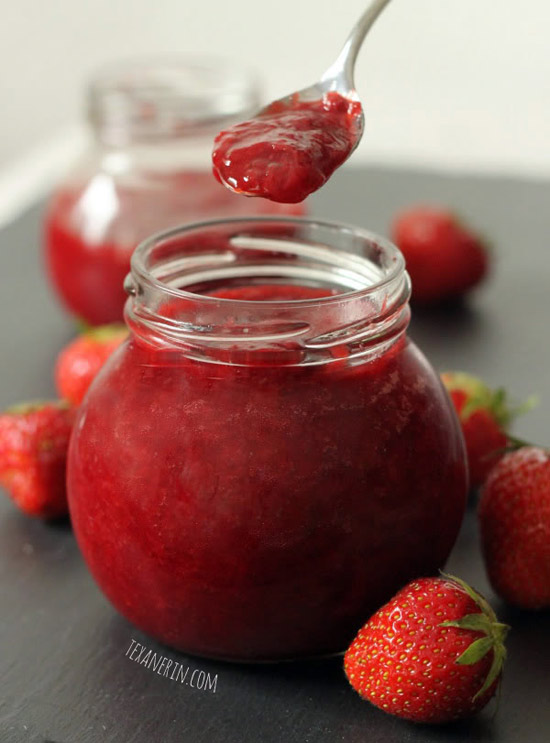 I have no clue how to can things and don't know if this is suitable for canning so I'm just going to say that you should keep this strawberry jam in the fridge and eat within a week or so. In reality, I'll keep it in there for longer than a week but I don't want anyone to get sick because of me. So, one week it is. :) It also freezes well!
❀
Honey Sweetened Strawberry Jam (naturally paleo, gluten-free, grain-free, dairy-free)
Prep Time:
Cook Time:
Ready in:
Yield:

A 600ml (20oz) jar
Ingredients
920 grams / 2 pounds (~6 1/2 cups smushed) rinsed off, patted dry, and hulled really sweet strawberries
70 grams (~1/4 cup) honey
3 teaspoons lemon zest
1/4 cup (60ml) freshly squeezed lemon juice
Directions
Place the strawberries in a large pot and smush with the bottom of a glass. Add the honey, lemon zest and lemon juice and heat over medium high.
Boil, stirring every now and then, until the mixture thickens. With my really soft and juicy strawberries, this took about 45 minutes. It could take more or less time depending on your strawberries.
To test, put some of the jam on a clean spoon and then put the spoon on a plate in the freezer. Let it sit in there for five minutes and then take it out. If the jam doesn't fall easily off the spoon when you turn it to the side, it's ready and you can take the pot off the heat. If it does pour off easily, continue cooking for another 5 minutes and try the test again.
Let cool and then pour into jars and store in the fridge and for up 1 week.